Mashed potatoes, yams, green beans — I can't wait until Thanksgiving to gobble up all of the side dishes. But it's the turkey that's the star of the show. For vegetarians, Thanksgiving can be slightly lacking. So, what does a Vegetarian Thanksgiving look like?
What do you serve those who refrain from meat on days like Thanksgiving?
One year my mother purchased my siblings and myself a tofu turkey. It was a sweet sentiment, but it left a lot to be desired. No amount of vegetarian gravy could make it edible. Sorry, Mom.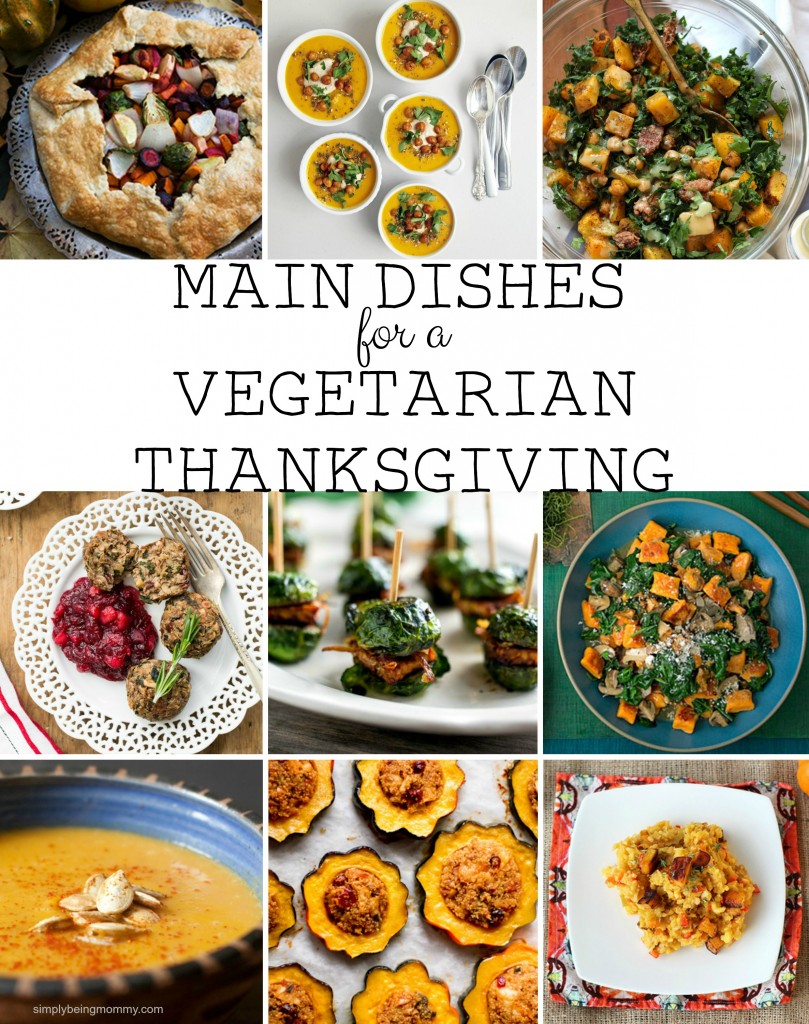 If you're looking for vegetarian main dishes that will have everyone making room on their plates this Thanksgiving, try some of these vegetarian recipes!
Vegetarian Thanksgiving

Pumpkin Stuffed Vegetable Stew // The presentation of seasonal vegetables within the pumpkin make this main dish a centerpiece.
Lentil & Mushroom Shepherd's Pie // Serve the traditional mashed potatoes atop a mixture of lentils and mushrooms.
Autumn Golden Vegetable Lasagna // Lasagna is an easy way to satisfy vegetarian guests. Skip the store bought frozen lasagna and try this recipe with butternut squash and pumpkin puree.

Lentil Walnut Balls // They don't sound fancy, but they look incredible. The cranberry pear sauce would make these even more incredible.
Brussel Sprouts Sliders // These tempeh bites served within brussel sprout "buns" are a biteful of delicious.
Sweet Potato Gnocchi with Mushrooms & Spinach // The mixture of mushrooms with sweet potato and gnocchi make this a filling meatless meal.

Thai-Spiced Pumpkin Soup // I have pretty soup bowls that rarely get used. Why not serve soup as a main dish on Thanksgiving? The spice of the curry paste with the sweetness of pumpkin sounds like a fabulous combination
Creamy Crock-Pot Pumpkin Risotto // So many recipes on Thanksgiving will require your attention and your oven. In addition to looking yummy, this one frees up your oven for other dishes.
Quinoa-Stuffed Acorn Squash Rings // These fall into the category of just too cute to eat, but then temptation wins. Maybe it's the apple or the walnuts but it's calling to me.

Savory Autumn Vegetable Galette // Feature the amazing flavors of fall by serving your friends and family this explosion of scrumptious veggies within a homemade dough crust.
Spiced Carrot Soup with Roasted Chickpeas & Tahini // It's all the garnishes on this soup that make it even more alluring. This pretty soup would make anyone's meal.
Kale Salad with Butternut Squash, Chickpeas and Tahini Dressing // Salad can be so much more exciting than lettuce and tomato. This salad looks both filling and flavorful.
When researching for recipes, I was inspired by the bounty of the season. From brussels sprouts to butternut squash, when you feature filling vegetables and meatless proteins, your guests won't even miss the turkey.
What's your favorite Thanksgiving dish?