Do you LOVE The Hunger Games? Here are 25 DIY The Hunger Games-Inspired Projects to bring the games home to you.
May the crafts be ever in your favor. With the release of the latest installment on the Hunger Games series, Katniss is once again in the forefront of our minds. These 25 DIY projects are fun ways to show your love for the Hunger Games series, whether you're on Team Peeta or Team Gale.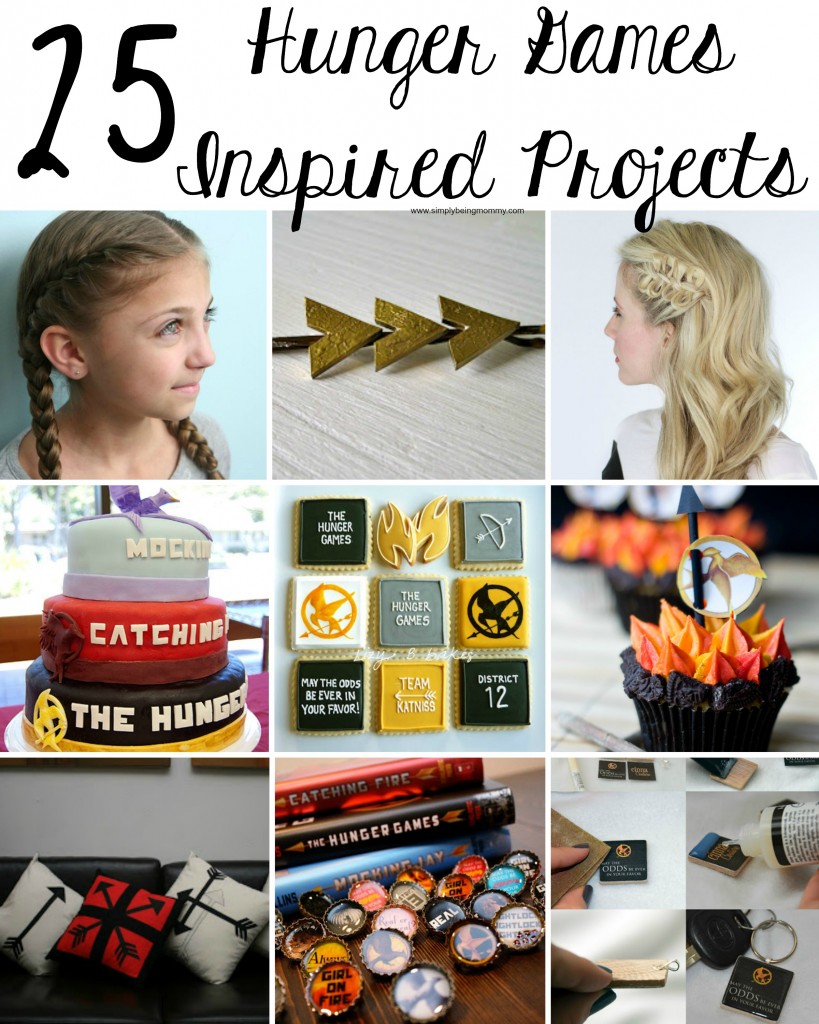 25 DIY The Hunger Games-Inspired Projects
Hair

Katniss Braid // Learn how to do the Katniss braid, perfect for a day hunting or at the Capitol.
Primrose Double Braid // Your sister will be volunteering also when she sees you with this cute hair.
Bow Braid // Adults can wear hairstyles inspired by the movie also, just like in this beautiful grown-up styling.
Katniss-Inspired Hair Clip // Three geometric "arrows" are an ode to our favorite tribute and will make any 'do ready for the games.
Arrow Bobby Pins // These pins are a subtle way to show your support for the games.
Nail Art

Trilogy Nail Art // You may need allies to help you with this manicure but the results will be incredible.
Catching Fire Nails // Glitter makes this nail design seem like it's been set ablaze.
Mockingjay & Flames // A spotlight on the symbolism of the mockingjay makes this a great choice for any Hunger Games fan.
May the Odds Be Ever in Your Favor Nails // Each nail represents a different element, but it screams District 12 pride.
Mockingjay Nails in Blue // Blue accents to mirror the book cover make these mockingjay nails stand out.
Clothing & Accessories

I Shop the Hob Tote // This tote is perfect for taking to the Farmer's Market to pick up your veggies (or squirrel meat).
Hunger Games Shirt // Use freezer paper as a stencil to make this DIY tee.
Painted Shoes // You'll be able to walk from District 12 to the Capitol in these hand painted shoes.
Book Page Necklace // Capture and wear your favorite words (perhaps "I am not pretty. I am not beautiful. I am as radiant as the sun.")
Book Page Bracelet // Can't pick just one favorite page? This bracelet features several!
Crafts

Necklace/Keychain Pendants // A collection of cute little printables make these pendants such an easy craft you'll be asking yourself if they're real or not real.
DIY Quiver & Arrows // Katniss's weapon of choice has never shimmered like this quiver that doubles as a centerpiece.
Hunger Games Throw Pillows // Watching Catching Fire at home? Snuggle up with these DIY pillows.
Resin Bottle Cap Pins // This tutorial, complete with printables, makes wearing your pride even easier.
Effie Trinkett Corsage // Always making a statement, adorn yourself with flowers and beads, and you'll be ready for Reaping Day.
Food

Hunger Games Trilogy Cake // Peeta would adore the three-layered cake, with each layer representing a book from the trilogy.
Handpainted Cookies // I volunteer … to eat all of these incredible cookies. If you plan on sharing, use these Mellark printable bags.
Mockingjay Cupcakes // A bit of skill is required, but the effort would definitely pay off if you served your guests these mockingjay cupcakes … or just ate them all yourself.
Cupcakes on Fire // Oreo "coal" and frosting "flames" are only part of the fiercely amazing cupcakes.
Mellark's Bakery Goat Cheese & Apple Tarts // We do adore the boy with bread so I'm sure all of the offerings at the family bakery are delicious. Try this recreation of one of Peeta's family's tarts.
Want to throw a Hunger Games Themed Party? The arrows featured in this tablescape and treats are adorable, especially the caramel apples.
Regardless of your district, people will be paying tribute to you with these DIY Hunger Games ideas. Wear a homemade shirt and hair pins to the movie theater or throw a themed party for your friends as you anxiously await the final installment of the series. Each idea will help you build excitement and show off your love for the Hunger Games.
Are you a fan of The Hunger Games?