I'm proud to partner with CVS/pharmacy for the Gold Emblem and Total Home Prep for Holiday Entertaining campaign. I am being sponsored to help lead this campaign, but all opinions expressed are my own, and all product claims or program details shared should be verified at CVS.com or with the appropriate manufactures.
Ahhhhh! My favorite time of year has rolled back around. The Christmas decorations are up, the holiday films are playing on the television, and I've been a busy little bee in the kitchen whipping up some fun Christmas treats. I have quite a few holiday entertaining recipes coming up over the next couple of weeks and I can't wait to share them all with you.
First up though, Reindeer Munch!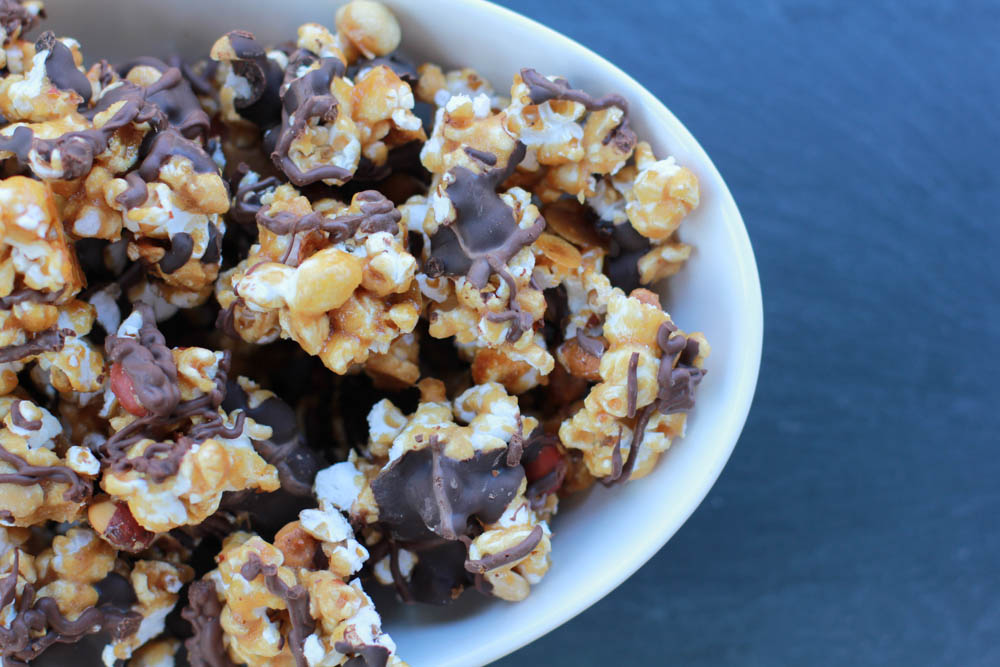 This Reindeer Munch recipe is super easy to put together and it makes a pretty big batch of chocolately, munchy goodness. The sweetness of the chocolate with the saltiness of the mixed nuts is a delight for the taste buds.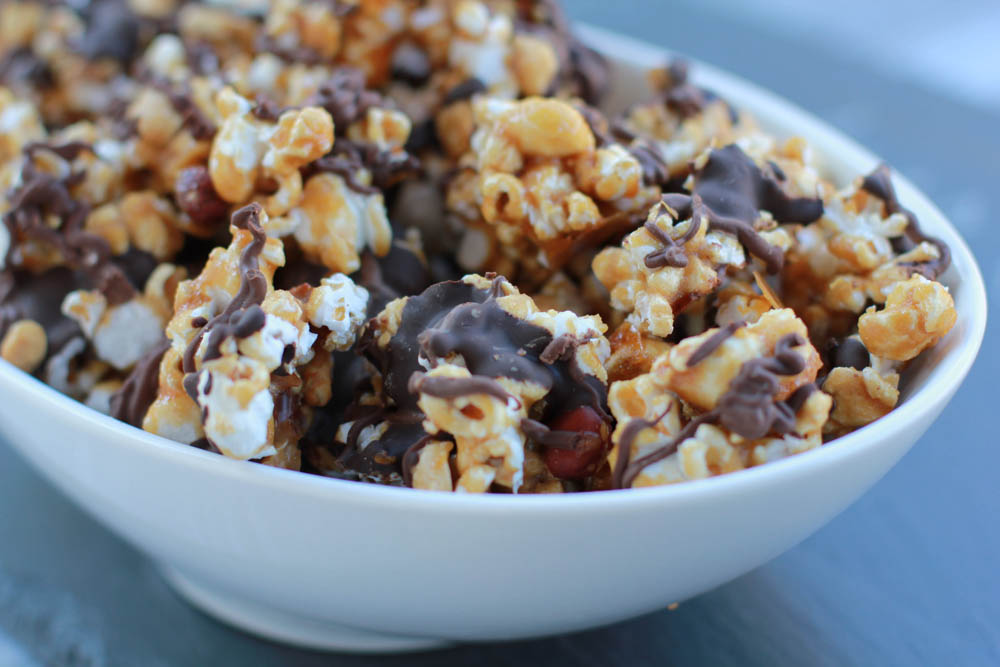 Reindeer Munch Recipe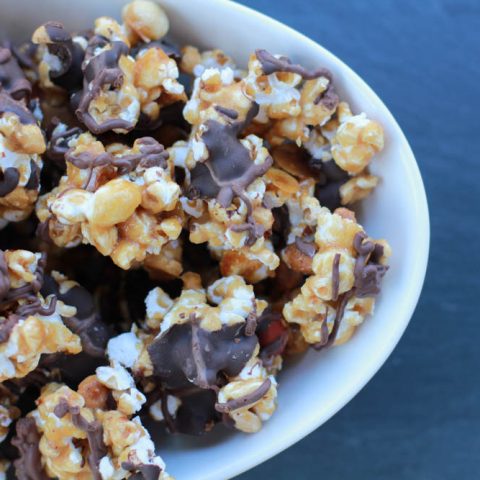 Reindeer Munch
Prep Time: 15 minutes

Cook Time: 30 minutes

Total Time: 45 minutes

The saltiness of the mixed nuts and the sweetness of the chocolate, all combined with the munch and crunch of the popcorn is a delight for the taste buds.
Ingredients
12 cups popped popcorn (I used CVS Gold Emblem Abound Heavenly Light Popcorn)
1 1/2 cups CVS Gold Emblem Lightly Salted Mixed Nuts
1/2 cup butter
2 cups light brown sugar, packed
1/4 cup honey
1/4 teaspoon salt
1 teaspoon CVS Gold Emblem Pure Vanilla Extract
12 ounces chocolate chips
3.5 ounces CVS Gold Emblem Select Gourmet European Dark Choclate
Instructions
Preheat oven to 250 degrees. Lightly grease two baking pans; set aside.
In a large bowl, combine popcorn and mixed nuts.
In a medium saucepan melt butter. Add brown sugar, honey and salt; bring to a boil while stirring constantly. Boil for about 5 minutes, stirring occasionally. Stir in vanilla.
Quickly (but carefully) pour sugar mixture over popcorn mixture and stir with a wooden spoon until well coated.
Spread mixture in a single layer on baking pans. Put in the oven and bake for 30 minutes. Meanwhile, melt chocolates separately in a double boiler or in the microwave.
Take baking pans out of the oven and place on wire racks to cool. Drizzle melted chocolate over popcorn mixture. To make it easy to drizzle the chocolate, pour chocolate into a ziploc bag, put on some gloves, cut one of the corners, and lightly squeeze the bag.
Cool until chocolate hardens. Break apart and store in an airtight container.


See y'all — I told you. So easy, right?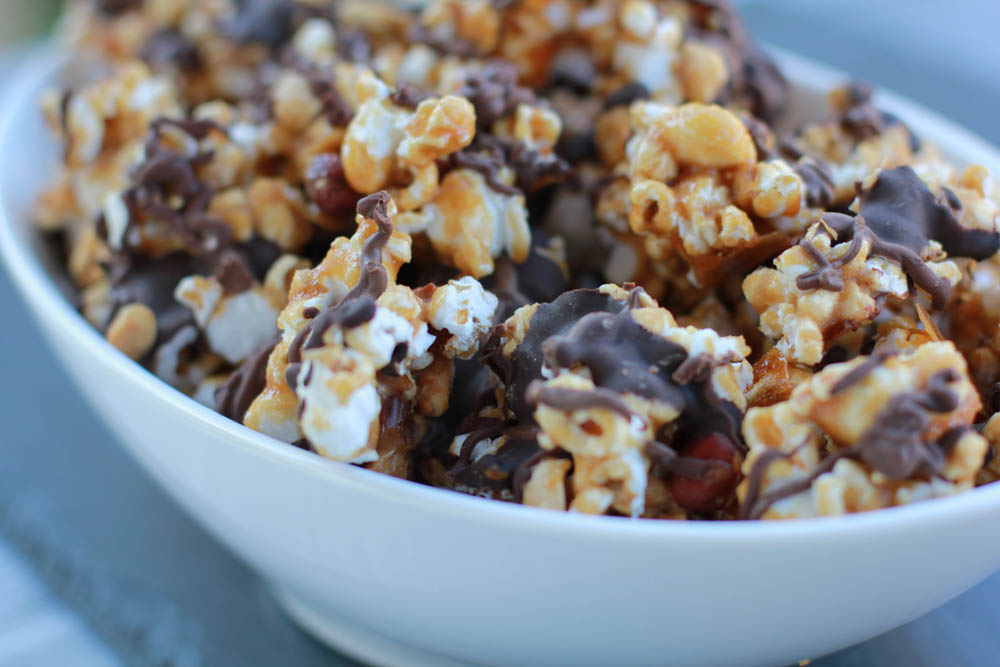 And did I mention how flippin' awesome this Reindeer Munch is? Oh. My. Goodness. Y'all. It's like Crunch 'n Munch on crack. Only it's not illegal and you don't harm any brain cells.
I could stop eating it if I wanted to, but why? It's so darn delicious.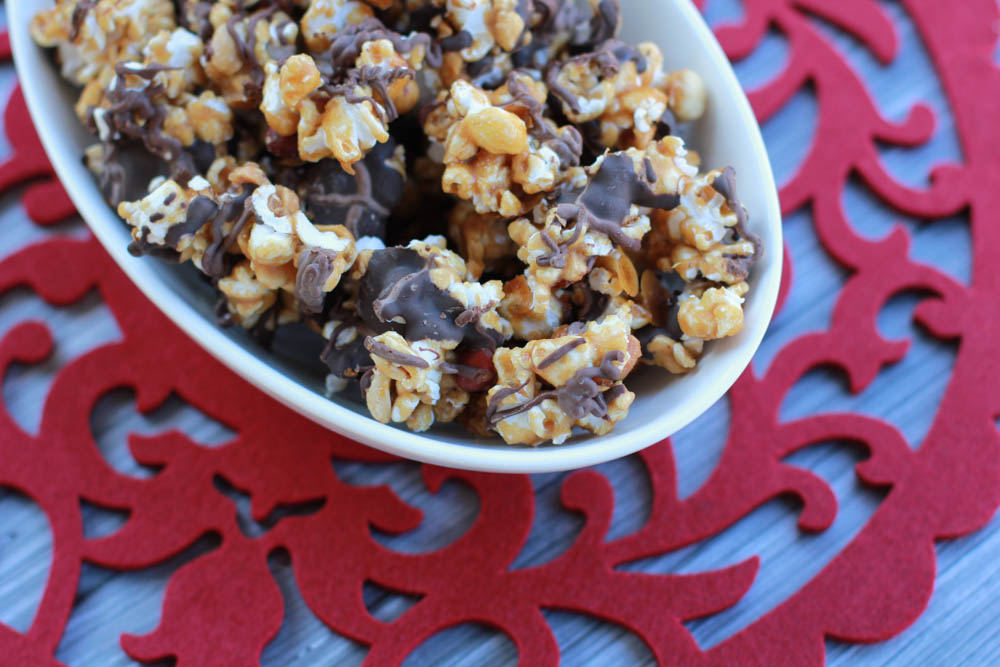 Just look at all the chocolate.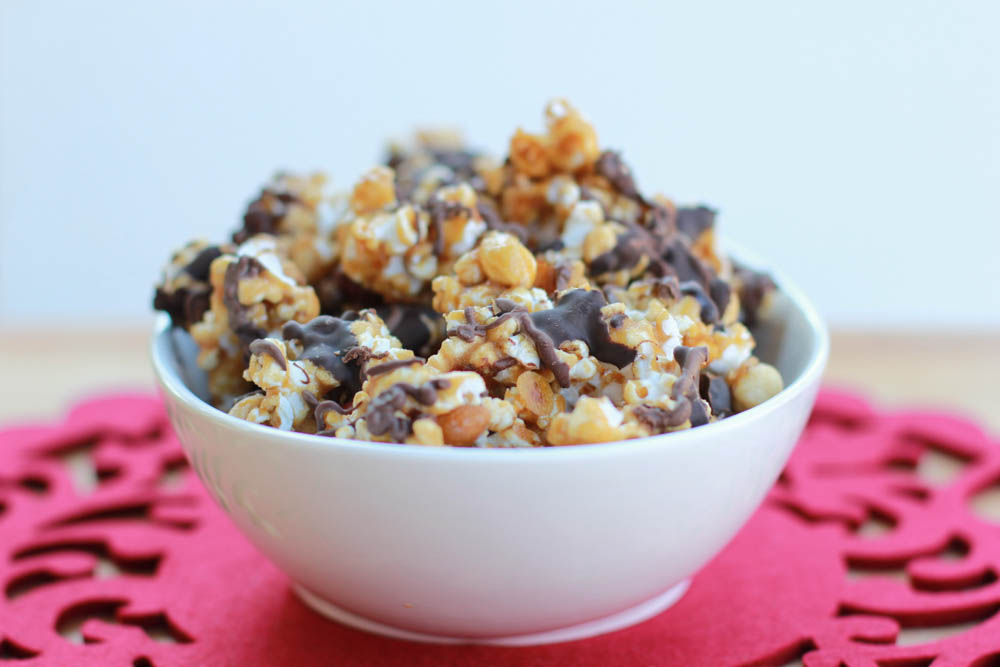 And the popcorn.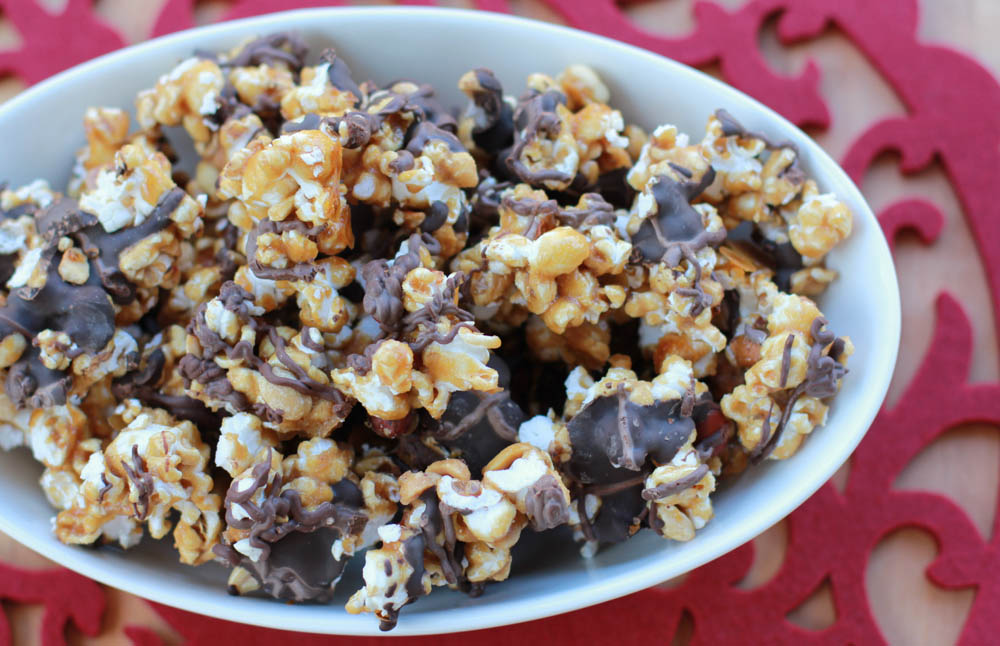 And the mixed nuts.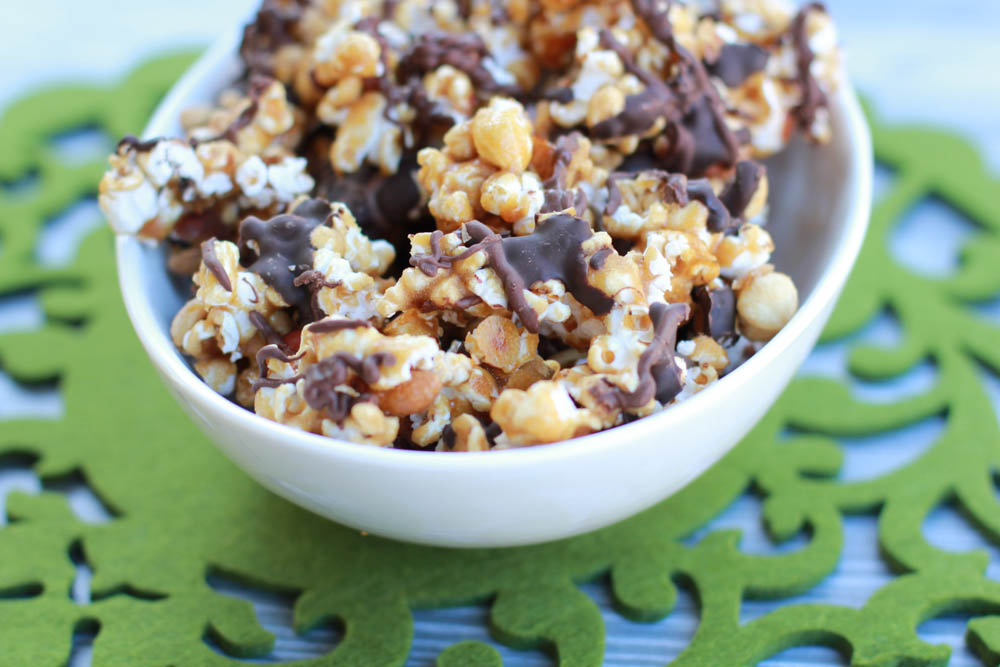 And because it's the holiday season — it's all calorie free. Kind of. Not really. But these calories are totally worth it.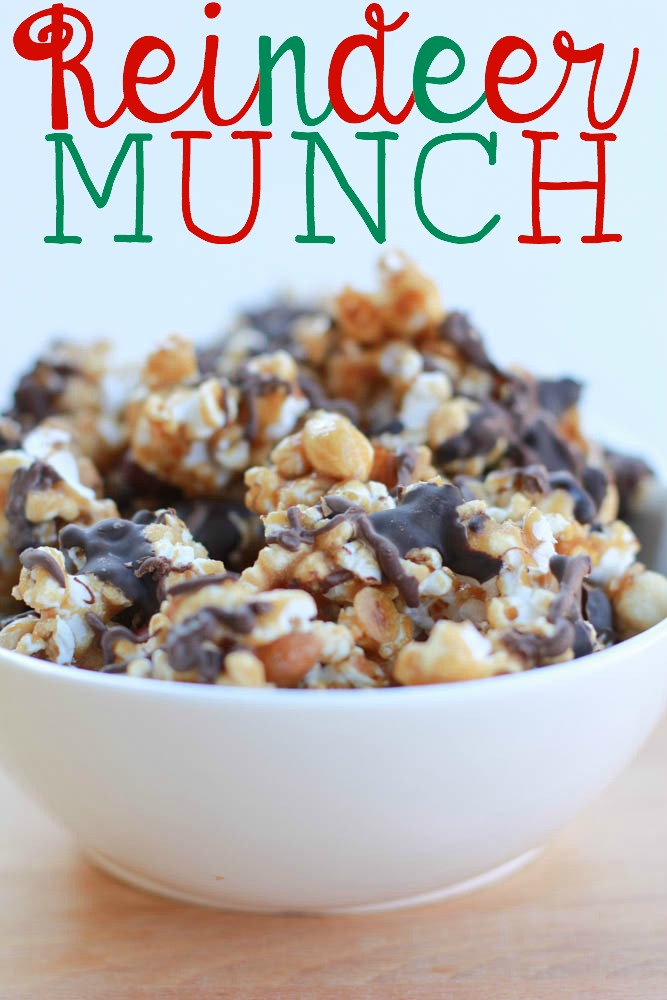 As you see in the ingredient list of the Reindeer Munch recipe, I used several products from the Gold Emblem line at CVS, which consists of over 250 products, including popcorn, nuts, chips, pretzels, cookies, and more! It is available exclusively at CVS.com and at over 7,700 CVS/pharmacy locations nationwide. And by shopping through the ExtraCare program at CVS, you will receive a personalized shopping experience based on your purchases. Just by scanning your ExtraCare card at checkout, each quarter you will earn 2% cash back on nearly everything you purchase! With all the funds that are escaping my wallet for holiday gifts and entertaining, getting a little cash back goes a long way.
I absolutely love this time of year because it means plenty of quality time with my family & friends and good food.
What do you enjoy most about the holiday season?