I'm proud to partner with CVS/pharmacy for the Gold Emblem and Total Home Prep for Holiday Entertaining campaign. I am being sponsored to help lead this campaign, but all opinions expressed are my own, and all product claims or program details shared should be verified at CVS.com or with the appropriate manufactures.
We were walking through one of those big stores that offer samples the other day and my children had their first samplings of the caramel-y, chocolatey Turtle. They wanted me to buy the 5-lb bag, but lets be honest. I would have taken the 5-lb bag of Turtles home with me, hid them in my room, and not shared a single one. And I wouldn't have felt the slightest bit of remorse y'all. I love Turtles. And now my kids loves Turtles. And now I have to share — wah wah wah!!
So I did what any normal person does when they want something really badly. I made my own Homemade Turtles and hid them, where no one could see them. The kids were playing outside so it was the perfect opportunity to whip up a batch without them seeing me.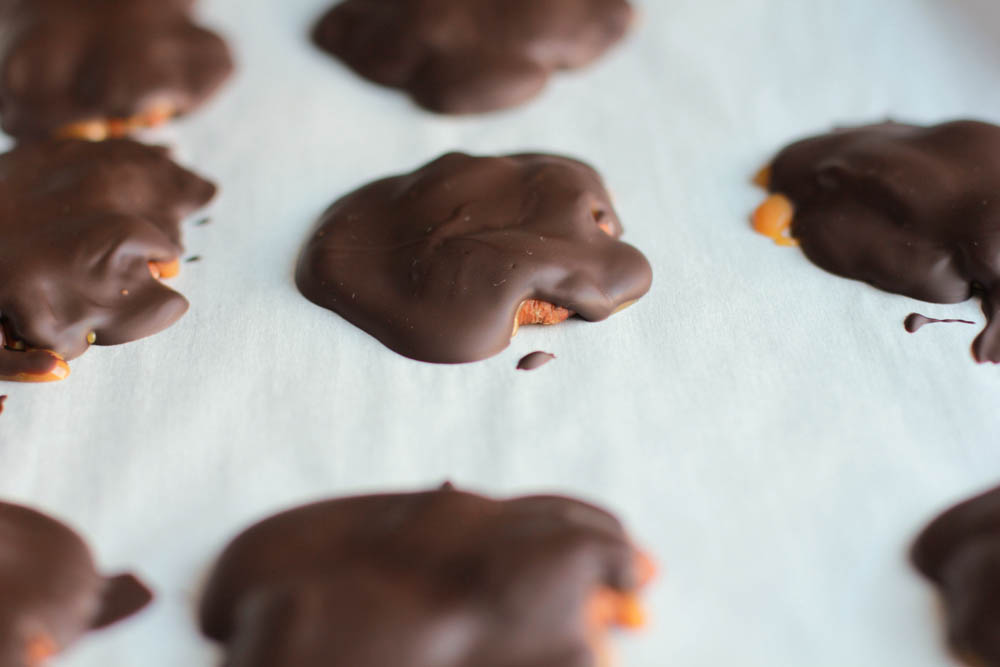 They definitely don't look as pretty as the store-bought variety, but they sure do taste so much fresher. If you've ever wanted to make your own homemade turtles — do it! It's so easy and out of this world delicious.
Homemade Dark Chocolate Turtles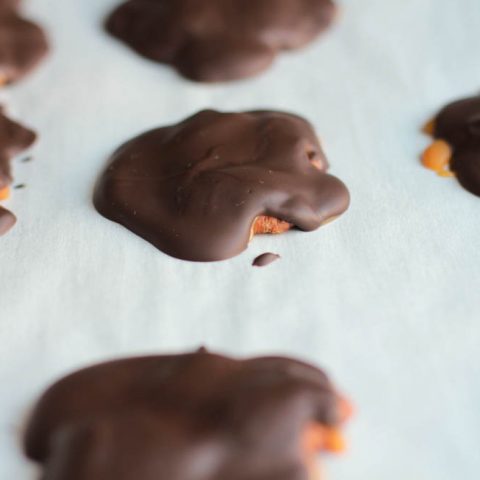 Homemade Dark Chocolate Turtles
Dark chocolate and creamy caramel poured on top of pecans makes the perfect homemade dark chocolate turtles.
Ingredients
5.5 oz unsalted pecan halves (I used CVS Gold Emblem Abound Unsalted Pecan Halves)
26 caramel squares, unwrapped
1/4 cup heavy cream
10.5 oz dark chocolate (I used 3 - 3.5 oz bars of CVS Gold Emblem Select Gourmet European Dark Chocolate)
1/2 teaspoon coconut oil
sea salt (optional), for sprinkling
Instructions
Line two large baking sheets with parchment paper.
Make piles of pecans, using 3-4 pecans per pile. When arranging the piles of pecans, make sure to keep your pecans as close together as possible. When you can, overlap the pecan pieces. If you want bigger turtles, you can use more pecans, although your yield will be less.
Add the unwrapped caramels and heavy cream into a small pot and melt on low heat on the stove; stirring constantly. Alternately, you could melt in a microwave-safe bowl on high power in the microwave. If you go this route, make sure you stop every 30 seconds or so and stir.
Carefully add about a tablespoon of caramel on the top of each pile of pecans. If the pecans move, use a toothpick or something else small to move it back in place. The goal is to not allow too much of the caramel through to the parchment paper. The less caramel that hits the parchment paper, the less sticky the final product will be. Set caramel topped pecan piles aside.
Roughly chop the chocolate bars and melt using a double boiler or microwave-safe bowl. Add coconut oil; continue to stir until it's melted and smooth.
Carefully add a tablespoon of chocolate to the top of each pecan pile. The chocolate should be runny enough that it slowly falls down the sides. If it's not, help it along by using the back of a spoon to spread it around. If you want to add a little bit of saltiness, add a little sprinkle of sea salt on top of each cluster.
Set aside to cool, or place in the refrigerator to help speed up the process. Store in an airtight container at room temperature or in the refrigerator or freezer.
With a turtles recipe this easy, there is no reason you should have to buy them again. With just a little bit of time and a lot of patience while they firm up, you can enjoy fresh, homemade turtles anytime you want. For me, that would be every single day.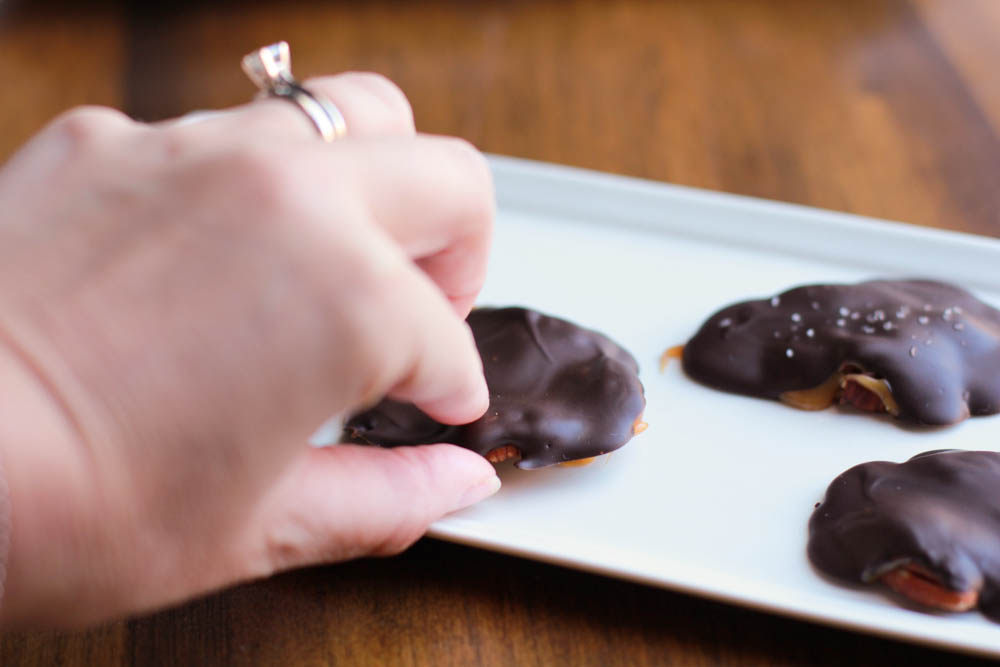 The crunchy pecans smothered with the sweetness of the chocolate and the creaminess of the caramel is almost too much for the taste buds to handle, but my goodness y'all — it's totally worth it.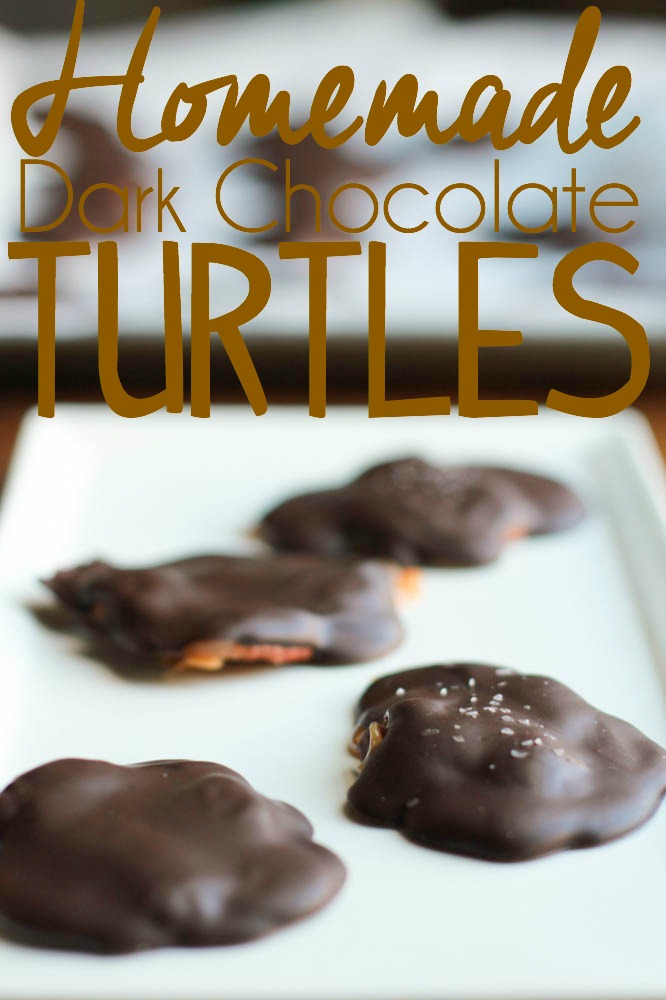 For this homemade turtles recipe, I used several products from the Gold Emblem line at CVS, which consists of over 250 products, including nuts (like the pecans I used), chips, pretzels, cookies, and more! It is available exclusively at CVS.com and at over 7,700 CVS/pharmacy locations nationwide. And by shopping through the ExtraCare program at CVS, you will receive a personalized shopping experience based on your purchases. Just by scanning your ExtraCare card at checkout, each quarter you will earn 2% cash back on nearly everything you purchase! With all the funds that are pouring out of my wallet for holiday gifts and entertaining, getting a little cash back goes a long way.
But those Homemade Dark Chocolate Turtles are calling my name and the kids are away at school. I'm going to go indulge in one — or two.
What is your favorite homemade candy?