This is a partnered post with Honey Maid. As always, all thoughts and opinions are my own.
I know this is my third recipe for holiday inspired treats this week, but I just can't stop y'all. All the chocolate is calling my name and the force seems to be stronger than my will to not eat all the chocolate. But, really, who can complain when all the chocolate is used to make Chocolate Covered S'mores Pops?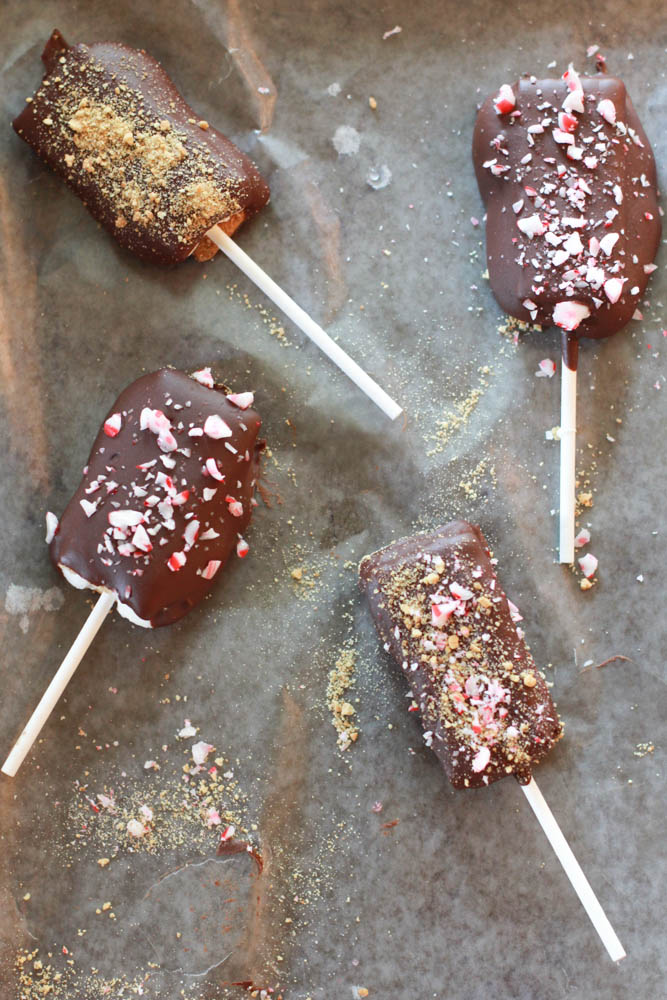 No complaints here! Just a lot of ooohhh's and aaahhh's and mmmmmm's. Because what is there to complain about? Surely no one wants to complain about warm, melted chocolate; or gooey, sticky marshmallows; or sweet, crunchy graham crackers, right?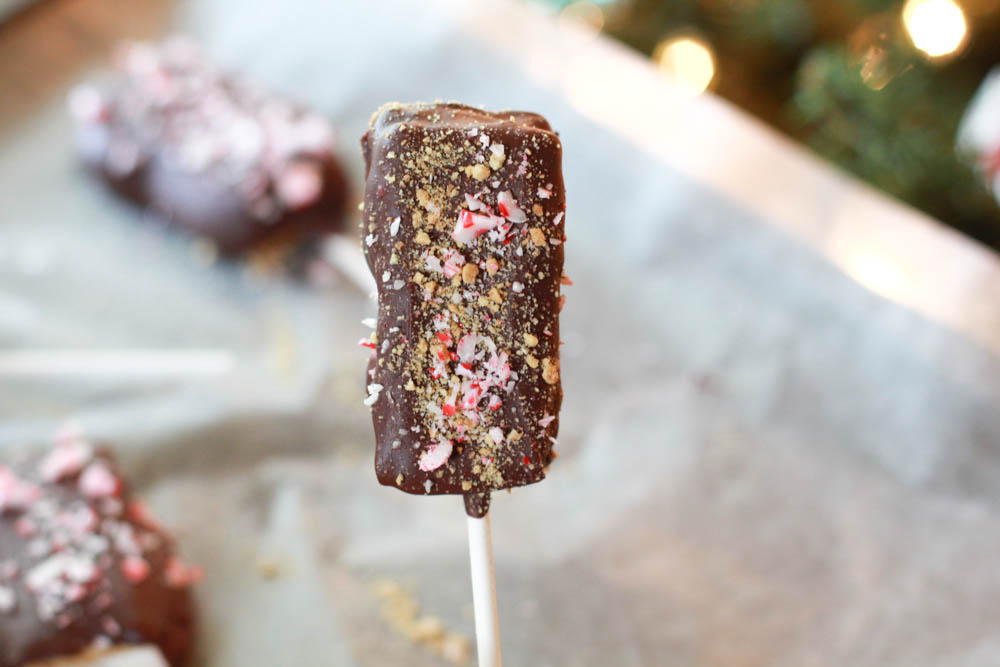 Because that would be kind of sinful to complain about all this decadent goodness…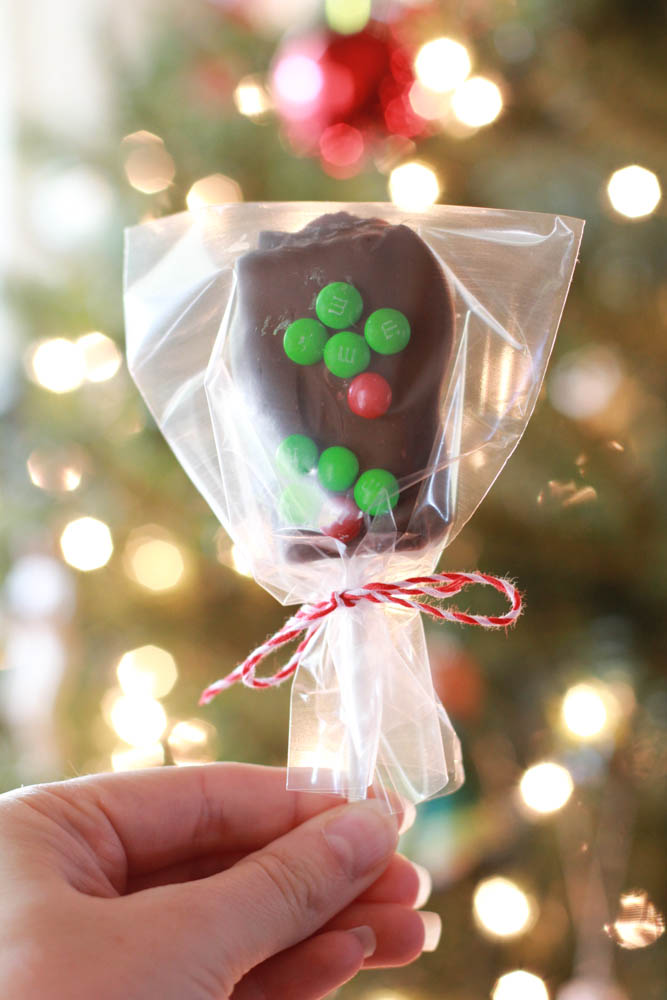 Especially when you package them up with a cute little bow and give them as gifts. Or you can just pretend to give them as gifts. That's okay, too. But I totally did not do that.
Really.
But since I had so much fun making these, I wanted to share just how easy is to make them.
Chocolate Covered S'mores Pops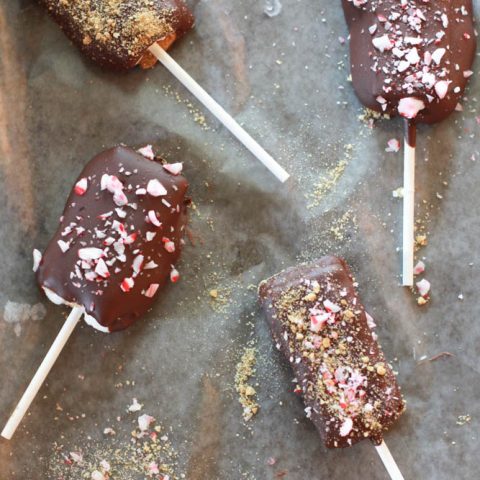 Chocolate Covered S'mores Pops
Total Time:
1 hour
5 minutes
Do you love the traditional campfire s'mores? Then you are going to love this twist -- Chocolate Covered S'mores Pops. With sweet, crunchy graham crackers stuffed with gooey, sticky marshmallow, covered in decadent, warm chocolate -- what's not to love?
Ingredients
6 whole graham cracker rectangles (broken into 24 individual rectangles)
12 large marshmallows, cut in half
12 oz bag semi-sweet chocolate chips
1/2 tablespoon coconut
optional toppings: crushed graham cracker, sprinkles and crushed candy cane are just a few ideas
Instructions
On a microwave-safe plate, line out 12 of the individual graham cracker pieces. Top each graham cracker with 2 halves of a marshmallow. To help the top graham cracker stay in place, set the cut side of the marshmallow down on the bottom graham cracker, and place the other one cut side up so that the cut side will be facing the top graham cracker.
Microwave for about 15 seconds, or until the marshmallows get warm and gooey. Immediately take out of the microwave and begin assembling the top graham cracker. Press down and insert lollipop stick into center of marshmallow. Place in the freezer to allow the marshmallow to firm back up.
Meanwhile, melt chocolate according to directions. I like to melt mine on the stove, but feel free to use the microwave if you choose. I used coconut oil to thin out the chocolate some, but it's not necessary. It just makes it easier to spread. Prepare a baking pan by lining it with wax or parchment paper; set aside.
By the time the chocolate is melted and ready to go, the marshmallow should be firm. Since it's not enough chocolate to dip, use a spoon and carefully spoon the chocolate onto the s'mores pops. If the chocolate is not thin enough, you can thin it out with coconut oil (or vegetable oil). Hold the pop by the stick and hang upside down so that the s'more is at the bottom and the stick is at the top. Spoon the chocolate over the s'mores pop and allow it to run down the sides. You can also use the back of the spoon to help spread the chocolate on the s'mores pop. When it's fully covered in chocolate, immediately place on prepared baking pan. Do this until all 12 are done. Sprinkle on optional toppings.
After all 12 are covered in chocolate and toppings, place in the refrigerator for chocolate to set.
Holy moly, folks. I told you it was easy.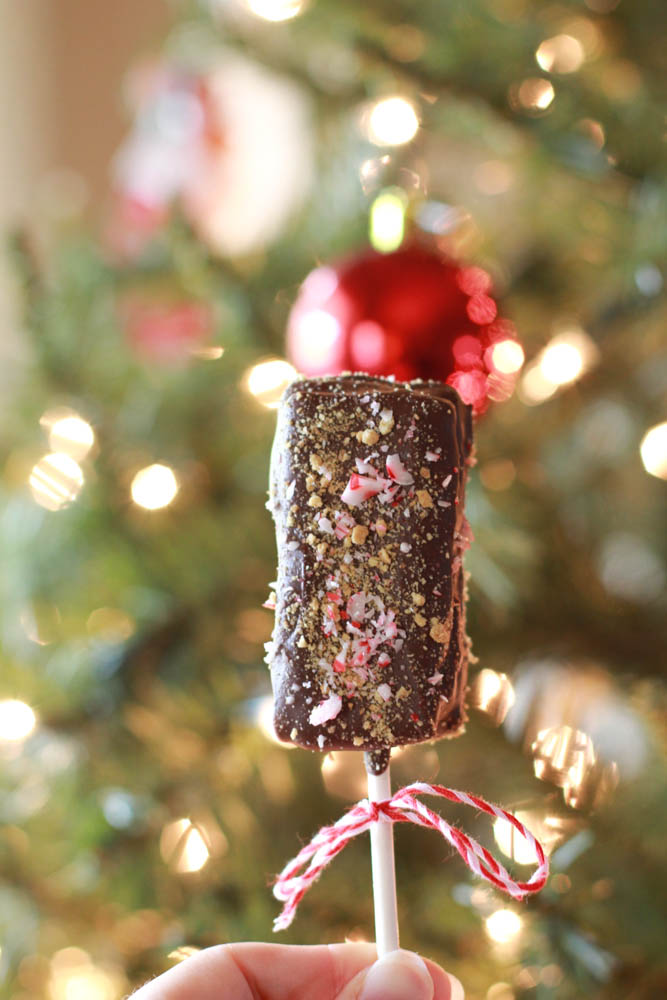 I know things get so busy around the holidays, but as a family, we still make time for some fun in the kitchen. Although not all steps of this recipe are kid-friendly (the melting chocolate on the stove part), my kids get a kick out of sprinkling their favorite toppings onto the Chocolate Covered S'mores Pops. They can also help with putting the graham crackers on the plate and topping them with marshmallows. But I think the eating part is their favorite. Even in the rush of the busy holiday season, there's nothing I love to see more than a smile on the faces of my children.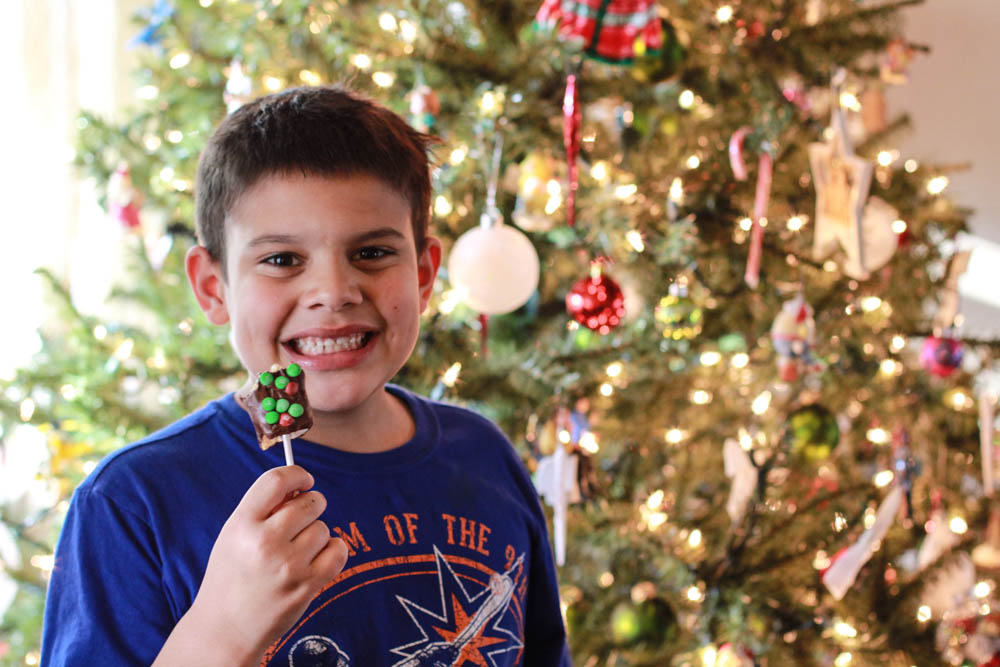 The holidays for me are all about quality time with my loved ones. It's the reason I look forward to Christmas. I get to spend extra time with my children while they are home from school and an extra day with my husband. I'll take extra time with them over anything money could buy any day!
But back to these Chocolate Covered S'mores Pops.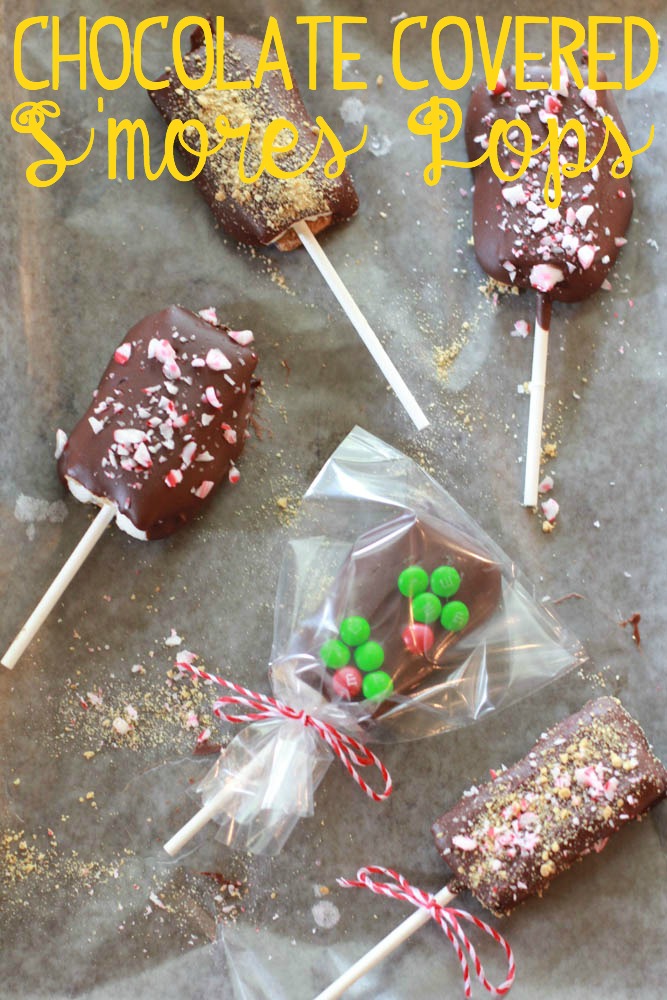 Don't you just want to take a bite out of one of those?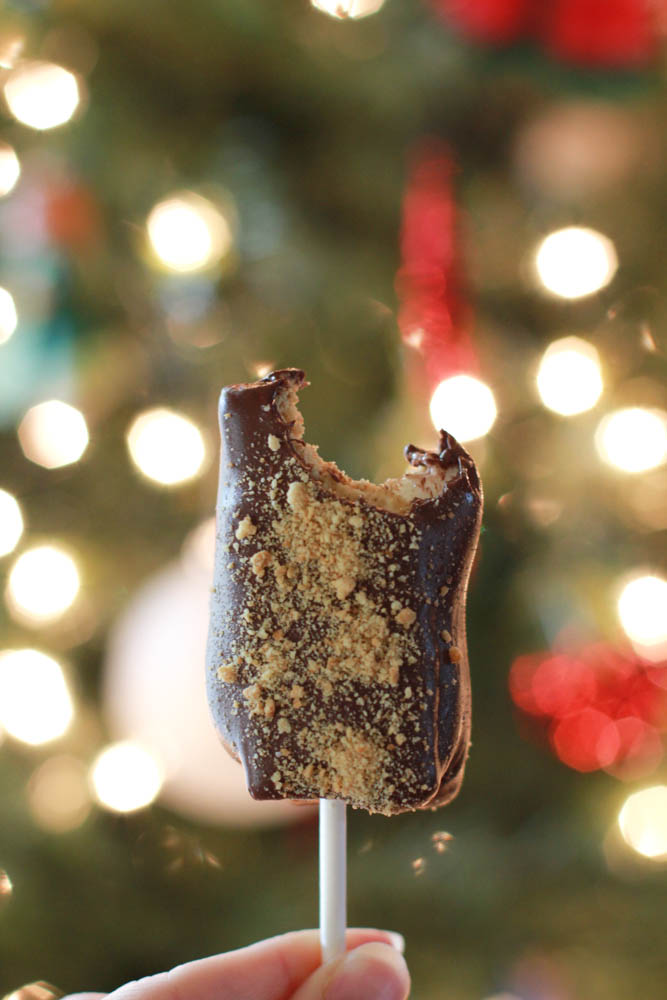 Oh. My. Yum. Absolutely fantastic. Who needs a campfire when you can make these without one?
And because I had a little melted chocolate leftover and it would have been an absolutel disgrace to the chocolate gods if I had thrown it away, I decided to use it by covering some extra graham crackers. And then I sprinkled on some leftover crushed candy cane. And then it was just more deliciousness for us to enjoy!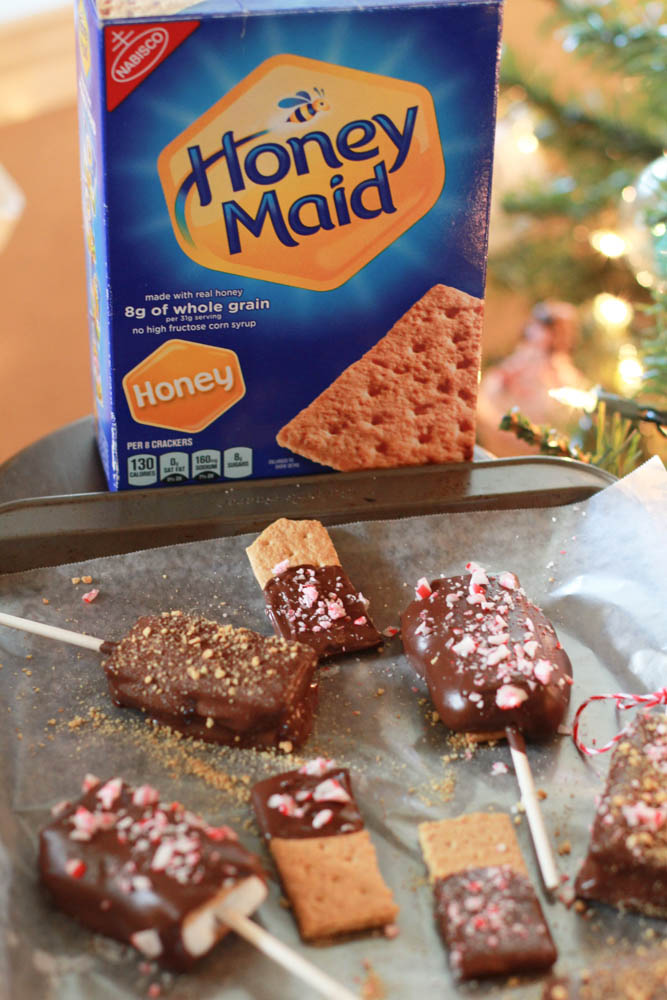 There are so many other fun treats you can make using Honey Maid Graham Crackers. Visit the website to see all the different desserts you can whip up using graham crackers. And, on Tuesday, December 18th at 8pm EST, join us for the #HoneyMaid #ThisisWholesome Twitter Party. There will be lots of prizes given away, and plenty of recipes shared during the hour. To participate make sure to use the two hashtags.
What fun treats do you like to whip up for the holidays?