When the weather is brisk, there is nothing I crave more than a bowl of warm, hearty soup. I'm not too picky when it comes to soups or stews, but my favorite, hands down, is Homemade Zuppa Toscana Soup, just like you get from Olive Garden. I can't say this is a copycat recipe, for the simple fact that it's loaded with potatoes, bacon, kale and Italian sausage. Each bite is filled with mouthwatering goodness that will warm you from the inside out.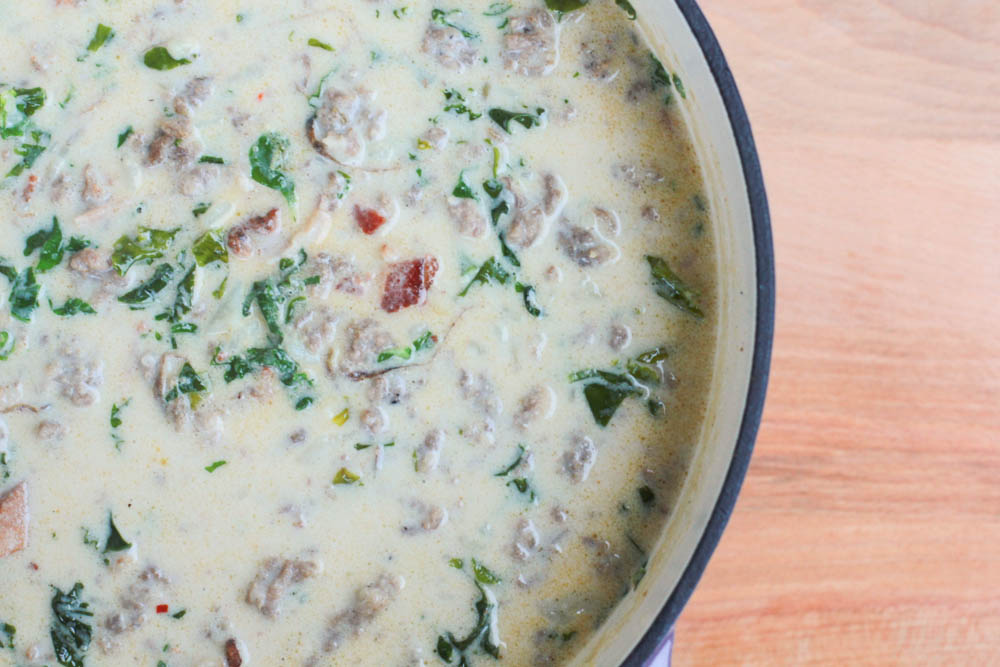 Doesn't that look amazing? The bacon, the Italian sausage, the potatoes, the kale — all of it — it's the most comforting soup I've ever eaten.
Homemade Zuppa Toscana Soup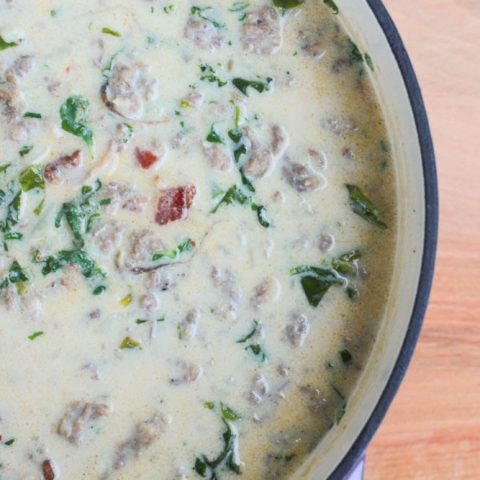 Homemade Zuppa Toscana Soup
Bacon, potatoes and Italian sausage come together to make this a hearty soup that warms the soul.
Ingredients
12 slices bacon, sliced
2 lbs Johnsonville All Natural Ground Mild Italian Sausage
1 tablespoon extra virgin olive oil
1 onion, diced
1 teaspoon minced garlic
10 cups chicken broth
5 large russet potatoes, thinly sliced (I used a mandolin to get even slices. I also left the skin on the potatoes because that is how my local restaurant serves it, plus the skin is filled with nutrients)
1 bunch kale, leaves torn from stem and chopped
2 cups heavy cream
Freshly ground black pepper and salt, to taste
Instructions
In a large skillet over medium high heat, cook bacon until brown and crispy; transfer to paper towel-lined plate and set aside.
In the same skillet, add ground Italian sausage and cook until evenly browned. Drain excess grease and set aside.
In a large pot or Dutch oven, heat olive oil over medium heat. Add onion and garlic. Cook for about 3 minutes, stirring frequently, until onions are translucent. Add chicken broth and bring to a boil. Carefully add in potatoes and cook for about 10 minutes, or until they are tender.
Stir in cooked sausage. Add chopped kale and stir. It will cook down a little as you stir. Once it's cooked down, stir in bacon. Stir in heavy cream, and season with freshly ground black pepper, and salt, if needed.
I'm not one to brag, y'all, but this Zuppa Toscana Soup is absolutely delicious. It's so hearty and filling that I serve this to my family as a meal. The kids love it, the hubby loves it, and it's pretty simple & quick to make.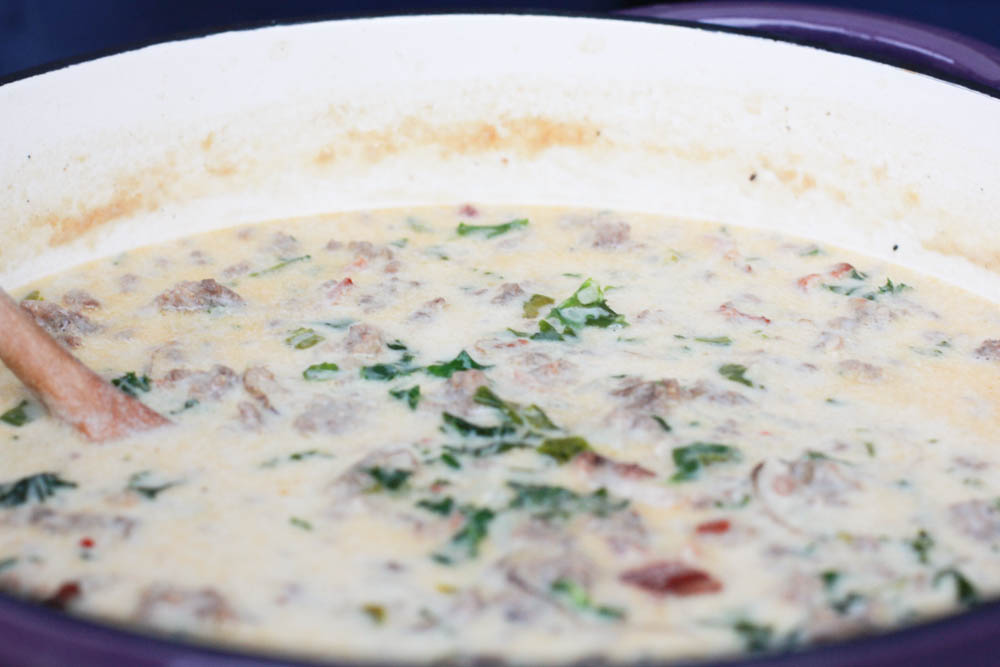 We usually have Homemade Zuppa Toscana Soup at lease a couple times of month during the cold months. And any time we go to Olive Garden, it's our soup of choice.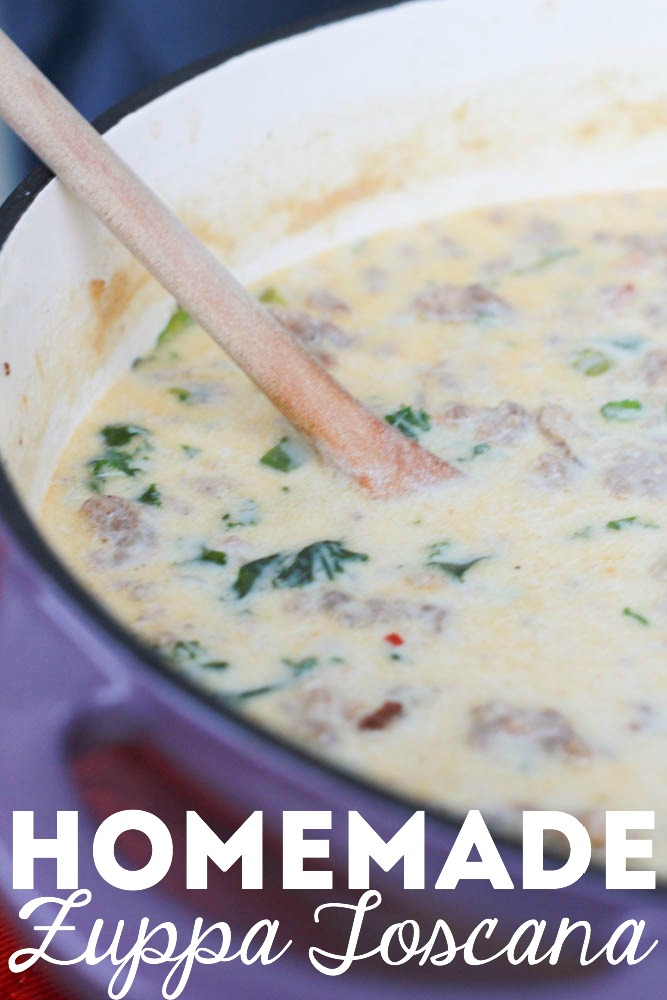 Obviously my family of five can not eat 12 servings in one sitting, but I always make a huge batch so that we have leftovers. I love being able to heat a serving up on the stove for an easy lunch the rest of the week.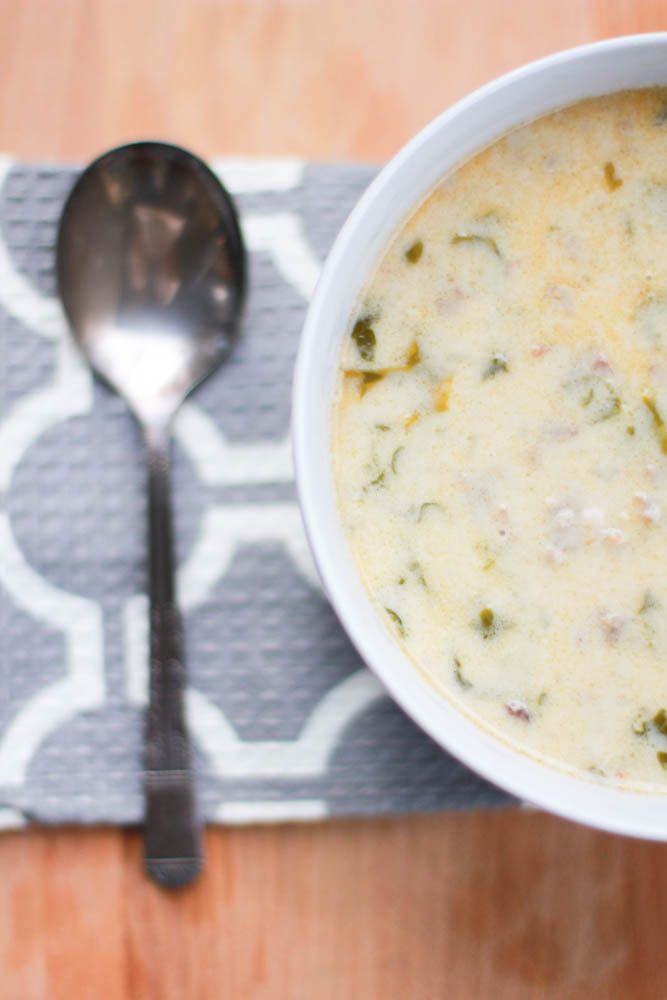 I have to give a shot out to my dad who first showed me how to make Homemade Zuppa Toscana Soup. Thankfully he's an amazing cook and passes his recipes down to me — thanks DAD!
When it's cold outside, what is your favorite food that warms you up inside?
A special thank you to Johnsonville for sponsoring this recipe.