This is a partnered post. As always, all thoughts and opinions are my own.
The other day we were eating out at a restaurant (which we do more often than I'd like) and when I got the bill for my family of five I was kind of slapped in the face with the realization that we spend way too much money on food. We eat out mostly because we are super busy and always on the go so it's just easier to stop and have someone else do the cooking AND CLEANING. In moderation this is totally okay. But what I realized was, I was using the convenience of restaurants even when I had the time to cook at home.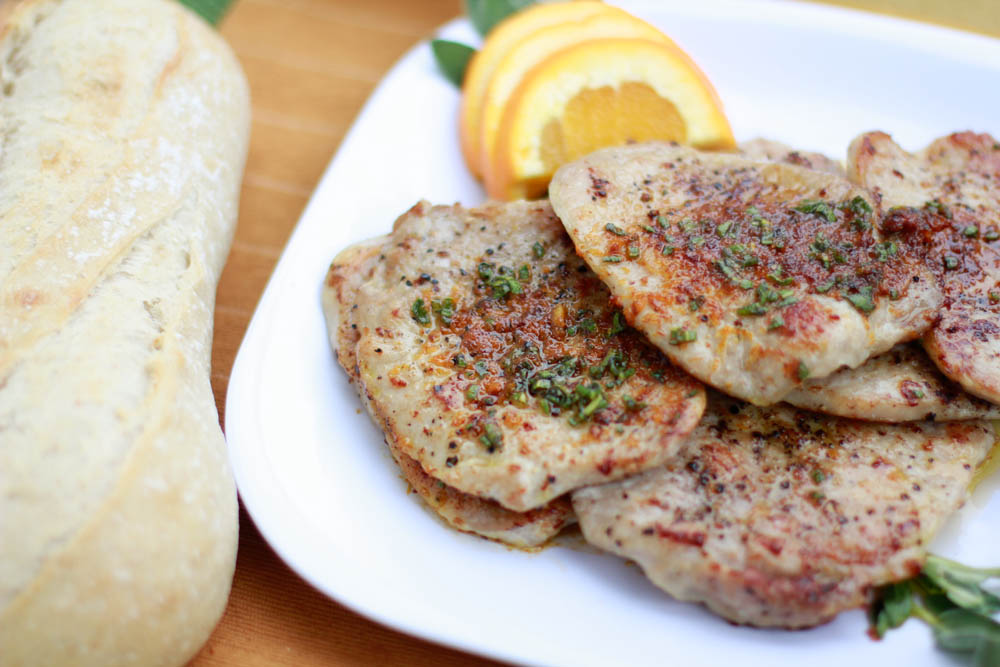 I'm not saying that eating out is wrong or that you shouldn't do it. We will still eat out. We will still enjoy someone else doing the cooking and cleaning. But we will also start eating at home more often than we have been. It's important to me that my kids see me in the kitchen, and it's also important to me that I get the kids in the kitchen with me. Not only is it a great time for bonding, but they learn life skills along the way.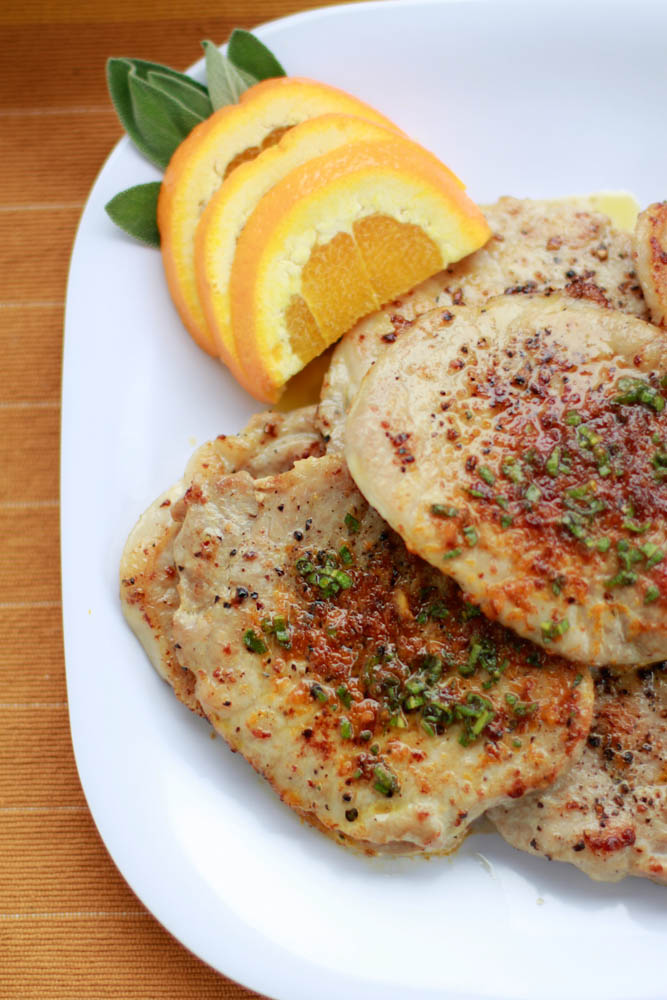 It's a win-win, y'all. I get help in the kitchen, we spend quality time together, and they're learning. I'll take that any day.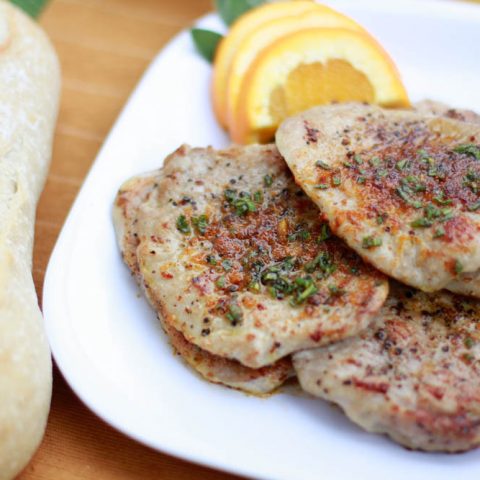 Orange Sage Pork Chops
The hints of citrus combined with the aromatics of the sage make these Orange Sage Pork Chops unbelievably delicious.
Ingredients
4 boneless center cut pork chops, 1/2-inch thick (or you can use 8 thinner ones, like I did)
1/4 teaspoon salt
1/4 teaspoon freshly ground black pepper
2 tablespoons I Can't Believe It's Not Butter Spread, divided
1 large orange (for zest & juice)
1 tablespoon fresh sage leaves, chopped
Instructions
Season pork chops with salt and pepper. In a large non-stick skillet, melt 1 tablespoon I Can't Believe It's Not Butter Spread over medium-high heat. Place the pork chops in the skillet and cook, turning once, until done (approximately 8 minutes). I like to cook them until they start turning a nice golden brown on the outside.
Meanwhile, grate 1 teaspoon orange peel and squeeze 1/4 cup juice from orange; set aside. When pork chops are done, remove to serving platter and keep warm.
Melt remaining tablespoon of I Can't Believe It's Not Butter in the same skillet over medium-high heat. Add orange juice and bring to a boil, scraping brown bits from the bottom of the pan. Boil for 1 minute or until mixture reduces slightly. Remove from heat and stir in sage and orange peel. Drizzle over pork chops and serve.
I'm working with I Can't Believe It's Not Butter this month and they shared this easy pork chop recipe with me. At first I was a little nervous about the flavors and whether my children would scarf it down or turn their noses up to it. Thankfully, they scarfed it down. I've made it a few times now (over the course of the last few weeks) and each time it has been fantastic.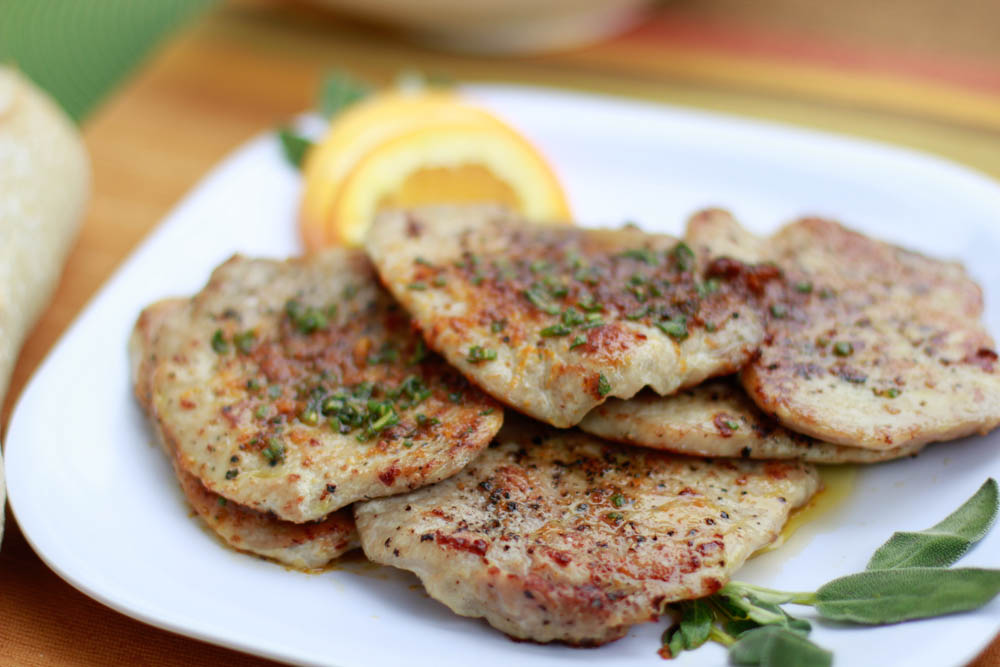 There are so many pork chop recipes that I've tried over the years, and this one is high on my list. It will remain in the recipe rotation because not only is it super duper easy, in less than thirty minutes I can have dinner on the table.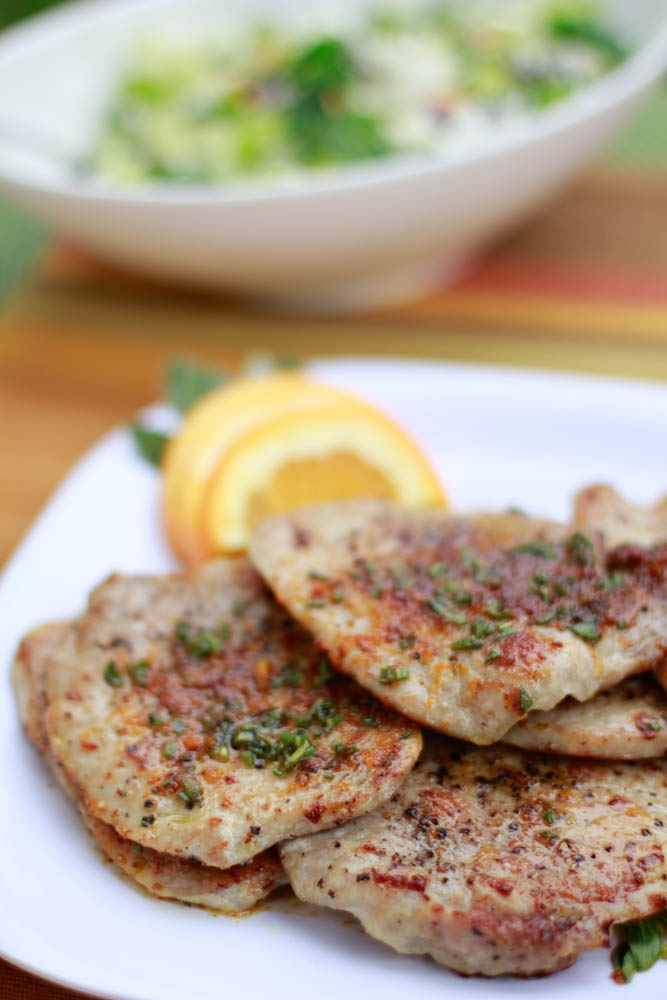 Not only was it fast, it was CHEAP. I was able to feed my family of five for about $10 total, with two pork chops leftover for lunch. I served the pork chops with a loaf of fresh baked bread and a chopped salad. Not bad for a $10 meal.
I Can't Believe It's Not Butter is available in three varieties: Light, Original and Olive Oil. It offers a nice, buttery flavor that is good for spreading, cooking and baking. You can find more recipes like this one here!
This easy pork chop recipe is a total hit at my house. I hope it is at yours too!
What is your favorite way to cook pork chops?