With Valentine's Day right around the corner, I thought it would be fun to look at (and eat) all the beautiful red velvet recipes that can be found around the web. But go ahead and grab a napkin, y'all. Some of these pictures will have you drooling like a teething baby.
[Don't say I didn't warn ya!]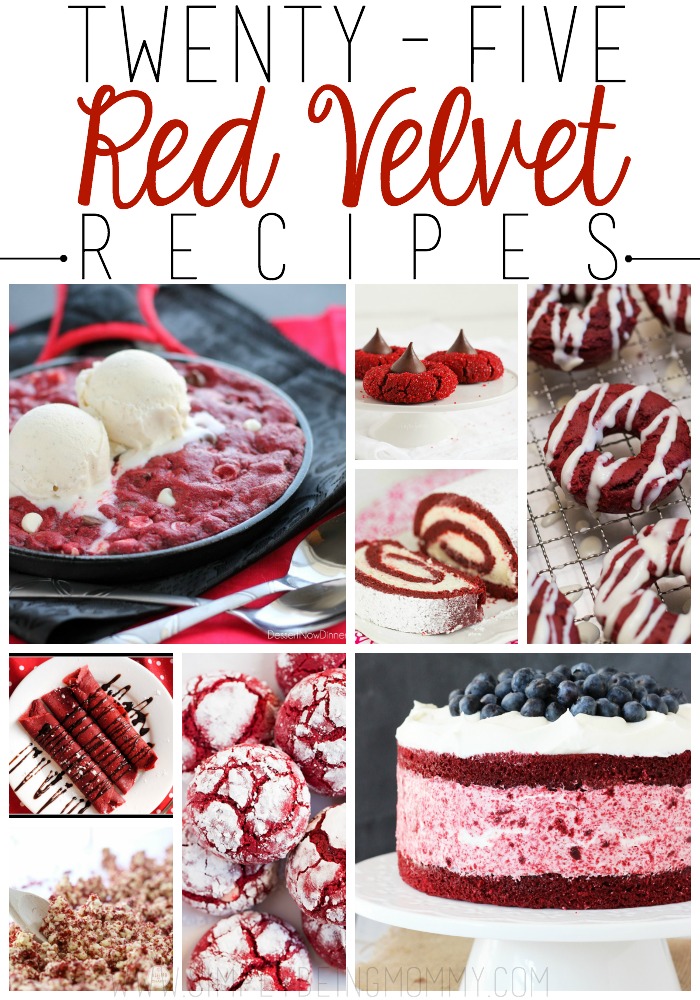 Red Velvet Recipes
1. Red Velvet Roll Cake with White Chocolate-Cream Cheese Filling by Brown Eyed Baker // 2. Red Velvet Biscotti by Something Swanky // 3. Red Velvet Ice Cream Cake by Life, Love & Sugar // 4. Red Velvet Crepes with Sweet Cream Cheese Filling by Prevention RD // 5. Red Velvet Cupcakes by Sally's Baking Addiction // 6. Red Velvet Peanut Butter Blossoms by I am Baker // 7. Red Velvet Smoothies by Chocolate & Carrots // 8. Red Velvet Cheesecake Pops by Life, Love & Sugar // 9. Red Velvet Cheesecake Ice Cream by Desserts with Benefits // 10. Red Velvet Pizzokie by Dessert Now Dinner Later // 11. Red Velvet Popcorn by Inspired by Charm // 12. Baked Red Velvet Donuts with Cream Cheese Drizzle by Sarah Hearts // 13. Red Velvet Waffles with Cream Cheese Syrup by Sarah Hearts // 14. Red Velvet Brookies by Something Swanky // 15. Red Velvet Pancakes with Cream Cheese Glaze by Cooking Classy // 16. Red Velvet Cookies by Kitchen Gidget // 17. Red Velvet Sugar Cookie Bars with Cream Cheese Frosting by The Recipe Critic // 18. Red Velvet Crinkle Cookies by Cooking Classy // 19. Red Velvet Cake Batter Fudge by Chocolate, Chocolate and More // 20. Red Velvet Poke Cake by Brown Eyed Baker // 21. Red Velvet Cake by Bakerella // 22. Red Velvet Cheesecake Cake by Recipe Girl // 23. Red Velvet Cheese Ball by Taste and Tell // 24. Red Velvet Cheesecake by Recipe Girl // 25. Red Velvet Chocolate Chip Cookies by Sally's Baking Addiction
When I was searching for red velvet recipes I wanted to showcase all the different types of recipes. I didn't add more than one of each kind of recipe so each of the recipes featured are all different. There is Red Velvet Biscotti, Red Velvet Crepes, Red Velvet Brookies, Red Velvet Popcorn — RED VELVET EVERYTHING!
Did you hear me y'all — RED VELVET!
So which of these red velvet recipes are you going to try?