This is a partnered post. As always, all thoughts and opinions are my own.
I honestly don't know how my husband and I made it through the three kids five and under stage. To put it quite frankly, there was no time for us. All of our time was devoted to the three little people who call us mom & dad. Every waking moment (and every sleeping moment) we were at their beck and call. I can't even put into words how tired I was. Or how emotionally drained I had become. I spent all my time caring for three little people and had forgotten how to be myself, how to be a wife to my husband. Now that the children are a bit older and we've learned how to make time for us, oh how sweet it is to have reconnected with my husband. We are still mom & dad, and our kids are still a priority, but we've learned that romance after kids is possible!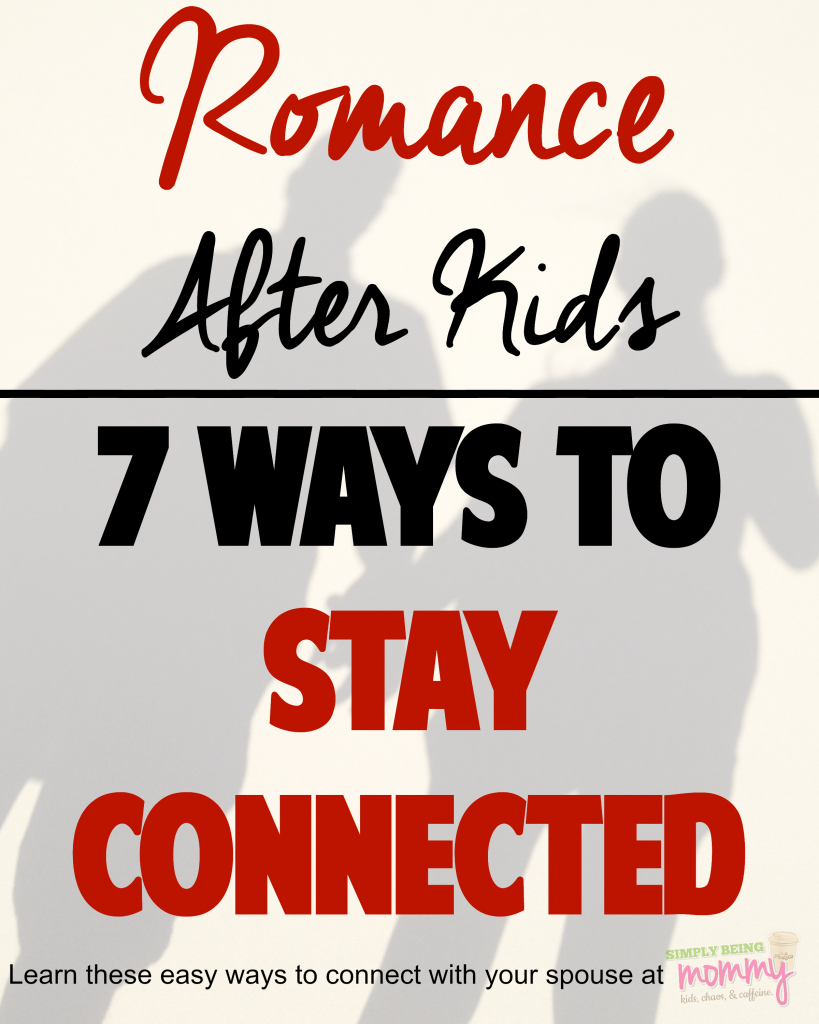 Romance After Kids: 7 Ways to Stay Connected
Talk about your relationship with your spouse before kids. Do you remember what it was like before you had kids? Do you remember how carefree and spontaneous you were? Plan a night to sit down with your spouse after the kids are in bed to talk and reminisce about your relationship before kids. Talk about where you met, how you felt when you first saw him/her, how nervous you were on the first date, how excited you were for the first kiss, etc. Be open and honest with your spouse and go back to those early days in your relationship. Unfortunately my husband and I had strayed so far away from those days, but we made our way back. It's not impossible. With effort and determination, romance after kids is possible.
Make a plan for the future of your relationship. Nothing makes me more motivated than having a plan in place. I'm a list maker and list marker-offer (totally not a word, I know) and I get so much satisfaction with a completed list. For some it may be too technical or planned out, but for me, it keeps me on task and mindful of what I need to focus on. My brain goes a mile a minute and unless I'm on task, I'm getting absolutely nothing done (although it looks like I am). Talk with your spouse about where you want to be a year from now. How do you want things to change, and how you will work towards that change. Talk about how you plan on getting back to romance after kids.
Go back to the early days of your relationship and hold hands. I still get butterflies in my stomach when my husband reaches his hand for mine. It's a little reminder that even through all the busyness of life and everything going on around us, at that moment he is still thinking about me. If your husband doesn't reach for yours, reach for his. If it's been a while since you've held hands it may be a bit awkward. But keep at it. It will get more familiar and soon, without even realizing it, you'll be hand in hand every chance possible.
Look into each other's eyes. I feel so much closer with my husband when we are looking into each other's eyes. We don't get to look into each other's eyes all that often, but when we do, it's kind of a big deal. I feel like when we are able to spend that extra bit of time talking to each other, and looking into each others eyes, that we connect on a different level, if even just for a couple of seconds.
Leave each other notes. My husband is pretty spectacular at this one. There are little sticky notes in my closet and office that he has left for me. I don't throw them away, even though they are bright and yellow, but instead I keep them there as a constant reminder that he thinks about me and loves me. I'm not big on getting flowers all the time (although occasionally is nice), but leave me a love note and you've won my heart.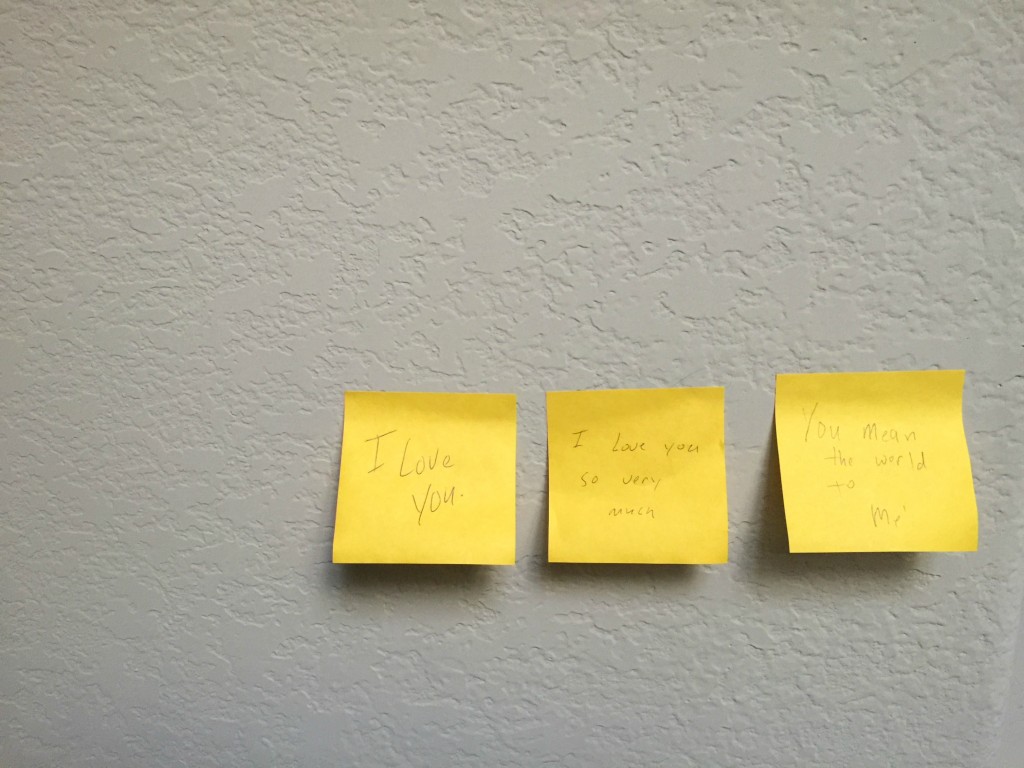 Plan date nights. Romance after kids is NOT easy. It doesn't just happen. You have to work at it. So with that in mind, plan date nights. It's the best thing that we've done to work on our relationship. Whether you go on a date once a week, once a month, or once a quarter — go on a date with your spouse! Devote a few hours for each other. Keep the cell phones put away and just focus on each other. Don't talk about the kids, but talk about your relationship. Or don't talk at all — ahem. You are trying to get back to romance after kids after all.
Make time for each other. To be honest, most of our time is for our children. They're young, with tons of activities, and their needs come before ours. But just because you are mom & dad, doesn't mean you're not husband & wife. It's so important to make time for each other. What you plan on doing with that time is up to you, but spending time with each other is the best thing you can do to strengthen your relationship and bring back romance after kids.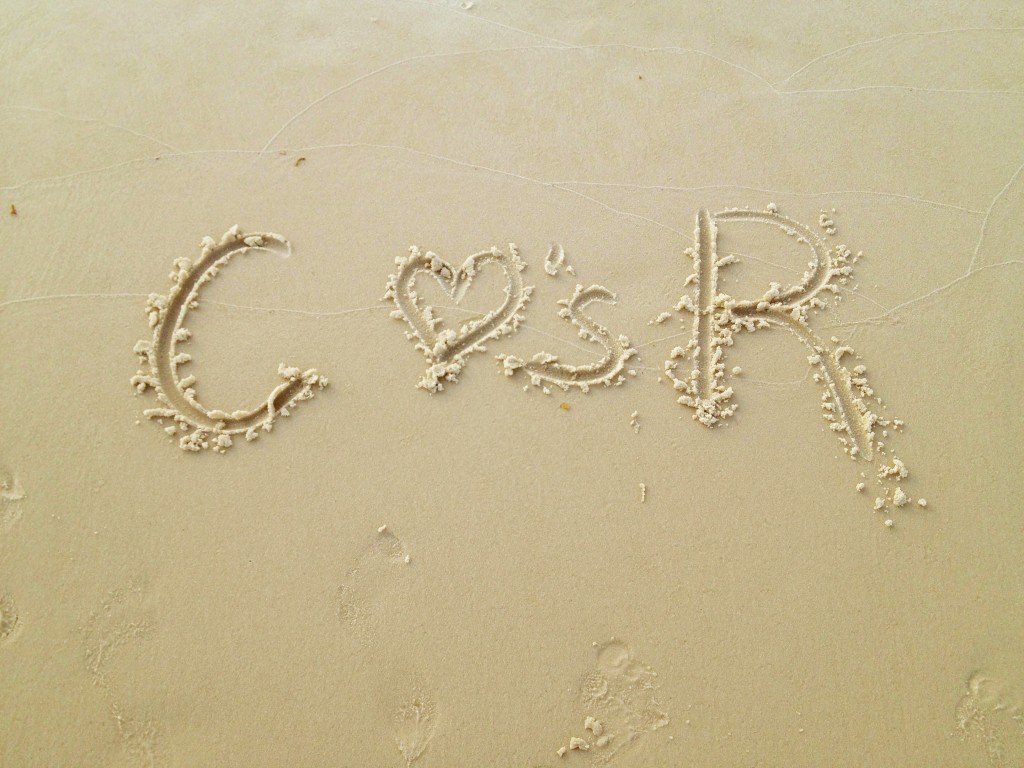 Staying connected to your spouse and experiencing romance after kids is something you have to work at. As much as you love your spouse and as much as you are devoted to him/her, you have to show them. While you may be head over heels in love with your husband, if you only say it, but never show him, how is he supposed to know? Same for your wife, guys. Show her how much you love her. Show her how much she means to you. Sweep her off her feet again, like you did when you first met. Wives, show him that romance after kids is important to you and that you'll work on reconnecting.
I know that putting your heart to paper can be difficult for some of us. I know that writing what your heart feels can be difficult to translate into written words on a piece of paper. I get it, y'all. But your spouse needs to know how you feel. They deserve to know how you feel. Go beyond the "I love you" and express how you really feel. And when the words don't come easy, I've found that more times than not, I can find a Hallmark card that says exactly what I wanted to write, but just couldn't.
As a challenge this Valentine's, I want you to think beyond "I love you." If you're up for the challenge (and I hope that you are), I want you to #PutYourHeartToPaper and write your heart on your own Hallmark card. It's so easy to just sign "I love you" at the bottom of the card. But this year let your spouse know your heart. Tell them why you love them, what you love about them and how they make you feel. Even if the card says most of how you feel, elaborate and make it personal for your spouse. It might just be the best Valentine's Day yet!
Do you have any other tips for romance after kids?