This is a partnered post with Eggland's Best. As always, all thoughts and opinions stated are my own.
I've been making Birds in a Nest for my family for years. It's such a fun take on the traditional eggs and toast breakfast and the kids absolutely love it. When I was making Birds in a Nest for myself this week for breakfast, I decided to add another breakfast favorite — bacon! And since I was adding bacon, I decided to go ahead and add some cheese too. I just couldn't resist, y'all.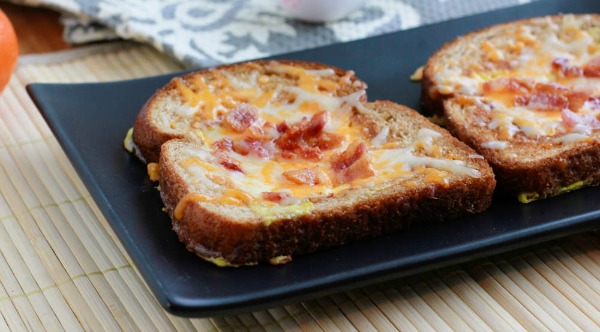 I was a big fan of Birds in a Nest before adding bacon and cheese, but now I'm an even BIGGER fan. It does require a few extra steps, but the extra steps are totally worth the extra effort.
Birds in a Nest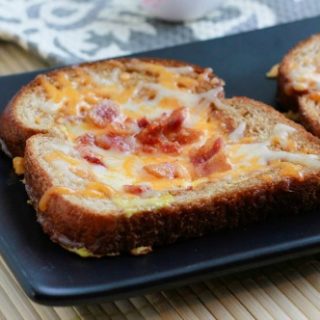 Birds in a Nest with Cheese and Bacon
Birds in a Nest is such a fun twist to the traditional eggs & toast breakfast. Add in some crispy bacon and melted cheese, and it's a whole new breakfast experience.
Ingredients
2 slices of bread (I used whole wheat but you can use whatever you like best)
1 tablespoon unsalted butter
2 eggs
1 slice of bacon, cooked and crumbled
1/4 cup of cheese, shredded (I used a three cheese blend)
salt, to taste
freshly ground black pepper, to taste
Instructions
I cook bacon in the oven, so I always start with that step first. If you prefer to cook your bacon in a skillet, that's fine too, just improvise accordingly. Line a rimmed cookie sheet with foil and place bacon onto sheet placing it into a cold oven. Turn oven to 400 degrees. I usually cook the bacon for about 14 minutes because I like it crispy. If you don't like it as done, shorten the cooking time.
While bacon is in the oven, take a cookie cutter (or use an empty can or small mug) to cut a circle or square from the center of the bread (personally, I like cutting a square). I save the cut out bread in a baggie for either homemade bread crumbs, or a small mid day snack smeared with some peanut butter.
Melt the butter in a large nonstick frying pan over medium heat. While the butter is melting, crack the eggs into a small cup and break the yolk (you don't have to break the yolk, I just prefer it that way). Add the slices of bread to the frying pan and pour eggs into the hole (nest); season with salt and pepper. Cook for about 3 minutes or until the bottom is a nice golden brown. Gently flip using a flat spatula and continue to cook for an additional 3 minutes.
Meanwhile, the bacon should be done (or close to it). Once the bacon is done, remove it from the oven and place on a paper towel lined plate; carefully throw away foil being careful not to burn yourself on the bacon fat. Chop bacon with a knife or crumble with your fingers.
Remove Birds in a Nest from frying pan and place on rimmed cookie sheet. Evenly sprinkle the cheese and bacon on each slice and place in the warm oven. Please note: Do not turn the oven back on. You just want a little bit of gentle heat to melt the cheese. Once the cheese is melted, remove from oven and serve immediately.
Oh my gosh, these Birds in a Nest are so good. I love the addition of the crumbled bacon on top.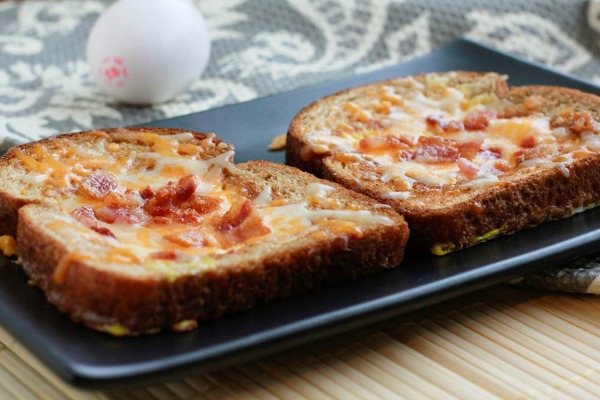 As a work at home mom who carries much of the responsibility of the household and keeping things orderly, I guess you could say I'm the CEO of our household. I make sure everyone gets up on time, gets dressed and to work or school on time, makes lunches so that bellies get full, has homework duty each school night, plans and makes dinner…I could go on and on but since you're a mom (or dad) you know that being the CEO of your household is no easy task.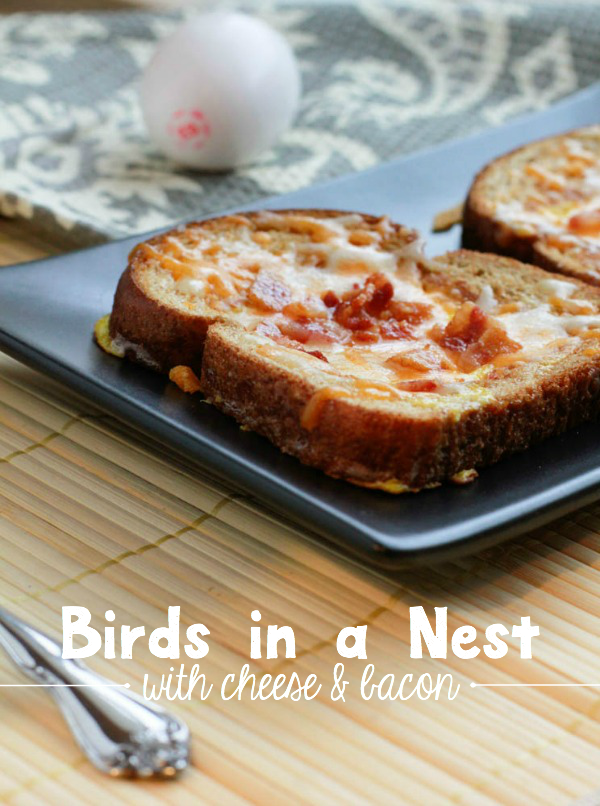 How do you use Eggland's Best eggs?