Experiences and travel provided by Disneynature & Disney Parks. As always, all opinions stated in Dine with an Animal Specialist at Animal Kingdom Lodge are all my own.
Last week while I was in Florida for the Monkey Kingdom Event, I had the opportunity to visit Animal Kingdom Lodge and speak with the Animal Operations Manager, Greg Peccie. Greg is responsible for the day to day operations of the oversight of the animals in the resort as well as serving as an Executive Committee member for the resort.
Greg was born in Oregon and remembers the family trips that sparked his love for the outdoors. He grew up in North Carolina and it was the unique geography of the state that furthered his love for the outdoors. He graduated from the University of North Carolina in 2004 with a Biology degree and the deep desire to make a difference.
He began his zoo career with an internship at White Oak Conservation Center in North Florida, which then turned in to a full time job. From there he served a short time at the Forth Worth Zoo before moving on to Disney's Animal Kingdom in 1998. His true passion for hoofed animals brought him to Disney's Animal Kingdom Lodge as a member of the opening team in 2000.
Although we have been to Disney a couple times before, we've never had the opportunity to stay at the Animal Kingdom Lodge. While we were waiting for our reservation time to Dine with an Animal Specialist at Saana, we were able to explore a little portion of the property surrounding the restaurant.
There are four separate savannas, 46 acres of land, and 250 animals representing 30 different species. Most rooms (75%-80%) have views of the safari. Can you imagine waking up and having your morning coffee on the balcony watching the zebras and giraffes? I imagine it's a pretty incredible experience.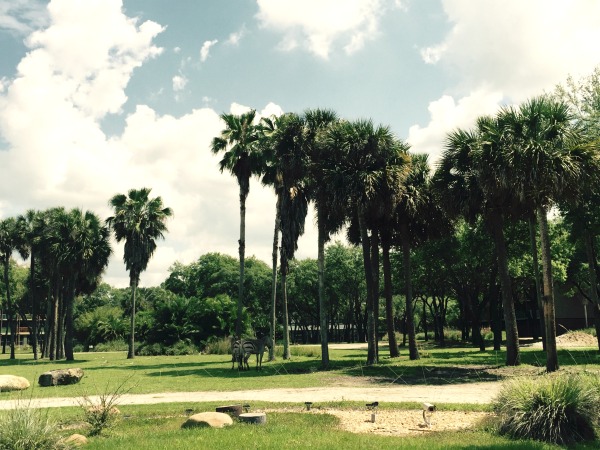 Animal Kingdom Lodge is a destination in itself. With so much to see and do, you really don't have to leave the Lodge (although the parks are pretty magical too). But Animal Kingdom Lodge just isn't for people staying on property. Guests are free to visit, explore and encounter a cultural experience with the employees who are here on a 12-month Visa.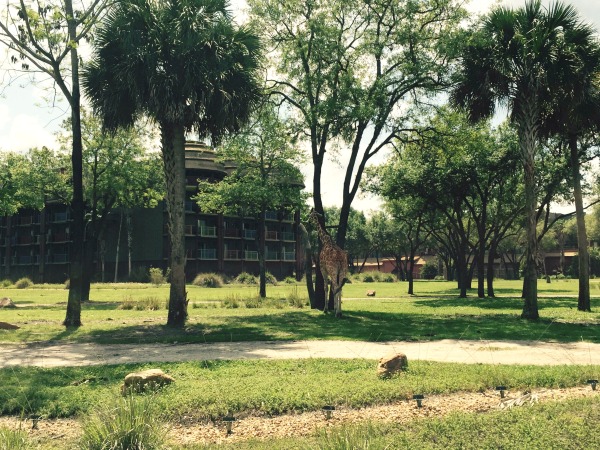 Dine with an Animal Specialist
You can also experience "an untamed lunch" when you Dine with an Animal Specialist at Disney's Animal Kingdom. This is an interactive experience with an Animal Specialist that will sit with you as you experience a 4-course meal at Sanaa. While you enjoy a four-course feast, you can learn about the animals right outside the windows.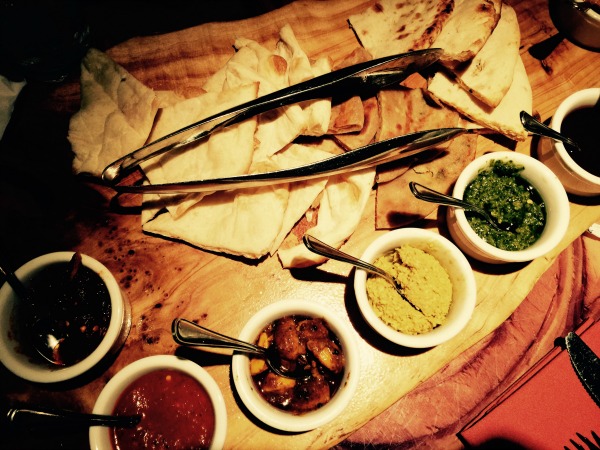 The feast includes an Indian-style bread service, a selection of refreshing salads, slow-cooked meats and desserts. There are options for meat lovers, vegans and vegetarians alike, while the smaller people at the table can choose from child-size portions of the adult options or familiar favorites on the kids menu. After the meal, the Animal Specialist will guide you into a secured area for an up-close encounter with the radiated tortoises, one of the most endangered animals cared for at Disney's Animal Kingdom Lodge.
Dining with an Animal Specialist is a personal and intimate experience which is limited to 12 guests. Guests must be at least eight years of age to participate. The cost for children under 10 is $29; the cost for everyone else (10+) is $49. It's also important to note that the price of Dining with an Animal Specialist includes a $5.00 contribution to the Disney Worldwide Conservation Fund.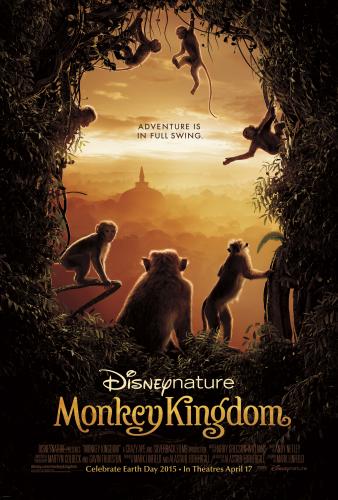 While the animals in Disney's Animal Kingdom are safe and secure, that isn't the case for animals all around the world whose natural habitat is in danger. I love that Disneynature films helped protect coral reef in the Bahamas, planted three million trees in Brazil's Atlantic Forest, protected 65,000 acres of savanna in Kenya, and protected nearly 130,000 acres of wild chimpanzee habitat. You can do your part simply by watching Disneynature films during opening week. Go see Monkey Kingdom. It's in theaters now!