With three children in school, I make a whole bunch of lunches. But my kids lunches aren't the lunches I remember as a child. Thanks to all forms of social media, especially you, Ms. Pinterest, the bar is set much higher for the lunchrooms of today. Here are some tips for how to pack a lunchbox kids will love.
This blog post is sponsored by Mott's and SocialMoms. The opinions and ideas expressed here are my own.
A few years ago, I spent hours planning and creating my kid's lunches. I bought countless supplies. In fact, I have a whole cabinet dedicated to my lunch-making supplies.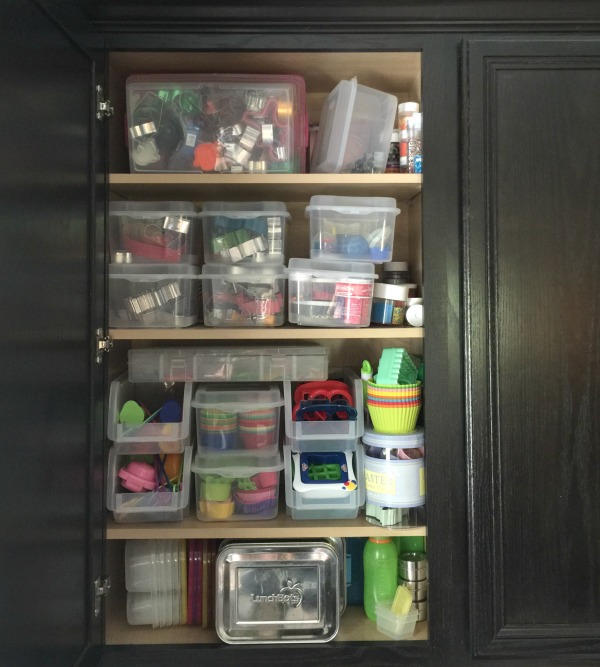 It's a bit insane, I know. I have cookie cutters, egg molds, silicones in all shapes and sizes, condiment containers, food picks, sprinkles (for yogurt and applesauce), alphabet and number cutters, sandwich shapes, seaweed punches…oh, and the lunchboxes. The boxes I use most often are in this cabinet (bottom shelf) but the others are in a separate cabinet. So I guess I really have more than one cabinet full of lunch-making supplies. (We won't even talk about the money that went to purchasing all these supplies.)
When I first started this lunch-making journey (also known as how to pack a lunchbox kids will love), everything had to be perfect and just right. I bought special lunch bags so that the lunchboxes would lay flat and not tilt to the side when the kids carried them. I had lessons on how to properly remove the lunchboxes from the bag and taught them how to open those lunchboxes without tilting them, in even the slightest degree. After they had successfully finished Opening the Lunchbox 101, they had to take What NOT to Throw Away 101. Because that stuff isn't cheap, y'all.
While my sons enjoyed star-shaped cucumbers and cheese sticks with a Star Wars ring around it, my daughter enjoyed butterfly shaped deli meat and cheese, with flower-shaped cantaloupe and watermelon. There were days when it would literally take me over an hour to make their lunches. That didn't include the time for clean-up the day of and washing everything when they brought it home.
Pure craziness, I tell ya!
It got old really fast, but I felt like I had to keep up because all their teachers would rave about their lunches. I mean, how devastating would it be to my children if they opened their lunchboxes and found a plain jane peanut butter and jelly sandwich instead of the Teenage Mutant Ninja Turtle peanut butter and jelly sandwich fully outfitted in a eye mask made out of a fruit roll-up?
It wasn't nearly as devastating as I thought it be, thankfully. I've come to realize that all they care about is food. When they open their lunchboxes and see food, it's a good day.
Pack a Lunchbox Kids Will Love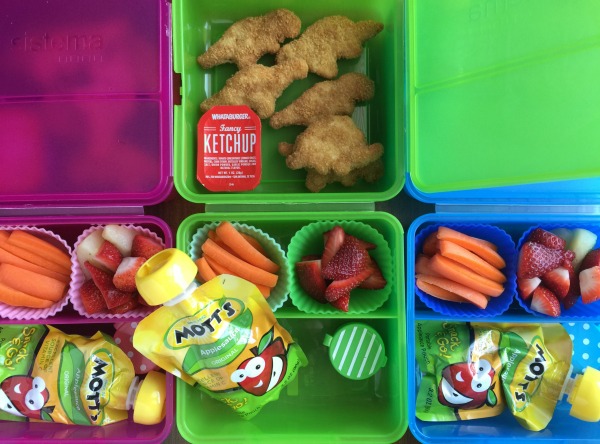 I still use the bento-style lunchboxes we have, but I don't spend nearly the amount of time I used to while making their lunches for school. Basically, I have just one rule; I try to incorporate all the food groups into the lunchboxes. I don't succeed each day, but for the most part, they get a very balanced lunch.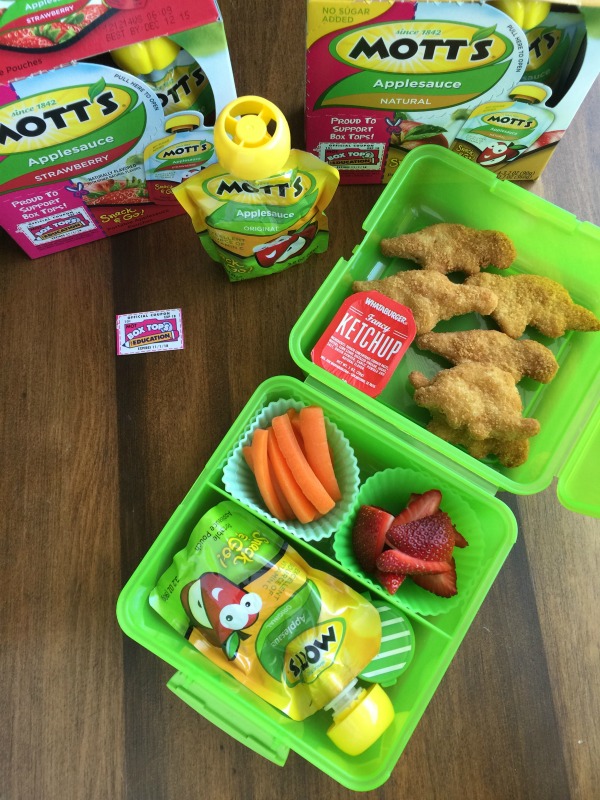 When it comes to being able to pack a lunchbox kids will love, I've found that packing familiar items that they already know and love is key. Since my kids love applesauce, the Mott's® Snack & Go applesauce pouches work perfectly for us. It's the same applesauce we already love and trust, the packaging is perfect for families on the go, and it's a fun, convenient way for my kids to get real fruit.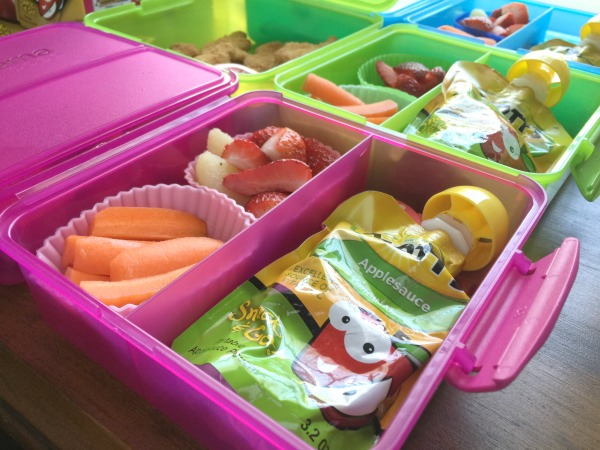 Mott's® Snack & Go applesauce pouches are available in three fun, fruity flavors; Original (excellent source of vitamin C), Natural (excellent source of vitamin C, no added sugar) and Strawberry (excellent source of Vitamin C, no added sugar). I love using these in my kids lunchboxes and I carry them around when we are out and about, in case they need a quick snack. Especially since we are spending so much time at the ballpark lately.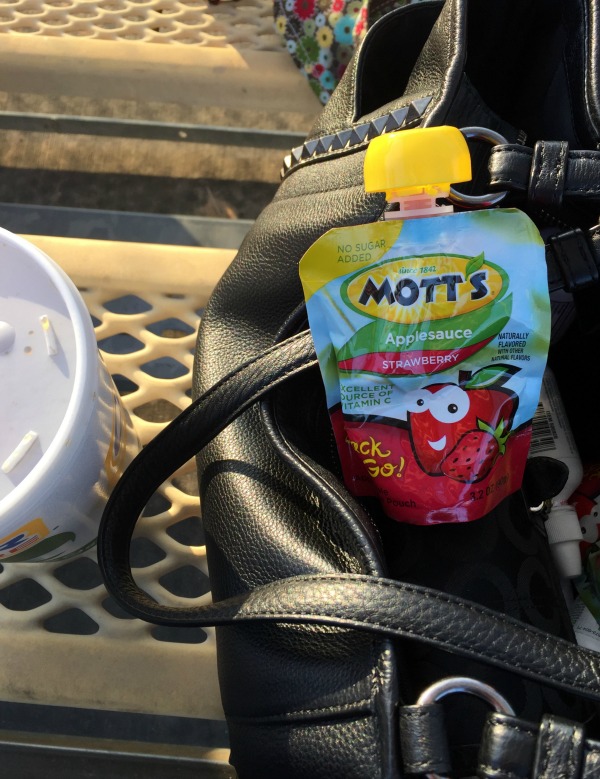 And those concession stand prices are ridiculous!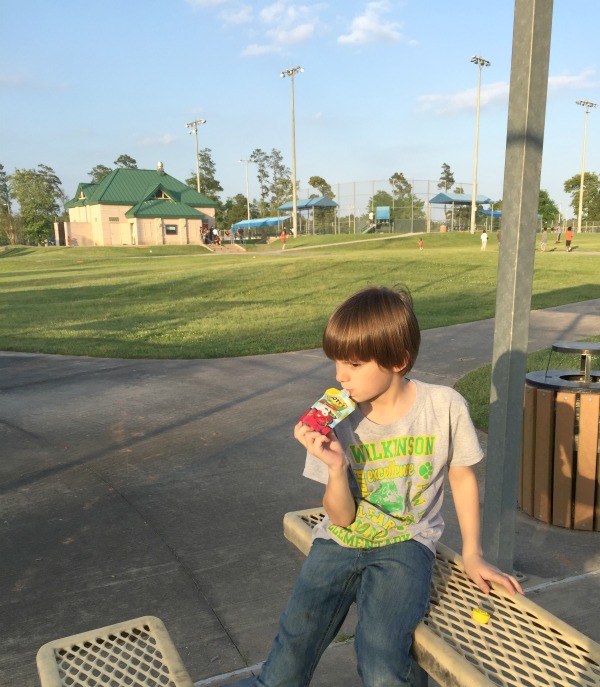 I try my hardest to ensure that my children eat a balanced diet while still giving them the foods they love most. At the end of our busy days, they're happy, and I'm happy. I can live with that.
What do you pack in your child's lunch?