Fresh Corn and Pasta Salad. It's so many things I love about summer. The fresh produce. The bright colors. The bold flavors.
Summer Salad
One of my favorite things about summer is the fresh produce that fills the bins at the grocery store. Lines of brightly colored fruits and veggies lined up in perfect little rows draw me right to the produce section every time I walk through the grocery store doors.
This month I'm working with Dreamfields by participating in the Dreamfields Pastapalooza summer promotion and I was tasked to create a recipe using five predetermined ingredients with two additional ingredients of my choosing.
The ingredients list given to me was corn, tomatoes (any variety or color), cucumbers, greens (any variety), and herbs. I was allowed to use five "free" ingredients which consisted of Dreamfields pasta, salt, pepper, oil and water. Obviously after seeing the ingredient list, I knew a Fresh Corn and Pasta Salad recipe would be happening in my kitchen.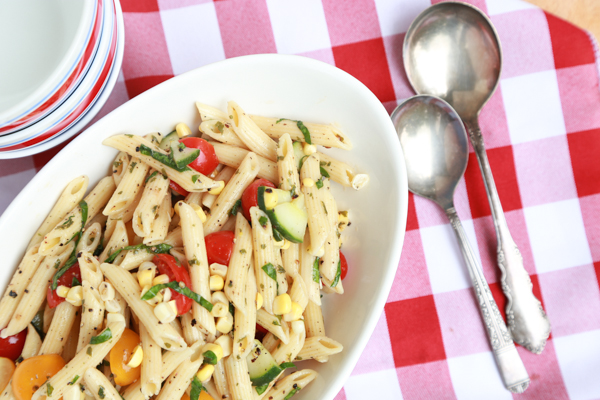 Full of fresh ingredients and summer color, this Fresh Corn and Pasta Salad recipe is guaranteed to be a hit at your next social gathering. And better yet, it's super easy to prepare.
Pasta Salad
I think this recipe is incredibly flavorful and so pretty with all the fresh, in season ingredients. All the different textures and flavors make each bite as exciting as the first.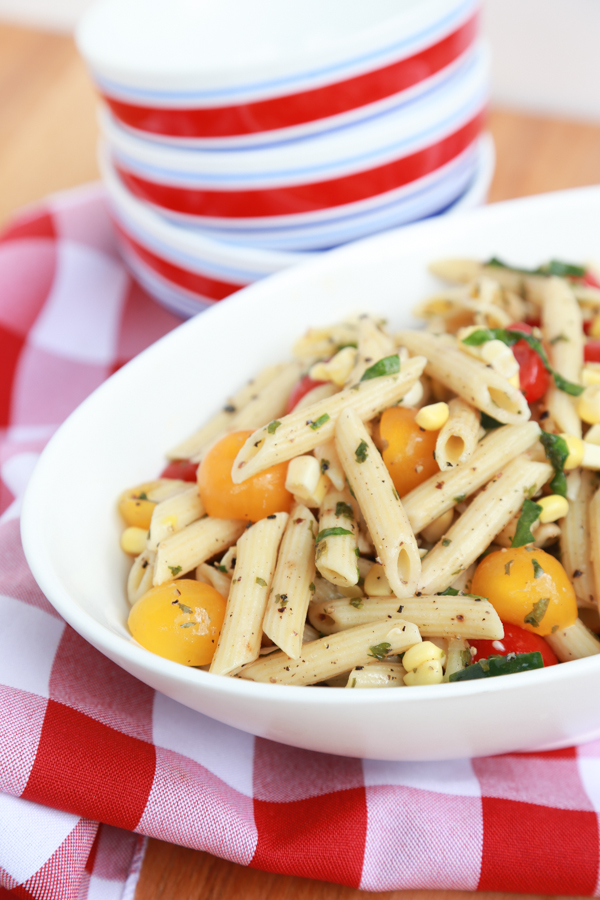 When I'm creating recipes, most of the time I try to keep things on the healthier side. Sure, I've made recipes that are incredibly high in calories and super indulgent, but I try to keep those few and far between. Everything in moderation, right? I feel comfortable serving my family recipes like this Fresh Corn and Pasta Salad as often as they want it.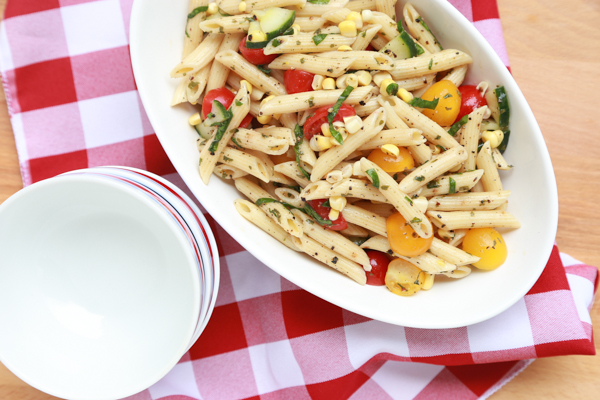 The idea of fresh, easy recipes with minimal ingredients is something that gets me excited about cooking. I love being in the kitchen, but some days I don't want to spend an enormous amount of time preparing meals. I have young kids that need me spending time with them, instead of slaving away at a hot stove for hours.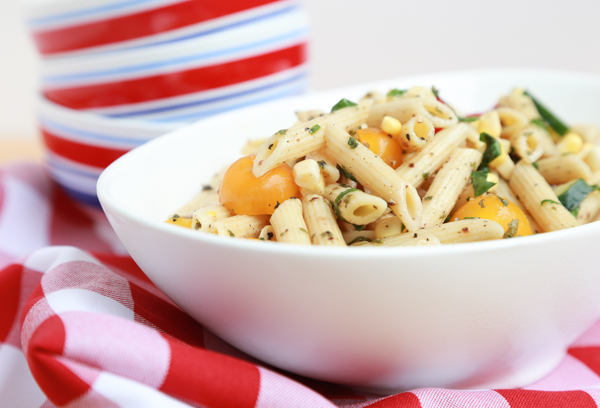 Serve this Fresh Corn and Pasta Salad with your favorite grilled protein and you have a quick and delicious meal in under 30 minutes.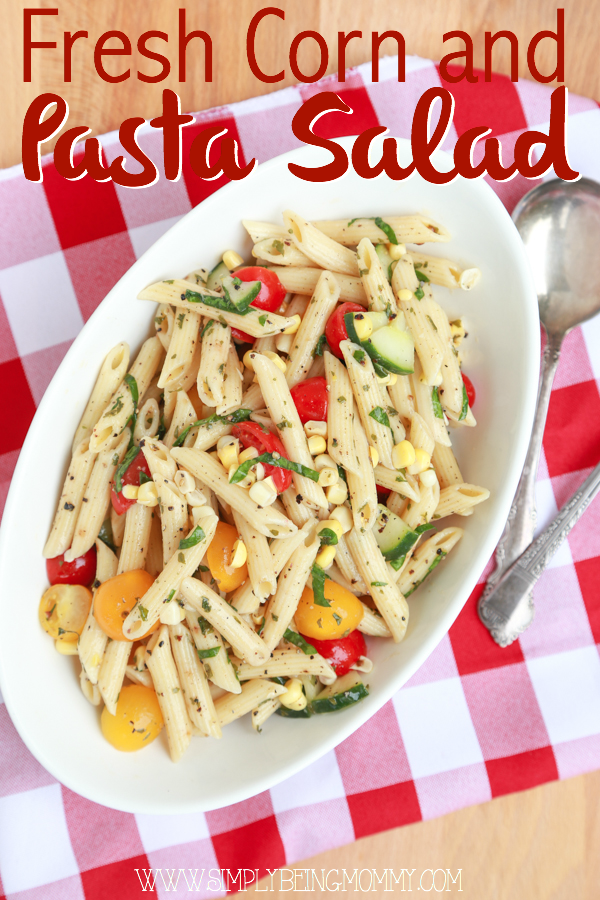 During each of the Market Basket Challenges in Dreamfields' Pastapalooza summer promotion, there will be five bloggers/recipes competing for the prize. I don't like participating in voting contests, but since this one supports a local food bank/pantry, I felt I had to participate. I support the local food bank often, so it only seems fitting that I would try to win a $1,000 monetary donation made to the food bank in my name. But even if I don't win, a $100 donation will be made in my name. I'm happy with that, too!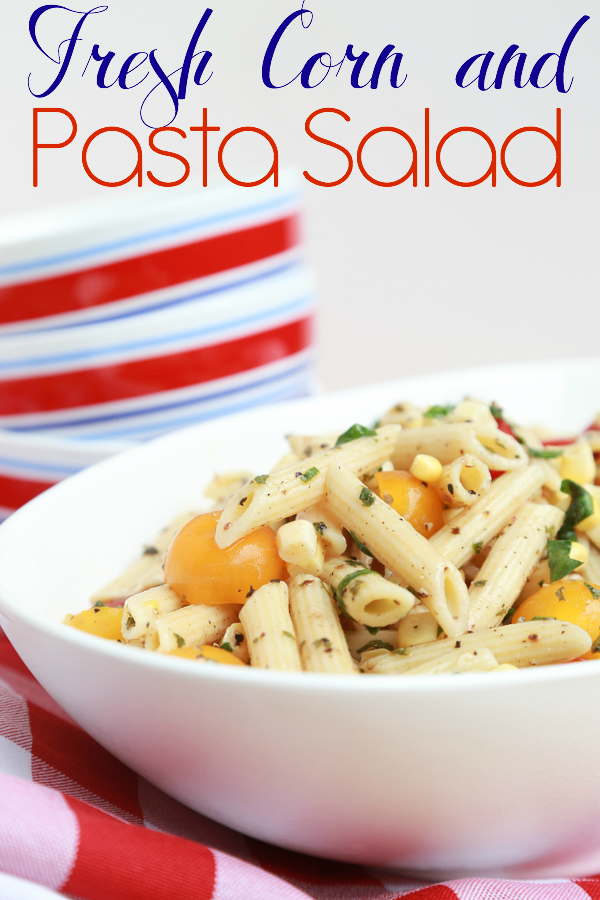 Fresh Corn and Pasta Salad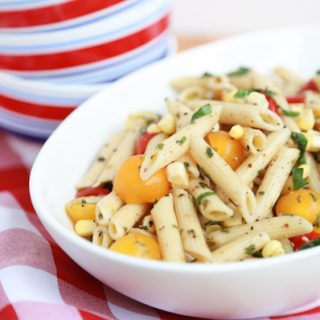 Fresh Corn and Pasta Salad
This fresh corn and pasta salad recipe is the perfect summer recipe.
Ingredients
13.25 oz Dreamfield's penne pasta
6 tablespoons olive oil
3 tablespoons red wine vinegar
1 tablespoon dried parsley flakes
2 teaspoons freshly ground black pepper
salt, to taste
1 cup thinly sliced cucumbers, cut into small pieces
14 Sunburst (yellow) tomatoes, halved
14 Cherub (red) tomatoes, halved
1 cup fresh, raw corn cut from the cob
handful of baby spinach, stems removed & cut into small strips (chiffonade), should equal about 1/4 cup strips
Instructions
In a large pot with boiling water, cook pasta for about 10 minutes, or until al dente; drain, transfer to a large bowl, and set aside.
In a separate large bowl, add olive oil, red wine vinegar, dried parsley flakes, freshly ground black pepper and salt, whisk together.
Once the pasta has had a chance to cool down some, add cucumbers, tomatoes, corn and baby spinach to the bowl. Pour olive oil mixture over the top of pasta mixture and toss until evenly coated.
Serve immediately or place in the refrigerator to chill and serve later.
Nutrition Information:
Yield:

4
Serving Size:

1
Amount Per Serving:
Calories:

530
Total Fat:

23g
Saturated Fat:

3g
Trans Fat:

0g
Unsaturated Fat:

19g
Cholesterol:

0mg
Sodium:

210mg
Carbohydrates:

72g
Fiber:

14g
Sugar:

27g
Protein:

15g