This shop has been compensated by Collective Bias, Inc. and its advertiser. All opinions are mine alone. #ShareSmiles #CollectiveBias
With the school year quickly coming to an end, I'm gearing up for a fun summer with my children. But before the school year can come to a close, I have to give thanks to the teachers who mentor my children 8 hours a day, 5 days a week. These women truly are examples of patience and kindness when dealing with 20+ elementary-aged children for more than 40 hours a week.
I'm honored to have been able to work with Brookshire's and Coca-Cola for this campaign honoring teachers. It's the perfect time of year to honor and celebrate them for all they've done to help my children grow and succeed during the school year.
I wanted to do something a little bit different this year and instead of giving them just a gift card to one of their favorite restaurants, I wanted to give them something fun, useful and tasty. At the beginning of each year I try to find out some of their favorite products/brands to keep for small and thoughtful gifts throughout the school year. This helps me ensure that I'm getting/giving them something they'll use and love.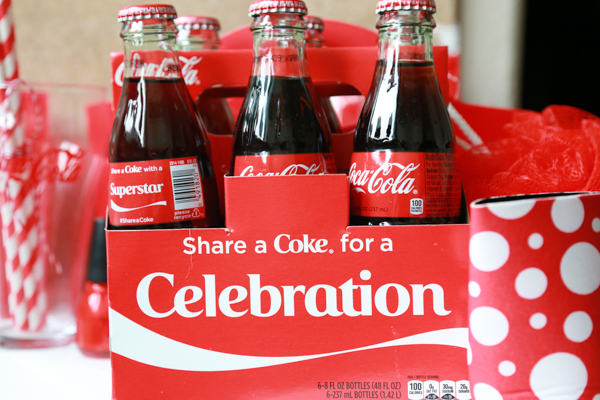 I went on a hunt for all things red while putting together this little Coca-Cola gift basket for teachers. Along with the 6-pack Coca-Cola glass bottles, I bought a red freezer cup, Coca-Cola glass, red & white striped straws, red & white polka dot coozie, 2 bags of different red candies, red nail polish, a red loofah, and a red plastic basket to hold everything.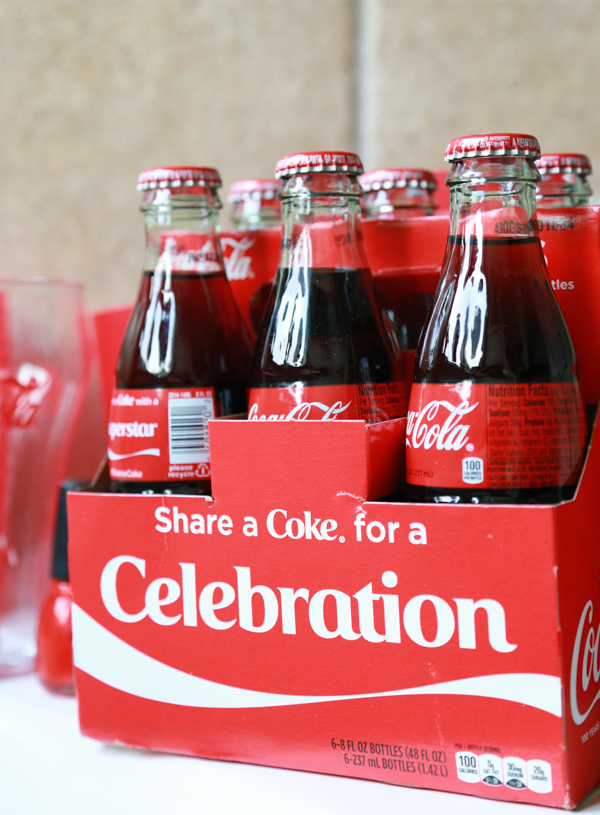 There's a bunch of red going on with this teacher's gift, but I love how bright and cheerful it is.
You could also do something very similar with Coke Zero and Diet Coke. For Coke Zero I would go with a black theme (think licorice and jelly beans), and for Diet Coke I would go with a white theme (white chocolate covered pretzels and popcorn). Or you could do silver, but I think it may be a bit difficult to find many silver items to put together.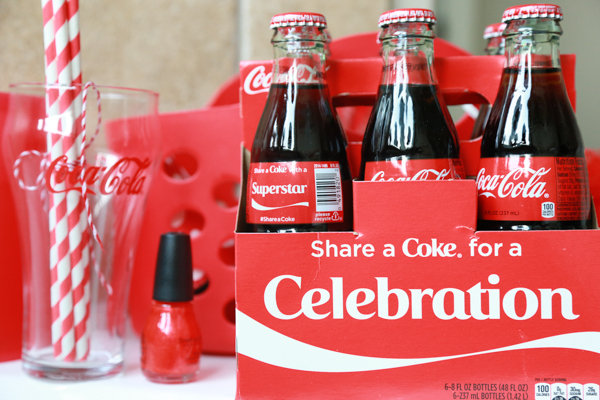 Once I gathered all the goodies together, I tied six red and white striped straws together with red and white twine. This step is not at all necessary, but I just thought it looked better when they were tied together. I attached the red loofah to the handle of the red plastic basket and began placing everything inside. I should have gone with a little bigger basket or one less item, but after a small round of tetris, I was able to make everything fit inside the basket.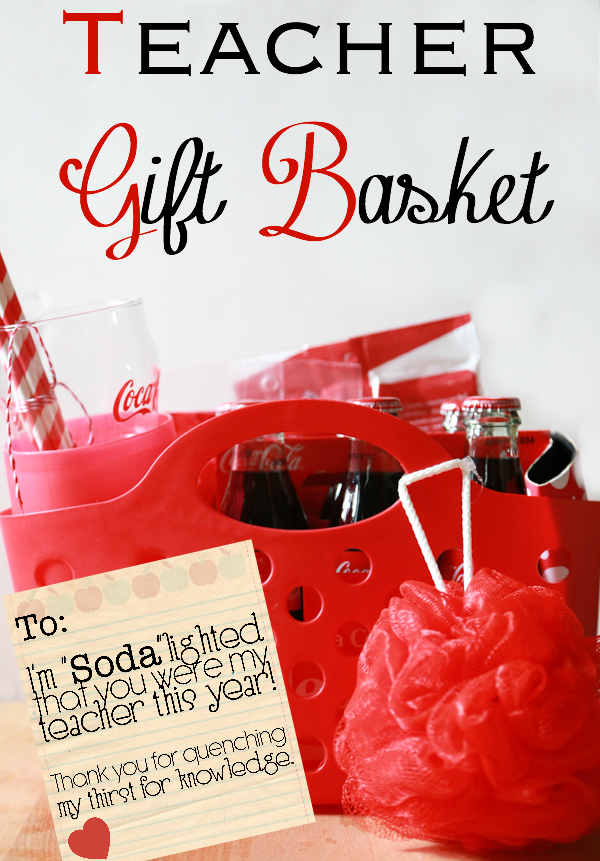 You can make a Coca-Cola gift basket for teachers as simple or as elaborate as you want. Most of the items pictured and used in these Coca-Cola gift basket for teachers were under $2 each. I also created a fun little printable that you can use to accompany each basket. I created the printable to fit four to a sheet. If you want a larger version, I have one available. Just shoot me an email and I can send it to you.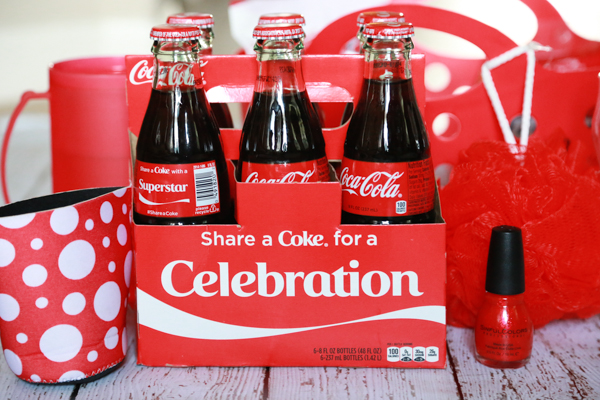 The last day of school is a reason to celebrate! Celebrate by showing your child's teacher what a Superstar you think she is. Pick up a 6-pack of Coca-Cola and celebrate. You could also pick up a "Share A Coke" 20-ounce bottle, now with more names than ever.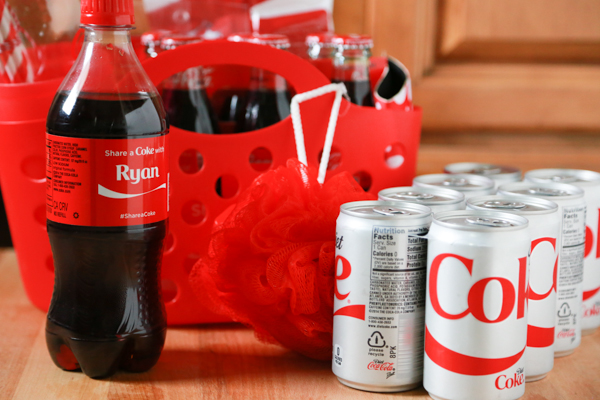 If you're shopping at your local Brookshire's, the 6-pack glass bottles can be found mixed in with other Coca-Cola products. Keep an eye on Brookshire's Facebook page for a chances to win yourpoints, offers, fun and conversation. And for more creative ways you can "Share A Coke," visit the Brookshire's social hub.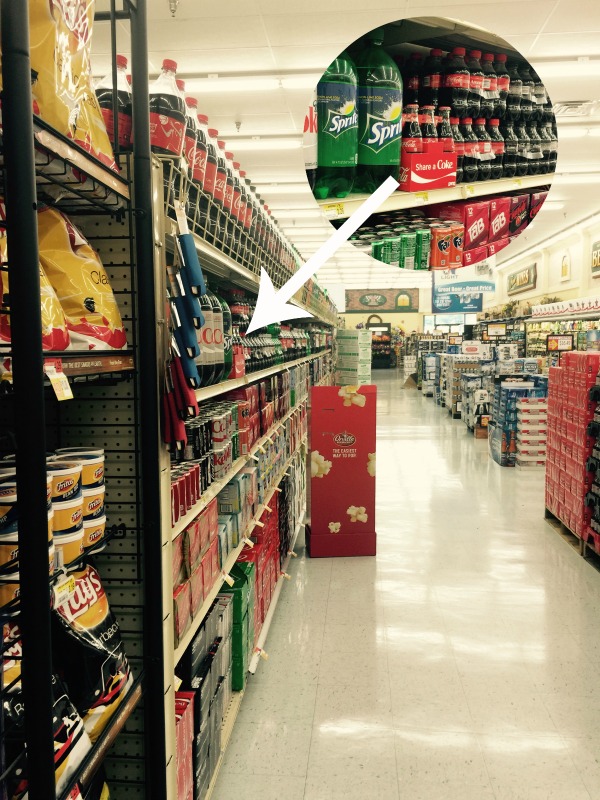 There are so many ways to "Share A Coke", how will you share? I'd love to hear your ideas in the comment section below!