If your children love dinosaurs as much as mine do, then they'll love these Frozen Dinosaur Eggs. Learn how to make it below.

My children are fascinated with all things dinosaur. Ever since they heard there was going to be a new Jurassic movie, we've been counting down the days. And the countdown is almost over. In anticipation of the release we've been busy playing with dinosaurs. One of their favorite things we've done during the countdown is Frozen Dinosaur Eggs.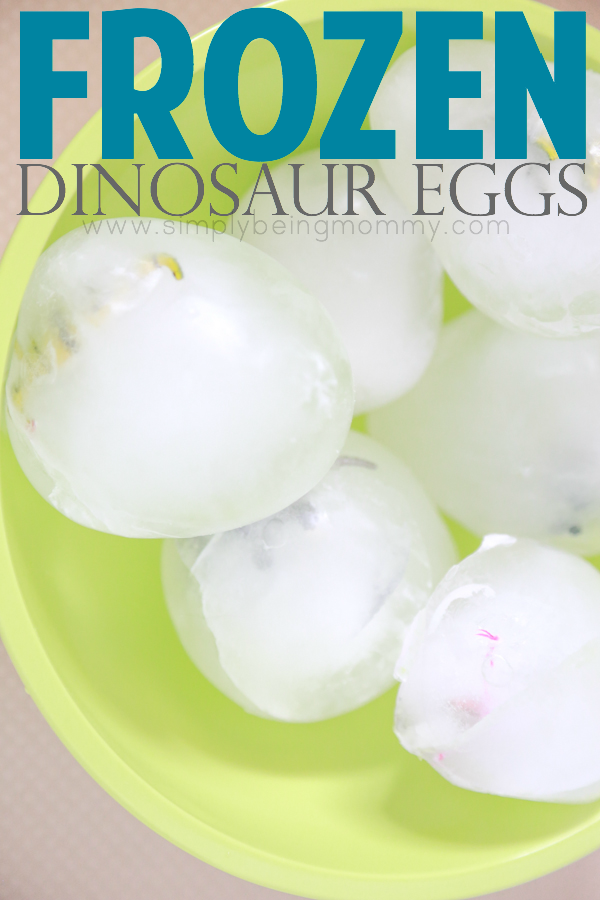 My husband and I made these frozen dinosaur eggs one night when the kids were occupied doing something else. They're obviously not young enough to believe they're real frozen dinosaur eggs, but it was still fun for them to help the dinosaurs hatch from their frozen eggs with real hammers.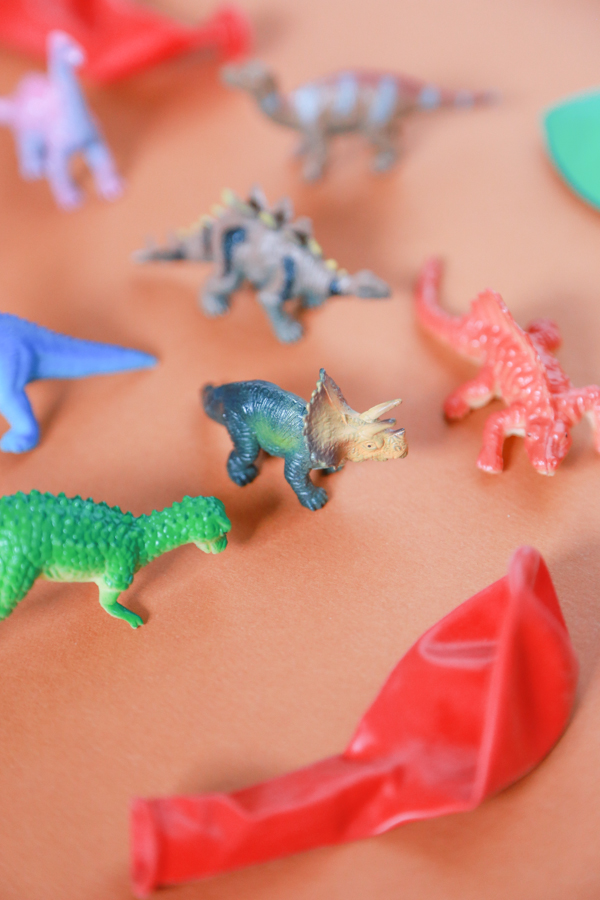 Making these frozen dinosaur eggs was really easy and it only took a few minutes in front of the sink. And since we had all the supplies at home already, it was cheap fun for the kids. We raided the boys animal bin upstairs and used some 9″ balloons we had laying around. I tried using water balloons at first, but they were too thin and small.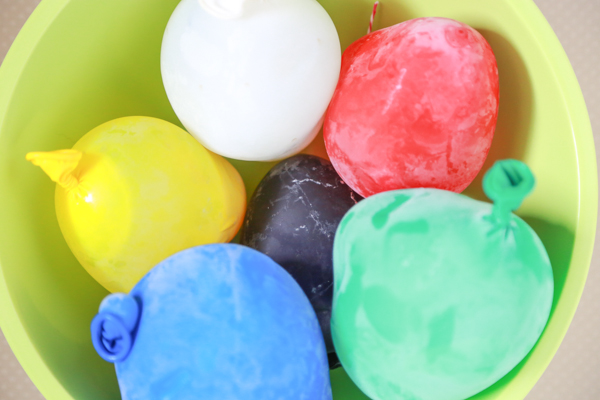 How to Make Frozen Dinosaur Eggs
Frozen Dinosaur Egg Supplies:
Directions:
To make frozen dinosaur eggs, you'll need access to a water faucet that you can fit the rim of the balloon around. I was unable to do them at my kitchen sink since the faucet is very large.
Carefully insert the toy dinosaur into the balloon. To do this I simply used a few of my fingers to open the balloon and used the other fingers to place the dinosaur inside. Be careful not to tear the balloon.
Once the dinosaur is inside, carefully place the balloon over the water faucet. Turn on the water and allow the balloon to fill with water. How big you make the frozen dinosaur eggs is up to you. I wanted mine to be on the smaller side. Turn off the water and remove balloon from the water faucet. Tie and place in the freezer overnight.
To keep the eggs upright, I used an egg tray. It also helped keep the shape of the egg.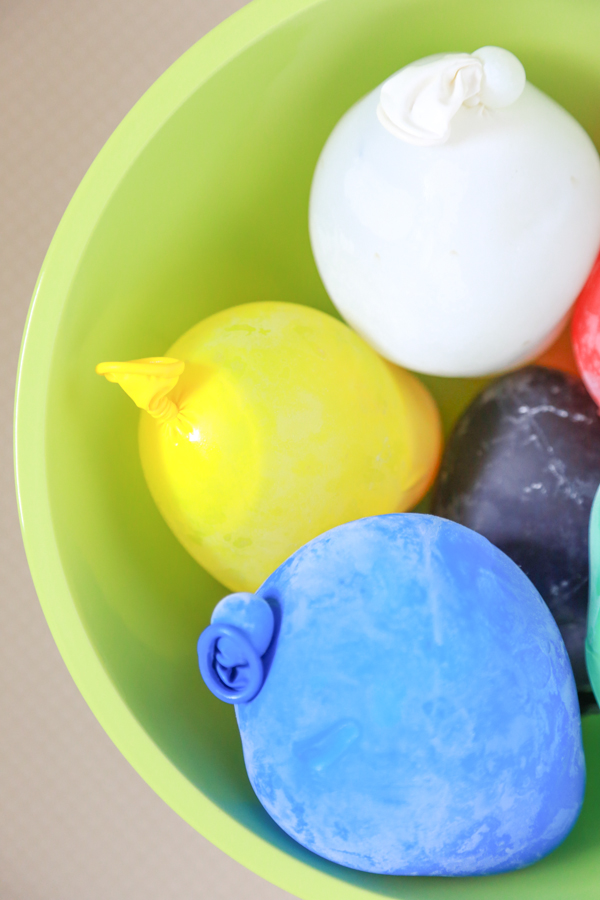 When it's time to help the dinosaurs hatch from their frozen eggs, carefully remove the balloon. To do this I used a pair of scissors to make a small cut in the balloon and then pulled the balloon from the frozen dinosaur egg.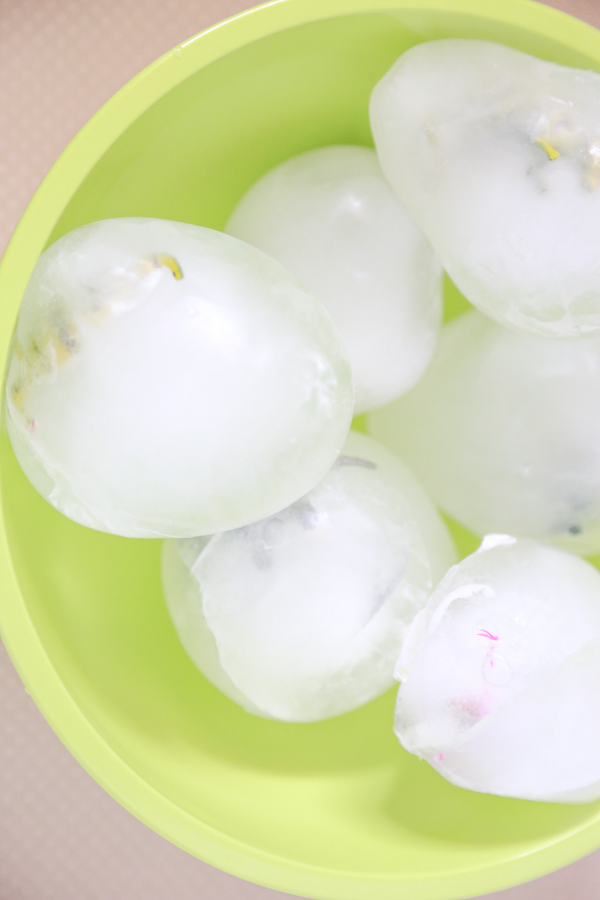 I love that you can see the little dinosaurs through the ice.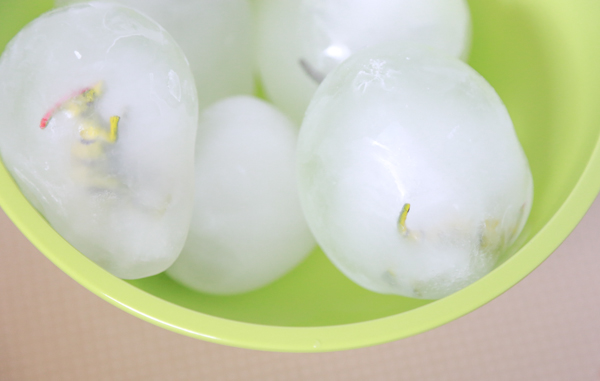 Because I knew this could get messy, we all went outside to the back porch armed with hammers and screwdrivers to help these little guys escape.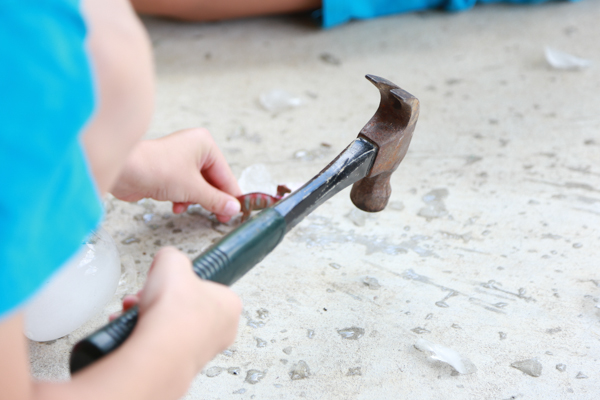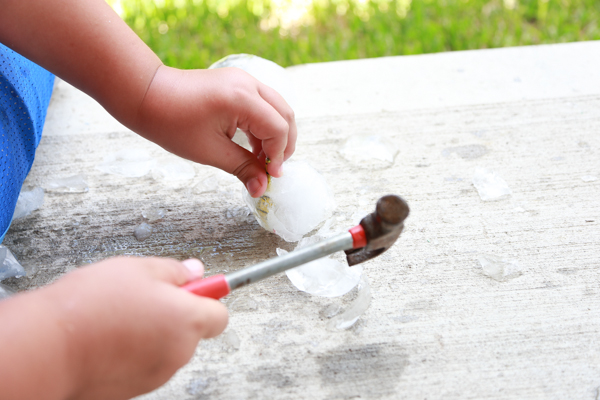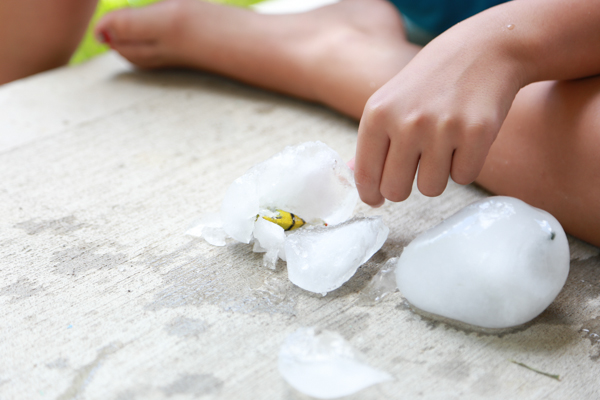 By the time we were finished there were ice chunks and puddles of water all over the back porch. The best part of this mess, we didn't have to clean it up.
The frozen dinosaur eggs were a hit with the kids. (They were even featured on a weekly Zulily Pinterest roundup.) My kids are older (7+) and really didn't need help from me, but younger kids may need a little bit of direction and careful supervision so that they don't hurt themselves with the hammer.
Another fun project you could do with your children is make these fun dinosaur necklaces. Much like this project, it looks super simple and only requires a few supplies. I love those kind of projects.
If you're looking for a fun activity for your kids this summer, these frozen dinosaur eggs are so much fun! What plans do you have for your children this summer?