Last week my kids and I had the opportunity to attend a Pepperidge Farm Puff Pastry party thrown by a local blogger in town. I was so excited to attend the party because I knew there would be food. It sounds silly, I know, but it was food I could eat that I didn't have to prepare. Add that to the fact that this is supposed to be work (aka I'm getting paid), this gig was too good to pass up.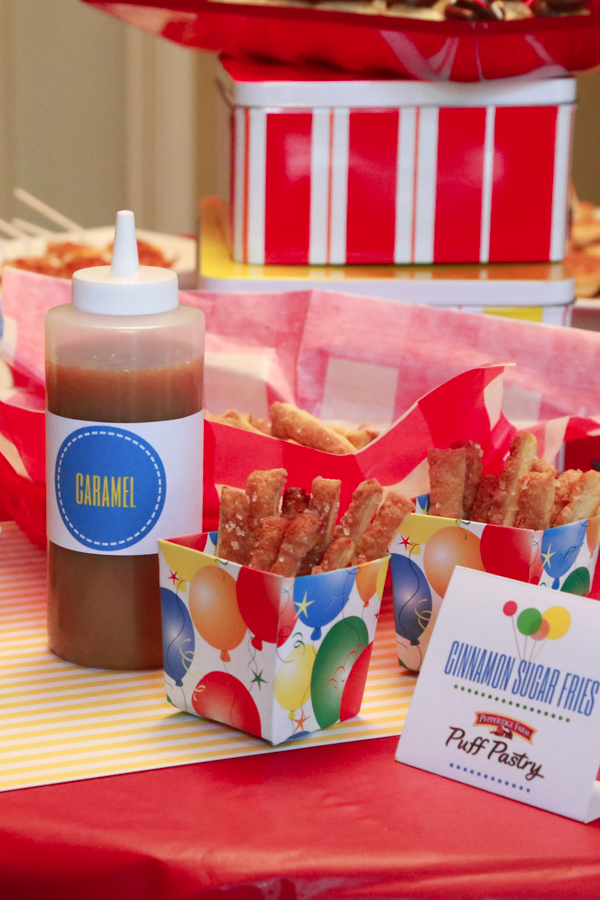 That ALWAYS make a good party in my book.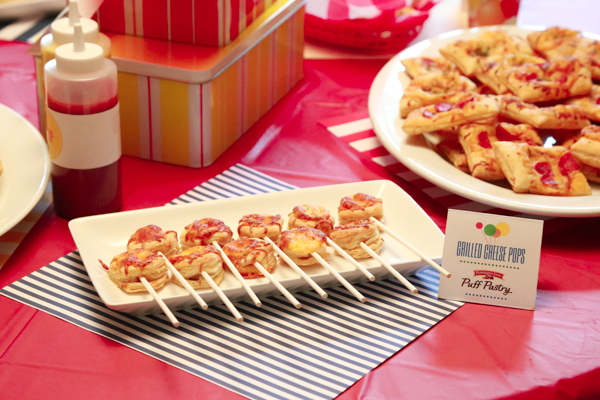 Mariah whipped up six separate dishes, all featuring Pepperidge Farm Puff Pastry. She made three savory dishes and three sweet dishes. Honestly, they were all delicious. I've used Pepperidge Farm Puff Pastry a ton in the past when making sweet dishes, but I've never used it for a savory dish, until now.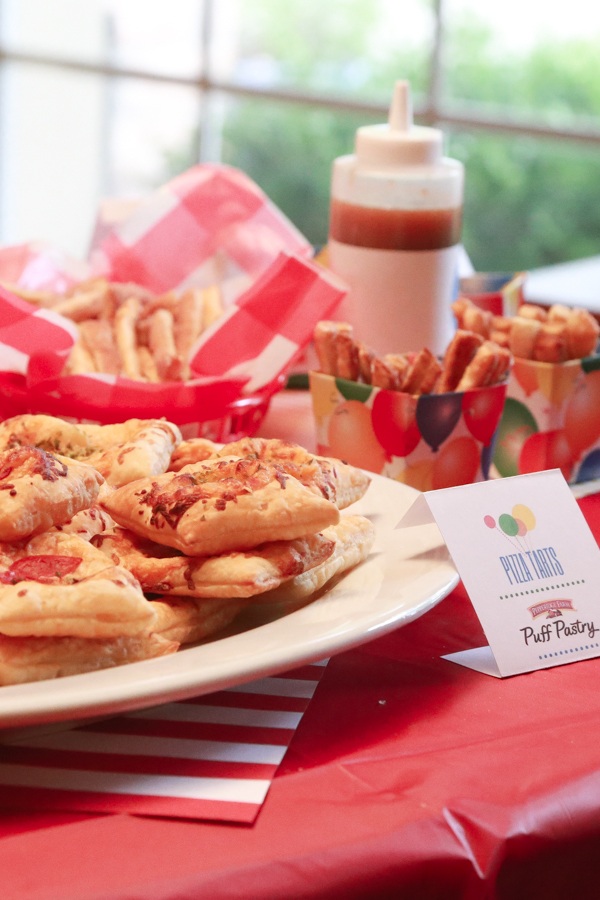 From these delicious Burger Bites —
to these delectable Candy Cupcakes — it was definitely a party for the taste buds.

Oh my gosh, y'all, it was all way too good. I couldn't stop after one so I just kept on eating.
Figures! Just when I need to be swimsuit ready…
But while I was at the party, I got so many new recipe ideas I wanted to try at home. From sweet to savory, over the summer, I hope to share some of these ideas when time allows and my kids give me a break from swimming, going to the movies, and building tents.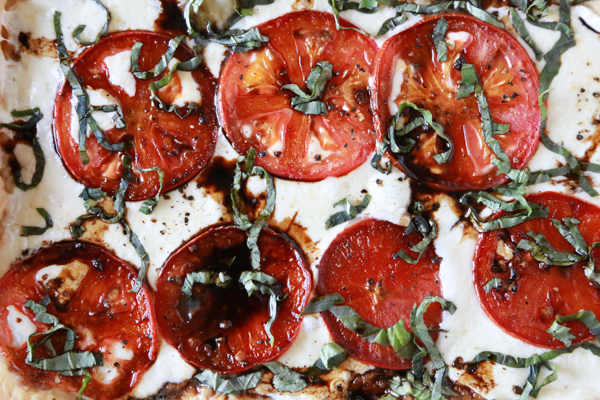 Do you know what that is, y'all?
It's Caprese Pizza. But not just Caprese Pizza. It's Easy Caprese Pizza. Probably one of the easiest pizzas you'll ever make.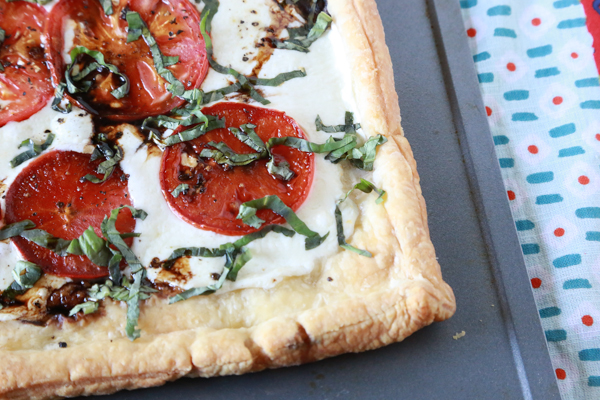 Are you drooling yet? 'Cause I totally am. Not gonna lie.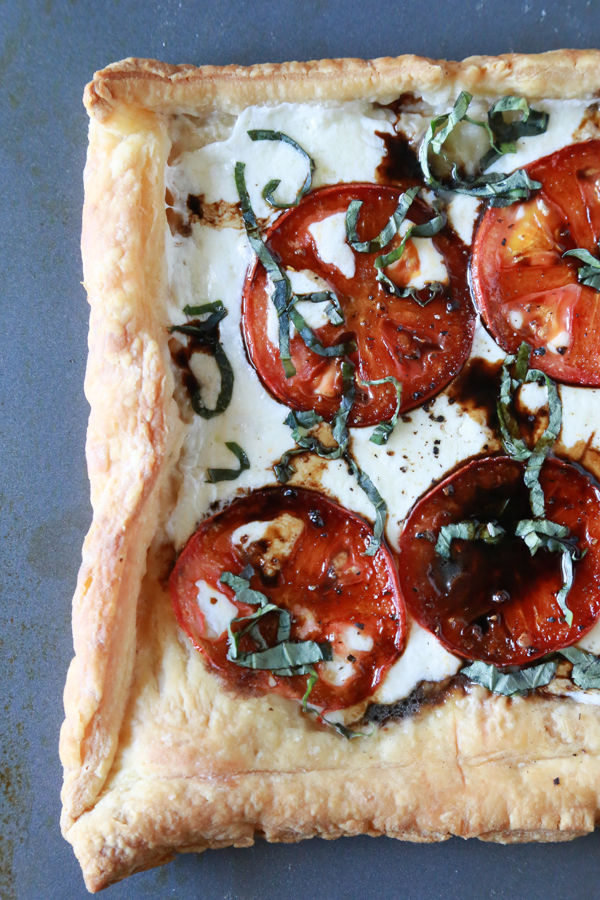 I was going to keep this all to myself, but it just wouldn't be right if I didn't share this Easy Caprese Pizza with the whole world. Everybody deserves this kind of goodness.
Easy Caprese Pizza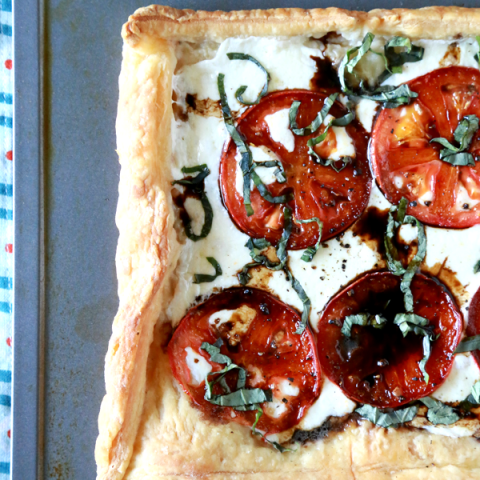 Easy Caprese Pizza
Making this Easy Caprese Pizza will be the best thing you did for yourself today. With fluffy puff pastry and sweet balsamic glaze, your taste buds will thank you -- I promise.
Ingredients
1 sheet Pepperidge Farm Puff Pastry
1/2 cup balsamic vinegar, reduced down to 1/4
8 oz fresh mozzarella, sliced
1 large ripe tomato, sliced
freshly ground black pepper, to taste
3 large basil leaves, chiffonade
Instructions
Preheat oven to 400 degrees.
Unfold the pastry sheet onto a lightly floured surface. Roll the puff pastry into a rectangle and place on a baking sheet. Fold the edges over on all sides to create a rim. With a fork, prick the pastry thoroughly. Place in the oven and bake for 10 minutes.
In the meantime, pour balsamic vinegar into a small saucepan. Bring to a boil over medium-high heat. Reduce heat down to medium-low and simmer until the vinegar has reduced down to about a 1/4 cup. Set aside and allow to cool.
Remove the puff pastry from the oven after 10 minutes. Arrange mozzarella slices evenly over pastry and top with sliced tomatoes. Season with freshly ground black pepper. Place back in the oven and continue to cook for 10-12 minutes or until the crust is browned and the cheese is bubbly.
Remove pizza from oven and sprinkle basil over the top. Finish by drizzling with balsamic glaze.
Serve hot.
I love the way Pepperidge Farm Puff Pastry makes the crust look really rustic and homemade. The square shape of the pizza reminds me of a pizza you could get at a restaurant right out of the stone oven.
Pepperidge Farm Puff Pastry is the perfect blank canvas to help bring to life your own unique dishes that guests of any occasion will love! I used it in making this Easy Caprese Pizza, but really, the possibilities are endless!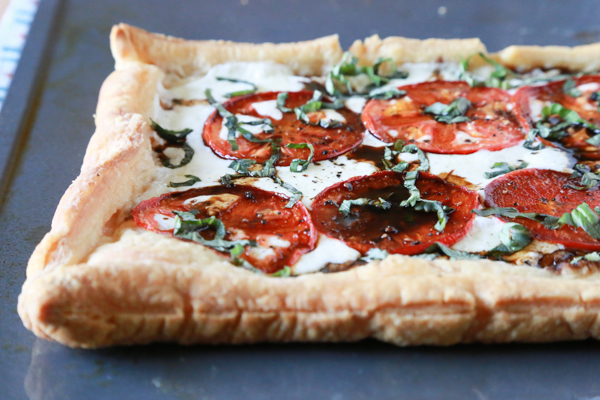 The Pepperidge Farm Puff Pastry website offers a rich recipe box and an engaged community to help inspire you to think outside of the box to upgrade your entertaining and dining experience.
But start with this Easy Caprese Pizza.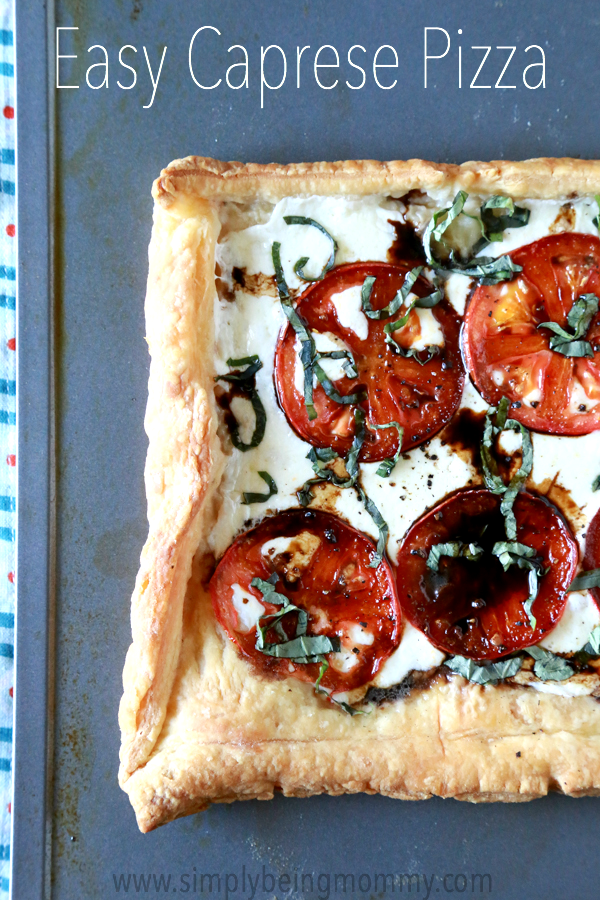 What's your favorite way to use Pepperidge Farm Puff Pastry?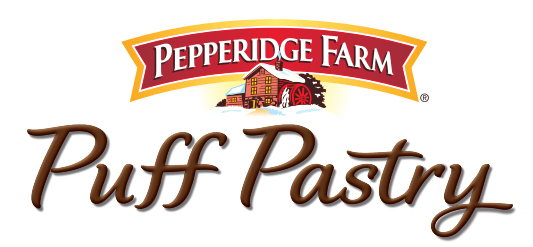 This is a sponsored post written by me on behalf of Pepperidge Farm Puff Pastry.