This is a partnered post. As always, all thoughts and opinions are my own.
You can tell by their sun-kissed cheeks and huge grins that it is officially summer. Like many children, my girls will spend the majority of their summer in the pool. So as their mom, it's my job to ensure that they're safe.

Drowning is a silent threat, as seen in the tremendous number of children who die from drowning each year. Yet parents don't see it as a risk. Knowing the facts should make us all more alert, but what else can we do to decrease the numbers?
I had the pleasure of speaking with Santee Fire Department's Battalion Chief, Tim Stuber. He shared some solid tips for ways to prevent drowning and keeping our families safe this summer.
5 Ways to Prevent Drowning
Use Barriers: Residential pools must be surrounded by a fence at least 4 feet high, with a self-closing and latching gate. Install alarms on doors and windows that lead to the pool to alert you when a child may be near. Don't forget to cover your pool or spa when not in use.
Teach Children to Swim: Enroll your children in swimming lessons or teach them yourself. You can start water safety skills at a very young age; even babies can learn to flip to their backs to float! Remember, however, that being able to swim does not completely prevent drownings. Younger children should also wear a U.S. Coast Guard-approved life jacket.
Assign a Water Watcher: Avoid saying phrases like, "I thought you were watching them" by assigning a Water Watcher, a responsible adult whose focus is watching the children. The Water Watcher should have water and a phone for emergencies nearby so he or she does not have to leave the poolside. Additionally, socializing should be keep to a minimum.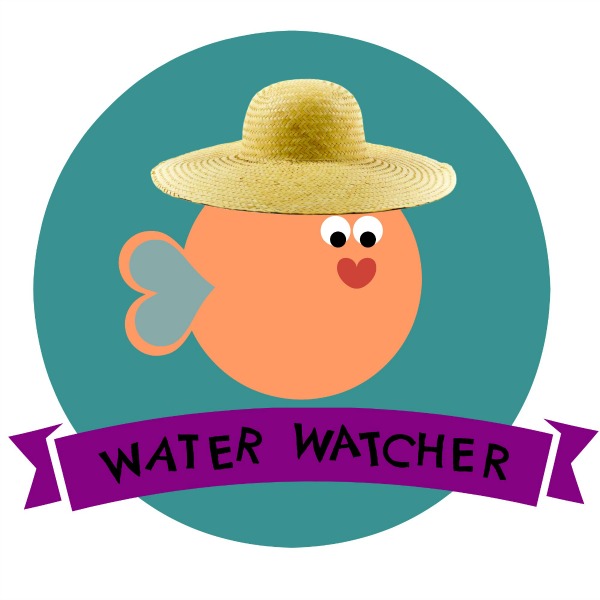 I prepared a Water Watcher sign that you can print, laminate, and wear while on duty. When your shift is over, pass it to the next adult. This reminds everyone to stay alert and focused. Even with an adult standing by the pool watching, inexperienced swimmers need an adult within reach in the pool with them.
Learn CPR: If there ever is an emergency, it's critical to know how to help. Learn how to use the pool's rescue equipment. It is also recommended that you learn CPR.
Prevent Entrapment: Pool drains have powerful suction that can cause children to become trapped. Some ways to prevent this include:
Teach children not to play near drains
Do not swim in a pool without a drain cover; make sure drain covers are compliant
If your drain cover was installed before 2009, have it checked by a professional
Something that really stuck with me regarding water safety is that drowning is silent. At my girls' swimming lessons last week, a student from the adult class grew tired and was unable to cross the pool. The lifeguard noticed her arms in the air and quickly pulled her out of the water. It was the lifeguard's training that alerted her to a problem. The swimmer didn't yell for help or make huge splashes while flailing her arms. A casual observer, such as myself, could have missed it.
Summertime means lots of fun splashing, playing, and keeping cool. With these 5 ways to prevent drowning, we as parents can better safeguard our children from drownings.
Here's to a safe summer!