Earlier this month the family and I headed out to San Antonio for a week of fun and relaxation. Since it had been a couple of years since we'd visited, we knew we wanted to visit some of our old favorites, like the Natural Bridge Wildlife Ranch. It's no joke that every time we visit San Antonio, we have to feed the zebras. Most times, it's the highlight of our trip.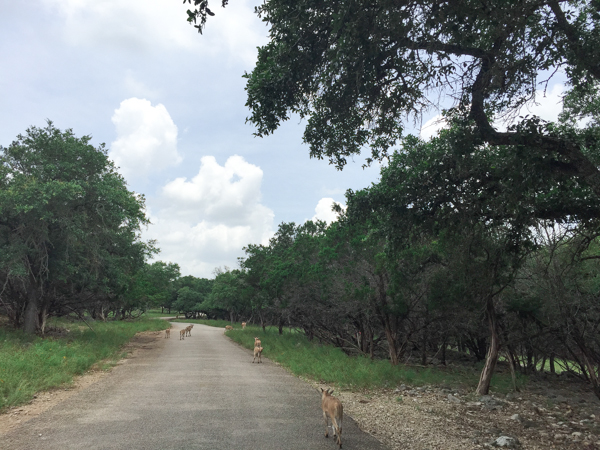 The Natural Bridge Wildlife Ranch is a go at your own pace self-guided tour through over 400 acres of rolling hills, creek beds, and magnificent live oak trees. Along the way you will witness the behavior of hundreds of animals from 40 exotic, native and endangered animal species worldwide.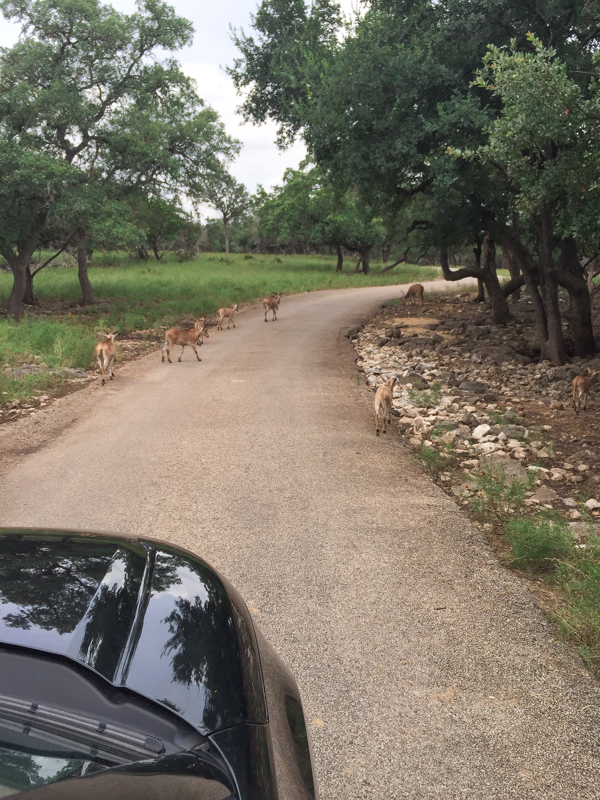 During the drive through the ranch you will encounter many animals casually meandering down the paved trails. My children always think it's so funny when we have to stop to allow an animal to pass.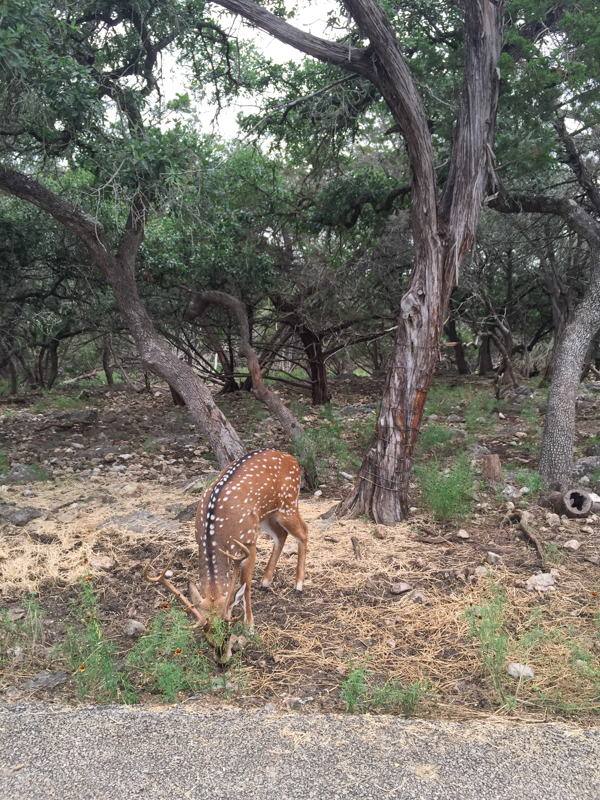 Although the animals have plenty of nature's food to snack on, you also have the option of purchasing bags of pellet food ($1 per bag) upon check-in to feed the animals along the trek. We usually buy one bag per person. You also get one free bag with paid admission.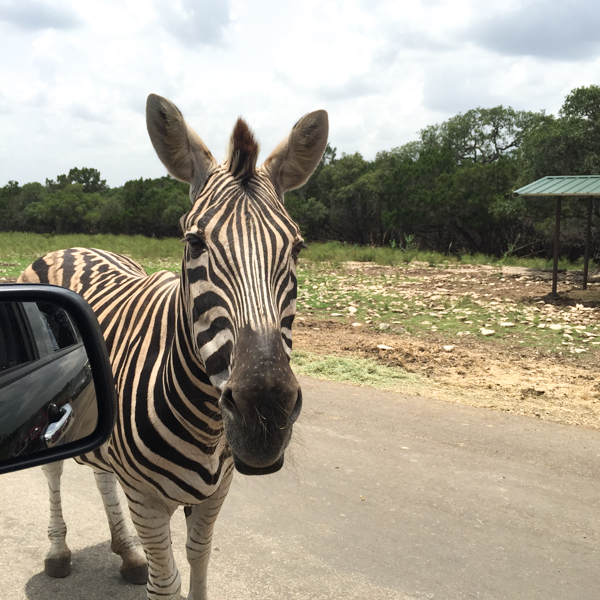 There are multiple paths to take while making your way through Natural Bridge Wildlife Ranch, but don't fret. With paid admission you are able to drive through as many times as you want to on the day of your visit.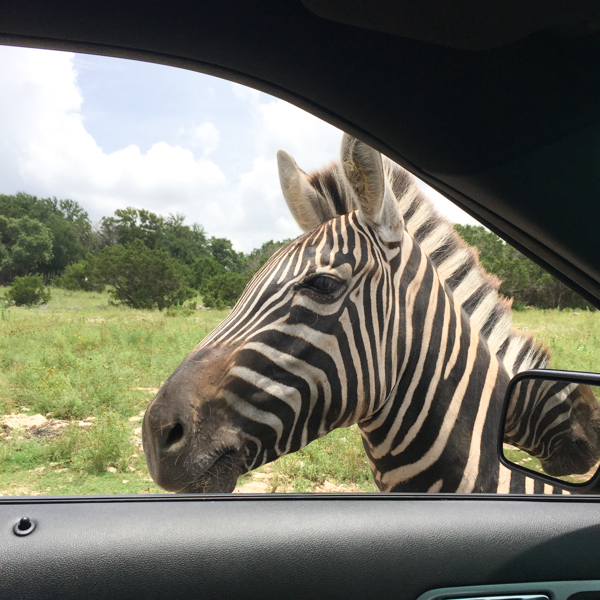 While all the animals are magnificent to look at, obviously the zebras are my favorite. They get all up in your face and demand your attention — and food.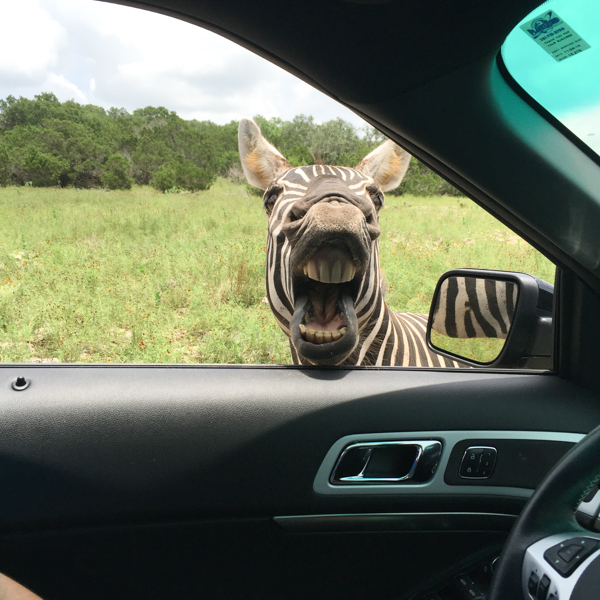 And look, they even smile for pictures.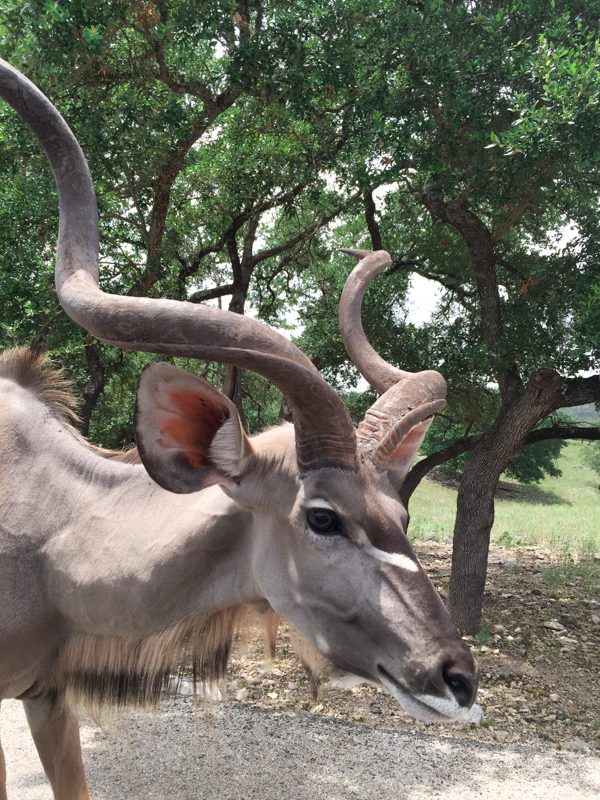 Over the years the Natural Bridge Wildlife Ranch has grown tremendously. Tower Creek is their newest addition and I was so excited to see it. But unfortunately with all the rain Texas had, roads got washed out and they had to close the section for a little bit as they repaired the damage. It has since reopened though.
My suggestion is to make Natural Bridge Wildlife Ranch one of the first stops of the day, especially during the summer heat. When it's too hot outside the animals search for cover under the trees and bushes so they are less likely to be looking for food. We always have the most interaction during the late morning hours. And make sure you visit the petting zoo on the way out.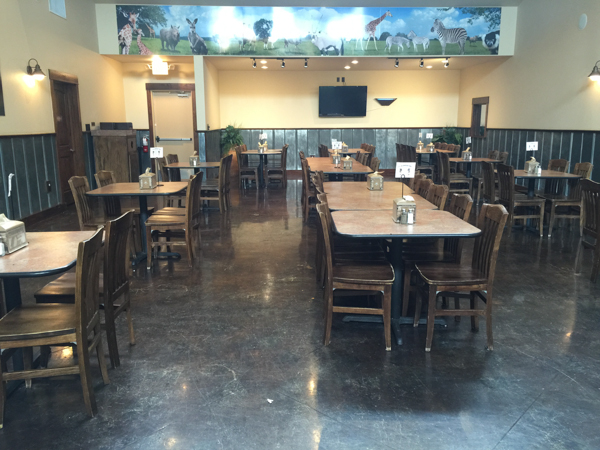 After you've fed all the animals, you can feed yourself in the cool, air conditioned Safari Camp Grill. From big, juicy burgers to homemade salsa and guacamole, there's something for everybody! And the desserts, y'all. Delicious. You have to try the Zebra a la mode.
Have you ever visited San Antonio or the Natural Bridge Wildlife Ranch?