After doing the live-stream last month on how to create a LEGO bento box, I received emails asking all kinds of questions about the supplies I use to make our bento lunches. As mentioned in the video I get most of my supplies from All Things for Sale, but I've also made some purchases on Amazon. Gotta love Amazon Prime!
Over the years I've accumulated a lot of bento lunch supplies. Some I use every day and others I hardly ever use. I made many impulse purchases during my earlier days collecting bento lunch supplies. Hopefully I can keep you from making the same mistakes.
Bento Lunch Supplies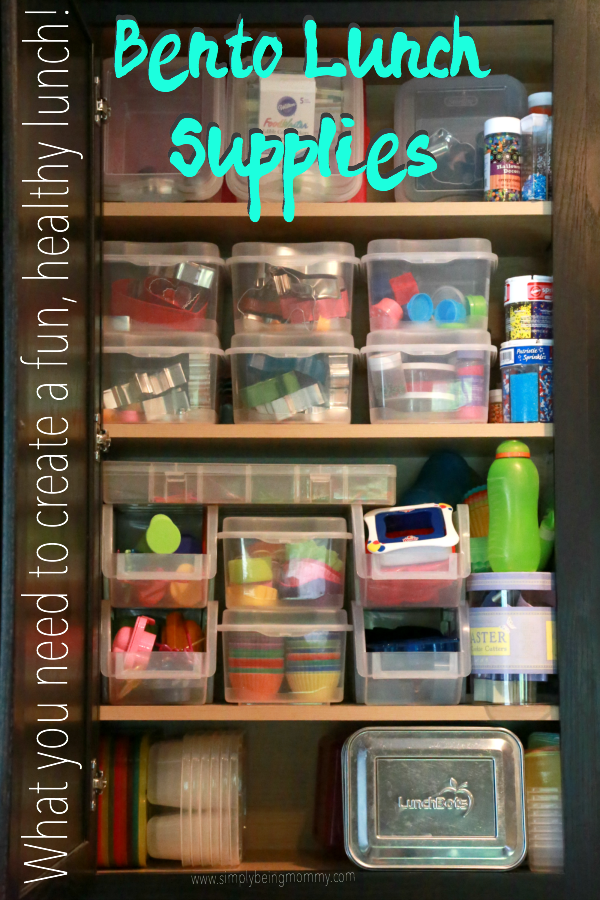 Little did I know when I started this journey that I would need a whole cabinet to hold all my bento lunch supplies. In fact, as embarrassed as I am to admit it, that's not all of it. Just what I use the most. But, don't let that scare you. You don't NEED all the bento lunch supplies to make a fun, healthy lunch for your children.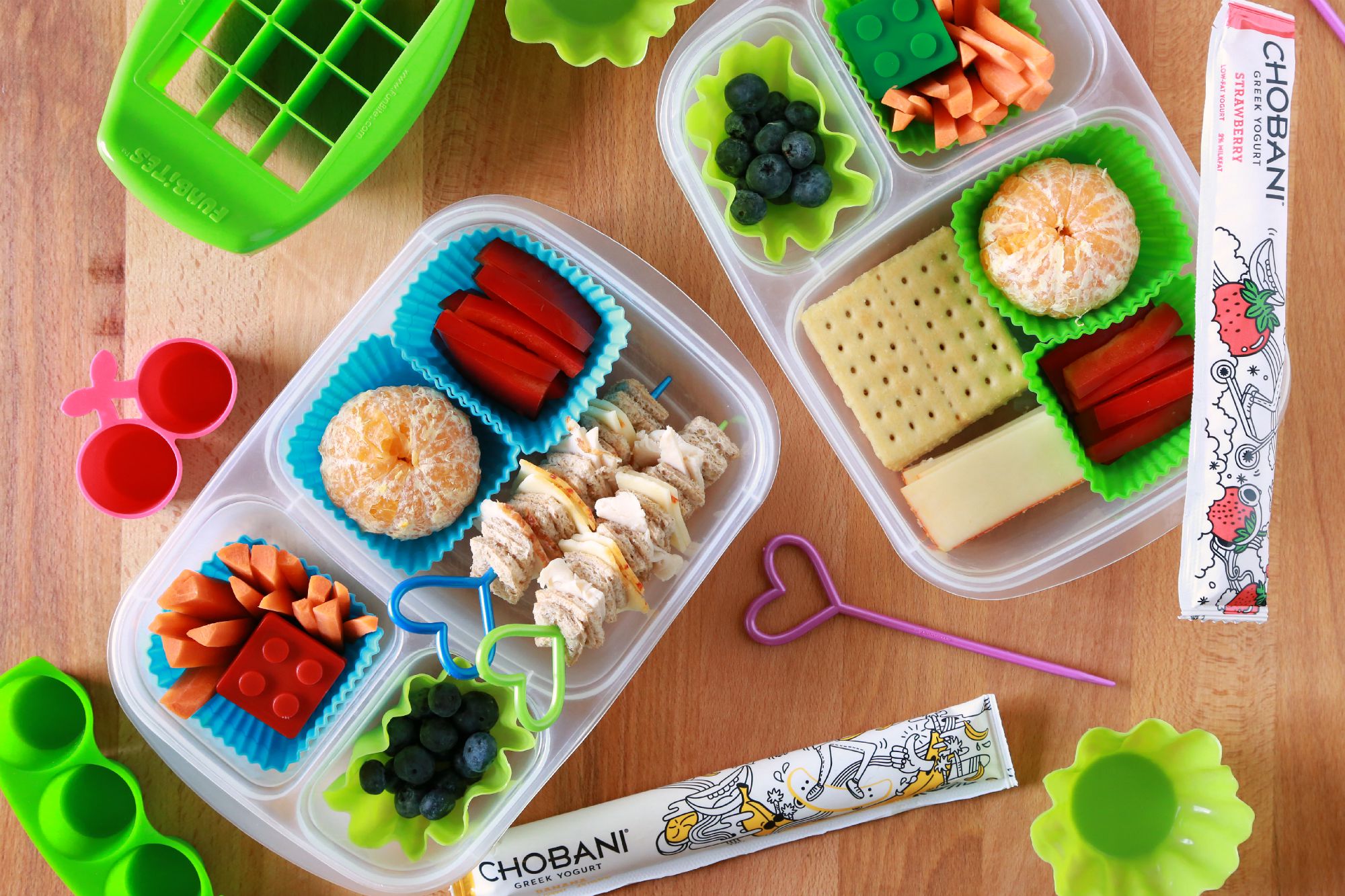 Creating a fun, healthy lunch for your children isn't as hard as some of the photos make it out to be. I'm sure some moms spend hours making their children carefully crafted lunches, but not me. I simply don't have the time to devote hours to lunch-making. That's why I heavily depend on some of my bento lunch supplies to make it quicker and easier for me to get the results I want in a time I can manage.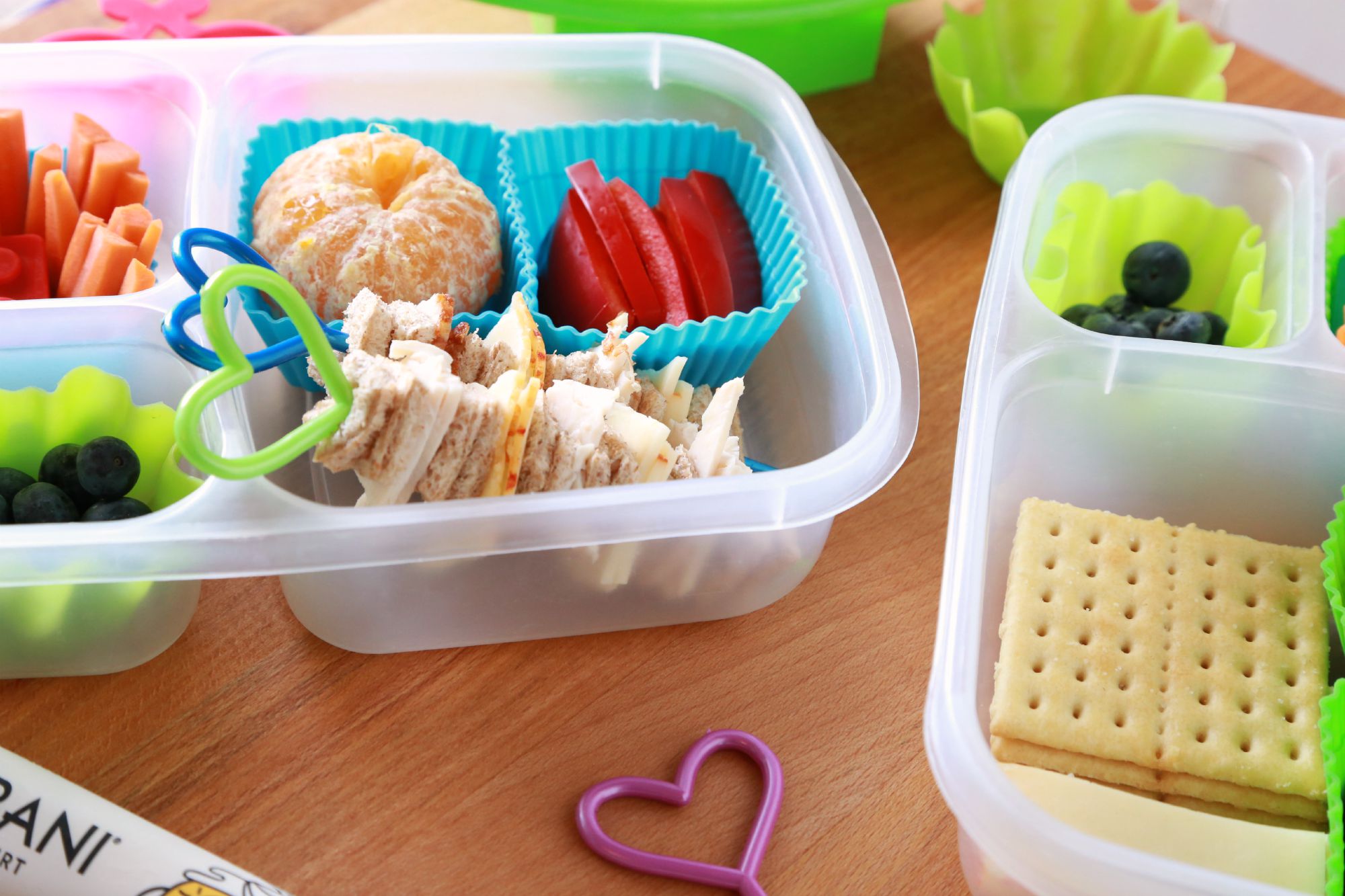 So the key for me is making sure I have the bento lunch supplies I need. And I'm going to share them all with you in hopes that it makes your bento lunch-making journey a success.
Bento Lunch Supplies You Need
Bento Lunch Boxes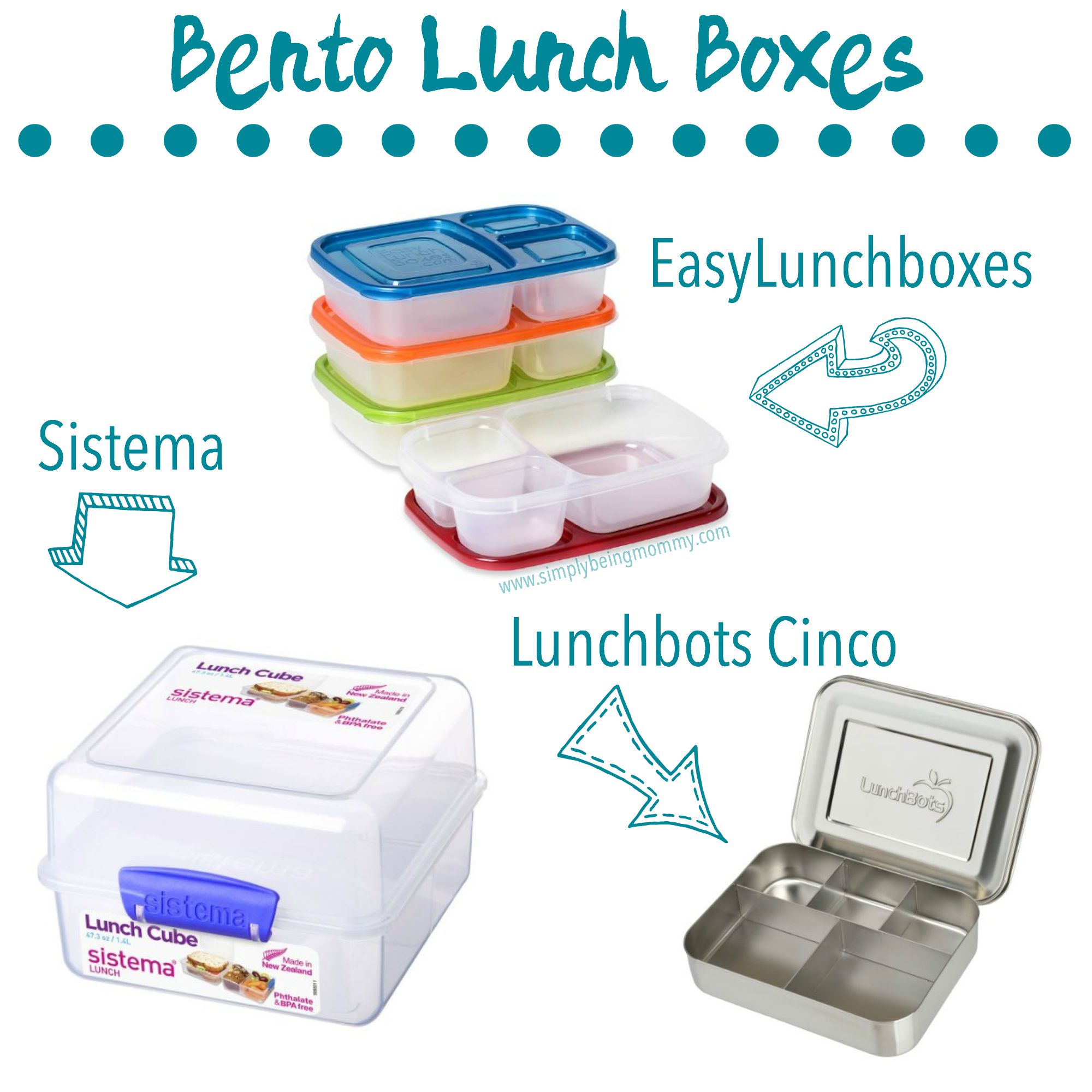 I use several types of boxes, depending on what I need to fit inside them. My three most-used bento lunch boxes are the LunchBots Bento Cinco, Sistema Lunch Cube, and EasyLunchboxes (used in above photos). I like each of them for different reasons. I like the LunchBots Bento Cinco because it gives me five separate sections and my silicone molds fit nicely into the three smaller sections. I use the Sistema when I give my children a whole sandwich because its fit nicely in the top section. The two bottom sections easily fit four of the square silicone molds making it easy to give my children variety. And EasyLunchboxes is just easy. If I don't want to use silicone molds, I don't have to. But if I want to, they easily fit in the separate sections of the box.
Lunch Bags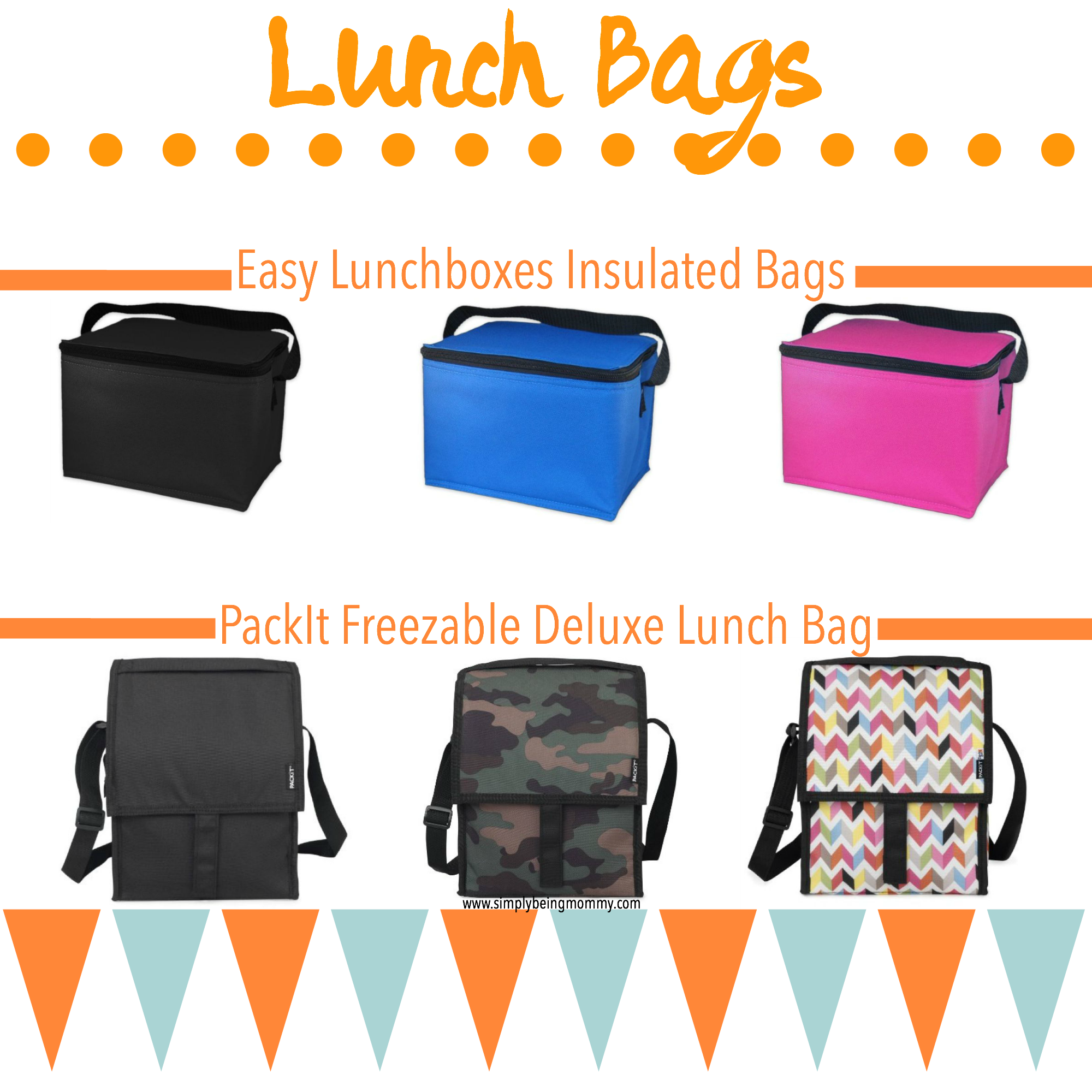 I'm very particular when it comes to the bags I purchase to hold their bento lunches. After spending time creating a fun and exciting lunch, I want it to look the same way when they open it up to eat it at lunch. Since I use several varieties of lunch boxes, it also requires that I use a variety of lunch bags. My two favorite are the EasyLunchboxes Insulated Lunch Bag (which comes in 7 colors) and PackIt Freezable Deluxe Lunch Bag (which comes in 3 colors).
Silicone Cups and Separators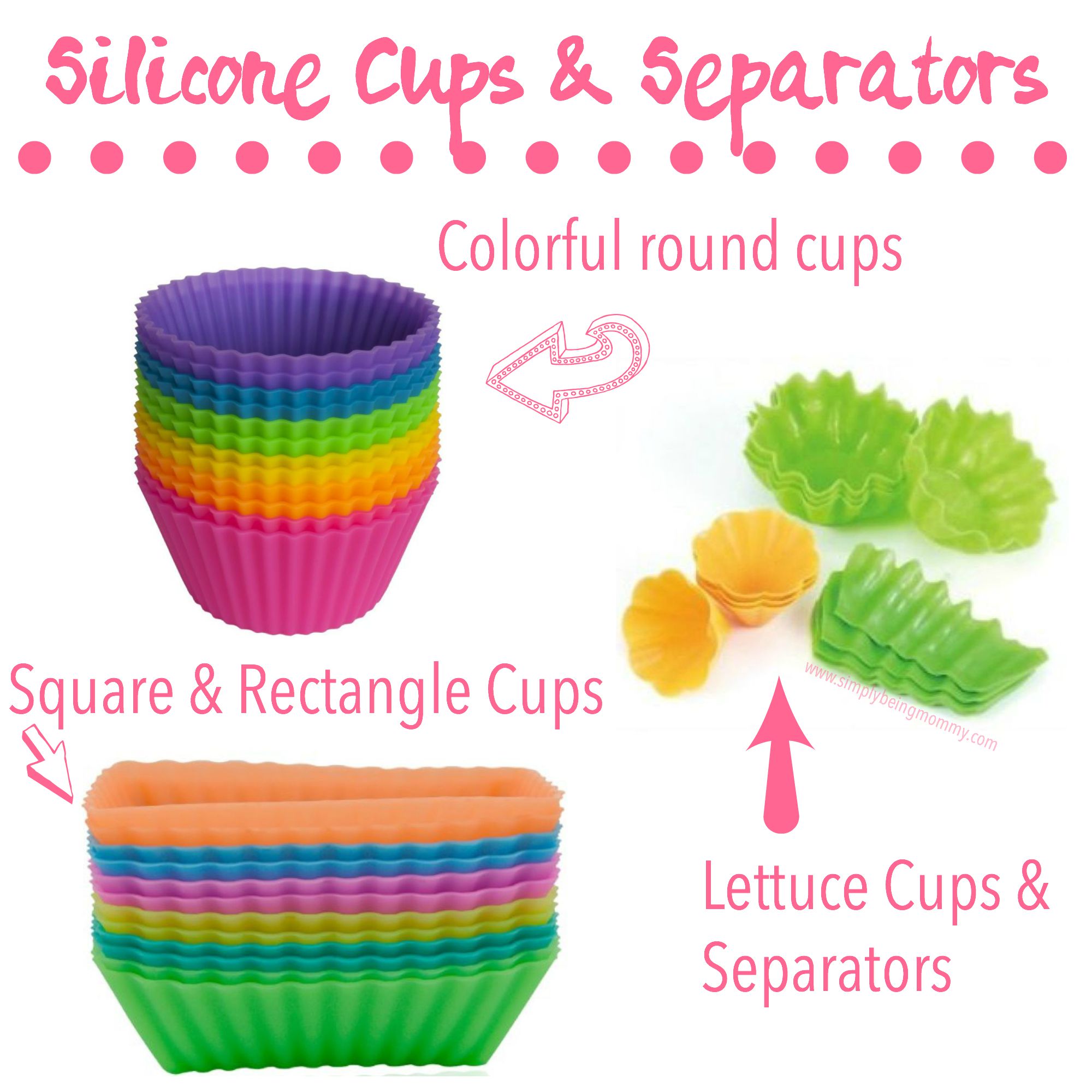 I'm a sucker for silicone cups. I own more than I'll ever be able to use but when it comes to colors and shapes, I like to have options y'all. I've purchased silicone cups and molds from Amazon and Walmart. I honestly use these every day. It helps to keep the food neat and tidy in the box, plus it brightens it up with all the fun colors.
Small Containers (for sauces, yogurts, etc.)
For yogurt and applesauce I use EasyLunchboxes Mini Dippers. I can put in a generous serving of either yogurt or applesauce and top with some festive sprinkles. I can also use the Mini Dippers as a separator in larger sections of the lunchboxes to put in cut fruit or veggies, Goldfish, etc. I also use smaller containers to store ranch dressing for dipping. I most often use these from CuteZCute, LunchBots or some LEGO ones I purchased from All Things for Sale. But the possibilities are endless. Amazon is full of bento sauce containers.
Sandwich Shapes and Cutters
Most days my children go to school with a sandwich in their lunchbox. However, most days it doesn't look like a normal sandwich. I use a variety of cookie cutters, sandwich cutters, uncrustables, sandwich stamps and more to make their sandwiches anything but boring.
Fun Molds and Cutters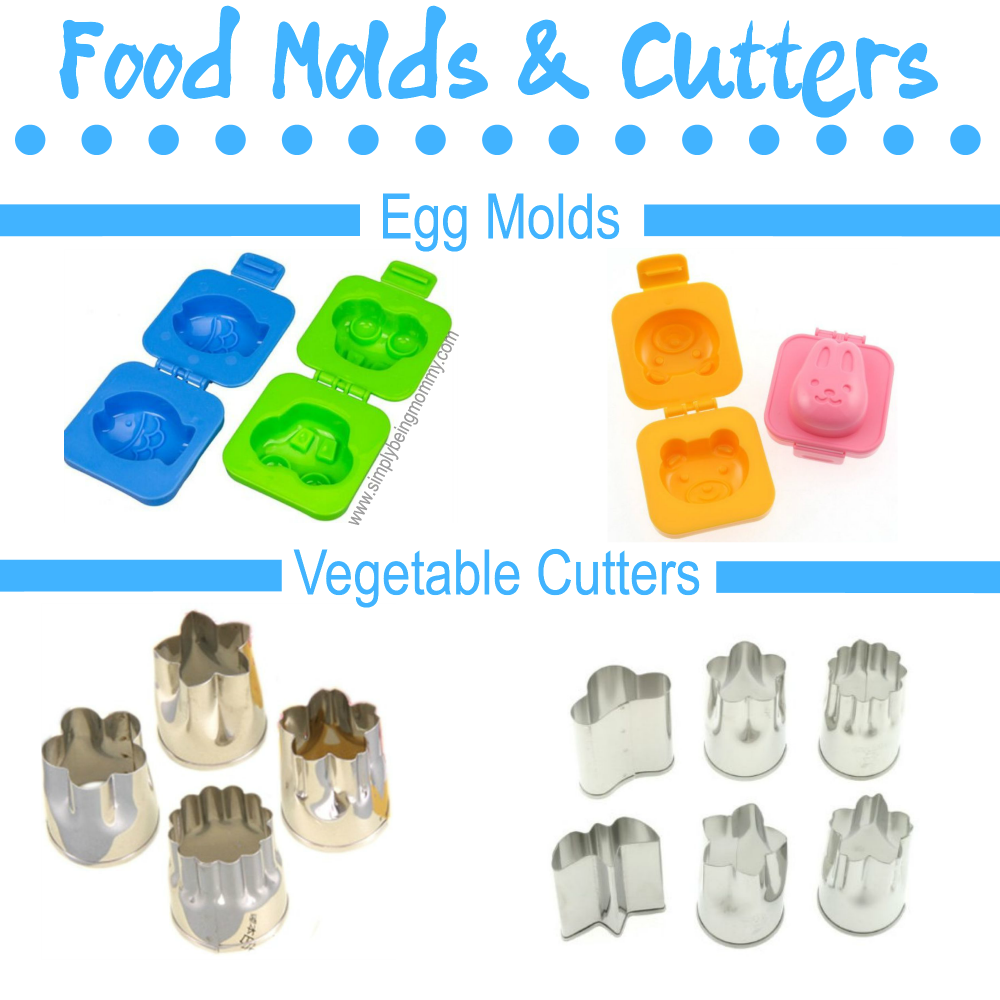 I'm pretty lucky in that my children will pretty much try anything. They might not eat it or like it, but they'll at least try it. And it's mostly because I present foods in a way that is appealing to them. When I first started doing bento lunches, I used an egg mold to make an animal hard boiled egg. And wouldn't you know. All of sudden my kids were fans of hard boiled eggs. Go figure. From rabbits to bears, to cars and fish, there are so many ways to make hard boiled eggs more appealing to your children.
And all of their favorite vegetables get a new do by using vegetable cutters. Most days I simply cut their vegetables into larger matchstick strips, but some days I use my cutters and give them fun shapes. Having these cutters helps with themed lunches, too. If you plan on cutting firmer vegetables, like carrots, I'd recommend buying the stainless steel vegetables cutters since most of the time they're stronger than the plastic ones.
Food Picks and Decorations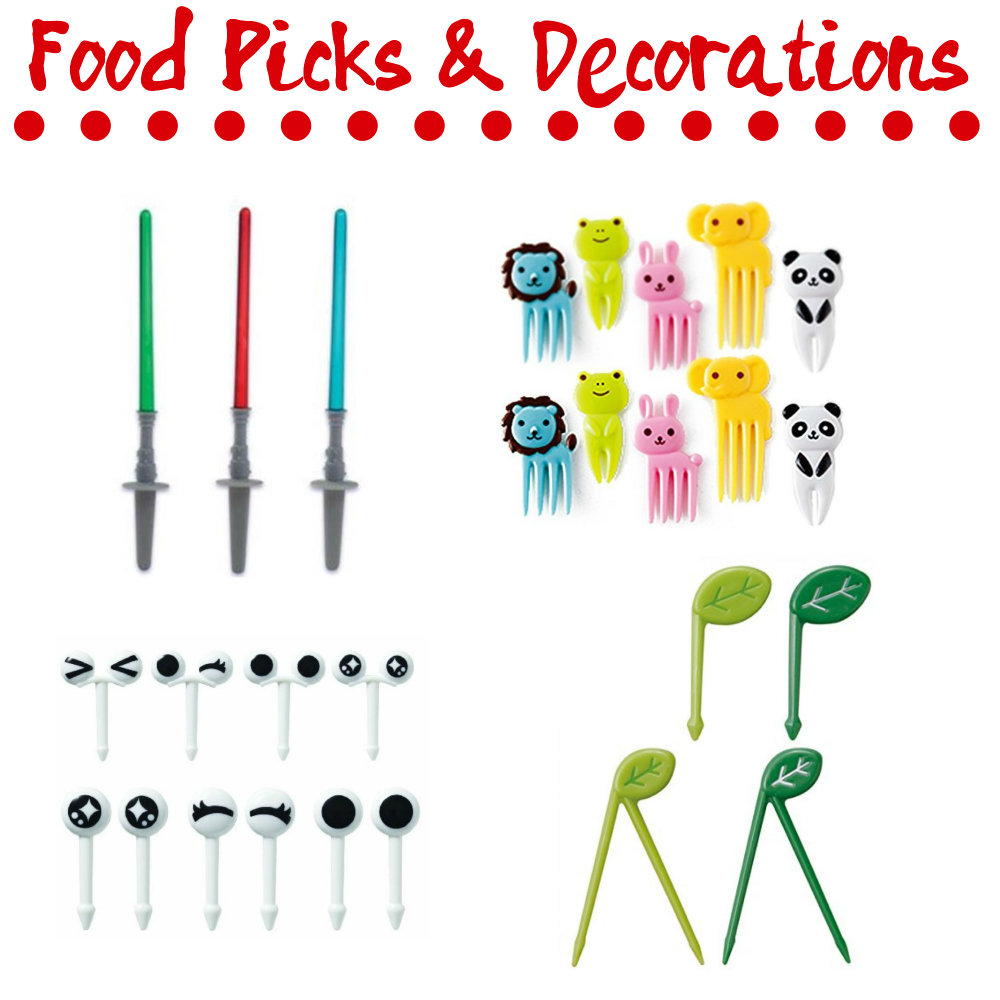 Simply type food picks into the search bar on Amazon and you'll instantly have access to thousands of food picks. Food picks can be used in a variety of ways. I use the shorter ones simply as decoration in their lunchboxes and I use the larger ones to thread food on like a skewer. Some of my favorite ways to use food picks is to use these leaf picks in cherry tomatoes or other fruits. And these cute eye picks to make creatures with their food. It's easy to use food picks when you are working with a particular theme. I have princess picks, alphabet food picks (perfect for back-to-school), animal food picks, and even some light saber food picks (perfect for a Star Wars-inspired lunch)!
Bento Inspiration
Let's face it. Some days I simply have no clue what I'm going to do for their lunches. That's usually when I take to Pinterest to see if anything jumps out at me. If you're looking for bento boards to follow, here are a few I recommend:
If you're more of a have-to-hold-a-book-in-your-hand kind of person, here are some books I recommend:
When it comes to purchasing bento lunch supplies, I try to only purchase products now that will serve many purposes. Before I was buying every cutter I could find, every food pick I came across, every bento lunch box that looked cute. Yeah. Huge issues when it came to storing all these supplies. Buy food picks that can be used for multiple themes, like the alphabet picks that can be used for back-to-school, spelling names, letter recognition, etc.
Don't get overwhelmed thinking you need every single bento thing you see. Think about which themes you'll likely make, which holidays you like most, and buy products that will fit those. You really just have to start somewhere.
Once you have your bento supplies? What now? Storage! Learn how to organize bento supplies to create a streamlined workflow! It saves my sanity — daily!
Please feel free to ask any questions about bento lunch supplies in the comments below. I'd love to answer any questions you may have.