At the beginning of the year we did a remodel of the sanctuary at our church and my husband and I were part of the team that made all the design and decorating decisions. Since we go to a small church with a small budget, after carefully researching our options, we decided to use Philips hue lighting in the sanctuary. We've had the lights in operation since April and we've loved having the ability to change the lighting with a tap of our smartphones.
With technology ever changing, I always like to be on the forefront trying and testing new things that hit the market. Because technology has a way of making life easier, I'm particularly fond of how I can use it at home.
There are many different products today designed so that we can experience a connected home. From a thermostat to security system, Best Buy offers products like Philips hue lighting, that gives consumers a more connected way to live.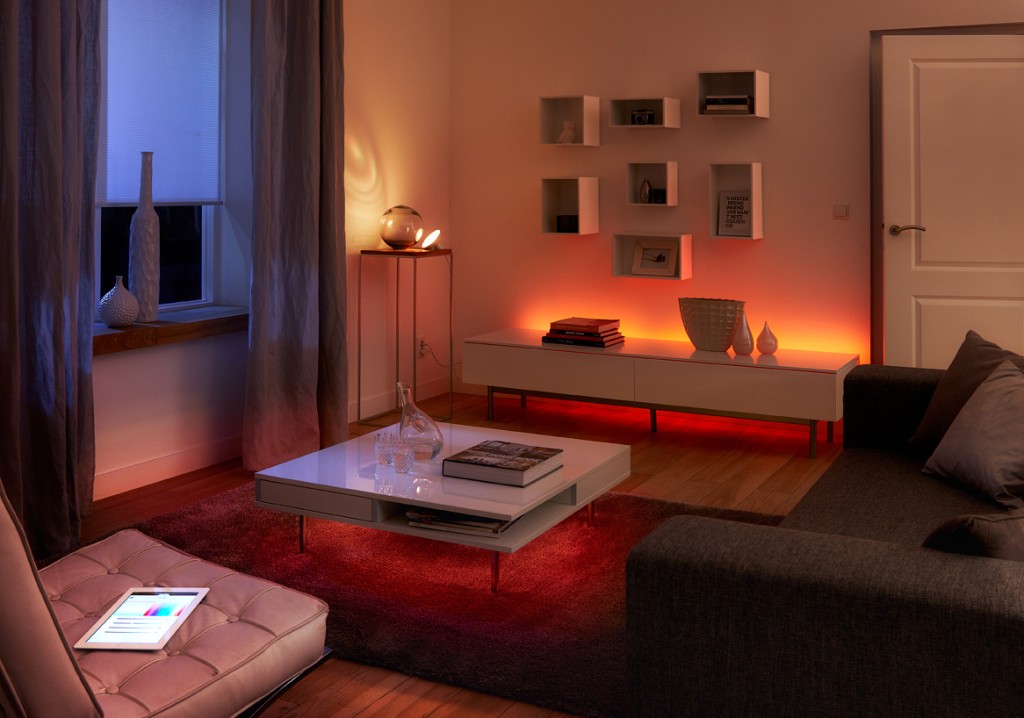 Connected Home
To have a connected home you must first have WiFi. Without WiFi, having a connected home is impossible. We've been using a Netgear router for years, but just recently received a brand new Netgear router available exclusively at Best Buy that comes with one year of Geek Squad Protection. When customers purchase this router, they will receive an email that day sent to an email address they designated with set up instructions. If you're not very tech savvy, the Geek Squad will help you get everything up and running via support over the phone or on the web. This eliminates the need for scheduling an appointment. Because, really, who has time to wait around anyways? Plus, if you have any concerns or questions within the first year, the Geek Squad will be available 24/7 for phone and web support. This is a brand new service provided by Best Buy to their customers.
With more homes using more connected devices, earlier model routers could only handle so much strain from having so many connected devices. The Netgear® Nighthawk DST Router is a high performance router built to support 10+ connected devices. The AC1900 comes with one DST, or "Dead Spot Terminator" adapter – to eliminate Wi-Fi dead zones in your home. Simply place it in an area where you get little or no reception to improve Wi-Fi access. It only comes with one, but additional adapters can be purchased for other dead zones within your home.
Philips Hue Lighting
We received the Philips hue A19 Starter Kit and the Philips hue Go Wireless light and have been using them in our livingroom for the past several weeks. We just loved having them at church so much that we wanted some of our own at home. Having the Philips hue lights in our home is perfect for entertaining, relaxing, or just because.
The new Philips hue White and Color Ambiance Starter kit is a step up from the generation 1 kit. The A19 bulbs have been upgraded from 600 to 800 lumens, providing brighter light. It makes it easy to transform the way you use lighting by adjusting colors, timers, alerts and more… all from a phone or mobile device. The bulbs, accessory lights and bridge all work together with your Wi-Fi to let you create mood-setting color schemes, or create your own light settings. You can also maintain an automatic lighting schedule while you're vacationing – so that it looks like you're home. Home Alone, anyone?
While the A19 bulbs need to be installed into a lighting source, the Philips hue Go is a portable, completely wire free smart light that offers a lot of versatility for basically any lighting need. You can take it or put it anywhere – well almost anywhere – it's not waterproof. The rechargeable battery offers three hours of battery life. Along with the A19 hue bulbs, hue Go can also be controlled via the hue app.
Philips hue App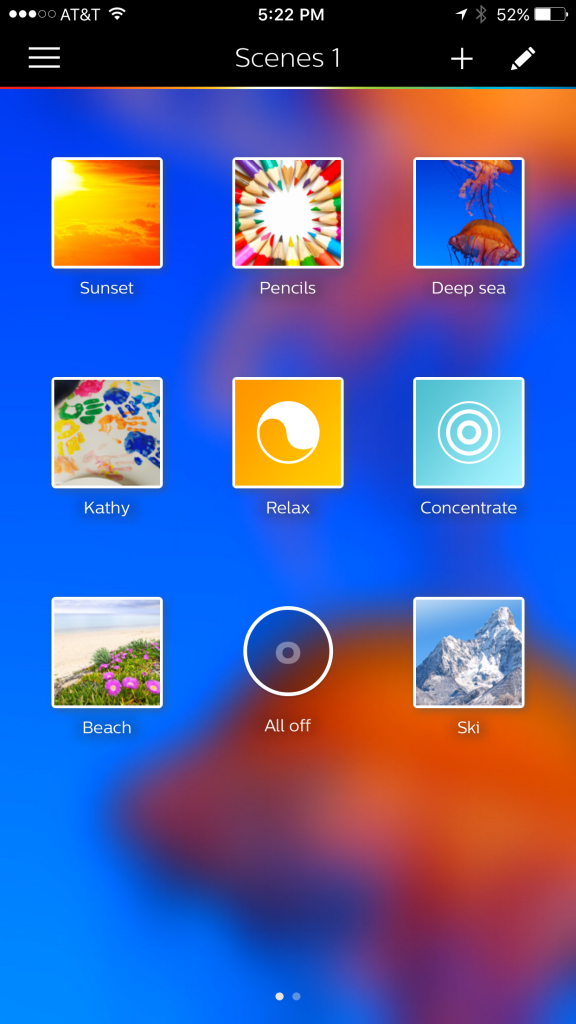 The free Philips hue app allows you to easily manage hue lights from your smartphone or tablet. The iOS- and Android-compatible app gives you the capability to adjust colors, brightness and functions without leaving your seat. All you need to do is create a hue account to access your lights remotely by app or Web browser.
With the Philips hue app and other third-party apps, you can choose from preset light schemes or create your own with 16 million colors. Once you've created your favorite palettes, you can save those scenes for next time. In addition to creating custom light schemes, you can create custom schedules that will allow you to program your lights to match your routine.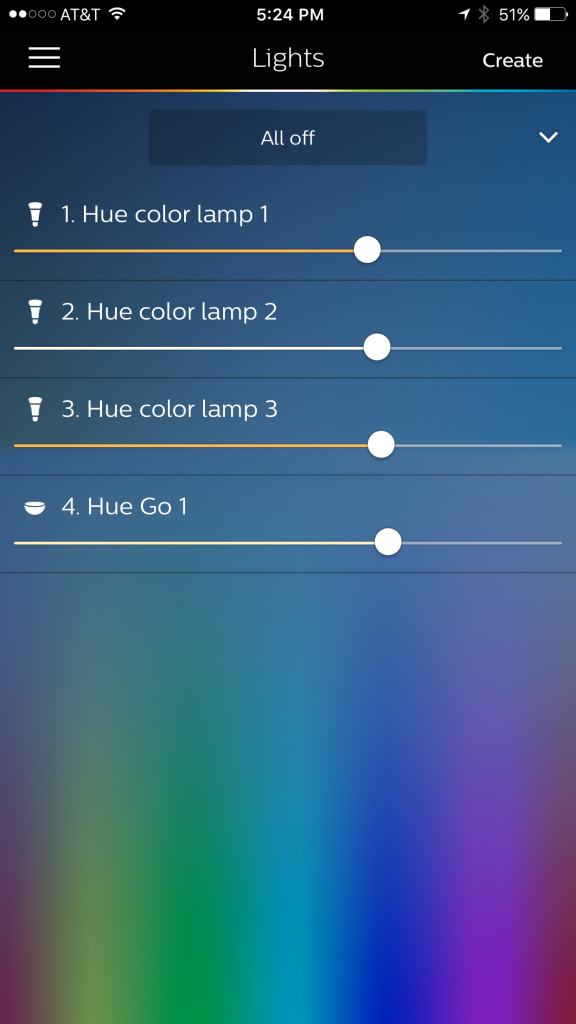 Although all hue lights work together, they can be adjusted separately to create the custom look you want in your space. When you think about it like that, the possibilities are endless. Philips hue allows you to create the exact lighting scheme you want when you need it, right in the comfort of your own home.
We have three A19 bulbs (included in the starter kit) and one Go bulb. We have the three A19 bulbs in various lamps throughout our living room and we have the Go bulb sitting on the back of our sectional where it illuminates against the wall and a small bookshelf. I took three different pictures on different scenes so you could get an idea of what they look like.
What we use for normal everyday lighting: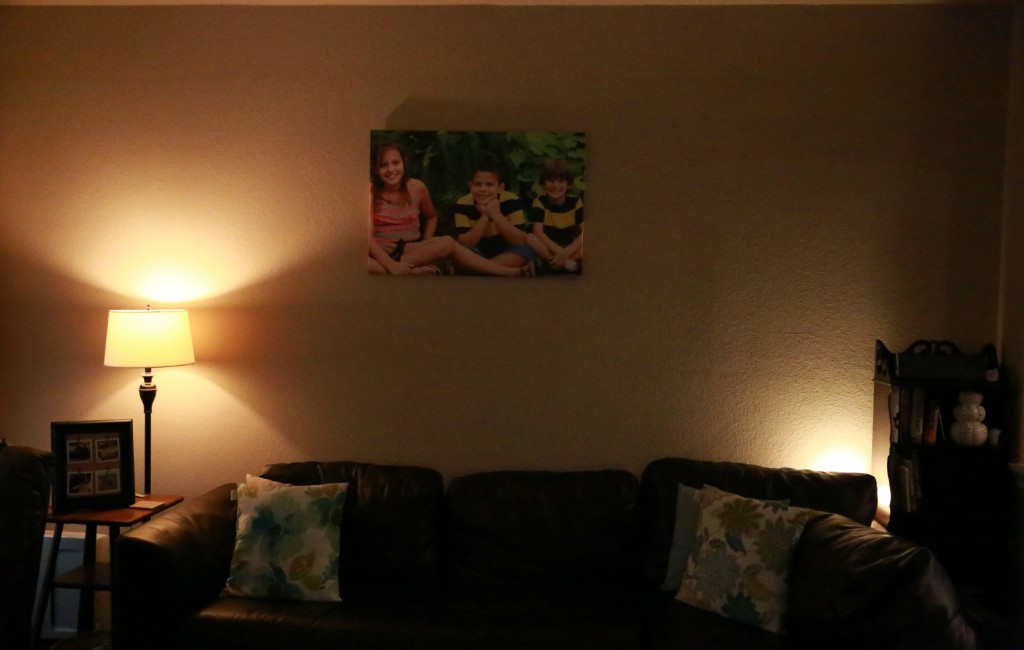 Perfect for when we're watching the Texans play: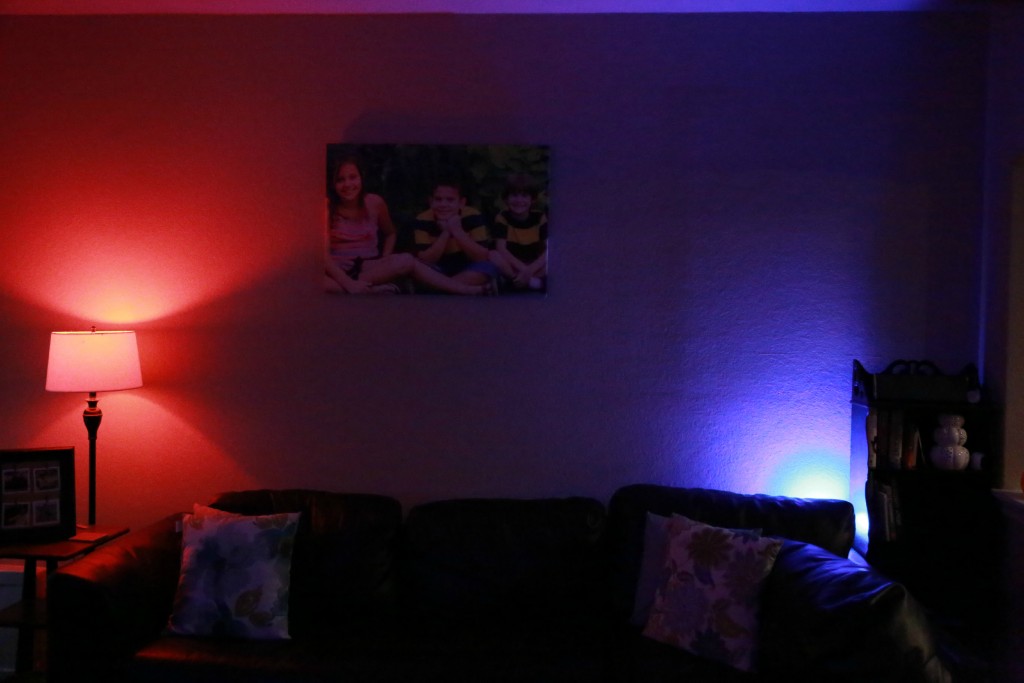 When we need something a little funky: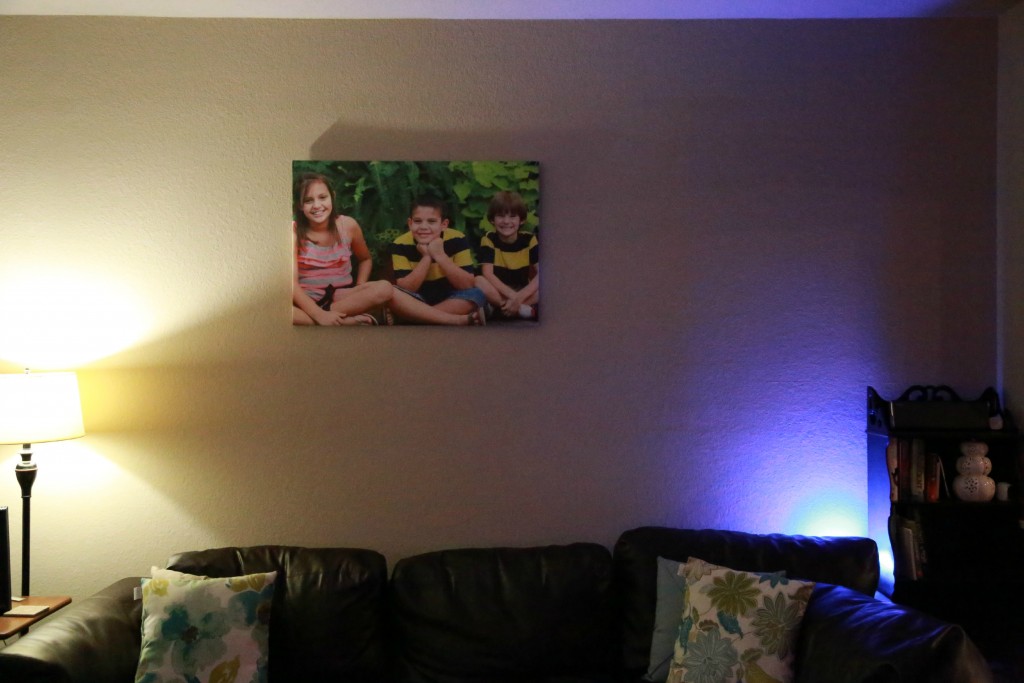 My camera didn't do a great job of capturing it perfectly, but I think you get the idea. Philips hue lights are really just fun to have around and lets us customize our lighting when and how we want.
Adding Philips hue lighting to our connected home was just one more step to having a home that can almost completely be controlled with our smartphones. From our thermostat, to an alarm system, and now our lights, we are inching our way to a connected home fit for the 21st century.
Do you have a connected home? If so, what's your favorite part about it?