With three kids and a dog all living under one roof, the floors in our home need constant attention. From dirt and grass that the kids track in to the constant shedding of our Black Lab, I often have to pull overtime just to make sure our floors are clean. Having products that make this job easier on me not only gives me more time to do things I actually want to do, but gives me the opportunity to pass on responsibilities to the littles who help make the mess.
For the past couple of weeks I've been putting a new vacuum to use around the house and I've even enlisted the help of some of my mess-makers! Introducing the Hoover Air Cordless Lift Upright Vacuum!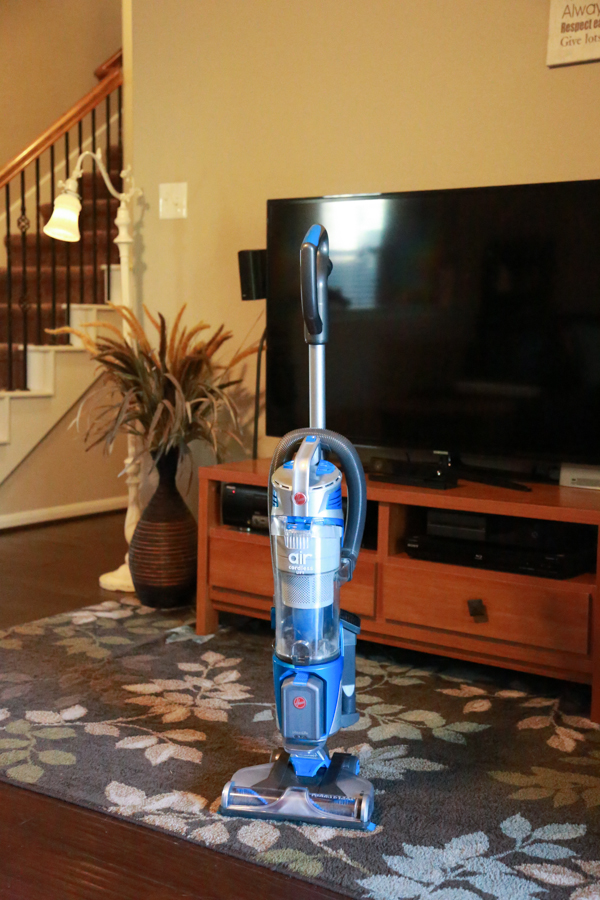 As I'm sure you figured out by its name, the Hoover Air Cordless Lift Upright Vacuum is cordless. Meaning that there are no cords. At all. Y'all, this truly is something to be excited about. I mean, I can vacuum anywhere in my home regardless of where the closest outlet is. No cord means I have the freedom to move about my home with ease; no plugging and unplugging, no winding and rewinding and most importantly, no tripping, tugging or tangling!
Where in the heck has this vacuum been all my life?
I'm kind of a clean freak and having 2,500 square feet of floors to keep clean on multiple stories is not my definition of fun. Or for anyone else in the house for that matter. The constant, "Hey, can you plug the vacuum into a different outlet?" gets old. But since the Hoover Air Cordless Lift Upright Vacuum doesn't have a cord, vacuuming is much easier on everybody.
Don't let its small size fool you. When I pulled the vacuum out of the box and noticed it's petite frame, I didn't have very high hopes. It's smaller than a standard vacuum, but size isn't everything when it comes to the Hoover Air Cordless Lift Upright Vacuum!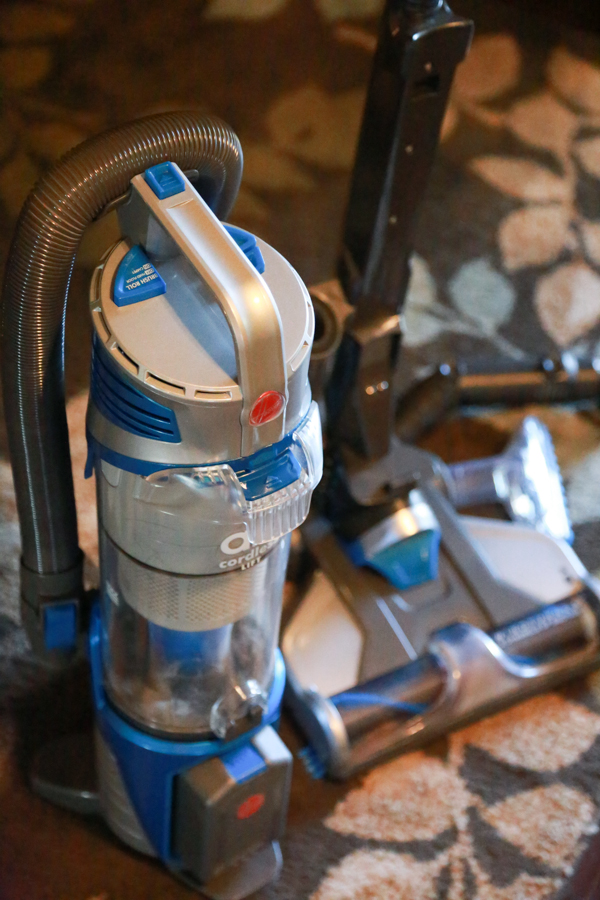 Not only does this vacuum pack quite a punch to deep down embedded dirt, it also converts into a canister vacuum for portability.
And did I mention it doesn't have a cord because it's cordless!
It includes two extended runtime LithiumLife batteries that are interchangeable with any of the four cordless floor cleaners from Hoover (3 vacuums and a hard floor wet cleaner). The interchangeable 20V LithiumLife™ Battery System makes it easy to see how much charge time is left on the battery while in use. And since it comes with two, you can charge one battery while using the other. Plus, LithiumLife batteries have double the capacity of the standard 18-volt lithium Ion batteries which means longer runtime and power that doesn't fade as the the battery decharges.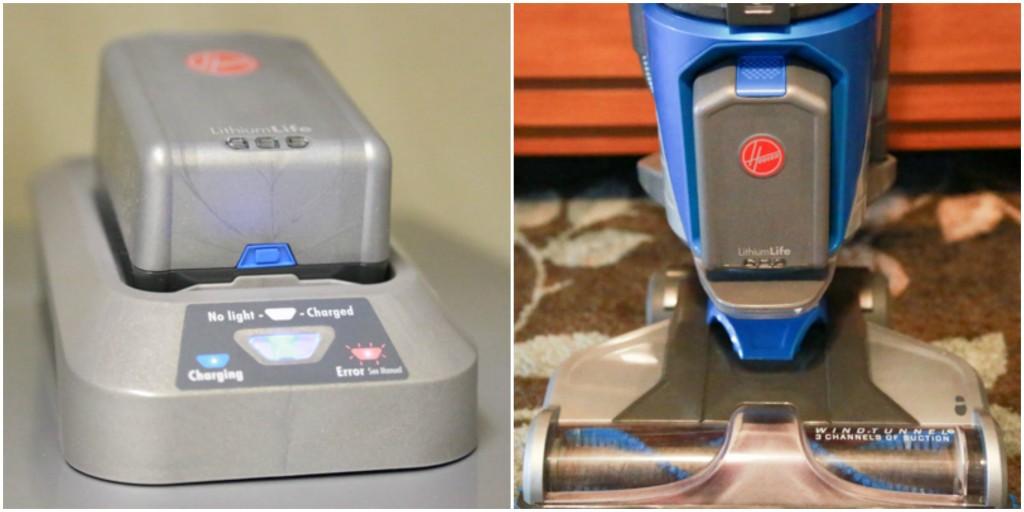 The Hoover Air Cordless Lift Upright Vacuum features Hoover's Windtunnel 3 technology which provides superior performance to supply incredible suction power to lift and remove as much dirt as possible. If you happen to have a mess that needs a little more oomph, the BOOST+ button adds even more power.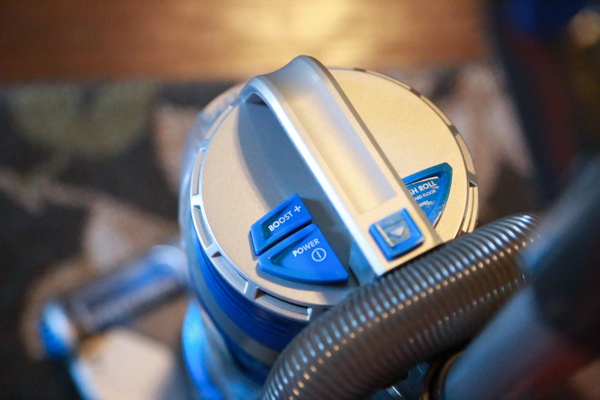 My Thoughts on the Hoover Air Cordless Lift Upright Vacuum
My downstairs is mainly hard flooring except for the master bedroom, closets, and two rugs in the living area. However, the entire upstairs except for a bathroom is carpet. I figured the best way to put the batteries to the test was to put them to use in the most extreme way I could — vacuum all the carpet.
I was able to vacuum the entire upstairs and the carpeted areas downstairs on one battery. Which honestly surprised me. The battery power truly is remarkable. I was also able to quickly transition from canister vacuum to upright vacuum easily while on the move. Without having to worry about the cord, I easily made my way around the upstairs and downstairs.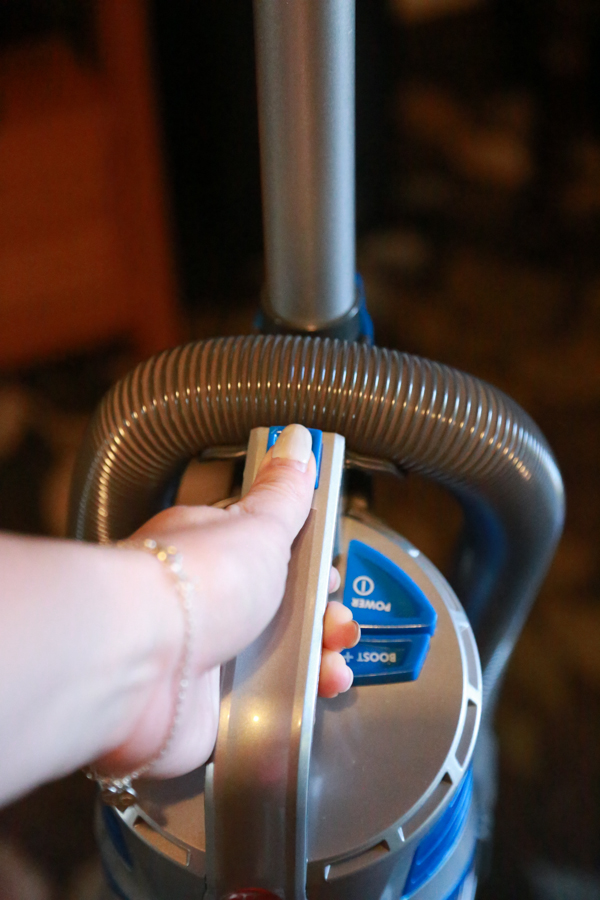 The blue push down release buttons and clips make transitioning quick and efficient. The release buttons give you an easy disconnect while the clips make sure that the pieces stay together and don't disconnect unintentionally while in use. I like that all the buttons and clips are blue so that they are easily recognizable when transitioning back and forth.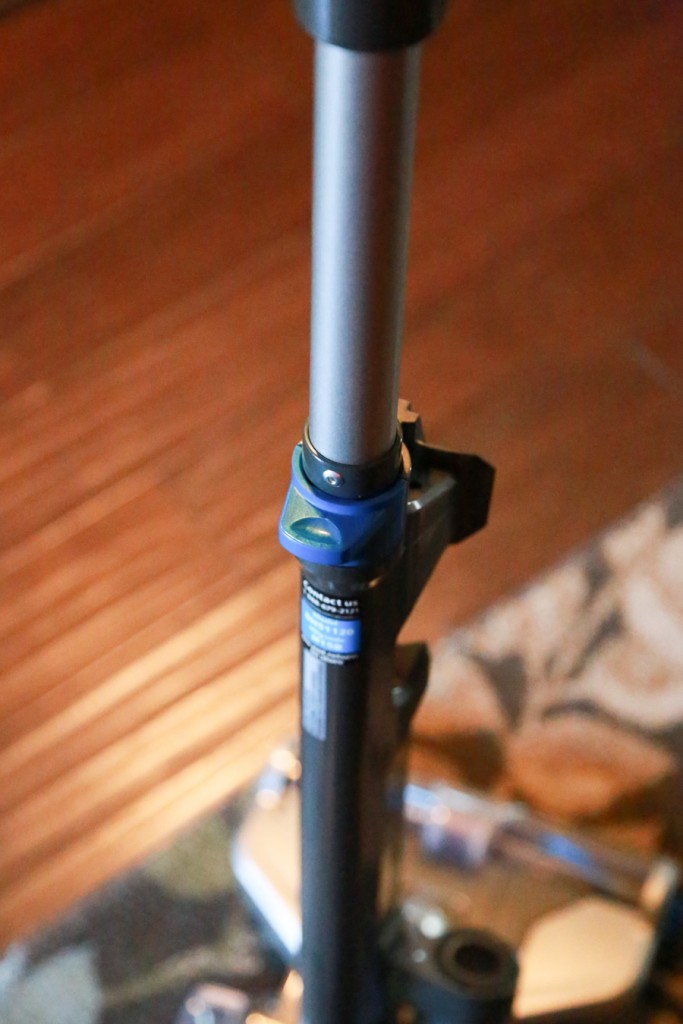 Its low profile makes it easy to get underneath some furniture and the head swivels to provide maximum maneuverability. The vacuum glides over the carpet easily and it feels smooth under your hand. The built in light helps to illuminate the surrounding areas so that you can easily see underneath furniture or in dark areas.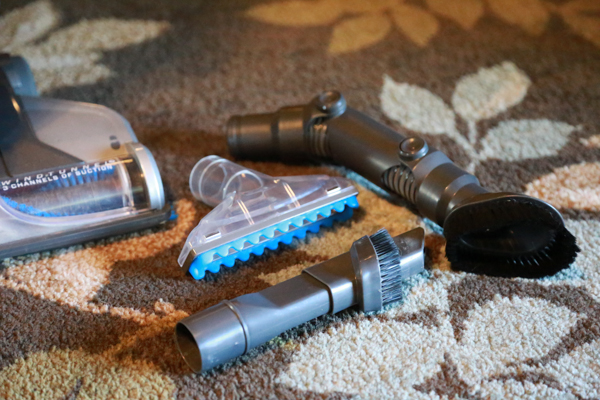 It comes with several multi-functional tools to use around the house and the detachable wand offers an 8 foot cleaning reach. There is only one spot on the vacuum to hold tools so you will need to find another place to store the additional tools.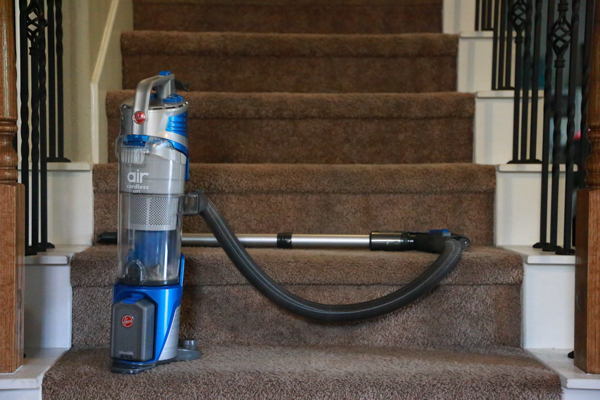 And as if all these features weren't enough, this bad boy only weighs 12.5 pounds. It's light enough that my youngest can carry it around to dust the baseboards. Heck, that sure beats being on my hands and knees!
I'm a big fan of the Hoover Air Cordless Lift Upright Vacuum. For such a small machine, it really gets the job done. If I could change anything about the vacuum, I would add extra space on the vacuum to store the tools. I think another tool, maybe a smaller-sized roller or something similar could really come in handy. That would make getting pet hair off couch pillows so much easier.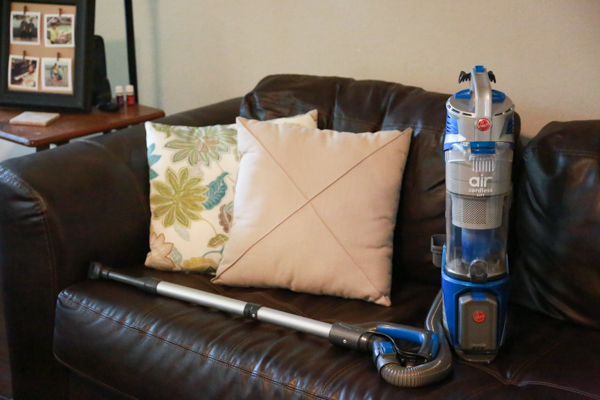 The job of vacuuming doesn't seem so tedious now that I have the Hoover Air Cordless Lift Upright Vacuum to help me out. Especially now that I have little hands that like to help!
The Hoover Air Cordless Lift Upright Vacuum retails for $399.00!
How would having a cordless vacuum make your life easier?
I was selected for this opportunity as a member of Clever Girls and the content and opinions expressed here are all my own.