In a resort not so far, far away…
The Force awakens at the Disneyland Resort! Beginning November 16, guests will be able to immerse themselves in the Star Wars galaxy as Tomorrowland has been transformed with new attractions, experiences, and themed offerings for Season of the Force.
Season of the Force
I was able to get a sneak peek at Season of the Force overlays, and am so thrilled to be able to share it with you. Here's what you'll find during Season of the Force:
Star Tours – The Adventure Continues: Star Tours has always been the way to get your Star Wars fix within the resort. It was upgraded before, and they did it again! You'll see new scenes and spot some new friends from The Force Awakens.
Star Wars – Path of the Jedi: Exclusive to the Season of the Force, resort guests can enjoy a cinematic overview of the Star Wars films plus see moments from the upcoming release. All of the romance, humor, and epic scale can be found in the Tomorrowland Theatre.
Hyperspace Mountain: Featuring all new digital projections and John Williams soundtrack, Space Mountain has been transformed into Hyperspace Mountain. Soar through the galaxy as you narrowly escape the battle between Rebel X-wings and Imperial TIE fighters. I may have ridden it three times.
Jedi Training – Trials of the Temple: Beginning December 8, your little Jedis will be able to train in a new battle experience. Darth Vadar and Seventh Sister Inquisitor from Star Wars Rebels, on Disney XD.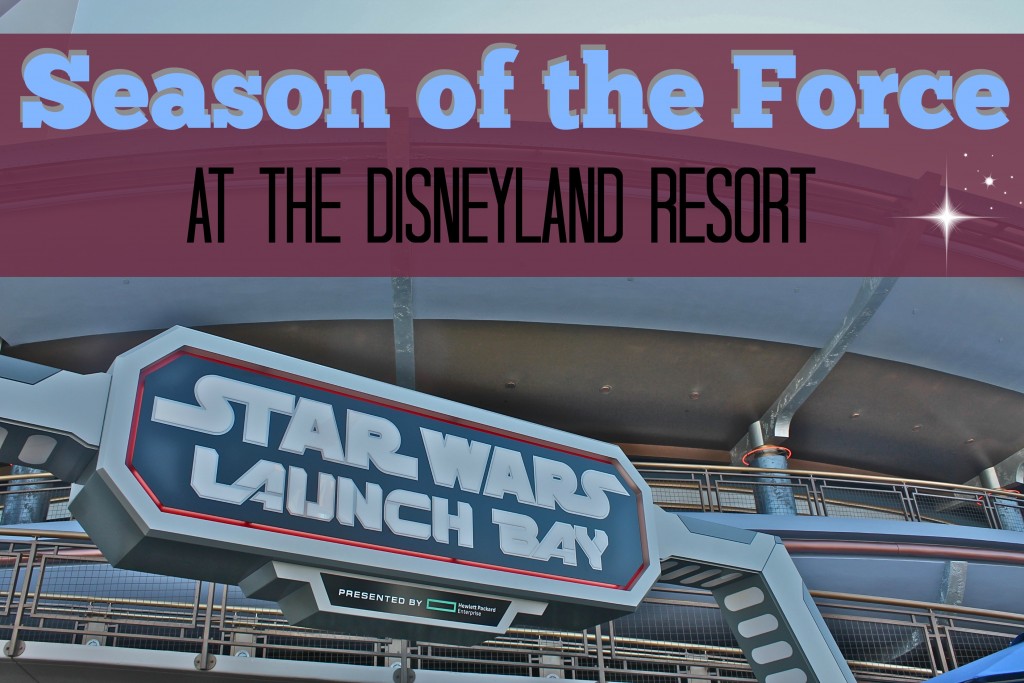 Star Wars Launch Bay:

Themed Galleries: Explore authentic replicas of props and memorabilia from The Force Awakens, plus see artifacts from both the Light Side and Dark Side.
Character Encounters: Get your imaging devices ready as you join the Dark Side and get face to face with Darth Vader or enter the rebel base to meet (and even snuggle) everyone's favorite Wookie, Chewbacca.
Shopping at the Launch Bay Cargo: Home is where the Storm Trooper is, and you can bring home your own. The Launch Bay Cargo features high-end, bespoke merchandise for the true Star Wars fan.
Star Wars Game Center: Guests can enjoy some of the latest Disney video games. Disney Infinity players will want to stop in to find the secret code for park-exclusive Toy Box levels.

All of the excitement celebrating Season of the Force at the Disneyland Resort can work up an appetite. I can't wait to share some of the offerings from the new menu at the Galactic Grill, plus collectible merchandise.
The Star Wars Season of the Force is now open at Disneyland Resort, while experiences will be opening up at Walt Disney World in December and running through January. With no announced end date, I am certain the galactic fun will be here for some time. May the Force be with you!
Are you a Star Wars fan? Which element of Season of the Force are you looking forward to?