Are you participating in any cookie exchanges this year? If so, I think these White Chocolate Peppermint Cookie Balls would be perfect for gifting.
What do you think? Don't they look so fun and festive and perfect for the season?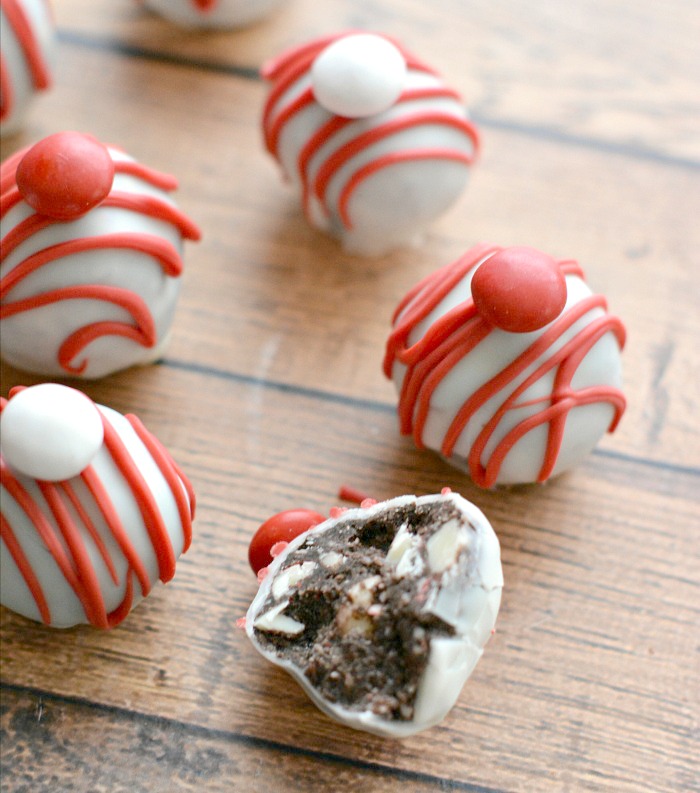 White Chocolate Peppermint Cookie Balls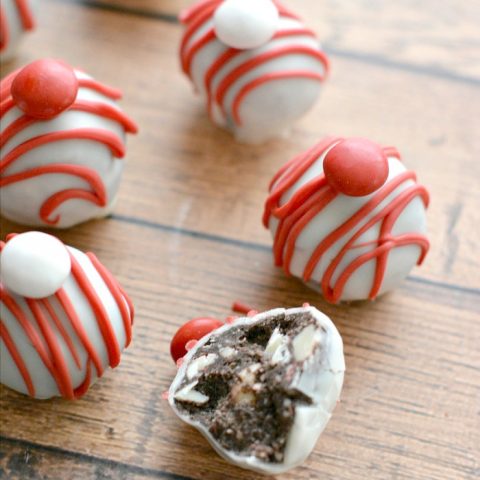 White Chocolate Peppermint Cookie Balls
White Chocolate Peppermint Cookie Balls | A fun, festive dessert perfect for sharing or gifting for the holidays. Cookie Exchange, anyone?
Ingredients
20 chocolate sandwich cookies (like Oreo's)
4 ounces cream cheese, room temperature
1 cup M&M's White Chocolate Peppermint candies
8 ounces almond bark
1 tablespoon vegetable shortening
1/4 cup red candy melts
extra M&M's White Chocolate Peppermint candies for decoration
Instructions
Using a food processor, finely grind the chocolate cookies until they're very small crumbs.
Use a knife to roughly chop the M&M's candies or pulse them in the food processor, whichever you find easiest.
In a large bowl, mix the cookies, cream cheese and candies together until combined.
Using a tablespoon, scoop the dough and hand roll it into a ball. Place the balls on a wax paper lined baking sheet and refrigerate for at least one hour.
In a microwave safe bowl (I prefer a glass mason jar), melt the almond bark and vegetable shortening for 30 seconds; stir and repeat until fully melted.
Drop each cookie ball into the melted almond bark and scoop out with a fork. Place them on a wire drying rack with a tray underneath the catch excess candy that drips off. Repeat for the remaining cookie balls.
Microwave the red candy melts for 60 seconds, until fully melted. Drizzle the cookie balls with the candy using a fork (or piping bag). Place an M&M candy on top before it dries and hardens. Refrigerate until ready to serve.
Each year I enjoy using festive ingredients to make special treats for the dessert table. This year, M&M's happen to be the star of the show in these adorable White Chocolate Peppermint Cookie Balls.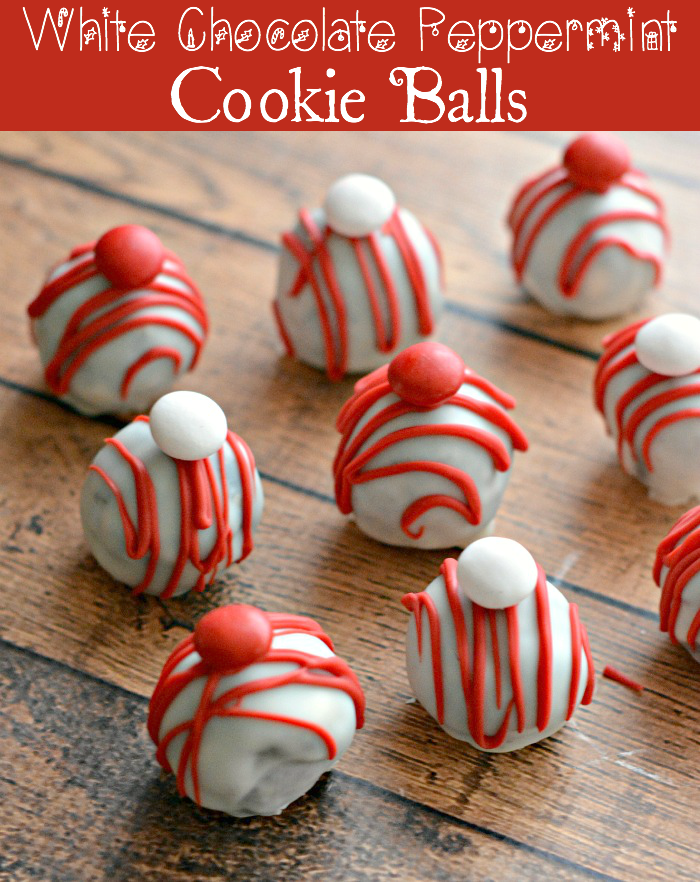 Don't let the steps in the recipe fool you. These are pretty simple to make if you have a food processor to help you out. The kids could even get in on the action, if you want them to help out in the kitchen. Such a perfect activity for a cold, snowy day.
What's your favorite cookie for cookie exchanges?