Every year I nearly break down the doors at Williams-Sonoma to get my hands on some of their Peppermint Bark. This time of year, it's my favorite treat!
It's so, so good, y'all!
This year, things have changed for the family and we are being extra careful about our health. So while I still want to enjoy my favorite treats, I have to find other ways I can enjoy them. Bringing 1 pound tins of Peppermint Bark in the house probably isn't the best idea for us!
That's why I decided to make some Peppermint Bark Pretzels!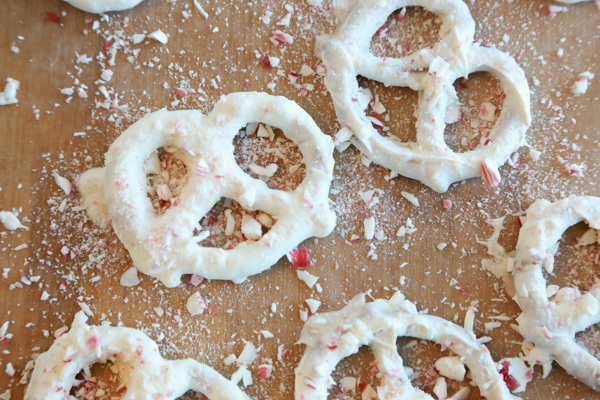 I still get an overdose of that wonderful peppermint flavor, but I can also control my serving size by only making small batches so that we don't overindulge.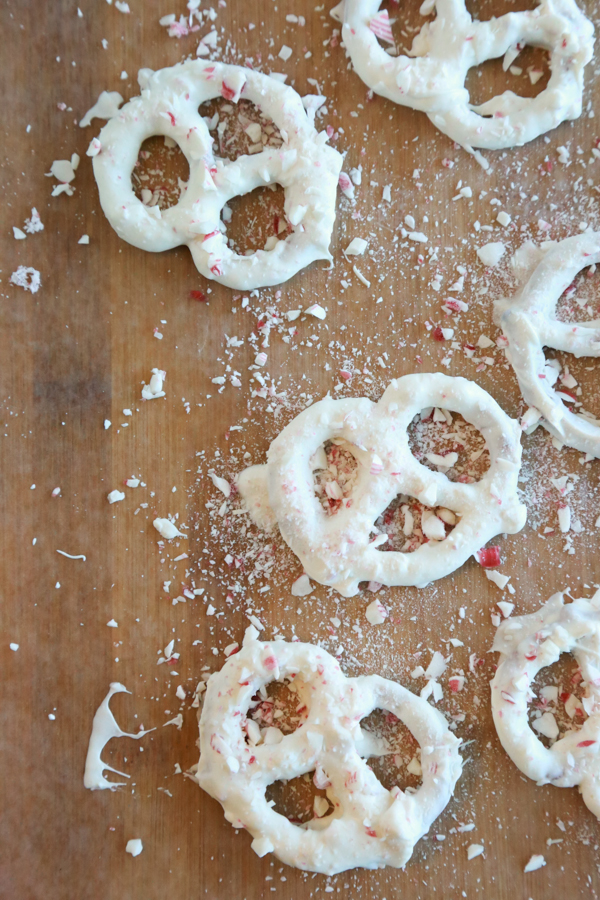 This Peppermint Bark Pretzels recipe is so, so easy to make and it's a perfect winter treat!
Peppermint Bark Pretzels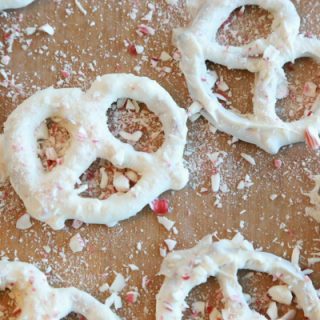 Peppermint Bark Pretzels
Yield: 13

Prep Time: 5 minutes

Cook Time: 5 minutes

Total Time: 10 minutes

Peppermint Bark Pretzels! Enjoy the wonderful peppermint flavor with these oversized pretzel twist and crushed peppermint.
Instructions
Unwrap peppermints and place in plastic baggy. With a rolling pin or other hard item, carefully crush the peppermints. Separate 2 tablespoons for mixing with the candy melt and reserve the remainder for topping.
In a medium bowl, melt candy melts as instructed on the product packaging. Once melted, add two tablespoons of crushed peppermint to the melted candy and stir.
Lay out a sheet of wax paper. Create an assembly line with pretzels, candy melt, and crushed peppermint. Begin by dipping one pretzel into the melted candy mixture. I used a plastic knife to push the pretzel down into the mixture to ensure that it was completely coated. Use the plastic knife to remove it from the mixture and place on the wax paper. Sprinkle with crushed peppermint.
Repeat this for the remaining pretzels. Allow to harden on the wax paper and then store in an airtight container.


See, y'all! So, so simple! And the result is an amazing, festive treat perfect for the holidays!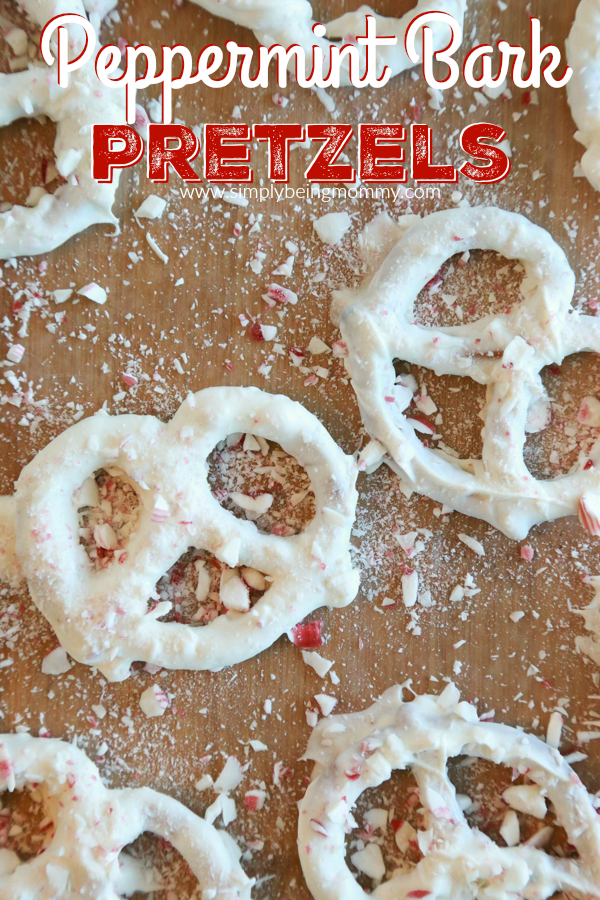 This Peppermint Bark Pretzel recipe can easily be doubled or tripled for bigger batches. I just know that I don't have much willpower, so smaller batches work better for me!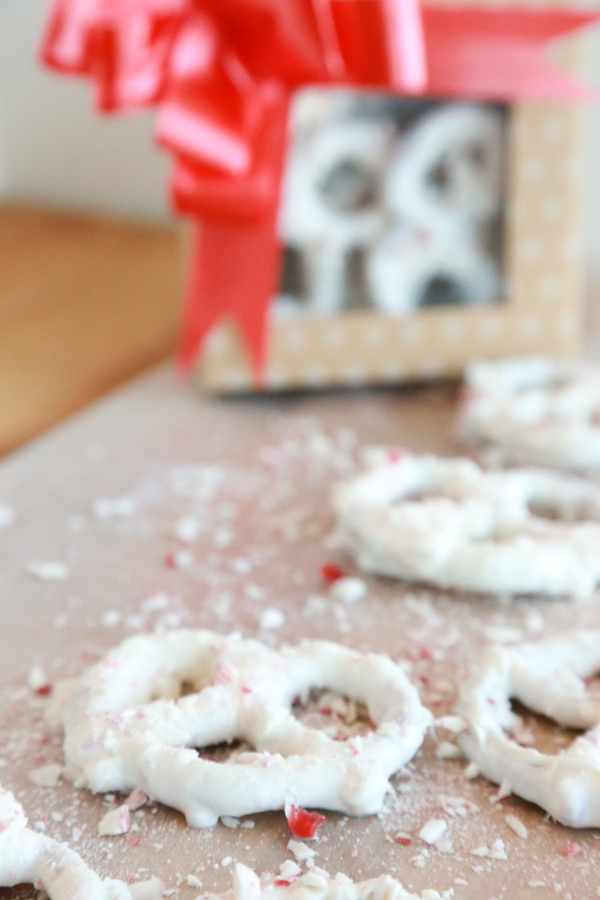 Plus they're kind of perfect for gift-giving. Just put them in a cute, little bakery box and top with a bow. Adorable, right?
I know I'd be happy to receive a box of these Peppermint Bark Pretzels! (Hint, hint!)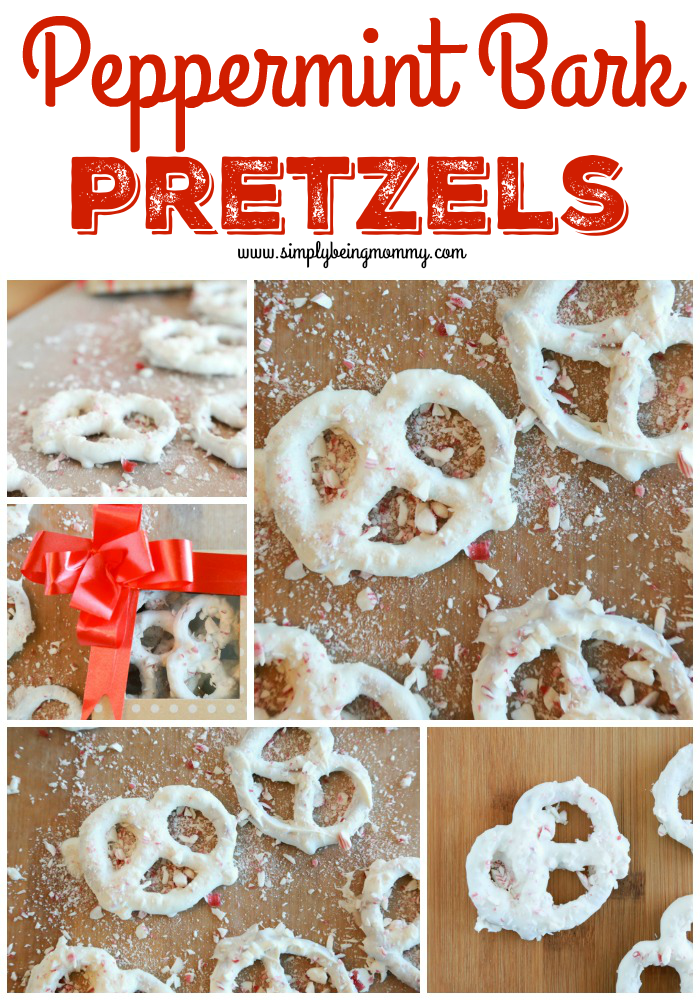 What's your favorite holiday treat?