Do your children need a little incentive to get their chores done?
If your children are like most children I know, incentives go a long way. Whether it be a fun play date at the end of the week, or a trip to the yogurt store, I've found that offering my children a small incentive is a great way to get them to help out around the house.
Walt Disney Studios has created this Snow White Chore Chart that I wanted to share in case you have a little one at home that could use some help getting excited about helping with the household chores.
Best part, it's free. All you need to do is print it and use it.
Snow White Chore Chart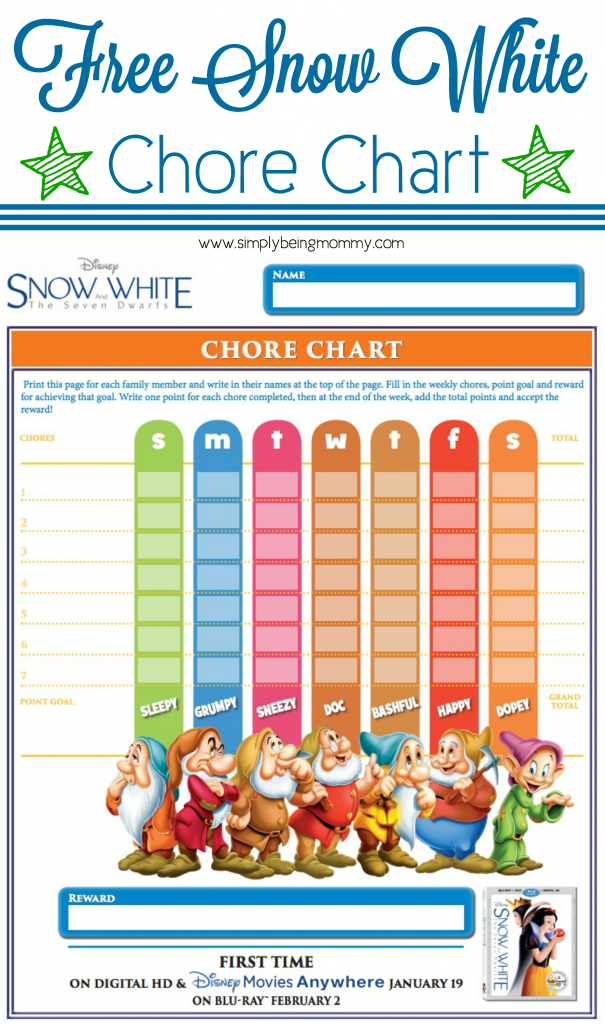 To use the Snow White Chore Chart, simply print a copy for each member of the house. Write their name at the top of the chart, assign each member chores, give each chore a point value, and assign a reward for meeting the weekly goal.
Some ideas for rewards could be: going to the movies, going on an ice cream date, picking out their favorite toy at the store (within budget of course), mommy & daughter manicures, etc. Be as creative as you want and assign rewards you know your child will enjoy. The point of the chore chart is to encourage them to help out and earn a reward by doing so.
Need ideas for age appropriate chores? Here are some great ideas from fellow moms:
There's nothing wrong with encouraging your children to help out around the house. Some may call it bribing, but personally, I'm not above bribing. I want my children to learn how to do basic household chores. They need to learn how to wash clothes, load the dishwasher, mop the floor, etc. Of course, many times they don't want to, but adding in a small incentive usually changes their attitude and they are eager to help.
Go ahead and give this Snow White Chore Chart a whirl and see if it makes your children a bit more excited to help around the house.