Bacon and Spinach Mac and Cheese, y'all!
It's as delicious as it sounds. Even my non-green-eating hubby loved it. When I win his stamp of approval with something green, it's like I've won the lottery.
Well, not like really winning the lottery, but you get my point, right?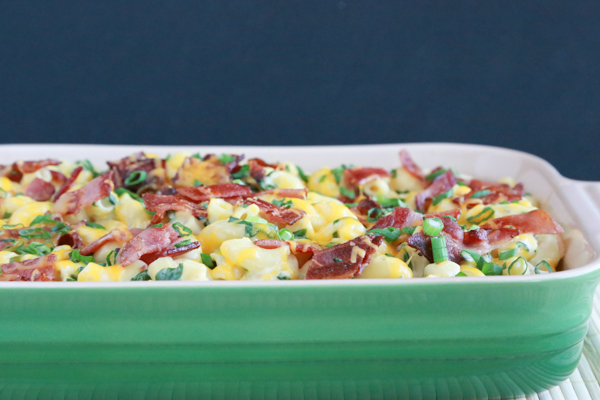 I've partnered with New World Pasta Company to promote the newly earned Non-GMO Project Verification on a number of their pasta products.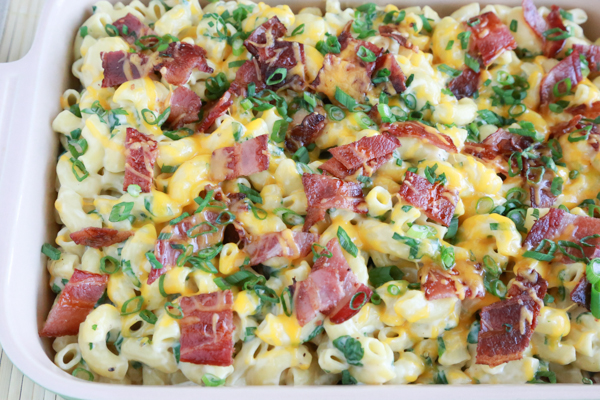 So what does this mean?
38 of Skinner's pasta products — from ziti to spaghetti to rigatoni — are now Non-GMO Project Verified, the most trusted sign that a product is produced through best practices for GMO avoidance. This verification is yet another way Skinner is demonstrating its commitment to responding to new, consumer-driven food trends and leading the way in the pasta category.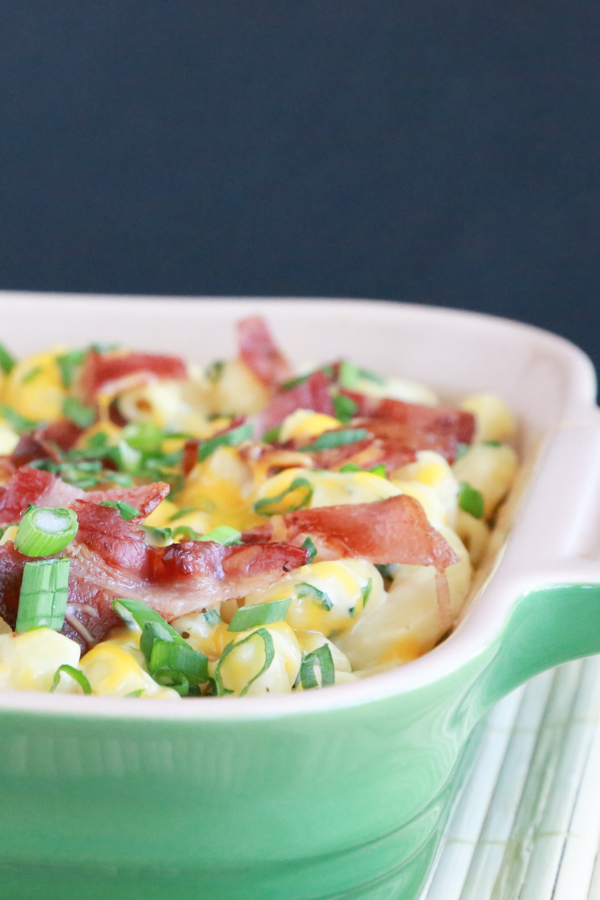 I mean, we all love mac and cheese, right? For us, it's a family favorite. But this Bacon and Spinach Mac and Cheese isn't your normal, out of the box mac and cheese. This is savory, and explodes with flavor in your mouth. It's soooo good!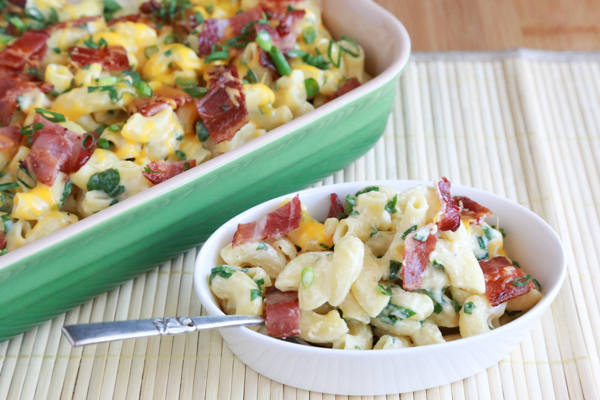 But honestly, y'all. You shouldn't just take my word for it. You should try it.
Bacon and Spinach Mac and Cheese
Bacon and Spinach Mac and Cheese
Ingredients
16 ounces uncooked Skinner Large Elbows
2 tablespoons salted butter
3 tablespoons all-purpose flour
2.5 cups 2% milk
8 ounces shredded mild cheddar cheese, divided
2 cups roughly chopped fresh spinach leaves
1 1/2 teaspoons salt
1 teaspoon freshly ground black pepper
1/2 cup thinly sliced green onions, green part only
6 slices center-cut thick bacon, cooked and crumbled (or cut)
Instructions
Spray a large 9 x 13 baking dish with non-stick cooking spray and set aside. Preheat oven to 350 degrees Fahrenheit.
In a large saucepan, cook pasta in boiling water according to the directions on the package; drain and keep warm.
Clean saucepan out and wipe dry; return to medium heat on stove. Melt butter in pan. Sprinkle in the flour and cook for about one minute, stirring with a whisk constantly. Gradually add in the milk to the flour mixture and bring it to a boil making sure to stir constantly. Once it starts boiling, cook for about a minute or until it begins to thicken. Remove from heat and stir in about 4 ounces of cheese until smooth.
Add spinach to the pan and stir into the cheese mixture. Add warm pasta back into the large saucepan and mix with the cheese sauce. Sprinkle in the salt and pepper and stir to combine.
Carefully pour the pasta mixture into the prepared baking dish. Top with green onions, bacon and remaining cheese. Place in the oven and bake for about 5 minutes or until the cheese is melted over the top.
Remove from oven and serve immediately.
Although my kids are pretty good about eating most everything I put in front of them, it's always nice not to have to hide ingredients. Although you can clearly see the spinach, it doesn't overpower the dish. Chopped spinach is much easier to stomach than full spinach leaves according to my kids. So many times when I add spinach to a recipe, I always chop it or make pretty, little chiffonade strips.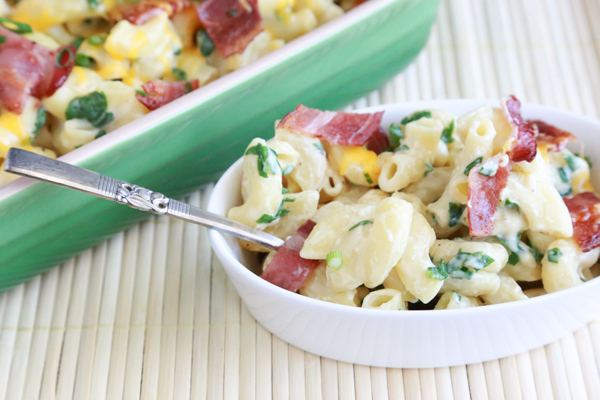 What's pretty great about this recipe is you can adjust all the ingredients according to your family's likes. Want less spinach, put in less. Want more bacon, add in a few more slices. It's totally up to you.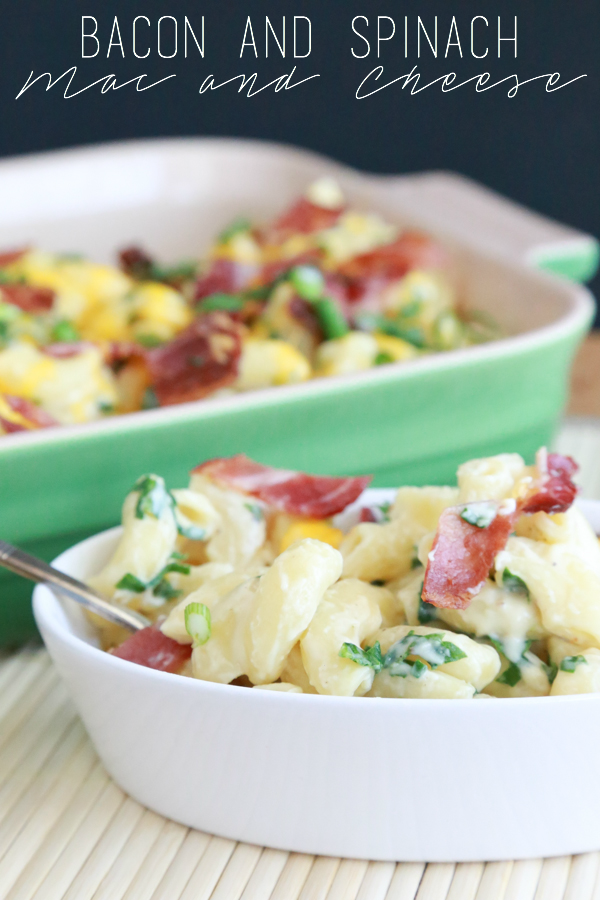 But regardless, I don't really think you can go wrong here. I mean, it's mac and cheese.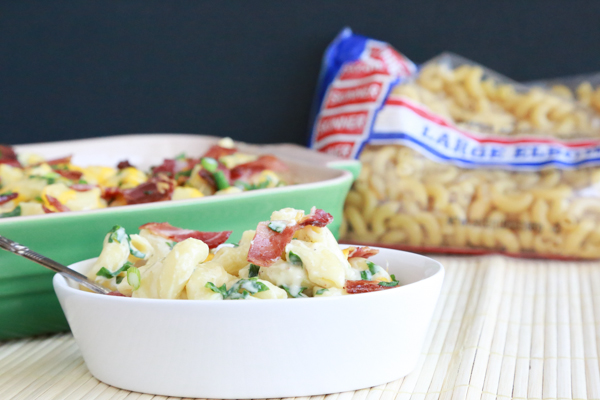 What's not to love about mac and cheese?