During most of my schooling career I attended a very small private school. If I remember correctly, I think when I graduated there was a total of 20 students in my graduating class. Compared to a public school graduation, it was tiny.
But honestly, I loved having such a small class. I didn't graduate with most of the students I had grown up with because I actually skipped my junior year and went straight to my senior year. Somewhere along the way I had earned enough credits to graduate early by taking a class during the summer between my sophomore and senior year. I wasn't forced to graduate early, but I did it because I thought it was pretty cool to graduate at the age of 16.
While in school I remember participating in a spelling bee, but I can't recall what grade I was in. What I do remember though was that I was so nervous. Being a participant and being shy really didn't go well together. But, I did it. I didn't win or anything, but I remember feeling a sense of accomplishment after it was over. And the pizza party afterwards helped a little too.
With my three children, I'm trying to help them understand the importance of spelling. This year Amazon Kindle has partnered with Scripps National Spelling Bee to be the presenting sponsor of the yearly bee. Both brands know that reading, spelling and vocabulary are critically important to a child's lifelong achievement and they are joining forces to promote awareness that to be a great reader you must be a master of spelling.
Amazon sent us a new Kindle for Kids bundle that includes the latest Kindle without sponsored screensavers, a kid-friendly cover, and a 2-year warranty. I already have an old school Kindle that I still use to this day, but having this extra Kindle is perfect for our homeschool room. The kids can each use it to help them master spelling and reading.
How I Use the Kindle in Our Homeschool Room
Dictionary Lookups – Sometimes there are words in books that we don't understand. This function allows kids to easily access definitions from the New Oxford American Dictionary without even leaving the page. To find the definition of a word, you can use a finger or stylus to touch the word on the Kindle screen. A popup will appear on the screen that includes definitions, information from Wikipedia (this option is not available when using FreeTime), and a translation option.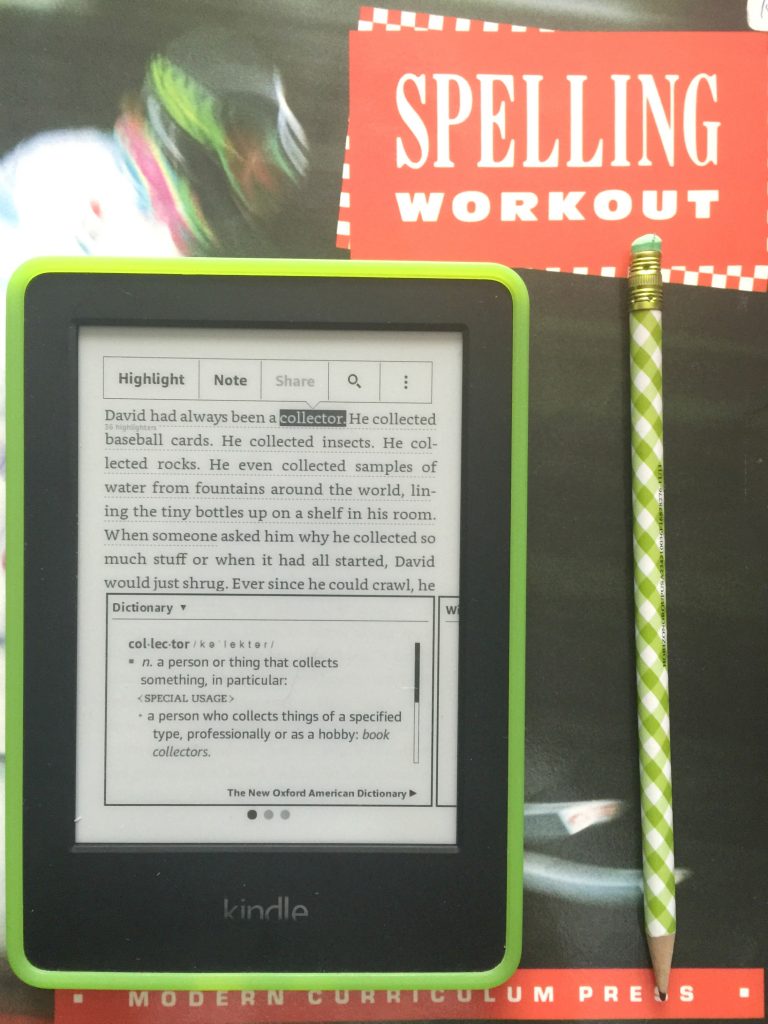 When my children use this feature, I ask them to highlight the word (a popup will appear on the page to access this feature) so that we can work on mastering that word during their weekly studies, which leads me to the next point.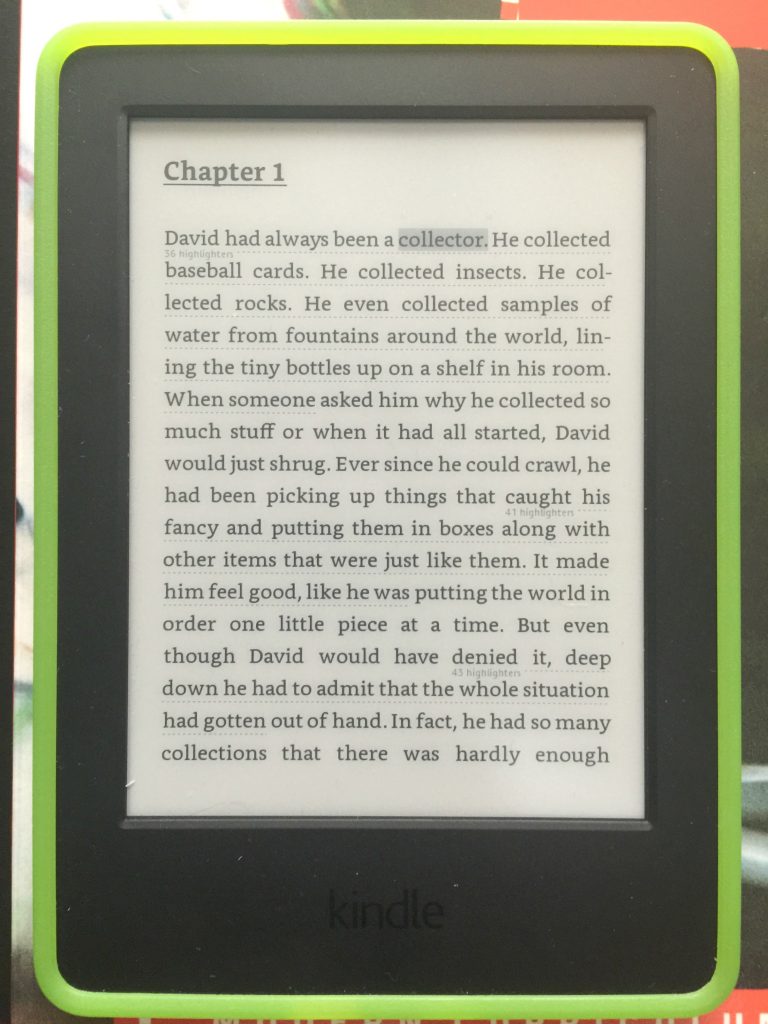 Vocabulary Builder – When the look up feature is used to find the definition of a word on the Kindle, the word is automatically added to the Vocabulary Builder on the device. With Vocabulary Builder, children can use flashcards to learn the definitions and proper usage of the words they looked up.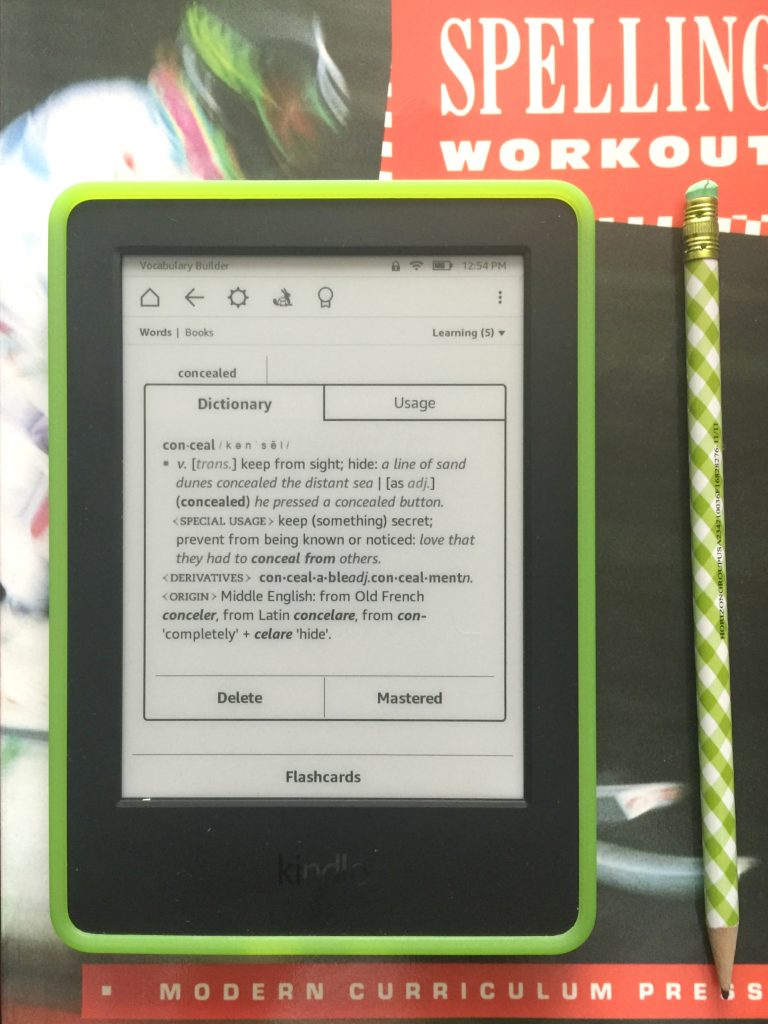 Once the child has successfully mastered the word, it can be either be deleted or marked as 'Mastered'. With the drop down on the right of the screen, you can see the words your children are learning and the words they've mastered.
Word Wise – When encountering difficult words, short and simple definitions automatically appear so kids can keep reading with fewer interruptions. You can tap on a word to bring up a simple card with definitions, synonyms, and more.
Family Sharing – My kids have been using the FreeTime option on the Kindle to track their progress. The more time they spend reading, the more achievements they unlock. Each child has their own profile and can not leave it without entering the passcode. The Kindle also makes it easy to share books with your spouse and up to four children.
My children use a spelling and vocabulary curriculum, but there is no way that their curriculum will be able to cover every single word they will encounter while reading a book. Having the ability to have immediate access to a word's definition while reading is a huge advantage. It saves them time but also gives them more motivation to actually find the word's meaning instead of just skipping over it.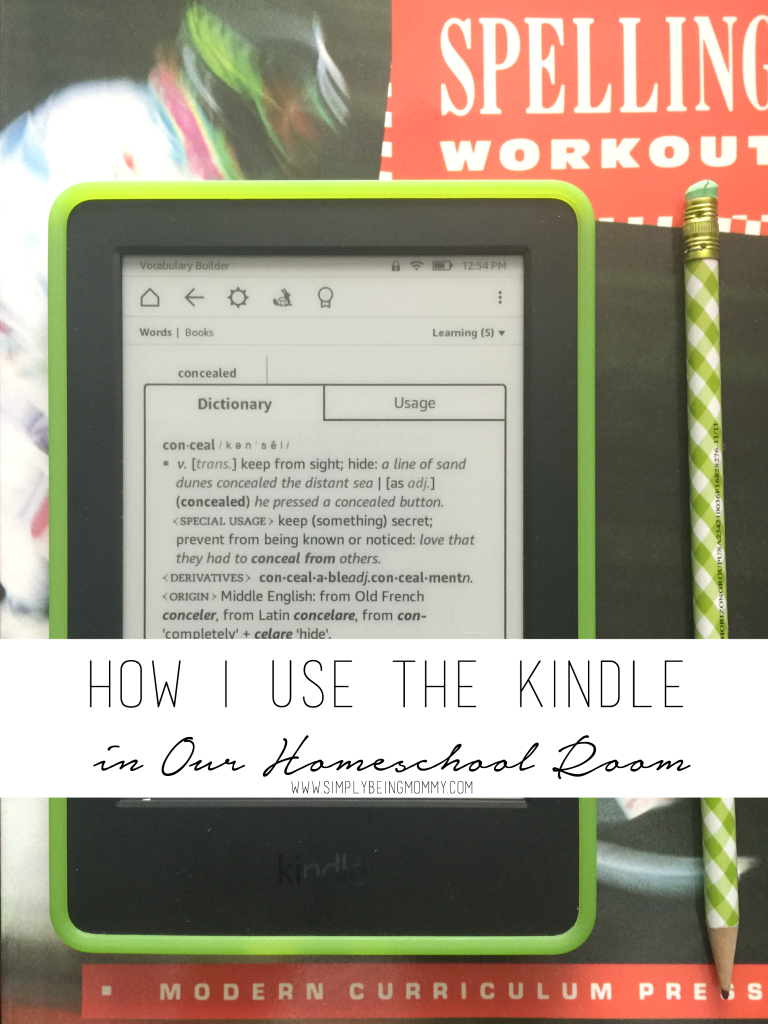 The touchscreen is responsive to touch and allows you to easily maneuver your way around the device. From flipping pages to heading to the home screen, each destination is only a touch away. It's the perfect size for little hands and weighs less than most hard back books.
I did find that sometimes it moves a little slow between pages when you're jumping around from page to page. It's also in black and white, which for the kids can be a bit boring. It would be nice to have some colored illustrations throughout the children's books.
Overall, I think the Kindle is a perfect addition to our homeschool room. How I use the Kindle in our homeschool room will change from year to year, but so far it's coming in handy with reading, spelling and vocabulary. And, I like the extra help. This homeschooling gig is no joke, y'all!
Do your children like to read? Do you think they could benefit from the features on the Kindle?
For a limited time save on your purchase of a Kindle. Here are some current deals: