The magic of Disney storytelling combined with the artistry of the theater is what you'll find in the new Frozen Live at the Hyperion within Disney's California Adventure theme park. From the second you enter the Hyperion, expect to be transported to the kingdom of Arendelle.
I was fortunate to be in attendance for the world premiere, and knew I was in for a real treat. The Disney Parks Blog had been showing glimpses into the production, from the stage to innovative technology. This Broadway-level production magically delivered.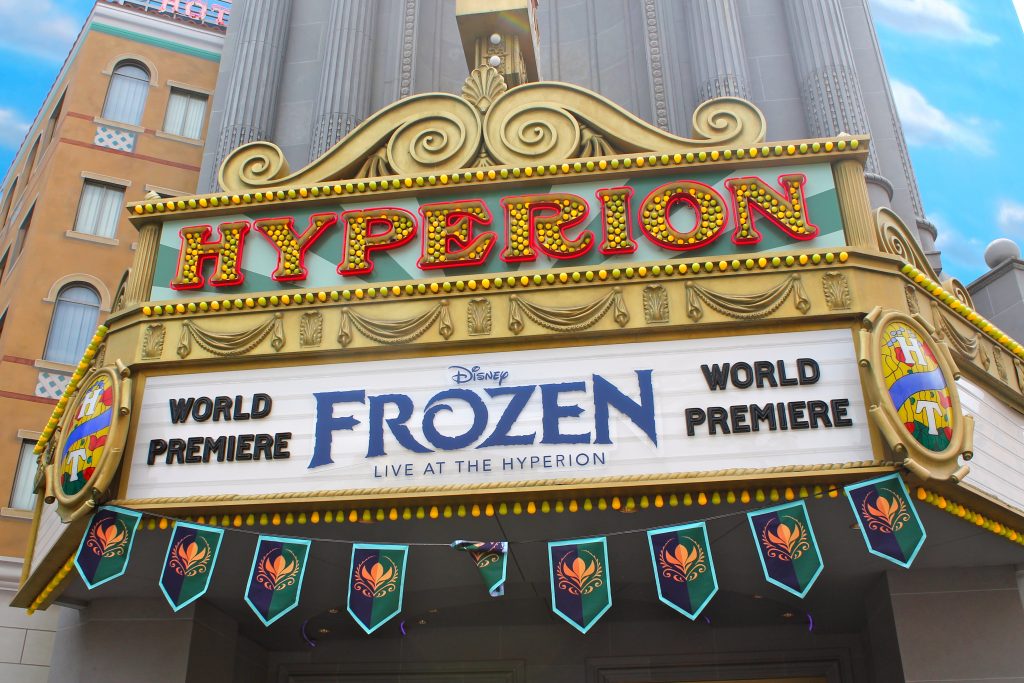 Frozen Live at the Hyperion
The story is one we all know well, yet this retelling presents such depth of emotion. The distance between Anna and Elsa and the loss of their parents were brought to life by Tony-nominated director Liesl Tommy and script adaptor Chad Begulein. The emotional intensity brought many to tears (don't worry, I had Frozen-themed Kleenex in my purse). But Anna's awkwardness and the Duke of Weselton provide the perfect balance of comic relief.
The songs we all cherish from the Frozen film have been transformed into 6 large production numbers. Solos and duets are now ensembles. Castle staff and townspeople fill the 2,000-seat theater in song, and add another level of connection with the two princesses. A great juxtaposition is served when Elsa sings in solitude from her ice castle.
Additionally, the technology used with Frozen Live at the Hyperion is truly remarkable. A 2,200 square foot video wall serves as backdrop. The stage features a turntable, moving set pieces and characters. Elsa's ice spikes jet out from the steps, and her icy staircase pivots as she lets it go. The costuming is also innovative. When Elsa's dress transforms while atop the staircase, I nudged my neighbor with a "Did you see that?"
For many young guests to the Disneyland Resort, Frozen Live at the Hyperion will be their first experience with live theater. This is the perfect introduction! With a shorter running time of about 45 minutes, guests will be completely enthralled from start to finish. Additionally, the show is very interactive with actors walking up and down aisles and special effects like "snow" falling in the theater. The youngest guests might want to sit further away from the stage to be removed from ice spikes emerging and wolves chasing Anna & Kristoff.
The Hyperion's lavish production is one that shouldn't be missed. Knowing that the previous show, Aladdin – A Musical Spectacular ran for over a decade I am sure Frozen will be transforming Anaheim into Arendelle for some time. Frozen Live at the Hyperion is now open and running up to three shows a day.
Have you seen Frozen Live at the Hyperion? Share your thoughts!
Learn more about Frozen Live at the Hyperion.