This is a partnered post. As always, all thoughts and opinions are my own. These S'Mores Milkshakes really are delicious!
It's stinkin' hot outside, y'all. It's over 100 degrees here as I sit in my air conditioned office writing this S'Mores Milkshake recipe out for you guys. It's no wonder my kids don't want to play outside right now; it's a scorcher out there!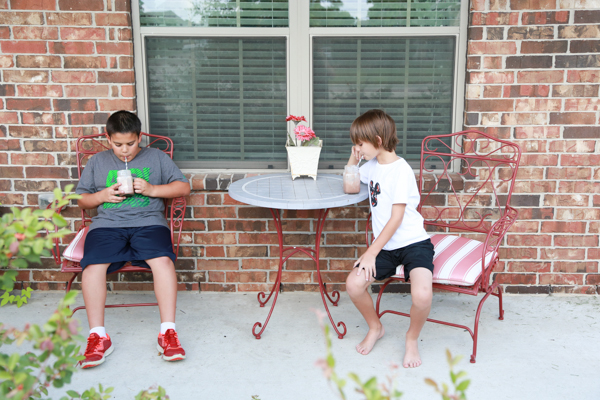 But because it's summer and the kids are out of school, we've been doing stuff out of the ordinary, like watching movies in the middle of the day, or indulging in tasty, summer treats like these S'Mores Milkshakes … just because we can.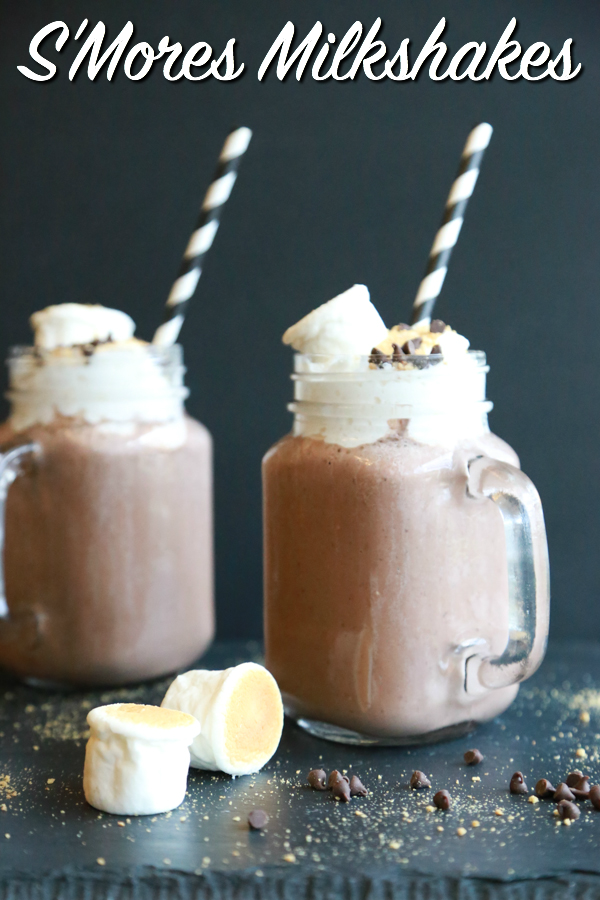 Because … it's summer! And we're making the most of it!

We're busy making memories and having some good, old-fashioned fun. From days at the pool, trips to the bowling alley, and impromptu water balloon fights, we're making the most of the time we have together throughout the summer.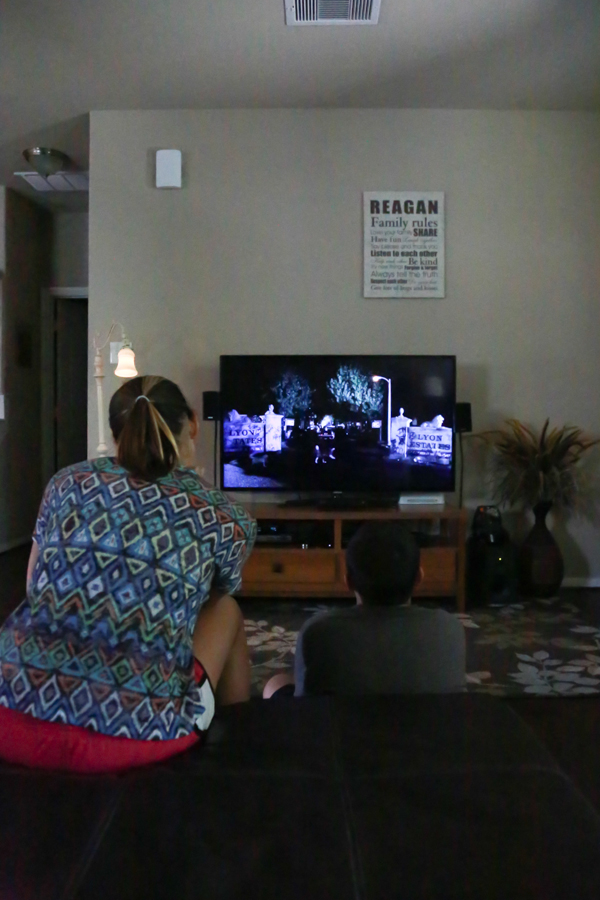 Can you guess which movie we're watching?
We made a quick trip to Kroger to pick up the goodies needed to make these S'Mores Milkshakes and it was just another way for me to spend time with my kids in the kitchen. I'm trying to be better about that so that when the time comes they can easily find their way around the kitchen. We picked up the creamiest Promised Land Midnight Chocolate Milk (higher in protein because it comes from Jersey Cows) and some Breyers Chocolate Ice Cream (made with milk and cream from cows not treated with artificial growth hormones) for our milkshakes. The combination makes some of the best milkshakes, hands down!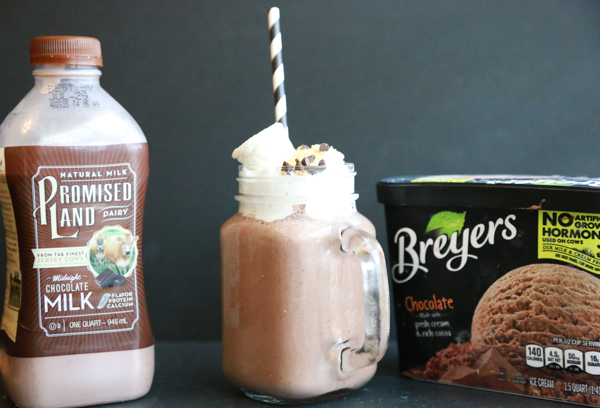 These S'Mores Milkshakes, y'all — they're so easy to make. So, lets get to it.
S'Mores Milkshakes Recipe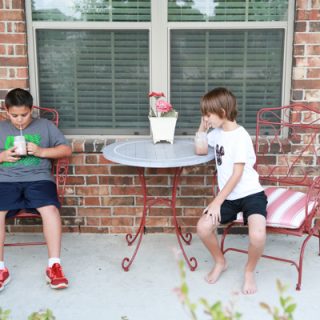 S'Mores Milkshake
Ingredients
10 large marshmallows
1 full graham cracker sheet
3 cups Breyers Chocolate ice cream
1 cup Promised Land Midnight Chocolate milk
1/2 cup mini chocolate chips, divided
1/2 cup marshmallow creme
canned whipped cream
Instructions
Place glasses into the freezer so that they will be nice and cold when ready to use.
Line a baking sheet with foil and place 10 large marshmallows onto the foil. Turn the broiler on in the oven and broil until the tops of the marshmallows are a nice, golden brown. Set aside to cool.
Place the graham cracker sheet into a a small food processor (or you can use the plastic baggie method) and pulse until you have very small crumbs. Place in a small bowl and set aside.
Put the ice cream, chocolate milk, 8 marshmallows, and 1/4 cup mini chocolate chips into a blender and mix until all ingredients are combined completely.
Remove the glasses from the freezer and carefully pour equal amounts of the milkshake into the frosted glass cups or jars. Top each one with half of the marshmallow creme. Sprinkle graham cracker crumbs (leave some for topping the whipped cream) and mini chocolate chips over the top of the marshmallow creme. Apply a generous serving of canned whipped cream over the top. Sprinkle the remaining graham cracker crumbs and chocolate chips over the top. Top with a toasted marshmallow and serve.
The kids can easily help put the glasses into the freezer, place marshmallows on the pan, and measure out ingredients. If your kids are anything like mine, they actually like helping in the kitchen. When the schedule is a little less busy, it's the perfect time for showing them how they can help.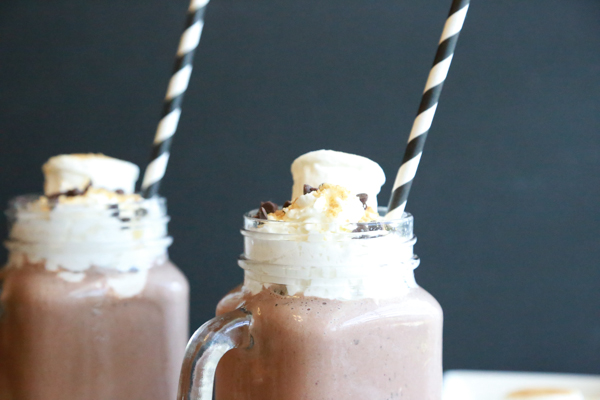 We've been having a wonderful time experiencing all that summer has to offer, but these S'Mores Milkshakes are what summer is all about.
It's the perfect combination of all the reasons we love S'Mores so much. There's marshmallow, there's chocolate, and there is graham crackers, but all in a cold, tasty treat perfect for this scorching summer weather.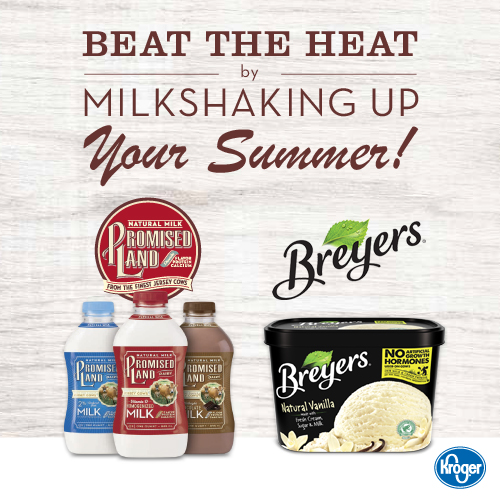 Beat the heat by "Milkshaking Up Your Summer"! Plus, you can enter to win a $25 Kroger gift card by visiting the giveaway on the Simply Being Mommy Facebook page.
Love S'Mores? Try this S'Mores Ice Cream Cake!