This post is sponsored by DOLE® Frozen Fruit. As always, all thoughts and opinions are my own.
In my circle of friends my house seems to be the place to hang out. Which is totally fine with me. It just means that I always have to be prepared in case of unexpected drop-ins. Like the other night when three other families decided to drop in for a late night chat. We were already dressed for bed and the hubby received a text that they were on their way. I could have freaked out because we had not planned on entertaining, but thankfully I had some DOLE® Frozen Fruit in the freezer so I could whip up some 3-Ingredient Frozen Whipped Pineapple.
If you've ever been to Disney World, think Dole Whip. Oh my yum, y'all!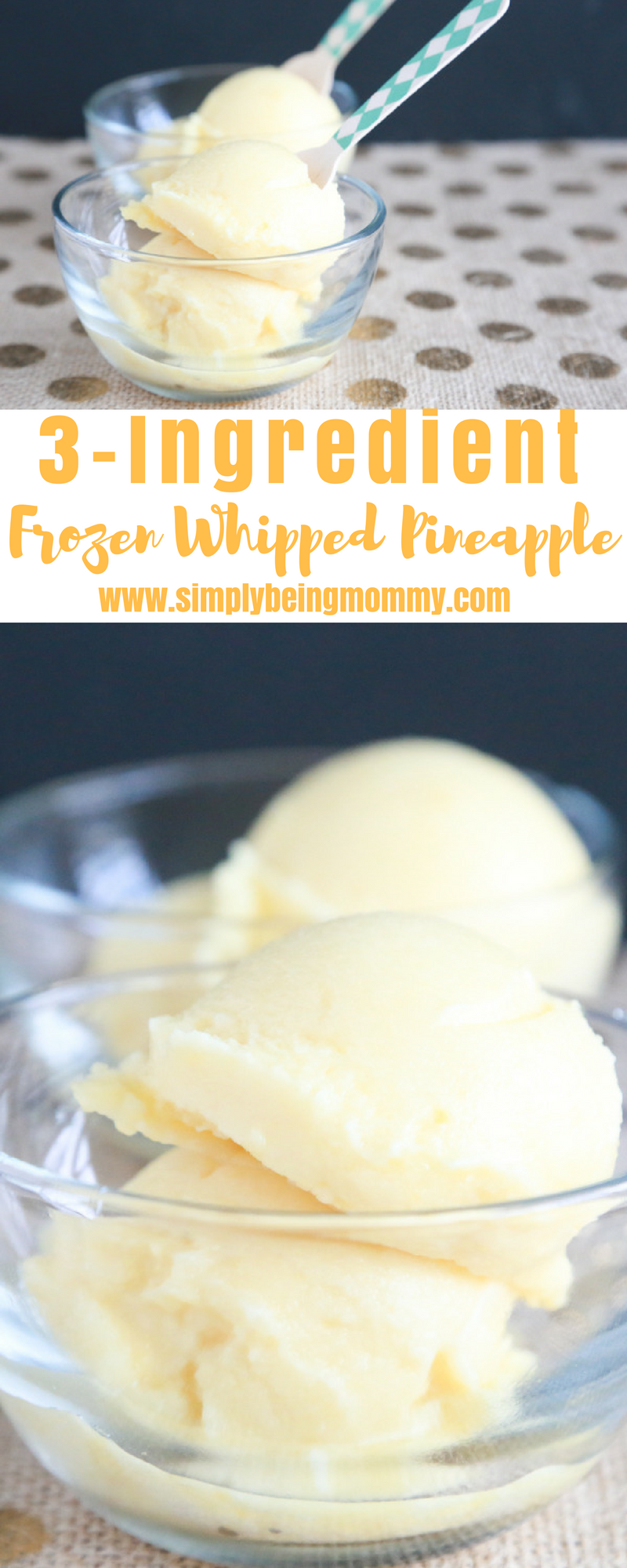 It seems like every time we all get together food is involved, which to me, isn't all that bad. I like food. Especially cold, delicious treats like 3-Ingredient Frozen Whipped Pineapple. My children said it tasted just like the Dole Whip from Disney World, but I'm realistic. While it does resemble the flavor of the Dole Whip, it isn't exactly like it. But close. And I'll take close.
3-Ingredient Frozen Whipped Pineapple
3-Ingredient Frozen Whipped Pineapple
Ingredients
1 bag (16 oz.) Frozen Dole Tropical Gold Pineapple Chunks
3/4 cup unsweetened almond milk
1 teaspoon raw honey
Instructions
Put frozen pineapple chunks into blender or food processor. Process and slowly add in almond milk and honey until smooth.
When I have friends and family over, I want to be able to actually spend time with them and not spend all my time in the kitchen. But I also want to be able to serve them something to eat while they are at my house. I'd be a pretty sorry host if I didn't have anything to serve, right? Can you imagine that disaster? I would have felt terrible!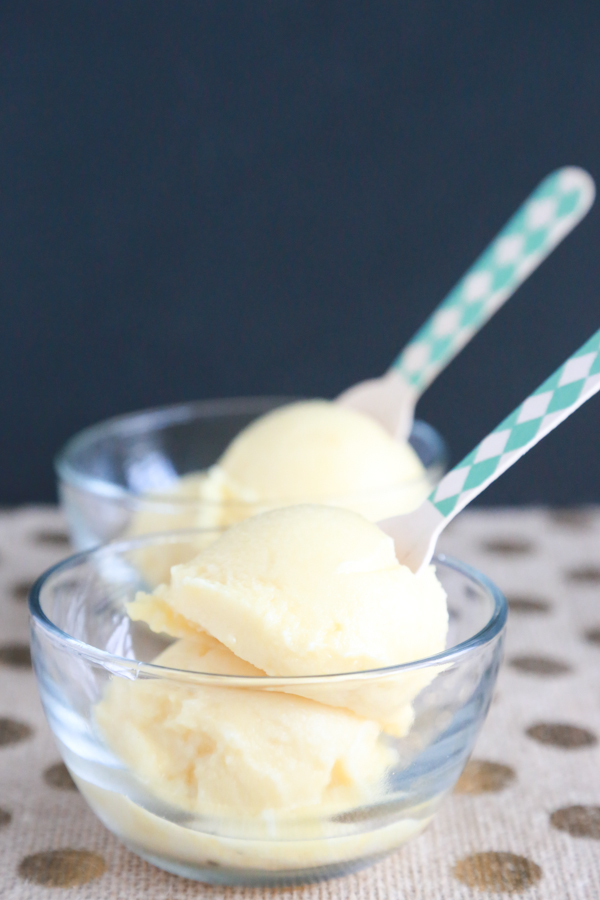 My family drinks a lot of smoothies so we always have frozen fruit on hand. But frozen fruit can be used for so much more than just smoothies. This 3-Ingredient Frozen Whipped Pineapple is a perfect example. But there are so many other ways frozen fruit can help you avert a disaster. DOLE® Frozen Fruit can help you with drinks, appetizers, entrées and desserts. These recipes are other great examples.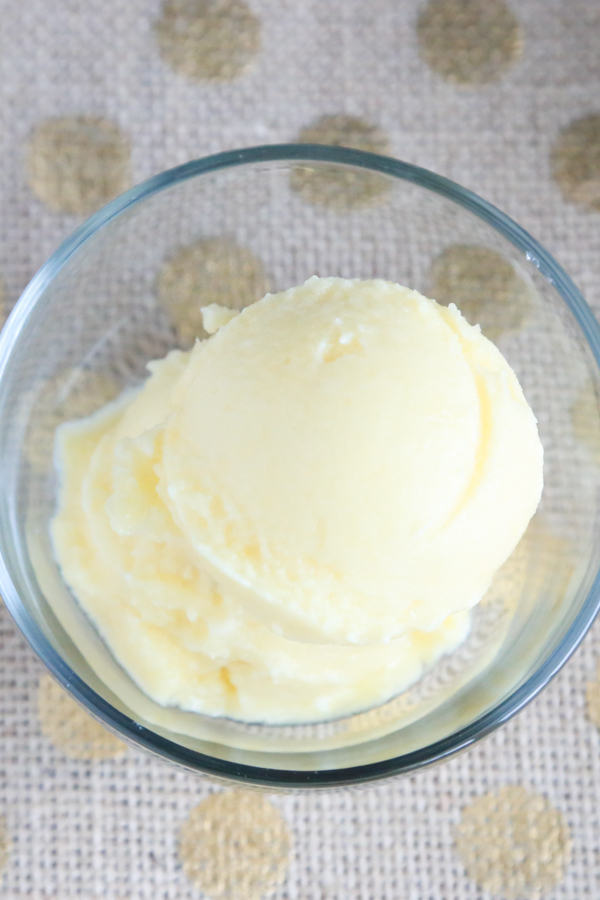 Beside tasting like a tropical delight, this 3-Ingredient Frozen Whipped Pineapple dessert is super simple to make and only requires…you guessed it…3 ingredients. There is basically no skill required to making this tasty dessert.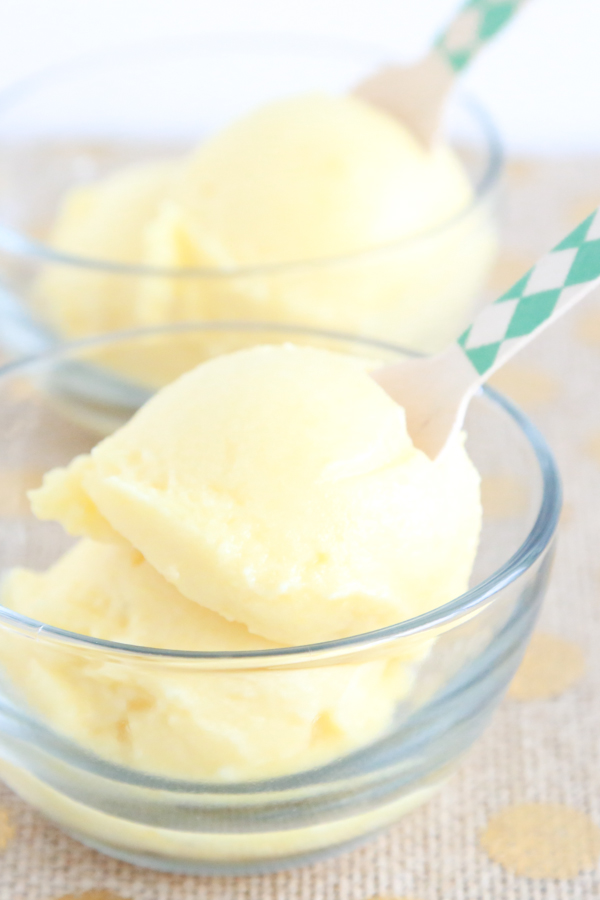 With frozen fruit in the freezer, I save time, money, and effort since it's available year round with no washing, no cutting, and no mess. It's just all natural fruit with no added sugar served in a convenient, hassle-free resealable bag. No more throwing away fruit that is gone bad sitting on the counter or in the fridge.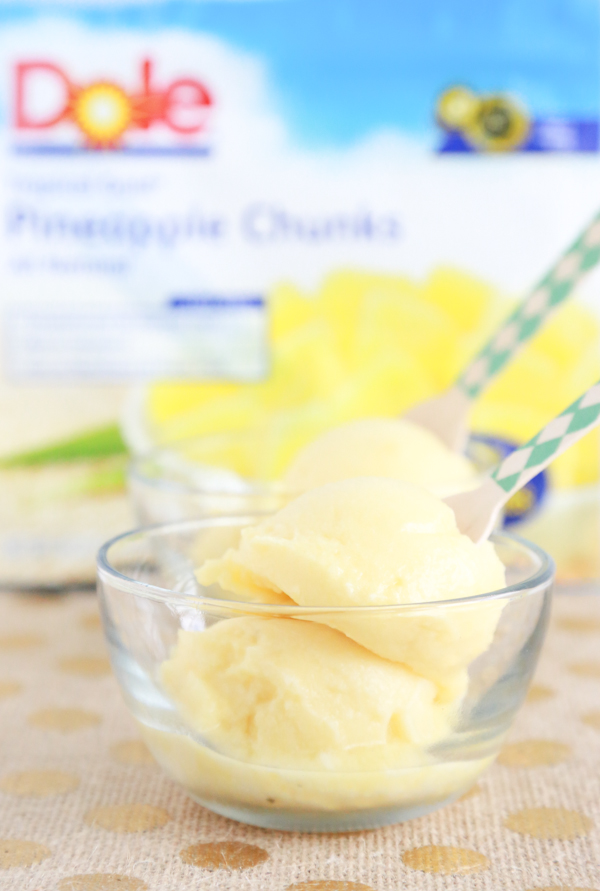 What's pretty great about this recipe is you could substitute many other different frozen fruits to make a variety of whipped fruit desserts. And I bet they would all be delicious!
What's your favorite frozen fruit to have on hand?