I love cupcakes. In fact, I have an entire Pinterest board dedicated to these miniature-sized cakes. If you love cupcakes like I do, follow my Cupcakes Galore board. So many delicious cupcakes recipes, like these Caramel Apple Cupcakes.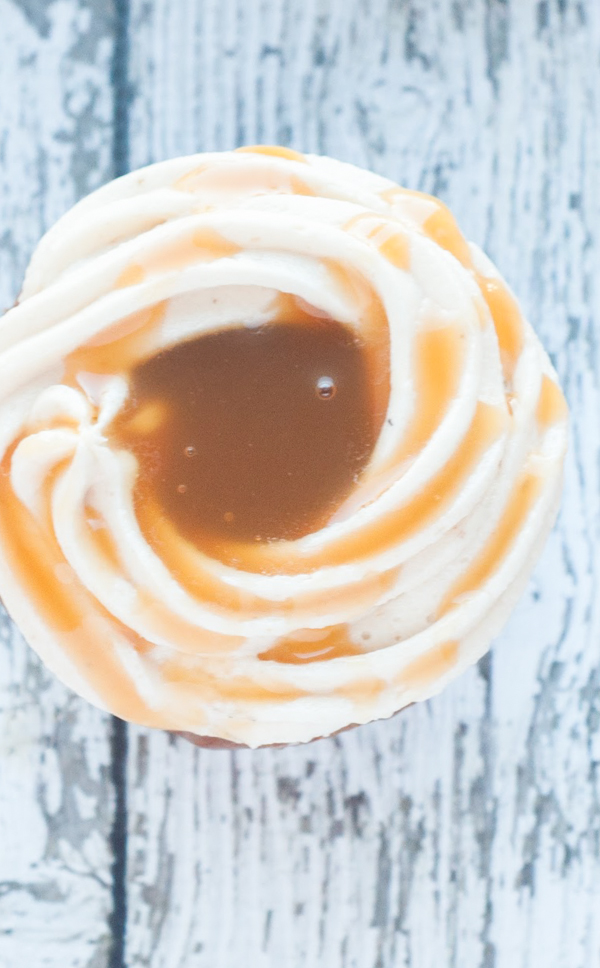 When I think of fall, I think of cooler weather, leaves changing, crisp air, and apples. I love apples year round but I especially enjoy them during the fall, when they are in season.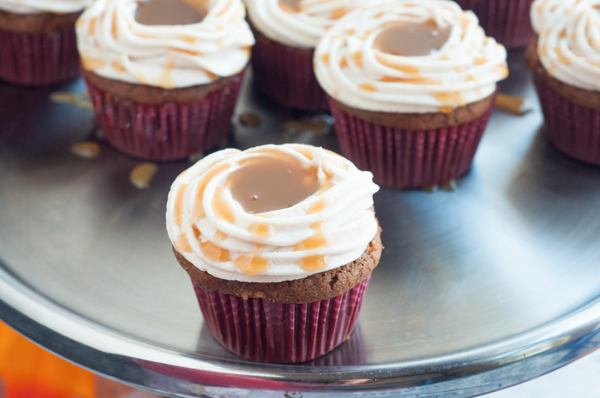 Cooler weather normally brings fun fall festivals in the community. If you've ever been to one, you've probably enjoyed a delicious caramel apple. Well, these Caramel Apple Cupcakes are a play on those delicious fall festival treats. But, they're a lot less messy and a lot easier to eat!
Caramel Apple Cupcakes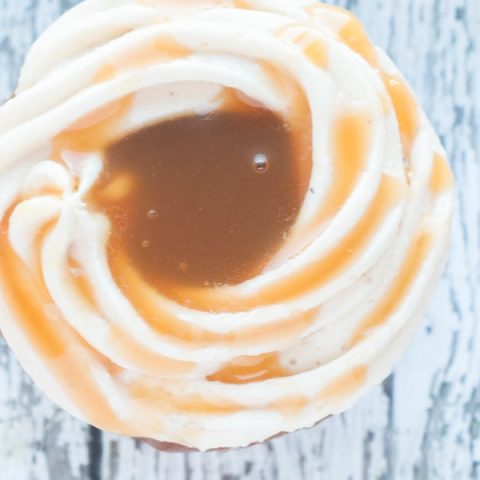 Caramel Apple Cupcakes
Ingredients
Cupcakes:
1 boxed spice cake mix
1 cup Apple Butter
1 cup apples, peeled and chopped (I used macintosh)
3 eggs
½ cup oil
Cream Cheese Buttercream:
1 cup butter, softened
4 oz cream cheese, softened
6 cups powdered sugar
2 tbsp Apple Butter
Topping:
1 cup Ghirardelli caramel sauce
Instructions
Preheat oven to 350 degrees.Mix together the spice cake mix, apple butter, oil, eggs and apples until fully incorporated, about 30 seconds with a hand mixer or by hand.
Fill cupcake wrappers ⅔ full of mixture.
Bake at 350 degrees for 22-25 minutes or until a toothpick inserted in the middle comes out clean. Set aside to cool.
In the meantime, make the Cream Cheese Buttercream by beating the softened butter and cream cheese until fluffy. Mix in the powdered sugar, a cup at a time. Add apple butter and beat until smooth.
Cool the cupcakes completely then frost using cream cheese frosting recipe. Leave a space in the center for the caramel sauce!
Before serving, pour some caramel sauce in the well and drizzle over cupcakes.
There are so many ways to make cupcakes, and I think that is why I love them so much. So many different flavor combinations, topping alternatives, frosting choices, etc. You never have to make the same cupcakes twice, but you'd be silly not to make these Caramel Apple Cupcakes again and again.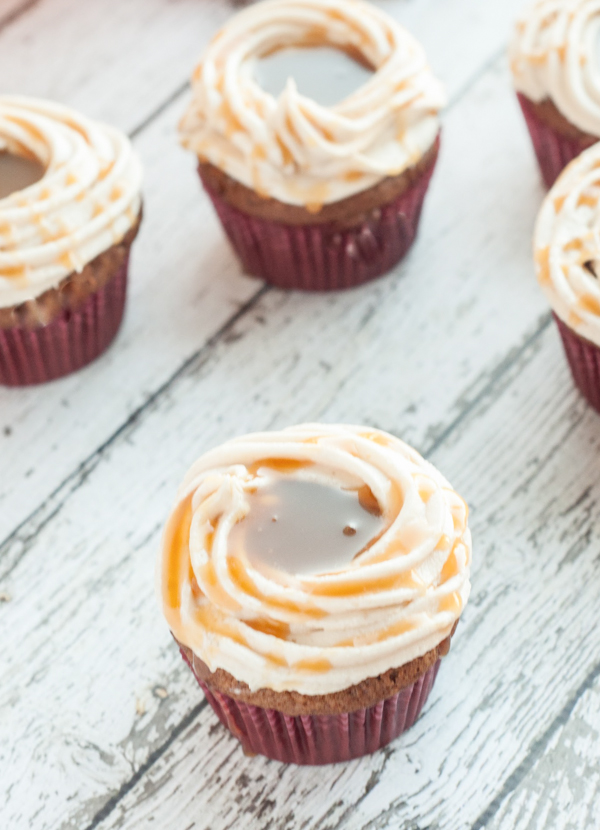 I found that these cupcakes store well in the refrigerator so if you need to make them a couple days in advance, it's safe to do so. I know how busy our days can be so if you need make the cupcakes one day and frost the next day, go for it.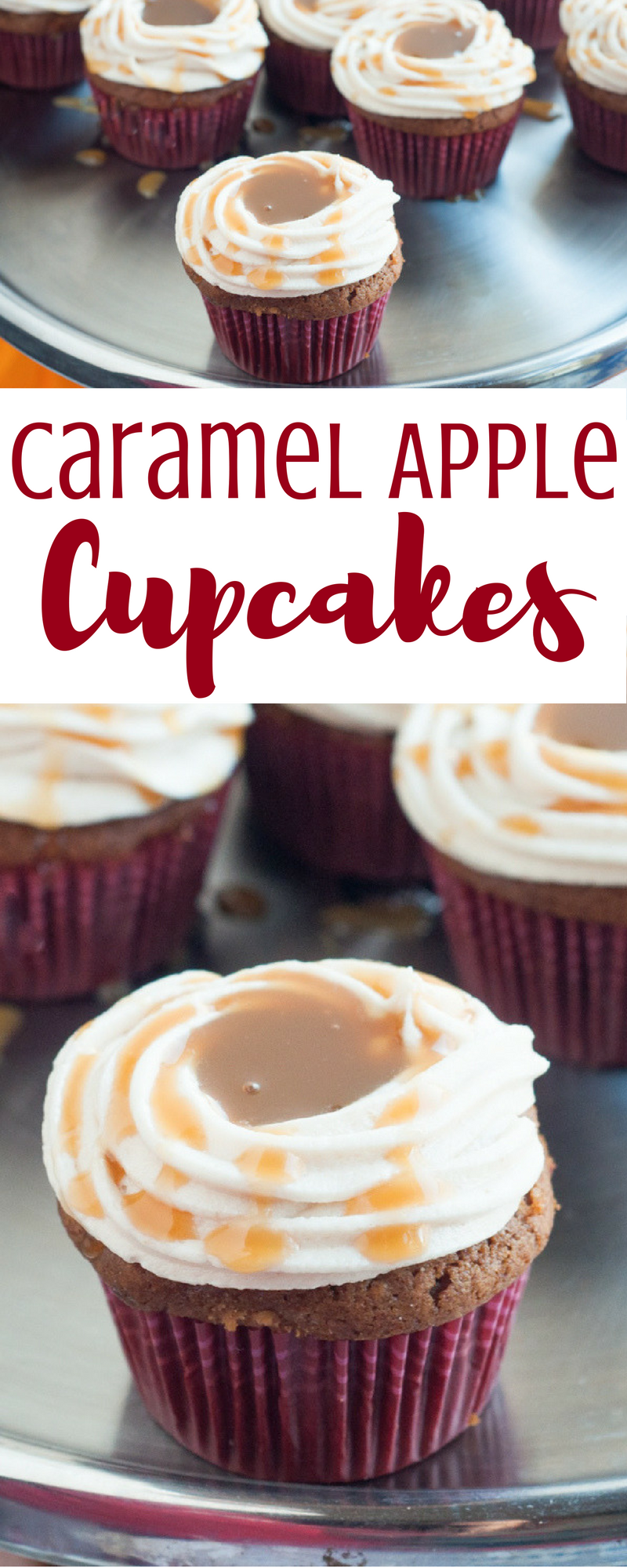 Do you have a favorite apple recipe?