Working with companies that I already use and are familiar with is a huge plus of the work I do. In fact, it really makes my job that much easier because I know the brand, I know the products, and it already fits in really nice with my life. So being able to work with Minute® Rice on this 25-Minute Sausage and Rice recipe and party was so much fun.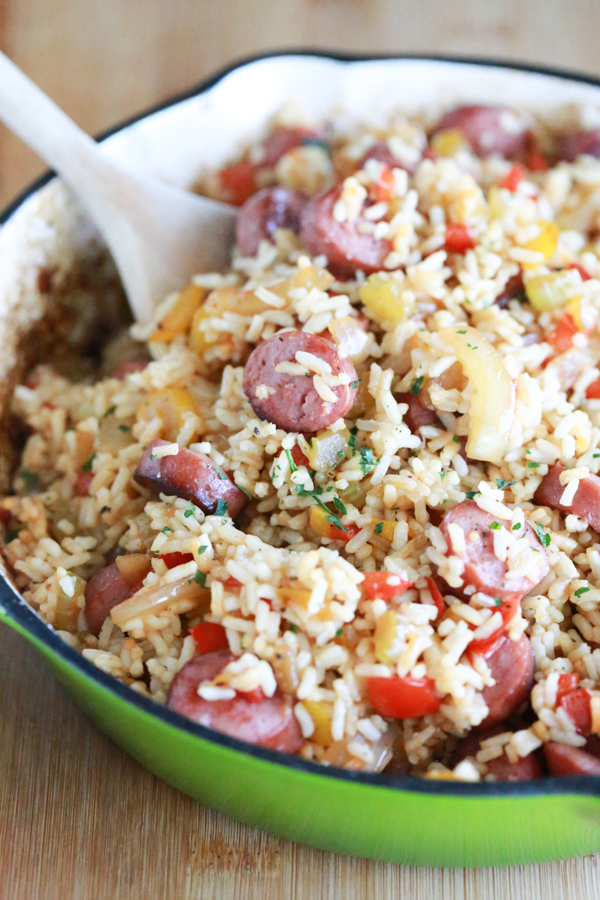 A local friend hosted a Football Watch Party at her house and attendees were asked to bring a dish using Minute Rice. After trying several different recipes, I decided to bring this super easy 25-Minute Sausage and Rice. It's easy, it's delicious, and it's fast. Since I had been running around all day, I needed something I could whip up really quickly and transport easily.
There was a delicious spread of dishes all made with Minute Rice. From a Chicken and Rice Pot Pie to Mushroom and Bacon Risotto Bites, there was goodness all around.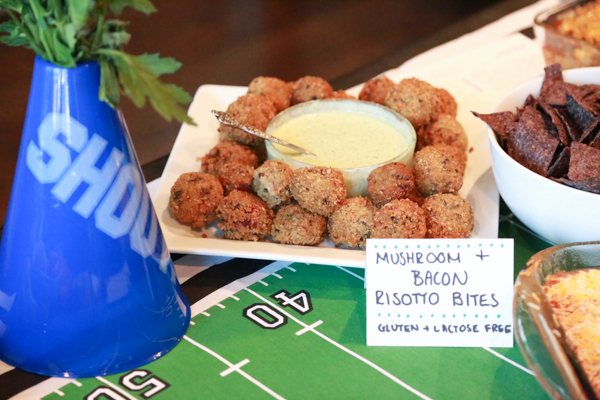 Minute Rice is a go-to ingredient in our home because it's great to use any time of the year because of its versatility and how it consistently turns out right. I get great-tasting, fluffy white rice in just 5 minutes any time I need it for a recipe.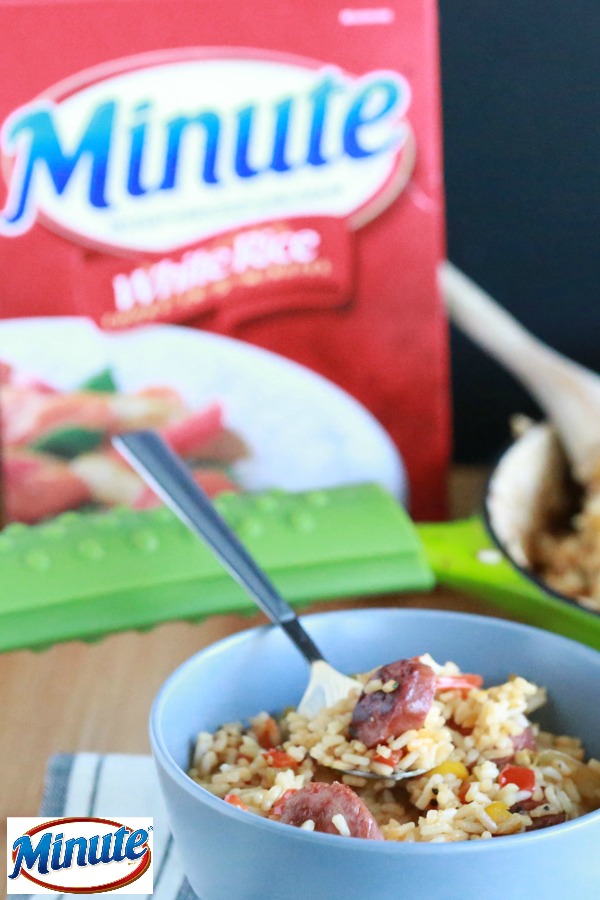 I'm absolutely certain that dinner shouldn't be a chore every night, but some nights I feel like it is. Normally, on good days, I don't mind cooking, and I actually enjoy it. But with my crazy busy days, some nights I simply don't want to cook. It's nights like those where help in any form is highly appreciated.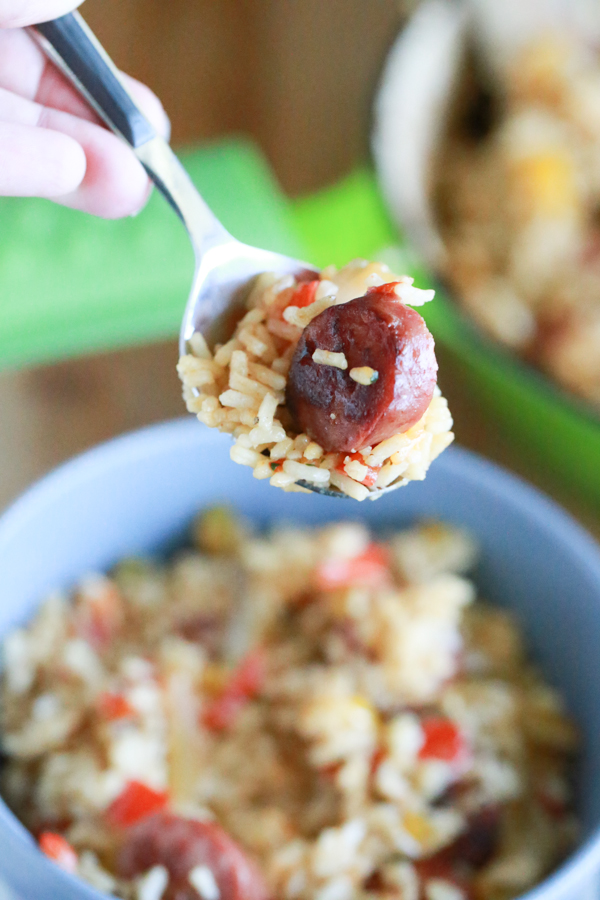 I could run through the drive-thru and pick up fast food on those nights, but I really prefer making my family a somewhat nutritious meal at home over serving them fast food any day.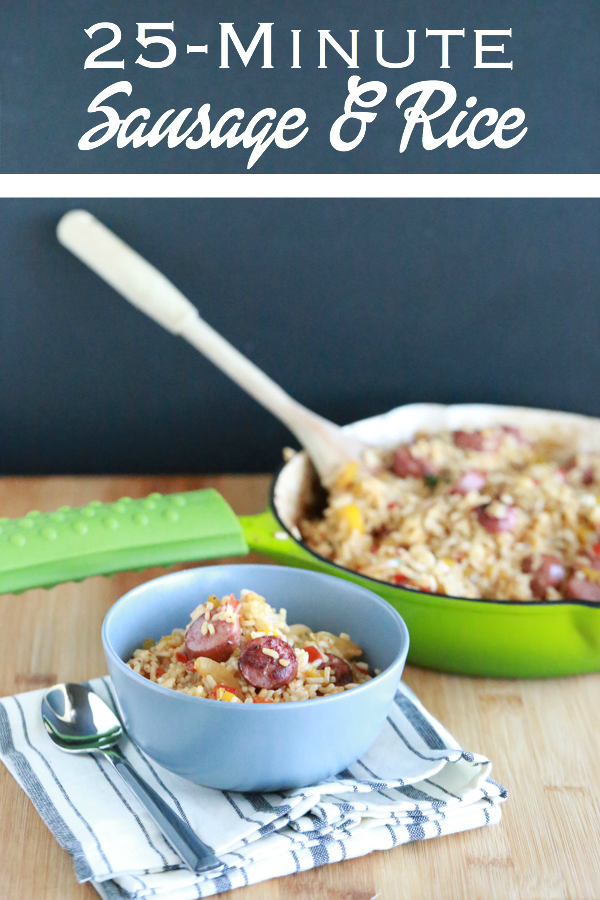 I don't have to pretend I have it all together when I have recipes like this 25-Minute Sausage and Rice is my arsenal. And what's great about this recipe is I almost always have these ingredients on hand in case I get in a pinch.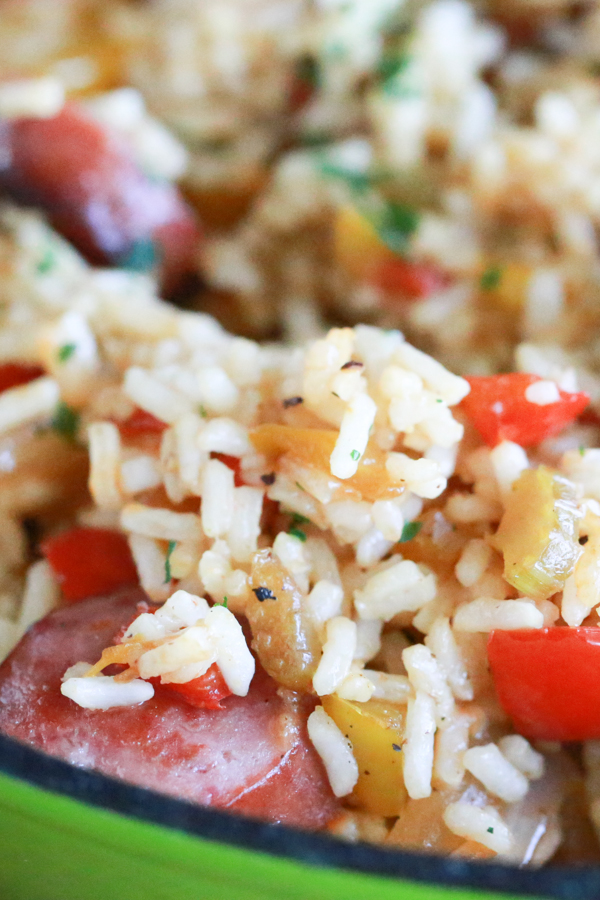 So much goodness all in one simple dish! Come on and try it – you know you want to.
25-Minute Sausage and Rice

25-Minute Sausage and Rice
Ingredients
1 tablespoon olive oil
12 oz skinless smoked sausage, sliced
1/2 yellow onion, chopped
1/2 yellow bell pepper, diced
1/2 red bell pepper, diced
1 stalk celery, diced
1 teaspoon tomato bouillon granules
1/2 teaspoon salt
1/2 teaspoon ground pepper
1/2 teaspoon minced garlic
2 cups water
2 cups Minute® White Rice
parsley, chopped (optional for garnish)
Instructions
Heat olive oil over medium-high heat in a large cast-iron skillet or Dutch oven-style pan (any heavy bottom pan should work). Add sausage to skillet and leave undisturbed for a few minutes, so that the first side gets a nice sear on it, then stir and flip sausage to brown on the other side. Remove sausage from pan with a slotted spoon and set aside.
Heat water in a sauce pan until boiling. Once boiling, add in two cups of rice, cover, and remove from heat.
In the same skillet, add onion, bell peppers, and celery and cook for about five minutes or until tender. Add in garlic, salt, pepper, and tomato bouillon and cook for a minute or so, or until the garlic becomes aromatic.
Add prepared sausage and rice into the skillet and stir to incorporate. Garnish with parsley and serve.
I highly recommend a cast-iron skillet or Dutch oven-style pan for this recipe. If you don't have one you can still make it work, but I like how they brown up the sausage nicely and cook evenly.

This is a sponsored post written by me on behalf of Minute® Rice.