Do you have a little reading bug on your hands? Check out these gift ideas from the world of Eric Carle.
Something to wear, something to read, something you want, something you need. It's a catchy little gift-giving strategy and one we're trying to make tradition in our home. For my oldest child her Christmas wish list was basically a library catalogue. I'm so grateful that she's caught the reading bug. For her younger sister, that reading bug is a very hungry caterpillar.
The Very Hungry Caterpillar, by Eric Carle, has been a favorite of ours for years and years. It's full of timeless stories and unique illustrations that little ones like my 2-year-old Poppy just adore. To stick with our wear/read/want/need gift policy, I thought I was pretty clever when I came up with a way to merge two.
The stories of Eric Carle like The Very Hungry Caterpillar have charmed children for 40 years. These books have sold over 138 million copies, probably because the colorful illustrations and charming tales resonate within the child in all of us. My youngest adores the caterpillar from her storybook and this year will receive gifts from the darling franchise. Something she wants from something she reads. What a great way to foster her love of reading!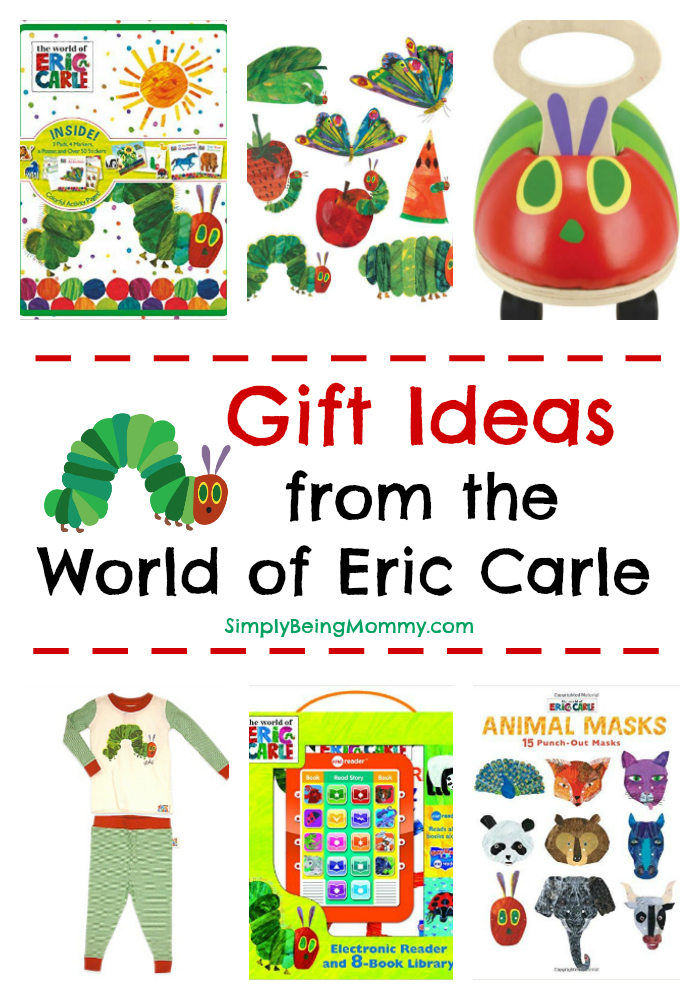 Gift Ideas from The World of Eric Carle
The World of Eric Carle Electronic Me Reader & Book Set // Instill a love of reading with an electronic reader perfect for little readers, complete with an 8-book library.
Super Dough Set // Bring Brown Bear or the Hungry Caterpillar to life with six non-toxic molding doughs.
The Very Hungry Caterpillar Ride & Roll // Little ones can jump on and roll away with this adorable caterpillar ride-on toy.
The World of Eric Carle Animal Masks // Perfect for those with budding imaginations, these masks are a fun way to encourage pretending.
The Very Hungry Caterpillar Temporary Tattoos Set // Strawberries, watermelon, and apples — they're all in this Very Hungry Caterpillar temporary tattoo set.
The Very Hungry Caterpillar Bag Toddler Socks // Keep your little ones toes warm in this cute toddler set.
World of Eric Carle Activity Tin // Color the world as Eric Carle would with a fun art set including coloring pad, markers, stickers, and more!
The Very Hungry Caterpillar Surprise Slides // For ages 3+, make some family memories playing this sweet game attempting to make your caterpillar a butterfly.
The World of Eric Carle™ ABC Tin Game // Learn the ABC's and 123's with a travel tin perfect for keeping little ones learning.
The Very Hungry Caterpillar or Brown Bear 2-Piece PJ Set // After story time, your little one will adore these PJ's adorned with their favorite characters.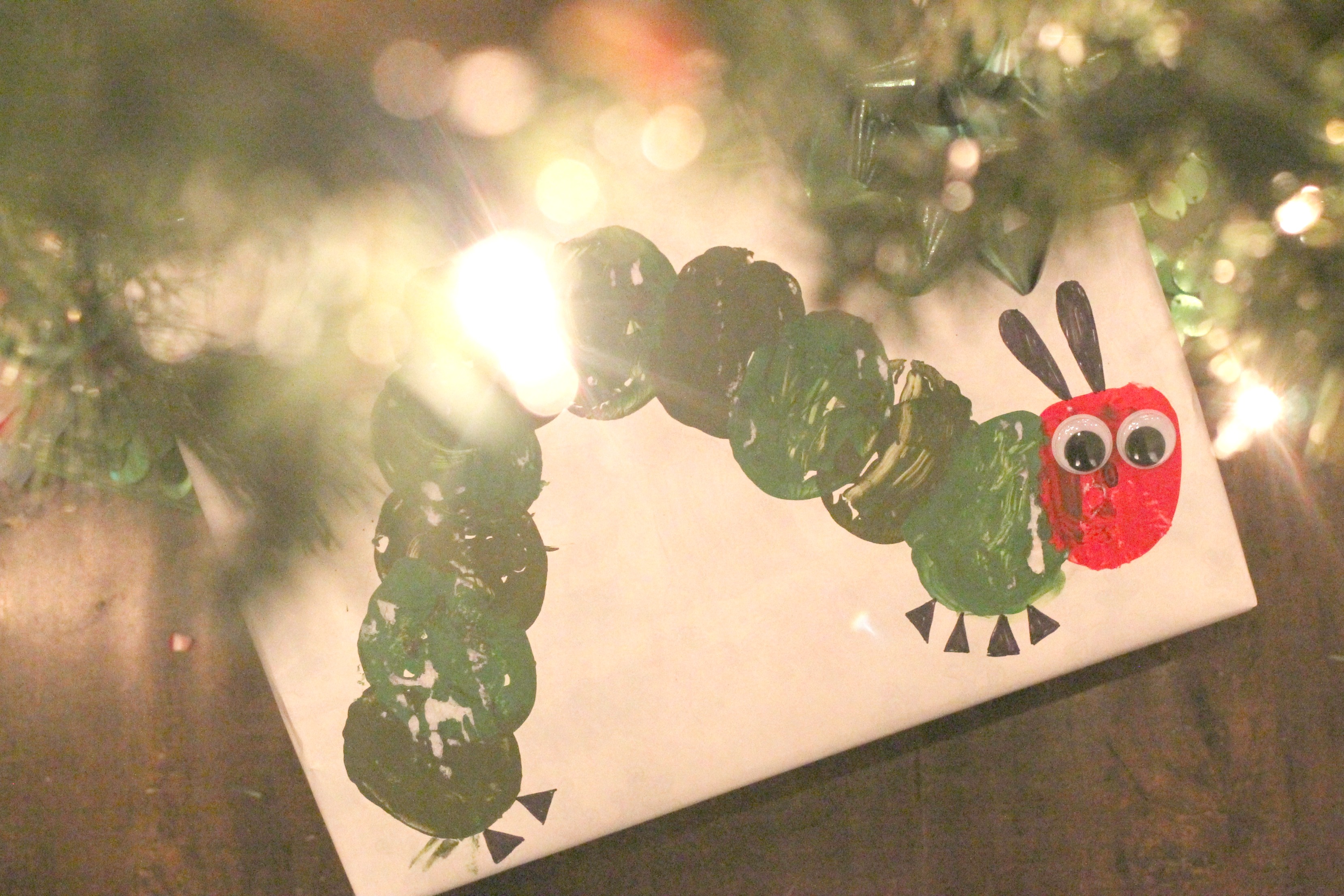 To make the gift giving more fun, we decided to stamp some gifts to resemble the caterpillar. To start we wrapped the presents in white paper. It's actually colored paper that we turned inside out. To ensure we didn't have paint seeping through, we doubled the paper.  If you're using inexpensive paper, do a test run first!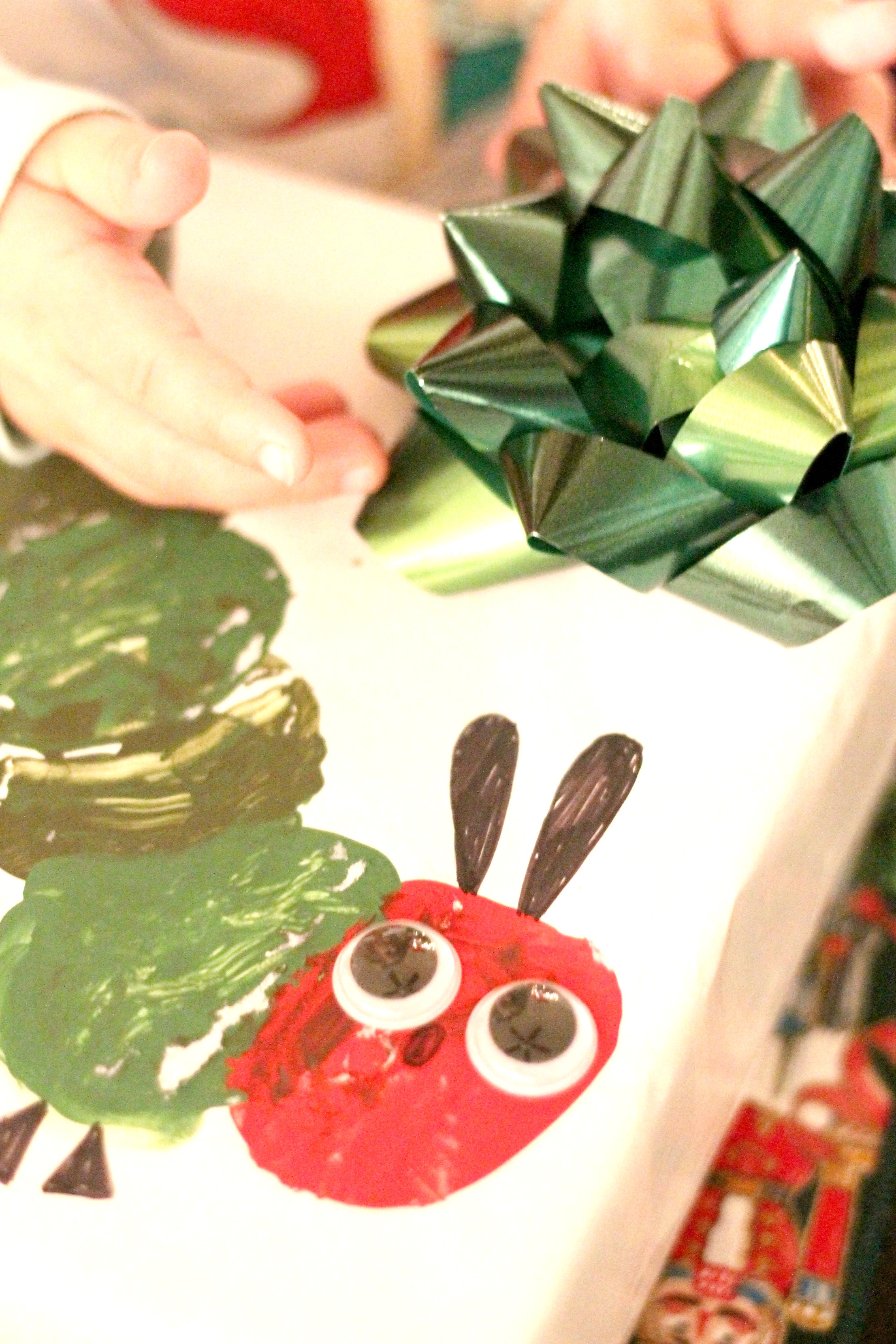 We used two shades of green and red paint. With paint and a potato cut in half, we stamped alternating greens. Overlapping is okay, so it's a great project for little hands. At the end, we stamped a red oval for the caterpillar's face. Then I drew on black feet with a marker and added two goggly eyes.
I simply adore how these packages turned out! I'll have one excited 2-year-old on Christmas morning!