Scroll down to get the recipe for this fun Strawberries and Cream Rock Candy.
The dreaded sweet tooth.
It always sneaks up when you least expect it.
If you're anything like me, you can go all day without ever even thinking of indulging in something sweet. But as soon as the sun goes down, it's like the sweet tooth kicks in to overdrive and the only thing you can think of is something sweet.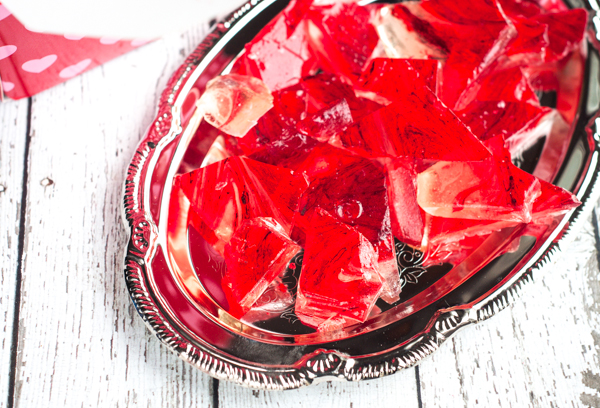 I'm not picky when it comes to sweets, most days. I mean, in general I try to stay away from them, but some days I have no other choice but to submit to the cravings of my sweet tooth.
The force is strong with that one, you know!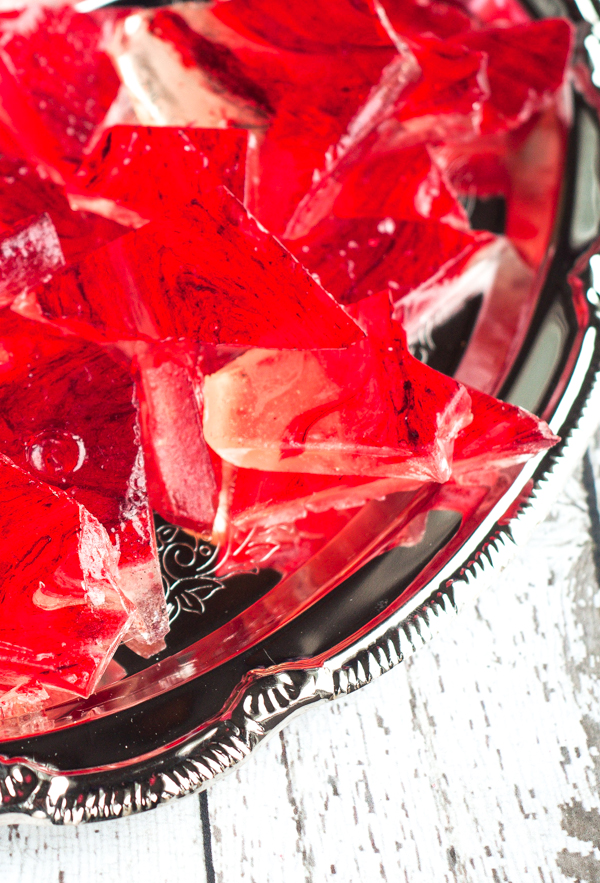 Just me?
I'm assuming I'm not alone since the candy industry makes about $33.6 billion in sales each year. Woah! Obviously we are eating more candy than I thought.
Making Rock Candy is kind of like a chemistry lesson right in your own kitchen. It's fun to make with the kids, just make sure they are older and can listen very carefully to instructions.
If you don't have a candy thermometer, get one! Hard crack is very hard to reach with just testing the sugar in water. They're pretty inexpensive, too. You'll also need a jelly roll pan if you don't already have one.
But let's get to the Strawberries and Cream Rock Candy recipe. That's why you came here!
Strawberries and Cream Rock Candy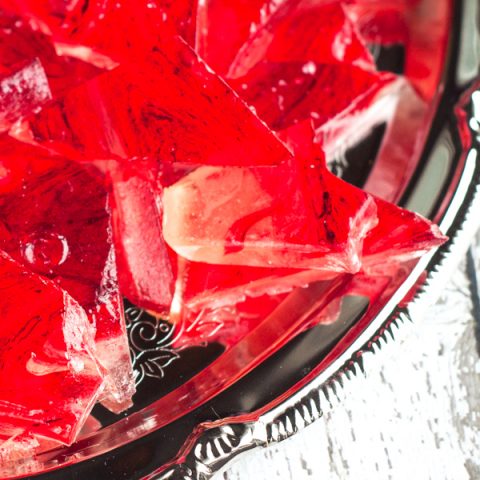 Strawberries and Cream Rock Candy
Yield: 1 batch

Cook Time: 1 hour 30 minutes

Total Time: 1 hour 30 minutes

Put science to work at home and make this Strawberries and Cream Rock Candy.
Ingredients
3 ¾ cups granulated white sugar
1 cup Karo Light Syrup
1 cup water
food coloring (optional)
Special Equipment Needed:
Instructions
Line a 9 x 13 jelly roll pan with parchment paper; set aside.
Combine sugar, syrup and water in medium saucepan on medium/high heat. Let mixture come to a boil WITHOUT STIRRING until the temperature on the thermometer reads 302 degrees F, which can take up to 45 minutes depending on your stove/range. Remove from heat.
Add the strawberry and the cream flavors to the mixture and stir. Note: be careful not to have your face near the mixture because it steams upward when you add flavor. This is totally normal. Add food coloring at this stage too if you desire all over color. (If you want a swirled effect, see below)
Pour mixture into prepared pan, and let cool completely, about 30 minutes. Cover with a piece of parchment paper and use a heavy, firm object to break apart the candy.
To get the swirled effect:
Don't add color with the flavors; instead take the color and squeeze drops randomly over the mixture right after you pour it in the pan. Take a knife and drag it across the top to push the color around.
Nutrition Information:
Yield: 1 Serving Size: 1
Amount Per Serving: Calories: 4096Total Fat: 52gSaturated Fat: 9gTrans Fat: 0gUnsaturated Fat: 40gCholesterol: 29mgSodium: 643mgCarbohydrates: 943gFiber: 0gSugar: 907gProtein: 2g


If chemistry isn't your thing, I still think you would enjoy making this Strawberries and Cream Rock Candy!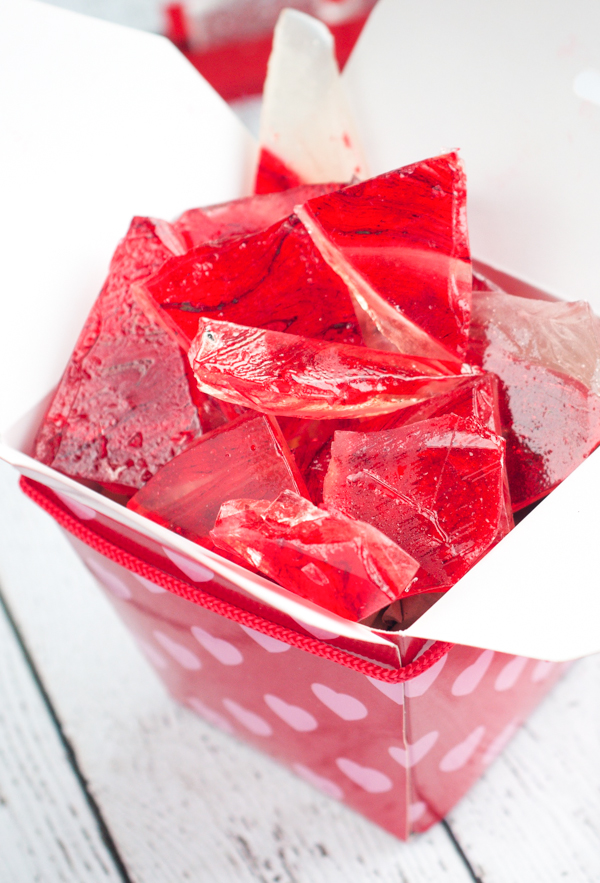 It would make a great Valentine's Day gift. Just purchase some little cellophane bags, put a few pieces in there, and tie with a cute ribbon or twine. Super cute and super easy!
Like to pin? Here's a collage image to pin just perfect for Pinterest. If you're not already, follow me.

Want more Rock Candy? Check out this Christmas Rock Candy recipe.