Let's talk stress. Everyone deals with it, right? You get home from an extremely hard day at work and all you want to do is relax and decompress — but the kids have homework, the cat puked on the couch and neighbors nosy dog won't shut up. So … there's probably really not a lot of relaxing going on. But — DIY Relaxing Room Spray. YES, please!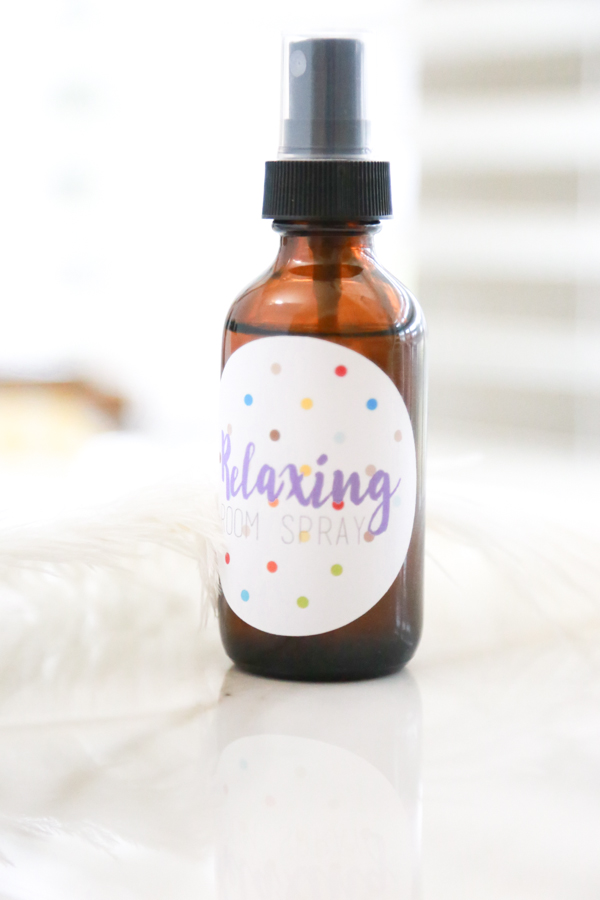 I've been using essential oils faithfully for over a year now and I love all the different ways I can use each of the oils to get the most bang for my buck. The oil I use most at home is lavender oil. I use it for a runny nose, an aid in falling asleep, soothing bug bites, and in this DIY Relaxing Room Spray.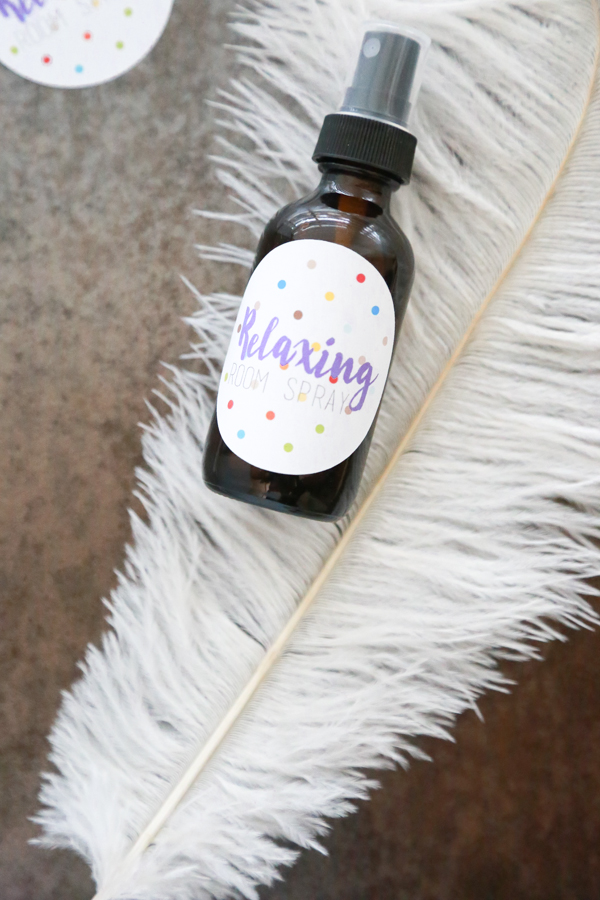 Each oil has so many uses. But please, make sure you're buying a quality oil like Young Living. Never, ever purchase oils on Amazon or from the grocery store. Because oils are applied to the skin and inhaled it's super important that you know exactly what is in your oils. If there is anything besides authentic oil, don't buy it. It's better to be safe than sorry.

DIY Relaxing Room Spray
Materials:
10 drops Lavender Essential Oil
1 tablespoon witch hazel
3 tablespoons water
1 glass spray bottle with sprayer I have these bottles and the sprayers on these are awesome. It produces a fine mist and doesn't feel like cheap manufacturing like some of the others I've tried on Amazon.
small funnel
Instructions:
Add Lavender Essential Oil, witch hazel, and water to the glass spray bottle using a small funnel. Lightly shake to combine ingredients.
Print the Relaxing Room Spray labels on the white sticker paper. If you have a Silhouette, you can open in the program and use the print and cut feature. If not, cut a circle around the label and adhere to the glass bottle.
Spray once or twice and begin relaxing.
Order your supplies from Amazon and get them delivered right to your doorstep.
A little goes a long way with this DIY Relaxing Room Spray. It's very possible to use too much so start with one spray and go from there. I love the way it makes the room smell and the relaxing qualities of the lavender is just an added perk.
If you're interested in oils, the best way to get started is to become a distributor so that you pay wholesale prices rather than retail. If you have any questions, please let me know and I would be happy to answer them the best I can.