Learn how you may be able to improve your brain health with this AARP Staying Sharp Brain Health Subscription Review. This is a partnered post. As always, all thoughts and opinions are my own.
It's no secret that as we get older it takes more work and effort for us to do those tasks that used to be simple and routine. We become forgetful. It takes us longer to process information. We just aren't as sharp as we once were.
I'm definitely not an expert on this topic, but I think as we become older and life slows down, our brain has to work less therefore losing its ability to be as sharp as it had been. But, there is a subscription-based platform from AARP, Staying Sharp, that provides science-based, personalized tools and recommendations that allows subscribers to track and measure their brain health.
AARP Staying Sharp Brain Health Subscription Review
Staying Sharp is a subscription-based, digital platform that promotes holistic brain health through free and premium brain games, recipes and more. It's based on the five brain health pillars: Move, Nourish, Relax, Discover, and Connect.
The platform features new and improved tools and functionalities and is suitable for people of all ages with the goal of promoting and maintaining brain health.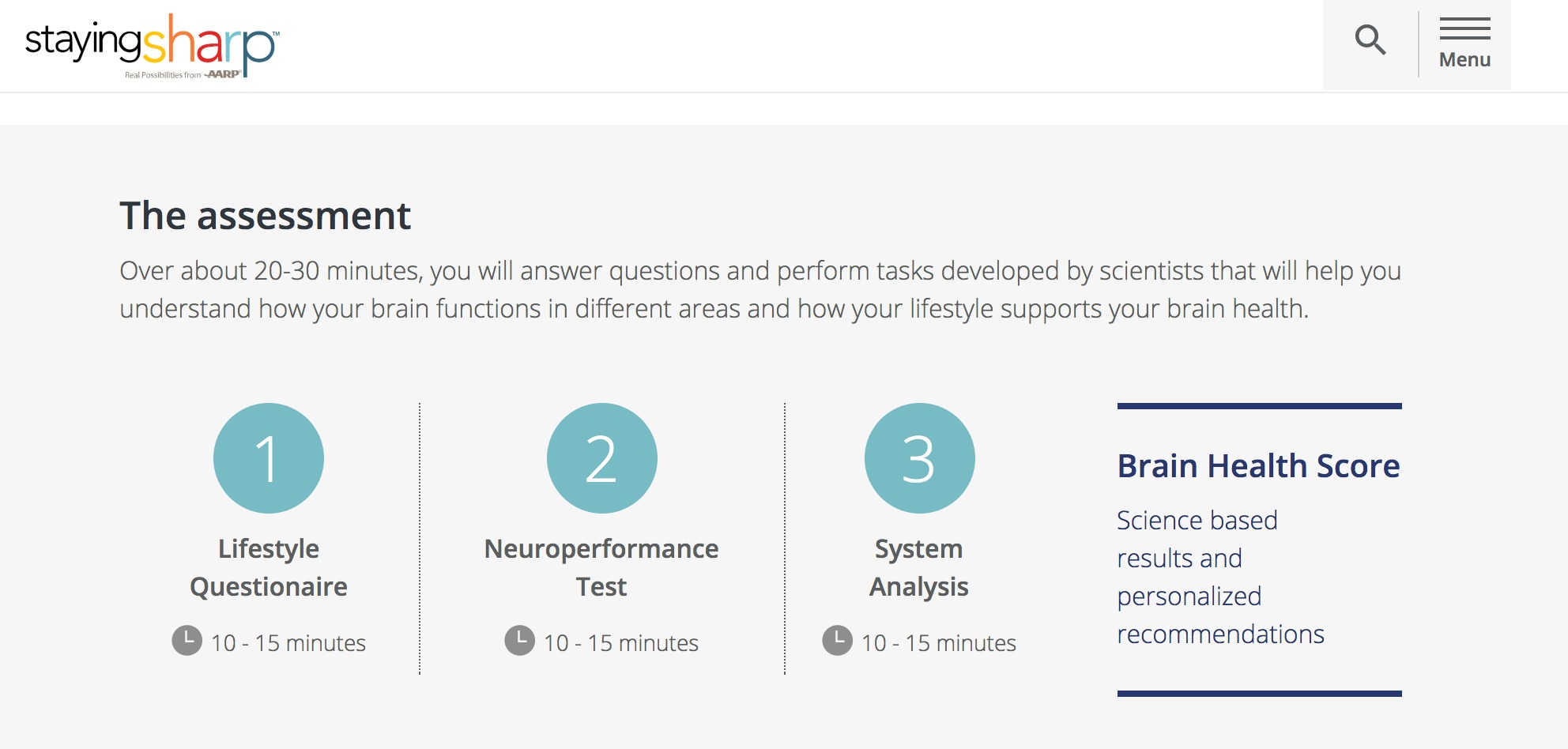 After creating an account, you will be asked to take a 20-30 minute assessment test. This test is a bit intimidating, but it will give you a general idea of your overall brain health and the areas in your life that are affecting your score negatively.
During the assessment you will take a series of tests including a reaction test, memory recognition tests, continuous performance test, digit span test, switching off attention test, maze test, and a memory recognition delayed test. These tests will gauge your brain's cognitive performance and provide insight into how your lifestyle supports brain health. Using this information, the Staying Sharp platform will provide you with personalized recommendations based on your assessment.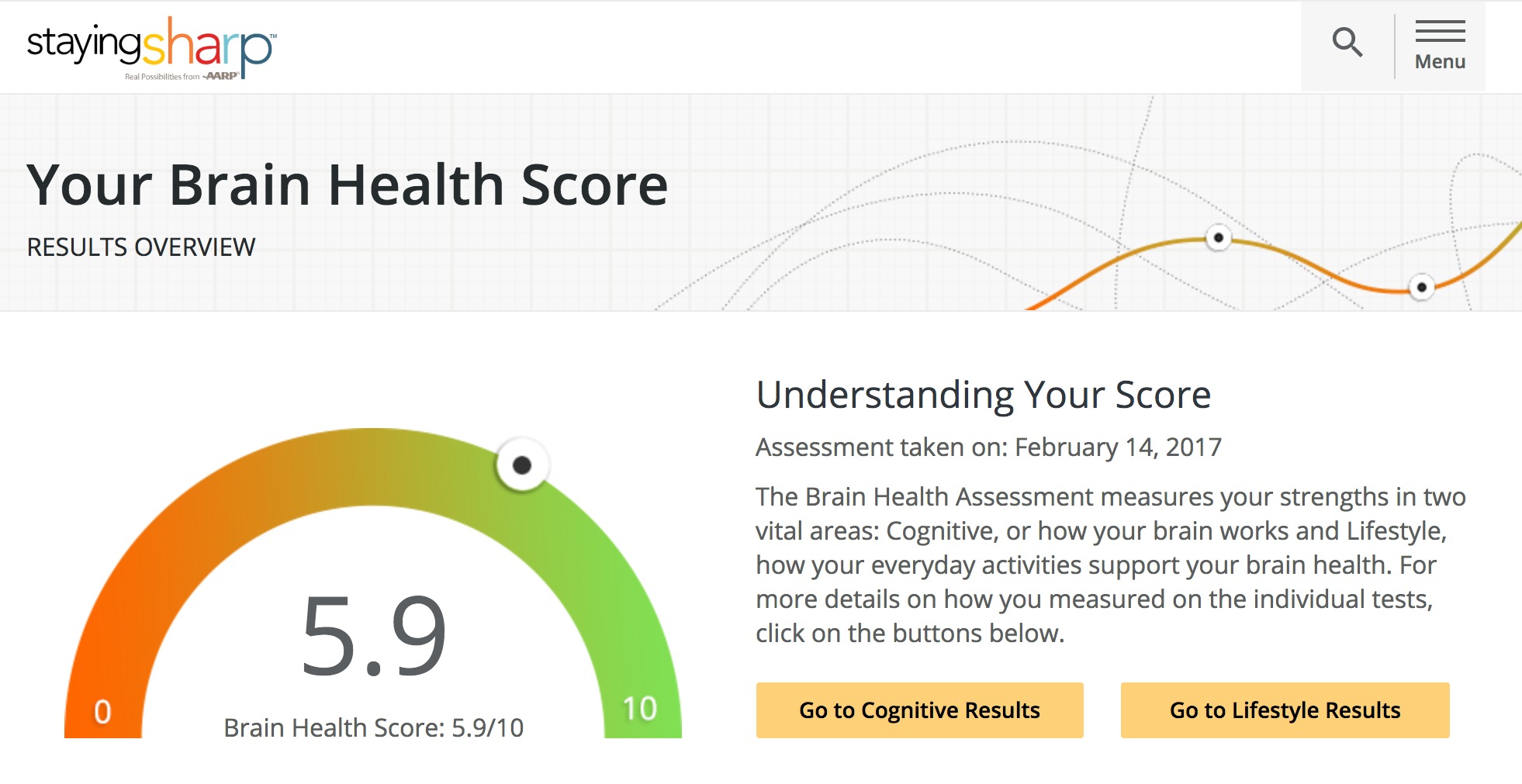 To be completely honest with you, I'm a little embarrassed at this score. I've always considered myself to be smart, or at least a little bit smarter than the average Joe. I graduated high school at the age of 16 after skipping a grade, so seeing this number was pretty disheartening. But thankfully it's not the end all be all. I was able to dig in to my scores a little more to see how the platform calculated this number.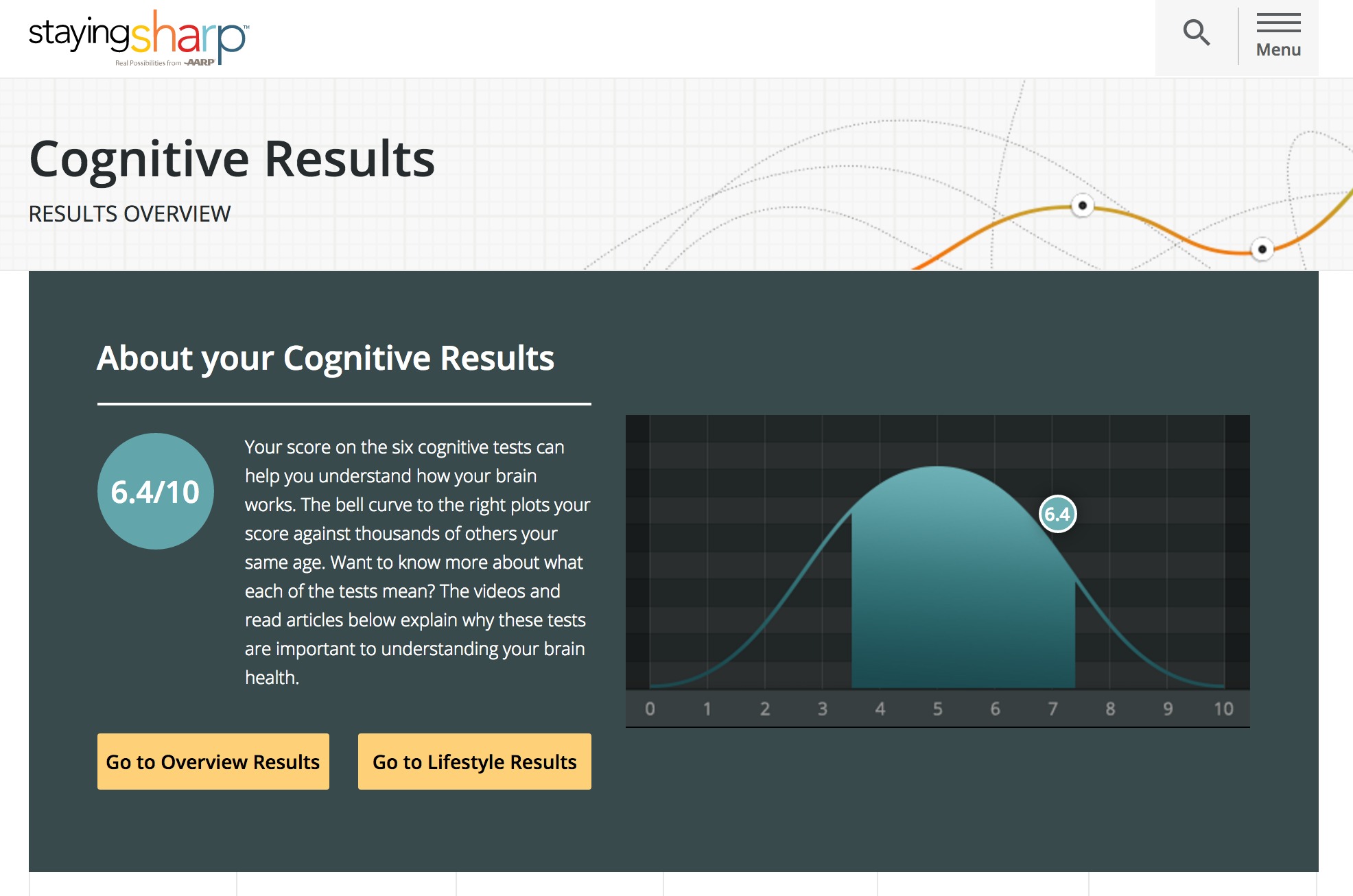 My cognitive results are on the higher end compared with others in my same age. This score helps the user understand how the brain works.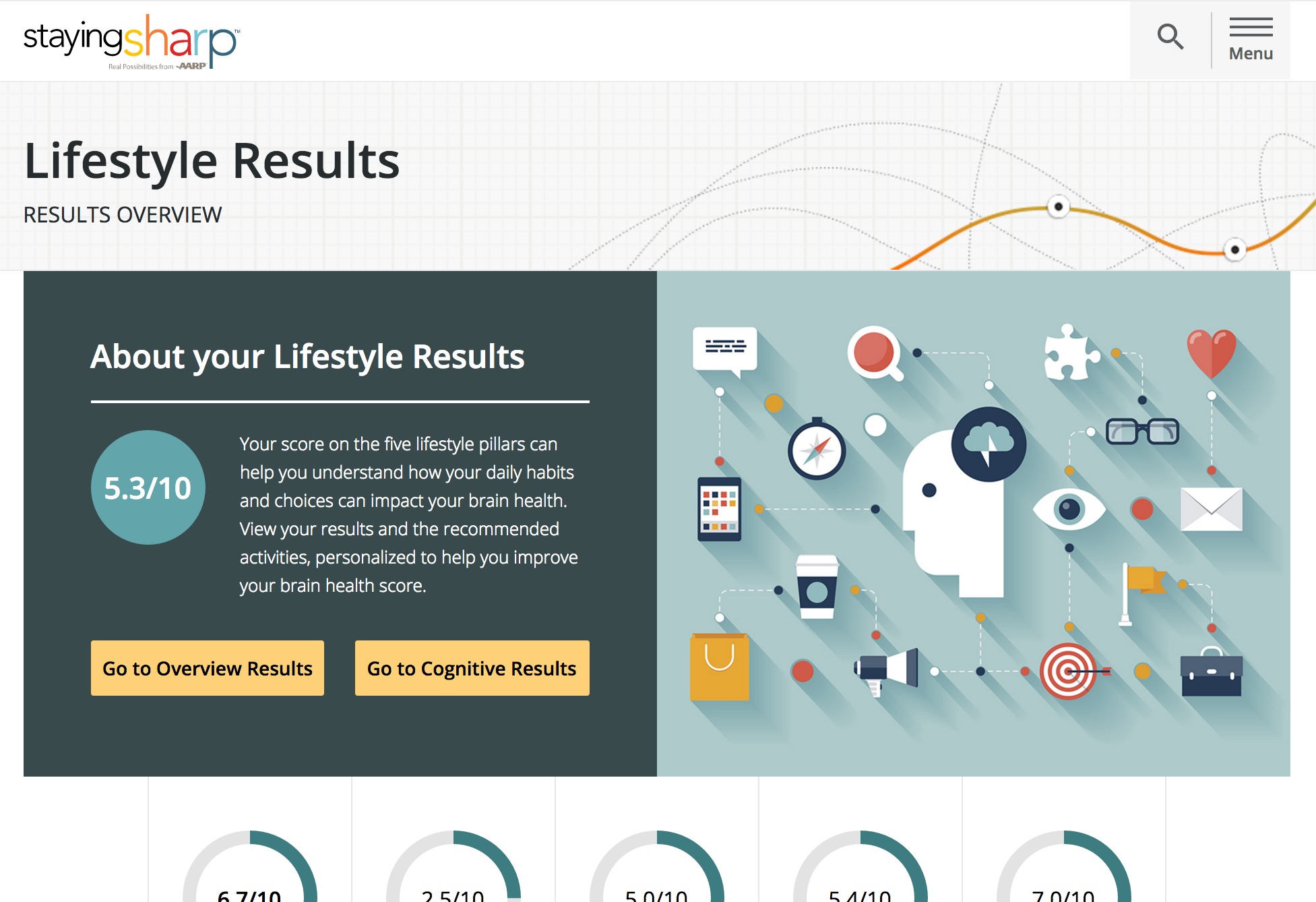 My lifestyle results are pretty much what I expected … on the lower end. This score is calculated based on the five pillars I mentioned earlier: move, discover, relax, nourish, and connect. Your responses to the lifestyle portion of the assessment test will impact your overall score.
The Brain Health Assessment tool is a scientifically backed, clinically-validated tool that answers the questions "How well is my brain?" and "How am I performing against others in my same demographic?" Each user will receive a unique brain health plan based on their Brain Health Assessment.
After the assessment is complete and you've had a chance to review the results, you'll then be given the option to see your recommendations. This will include activities to do, recipes that promote good brain health, articles to read, and games to play that will help your brain.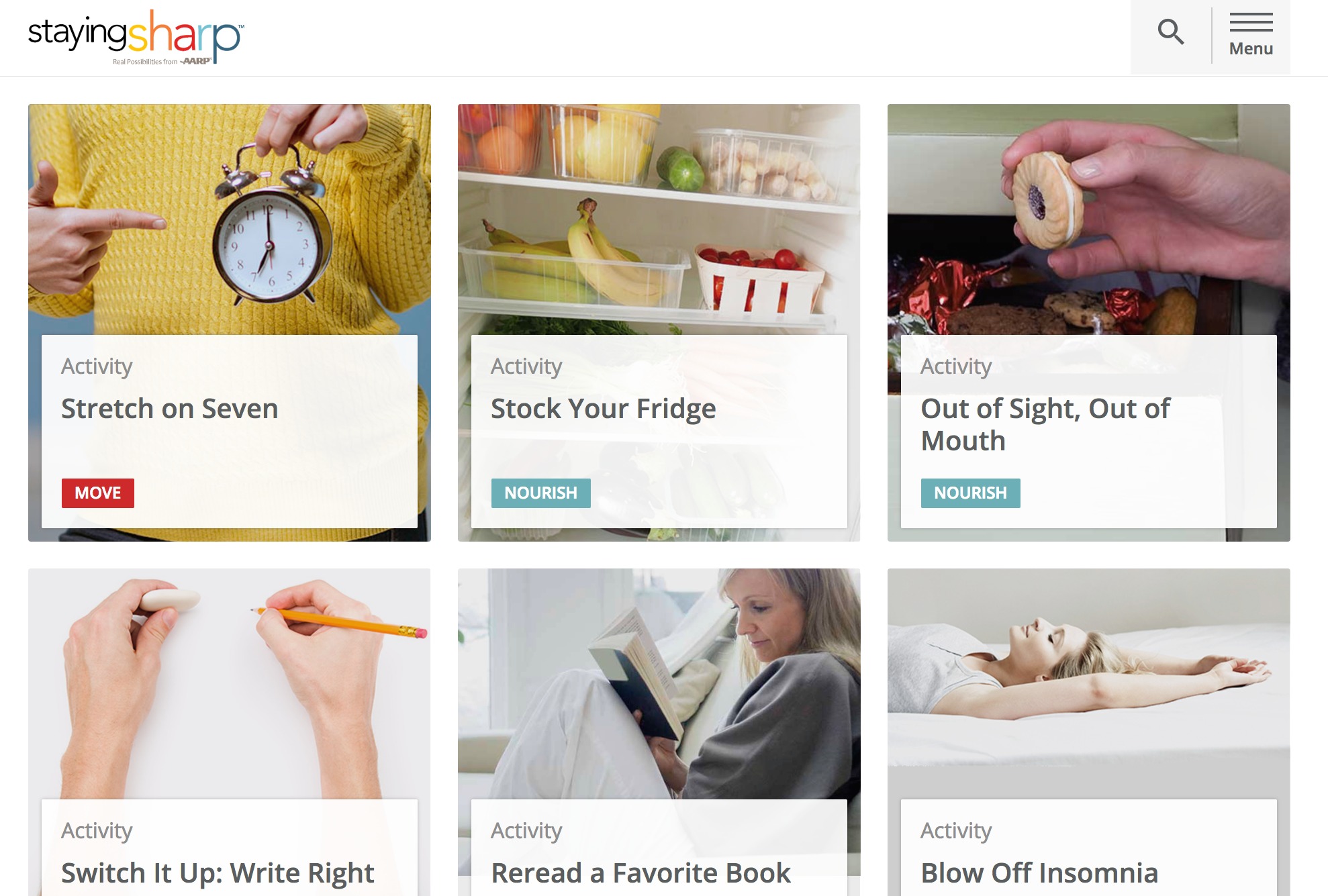 Each of the activities is labeled with one of the five lifestyle pillars. You can focus on just one area, or do little bits of each area to see how it improves your overall brain health.
The annual subscription price is $35.99. I'm excited about using Staying Sharp to see if I can improve my cognitive assessment results by playing games, creating healthy recipes and following some of the recommended activities.
* Giveaway *
20 readers will have the opportunity to try out the Staying Sharp program absolutely FREE FOR 1 MONTH. To enter, leave this comment below: "I want to take the Brain Health Assessment." Upon posting this comment below, each entrant will become eligible to win. Only one (1) entry per individual. The giveaway will end on 2/28/17 at 1:00am CST. Once the giveaway has ended, Giveaway Tools will select the winners and I will notify you via the email you entered with the link to redeem your subscription. After you are confirmed as an eligible recipient and upon claiming the gift, you will receive your free 1-month membership to Staying Sharp. If you do not cancel, then your membership will continue and the annual subscription rate (plus applicable tax) will be charged to your credit card about the same date each year that you continue your membership. You may cancel your membership and stop the billing anytime by notifying AARP by calling 888-339-5758.