This is a sponsored post written by me on behalf of Tyson Foods, Inc. All opinions are entirely my own.
Living in Texas has its perks. Cowboys, country music, and BBQ just to name a few. As you might have heard, we like to do things big and bold here in Texas. We're proud of our Texas heritage and we like to celebrate it. Today I'm celebrating it with a bit of TexFest flair with this Bacon Wrapped Tater Tots recipe.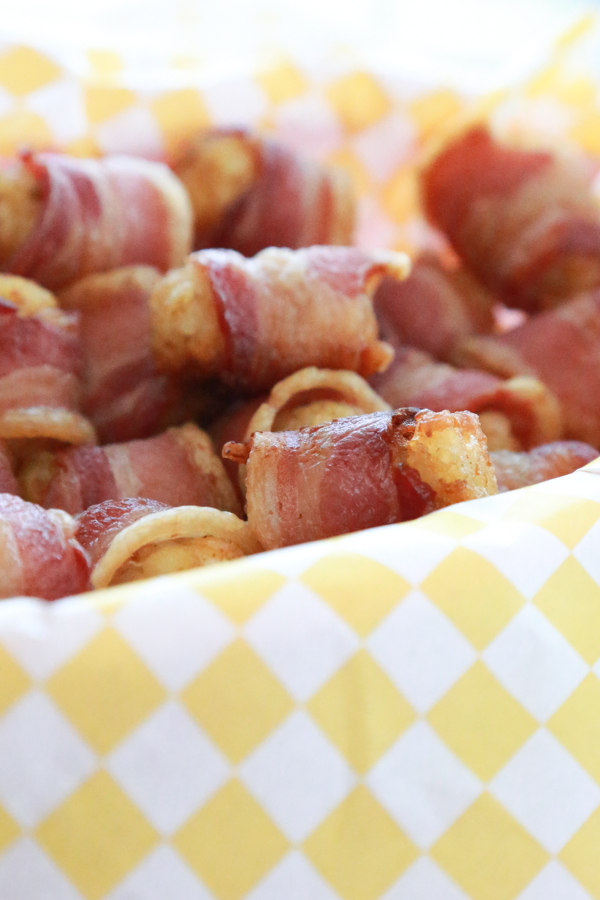 If you've never had Bacon Wrapped Tater Tots before, you've never truly lived. These little bite-sized morsels of goodness are proof that good still exists in this world. Once you've tried 'em, you'll understand, y'all.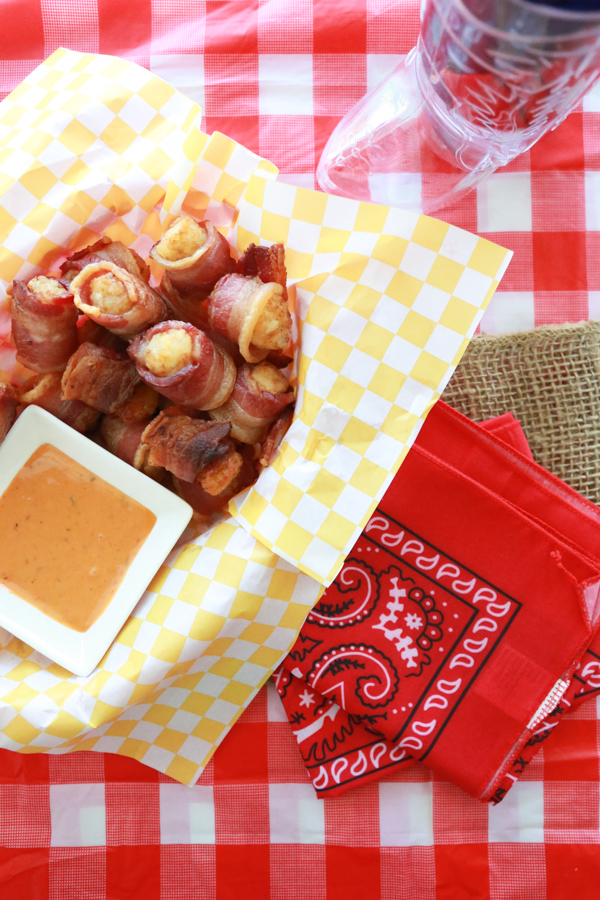 For those of us who were born and raised in Texas and who truly are Texan at heart, like to support fellow Texans. That's one of the reasons I like shopping at H-E-B. Many of the products they carry in store come from farms right here in my home state. Like the Wright® Brand Bacon I used to make these Bacon Wrapped Tater Tots. It's made right here in the Lone Star State and it has that bold, smoky taste that Texans love.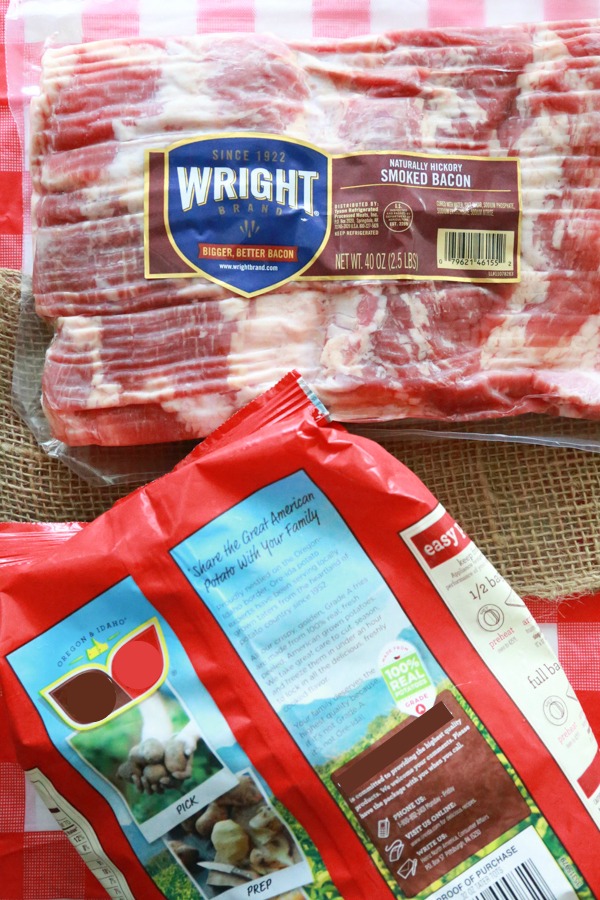 Not only does it have a bold, richer flavor, but the thick sliced, high quality cuts of premium meat make it the perfect choice for this recipe. It's naturally smoked and comes in two varieties, Hickory Smoked and Applewood Smoked.
Want to see how easy these Bacon Wrapped Tater Tots are to make? Done. Check out the quick and easy recipe below.
Bacon Wrapped Tater Tots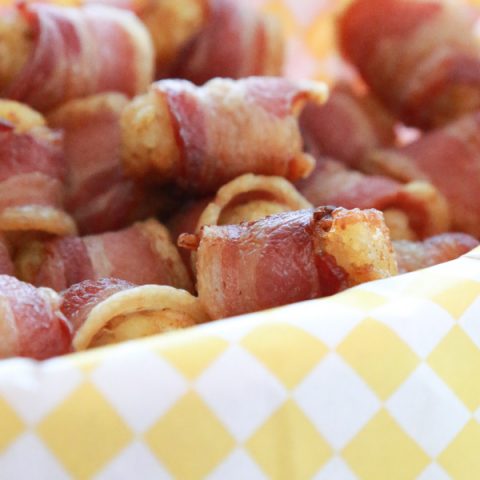 Bacon Wrapped Tater Tots
Thick sliced bacon wrapped around a golden tater tot and baked to perfection.
Ingredients
1 pkg (40 oz.) Wright Brand Bacon Hickory Smoked
1 pkg (2 lbs.) tater tots
Optional Spicy Dipping Sauce
1 tablespoon mayonnaise
1/2 tablespoon BBQ sauce
1/2 teaspoon hot chili sauce
juice of a quarter lime
Instructions
Preheat oven to 425 degrees F. Line a large baking sheet with parchment paper.
Cut bacon slices in half. Wrap one piece of bacon around a tater tot with about a 1/2" overlap and place on the prepared pan with the seam side down. Repeat until all bacon and tater tots have been used.
Bake for 20 - 25 minutes, or until the bacon is crisp. Remove from oven and serve.
Optional
If you want to make the spicy dipping sauce, combine all ingredients into a small bowl, stir, and serve.
There's nothing hard about making these Bacon Wrapped Tater Tots, folks. It's really as easy as cutting the bacon in half and then wrapping the bacon around the tater tot. Once you've done all that, put those bad boys into the oven and let it work its magic.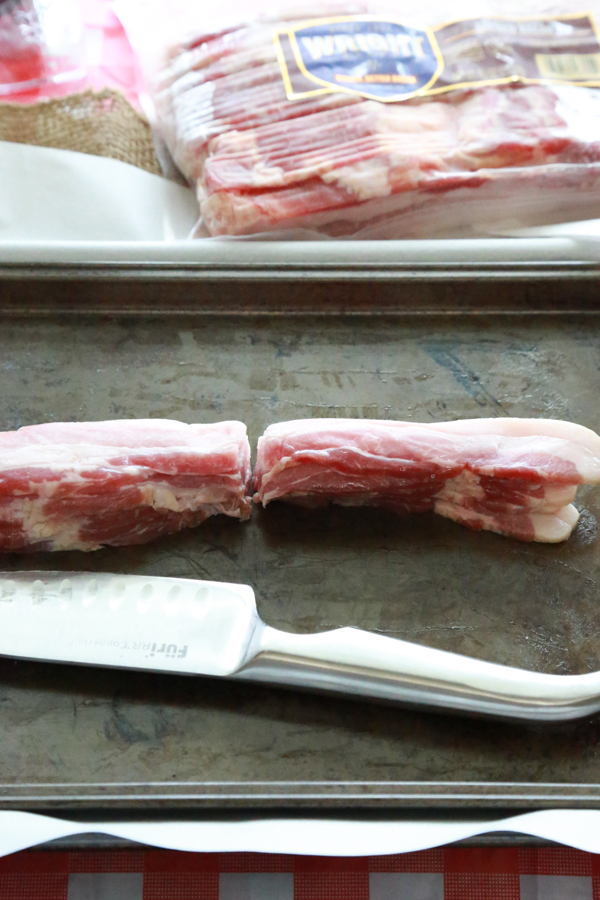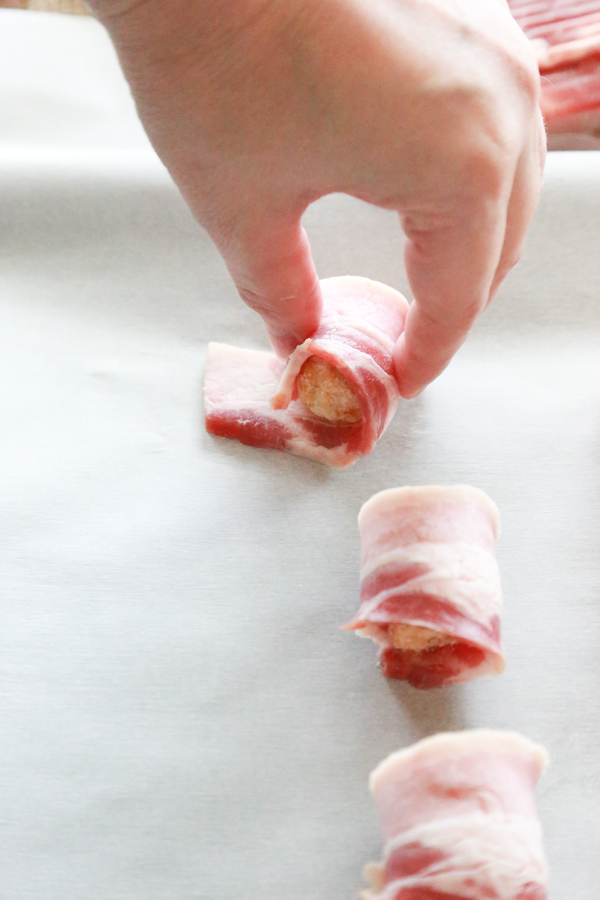 The hardest part of making these Bacon Wrapped Tater Tots is smelling the bacon as it cooks away in the oven and not being able to sneak a taste. There are not many smells in this world better than bacon cooking…right?

Just look at how amazing those Bacon Wrapped Tater Tots look! Do you see how THICK the bacon is, even after it's cooked? Oh my gosh, y'all. The bacon totally makes this recipe, so make sure you pick up Wright Brand Bacon when you're picking up ingredients for this recipe!
And…from March 1st – March 14th you'll be able to save on Wright Brand Bacon at H-E-B. This special coupon will get you $1 off your purchase of the 40 oz. package of Wright Brand Bacon. Now is the perfect time to stock up and save!
Have you tried Bacon Wrapped Tater Tots before?