We partnered with JIMMY Patterson Books to share this post. As always, all thoughts and opinions are my own.
Growing up is harder than ever. The standards seem higher. The struggles seem more intense. Social media is partly to blame, but we can't put all the blame there. The fault lies in not completely understanding or caring how words or actions can absolutely devastate someone's life. Each time I hear of a teen that committed suicide because of someone else's words, I'm reminded why it's important to teach children not to bully.
The biggest lie ever told to me was, "Sticks and stones may break your bones but words can never hurt you". We may be able to tell ourselves that words don't hurt, but the truth is that so much power lies in the tongue. The words that come out of the mouth have incredible power. We can make someone feel on top of the world, or we can make someone feel like they're nothing in this world simply by the words we speak.
When we teach children not to bully, we are planting good seed for future generations. Will you join me in making a better future for our children?
How to Teach Children Not to Bully
It can be disheartening to find out that your child has been picking on other children. As difficult as the news may be, how you handle it is incredibly important. It's critical that you begin to get to the root of bullying so that you know how to properly address the situation.
Take bullying seriously!
It's not something to ignore or take lightly. Let your children know that bullying will not be tolerated and that there will be strict consequences for any type of bullying behavior. Make them aware of potential consequences that bullying might bring. It could cause them to think twice before treating someone else unkindly.
Set a good example!
Your children will most likely emulate the type of behavior they see in their parents. Set a good example for your children and make sure to treat everyone with respect and kindness. Teach them how to be the type of children that other kids look up to by treating others the way they would like to be treated.
Encourage them to be kind!
It's important to teach and encourage our children to embrace the differences of others. It's those differences that make us all incredibly unique and special. Encourage them to be kind to the child someone is making fun of. Encourage them to be a friend when no one else will.
Be real with them!
I know that sometimes we try to shield our children from the real world that is out there. But when it comes to bullying it's important that we be as real as possible with them. There are real consequences to bullying and they need to know what their actions could potentially cause.
Be involved!
Kids bully for a number of reasons. If you're deeply involved in their lives, it will be easier to find the reason they feel the need to bully. Some bully because they feel insecure. Some bully because they want to fit in. Some bully because that's what they see at home.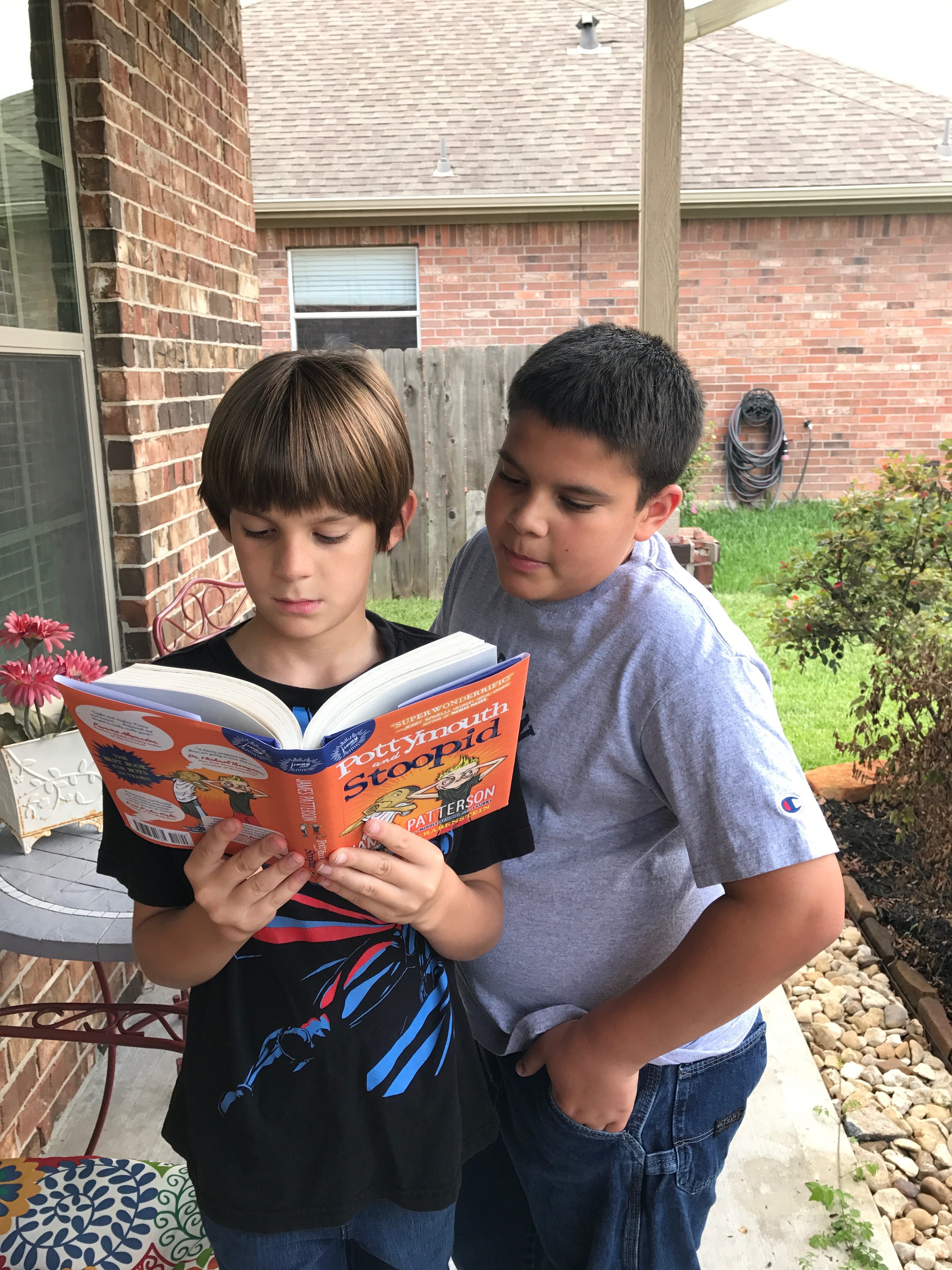 With three children, we occasionally deal with name calling and being mean. We try to redirect anger or frustration with other avenues of release, like just walking away. It's in our nature to react when we're provoked, but learning how to redirect those frustrations or anger will help even into adulthood. It's an important lesson we're working on with our children.
Pottymouth and Stoopid were the names given to David and his best friend, Michael, during preschool. This book is their story, from the very beginning. It's a great read for upper elementary students and middleschoolers from bestselling authors James Patterson and Chris Grabenstein. There is humor, there is truth, and there is friendship. What's not to love?
Follow JIMMY Patterson Books on
Twitter | Facebook | Instagram
Follow James Patterson
on Twitter | Facebook | Instagram
No More Awful Nicknames! In partnership with Jimmy Patterson Books, I'm so excited to offer you a fun giveaway just in time for back-to-school season. One (1) winner will receive a copy of Pottymouth and Stoopid plus a personalized-name Lands End backpack! To enter, use the widget below.