If you love Funfetti recipes as much as I do, you'll love these Funfetti Honeycomb Marshmallow Treats!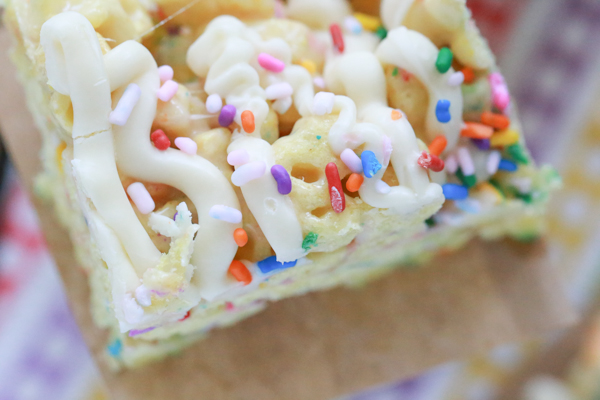 This is a partnered post with Honeycomb. As always, all thoughts and opinions are my own.
The other day while we were at a local farmer's market type place, we stumbled upon a vendor that was selling homemade, organic cookie dough. I wanted to buy some, but there were some stipulations; no egg and it MUST have sprinkles. My husband kind of just rolled his eyes, but I love my sprinkles, y'all. Thankfully, there was a variety with some sprinkles so I left a happy camper that day. When I was thinking about a recipe I wanted to make with Honeycomb cereal, I knew it had to have sprinkles. Because, well, sprinkles.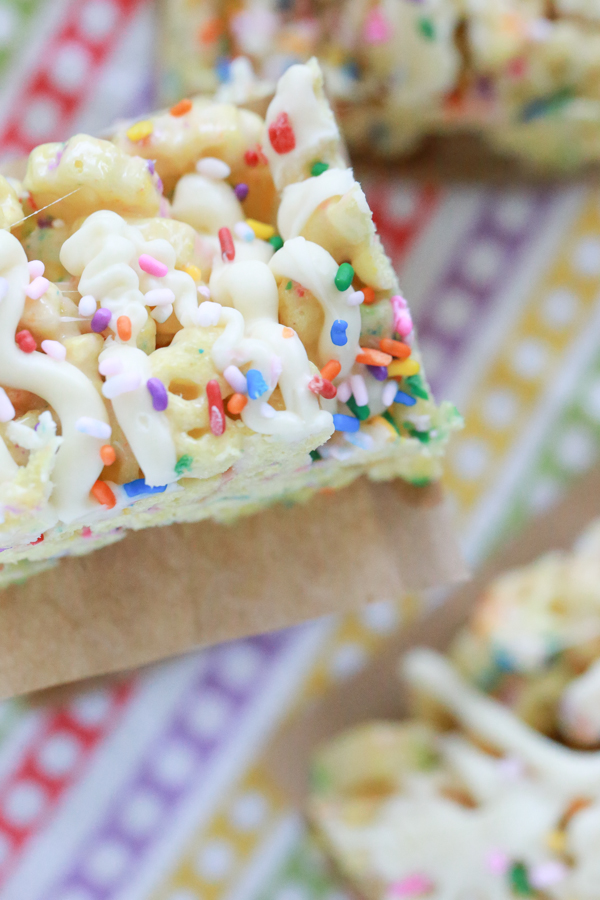 A friend's son was celebrating a birthday and I wanted to bring along something sweet with his gift. I thought that these Funfetti Honeycomb Marshmallow Treats would be just PERFECT. The sprinkles look festive and just what a birthday boy needs!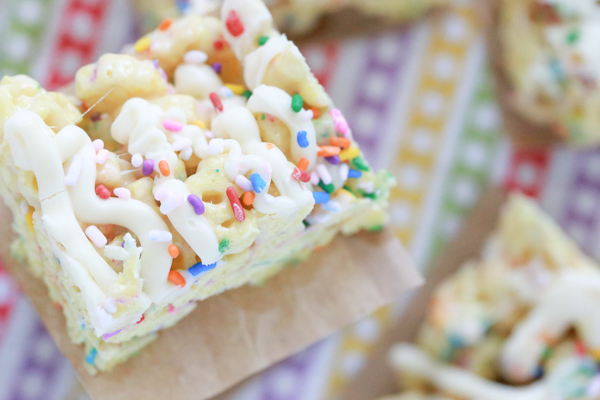 So I whipped up a batch of these colorful little treats for the birthday boy! They're super easy and incredibly tasty.
Funfetti Honeycomb Marshmallow Treats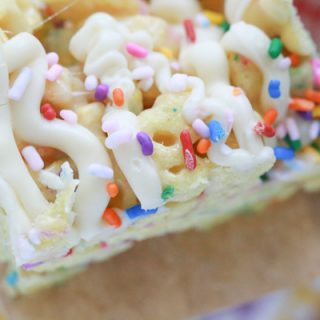 Funfetti Honeycomb Marshmallow Treats
Ingredients
2 tablespoons butter
10 oz package mini marshmallows
1 tablespoon yellow cake mix
7 cups Honeycomb cereal
5 tablespoons sprinkes, divided
5 oz white chocolate chips
Optional Items
Instructions
Grease a 9x13 baking pan with cooking spray or butter.
Add butter and marshmallows to a large pot and melt over medium heat. Once all the way melted and smooth, stir in yellow cake mix. Stir to combine.
Remove from heat and stir in Honeycomb cereal and 3 tablespoons sprinkles. Immediately pour into prepared baking dish and press into an even layer. To make this step easier use a sheet of wax paper and lay on top of mixture. With your hands press down firmly to create an even layer. Remove wax paper and discard.
Put white chocolate chips into a microwavable bowl or mug and melt on 20 second intervals until melted and smooth. If the chocolate isn't thin enough, add a little vegetable oil to thin it out.
Drizzle white chocolate over the Honeycomb treats.
Let sit until white chocolate hardens, then cut into bars
Depending on how large you cut the bars, this recipe can make between 12-16 bars. If you're serving children, smaller is probably better.
I love that Classics never go out of style! The big honey flavor and big crunch that we all love about Honeycomb makes it the perfect breakfast AND snack option! And lets not forget about the unique hexagon shapes that set Honeycomb apart from all the other cereals.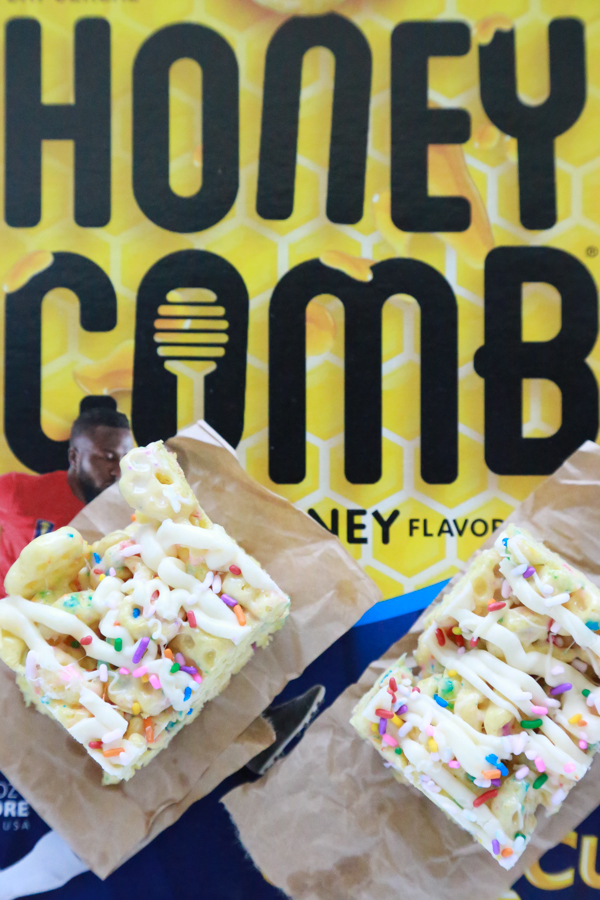 The drizzle of white chocolate all over the top and the EXTRA SPRINKLES make these Funfetti Honeycomb Marshmallow Treats so colorful and tempting.

Honeycomb is encouraging cereal lovers to "think biggerer" by bringing the classic cereal back to the table for a bigger breakfast option. The brand wants fans of the classic cereal to join them in thinking as big as they possibly can by making breakfast "biggerer" than ever before. With that in mind, I'm incredibly happy to partner with Honeycomb to bring a giveaway to all Honeycomb fans. While thinking "biggerer" than ever before, how would you enjoy Honeycomb cereal?