Summer is about to wind down but we're squeezing out every last second of fun while we can. We're enjoying lazy weekends, cold treats, and grilled foods as long as possible. After attending the Great Texas Mosquito Festival this past weekend, I came home inspired to fire up the grill and make these Grilled Pork Chops with Tuscan Bean Salad.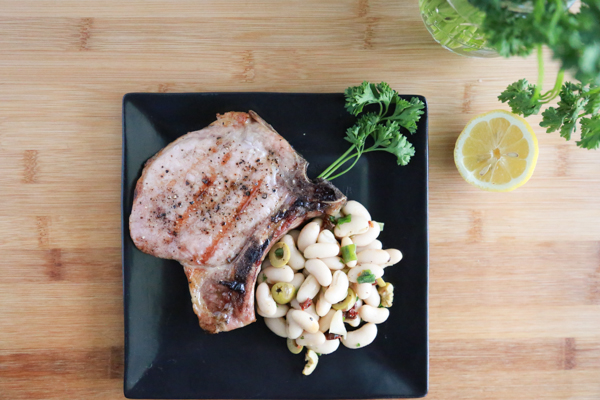 This is a partnered post with the National Pork Board. As always, all thoughts and opinions are my own.
The Mosquito Festival was filled with live music, good food, and was a regional stop of the "Get Grilling America" tour. While we were there we watched a BBQ competition, watched Celebrity Chef, Ernest Servantes, cook up some Smithfield St Louis Spare Ribs, and enjoyed some live music from local bands. It was a nice night out with just my husband, but I know the kids would have loved it, too.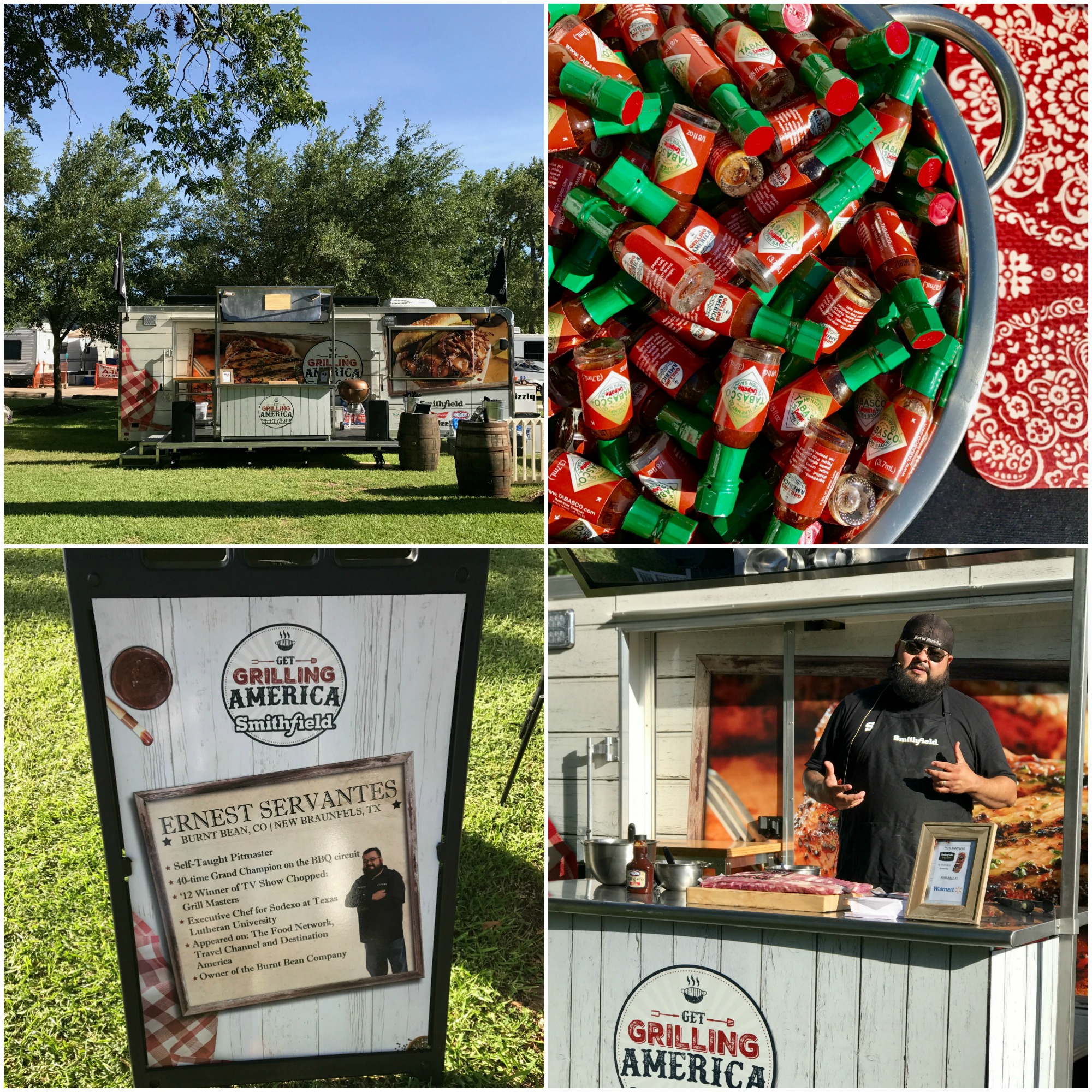 We learned so much about grilling and I can't wait to use some of what I learned to cook up some delicious, fall of the bone ribs before summer comes to a close. But until then, these Grilled Pork Chops with Tuscan Bean Salad are on the menu. The best part, they're super easy and they taste absolutely amazing.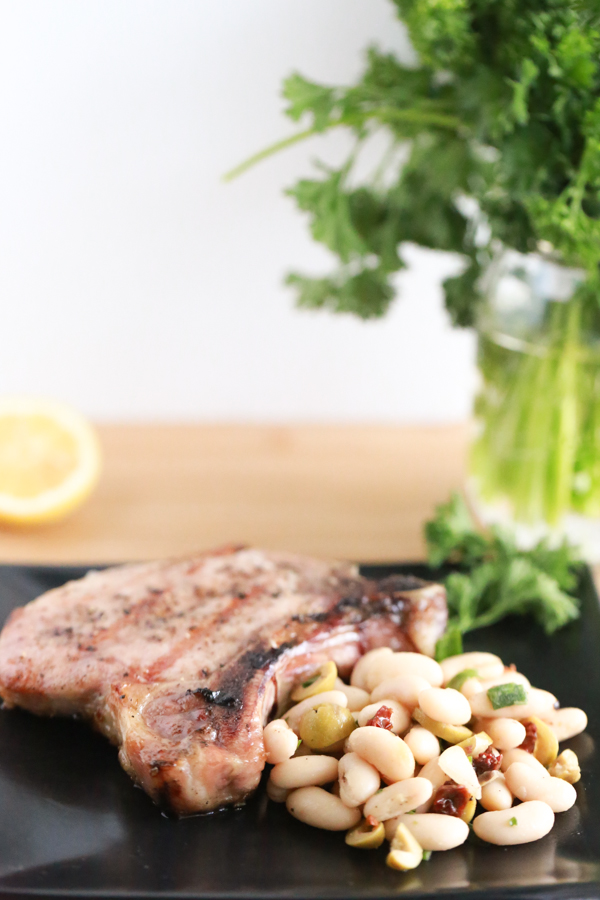 This dish is a PERFECT option for all your summer time celebrations because it's quick, easy, and the bean salad is served at room temperature. You don't have to worry about keeping the salad cool or warm. Perfection, right?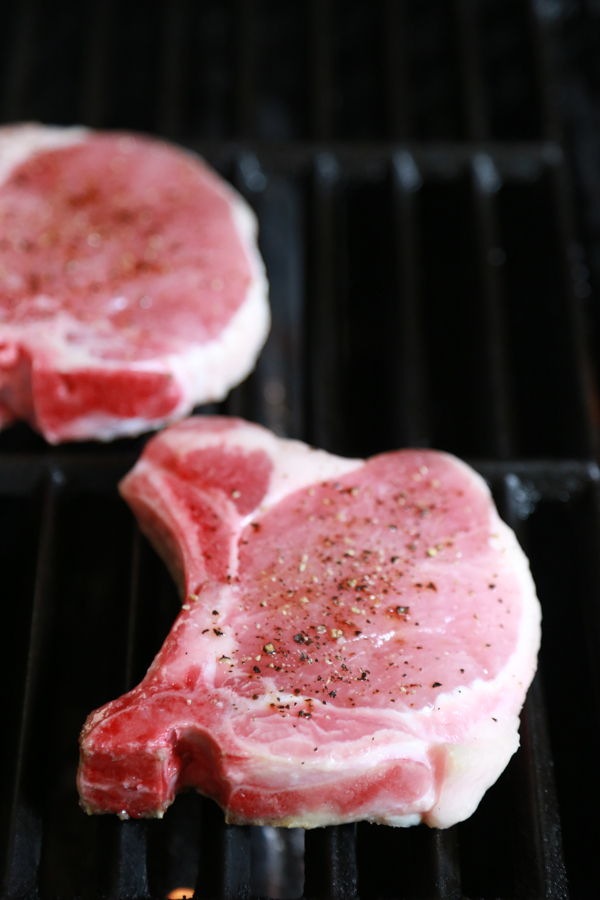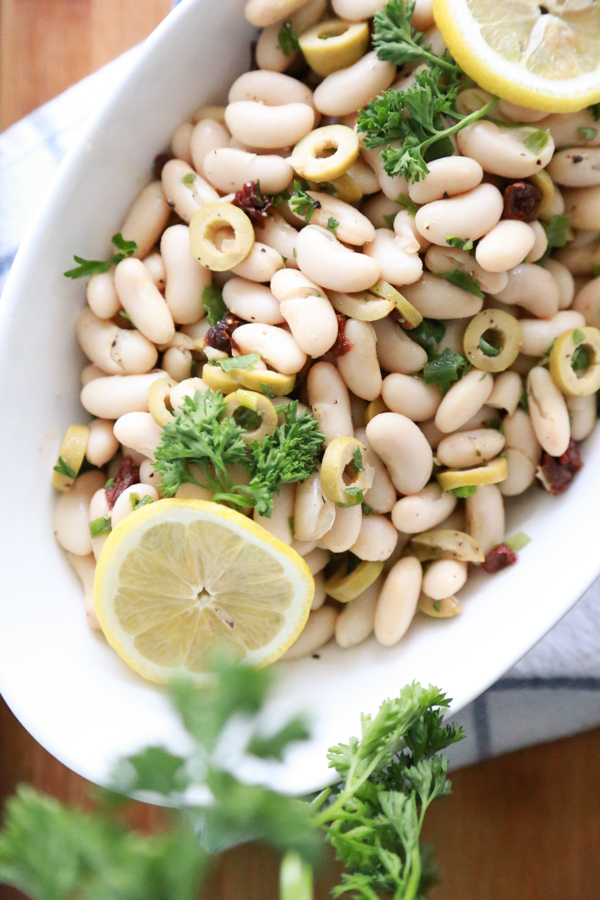 Grilled Pork Chops with Tuscan Bean Salad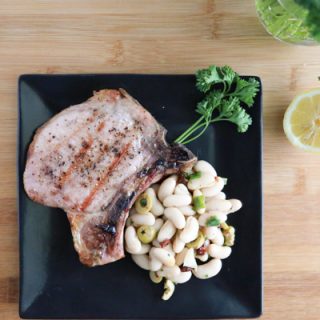 Grilled Pork Chops with Tuscan Bean Salad
Ingredients
Grilled Pork Chops
4 Smithfield Bone-in Thick Cut Pork Chops
4 teaspoons extra virgin olive oil
Kosher salt
freshly ground black pepper
Tuscan Bean Salad
1 tablespoon extra virgin olive oil
1 teaspoon fresh lemon juice
2 (14-ounce) cans white beans, drained, rinsed, and patted dry
2 oil-packed sun-dried tomatoes, chopped
1/4 cup sliced green olives
2 tablespoons finely sliced green onions, green part only
1 tablespoon minced fresh flat-leaf parsley
salt and pepper, to taste
Instructions
For Grilled Pork Chops
Smear the pork chops with 1 teaspoon of extra virgin olive oil. Sprinkle with salt and pepper on both sides. You can set aside at room temperature for up to an hour, if needed.
Prepare the grill for indirect grilling over medium heat, about 350°F - 375°F.
Place pork chops on the grill over the direct-heat area and sear, turning once, until there are nice grill marks on both sides, 2 to 3 minutes per side.
Move pork chops to the indirect-heat area and close grill cover. Cook until pork chops are somewhat firm to the touch or until an instant-read thermometer inserted horizontally into the center of a chop, away from bone, registers between 145°F - 160°F.
Remove pork chops from the grill and allow to rest for at least 3 minutes.
For Tuscan Bean Salad
In the bottom of a large bowl, whisk together olive oil and lemon juice. Add the beans, sun-dried tomatoes, green olives, green onion, and parsley to bowl and toss to coat well.
Taste and add salt and pepper as desired. Set aside until ready to serve
Remember – no matter which pork product you choose to grill, don't overcook it! Grill your pork like a steak to get a tender, juicy product that offers both great taste and flavor.
Cook pork chops, loin roasts and pork tenderloin to an internal temperature between 145°F and 160°F, followed by a three-minute rest. For ground pork, always cook to an internal temperature of 160°F. For ribs, cook until tender.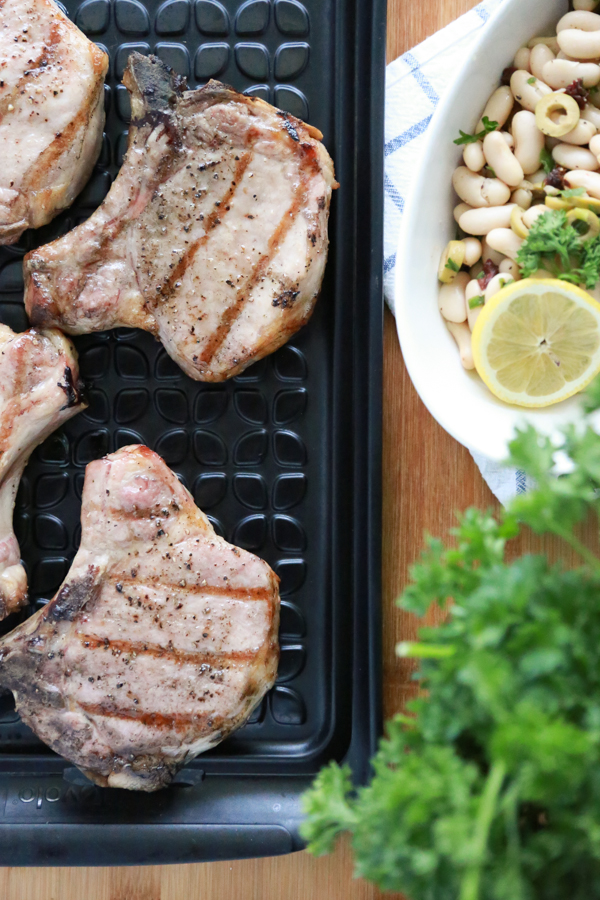 Smithfield's Get Grilling America campaign is encouraging you to shop for great, quality fresh pork cuts right at your local Walmart meat case. For more recipe inspiration and grilling tips and tricks, follow Pork Be inspired, Smithfield, and Walmart or visit them on social media.

What I love about Smithfield's Extra Tender Fresh pork is that it's more tender and juicy, so no matter the level of experience you have in the kitchen or at the grill, your pork is sure to impress.
How do you like your pork chops?