The kids are headed back to school and so are their teachers. This back to school season, give your child's teacher something they'll need, like this Back to School Teacher Survival Kit. It's filled with items they'll need in case of unexpected emergencies.
This is a partnered post with The Motherhood and BIC. As always, all thoughts and opinions are my own.
Gifts for teachers aren't required but I think it's a nice gesture to let them know you care. But sometimes it's hard to figure out what to get them, especially since you don't really know them yet. In cases like this, I like to be practical and think about things they can use on a day-to-day basis.
Don't forget to pin this to your back-to-school or teacher Pinterest boards so that you don't lose it.

This Back to School Teacher Survival Kit is filled with things that I thought would come in handy for all teachers. And the best part is that I didn't break the bank throwing it together. Because I already had the glass jar on hand (I always buy these when they're on sale) and some spare ribbon from other projects, I only spent about $13. It's definitely not an extravagant gift, but it's thoughtful and practical.
Here are some shopping links for your convenience. If you're not already an Amazon Prime member, sign up now for your FREE 30-day trial and enjoy FREE 2-day shipping.
Pens
Kleenex
Mints
Gum
Lip Balm
Hand Cream
Band-Aids
Stain Remover
Back to School Teacher Survival Kit
I packed mine with antibacterial gel, facial tissues, mints, gum, pain reliever, pens, lip balm, hand lotion, band aids, stain remover, and chocolate. I know all these things seem really boring for a gift, but I put all these items in the kit for a specific purpose. I imagined myself in a room of 20+ kids and all these things seemed to come in handy.
I know teachers sometimes have to spend quite a bit of their own money for classroom supplies. I'm sure they appreciate anything that lightens the burden a little. Think pens for example. They have to have pens and purchase those on their own. Buying a few packs of BIC Gel-ocity Quick Dry gel pens at the beginning of the school year would be a great way to help your child's teacher.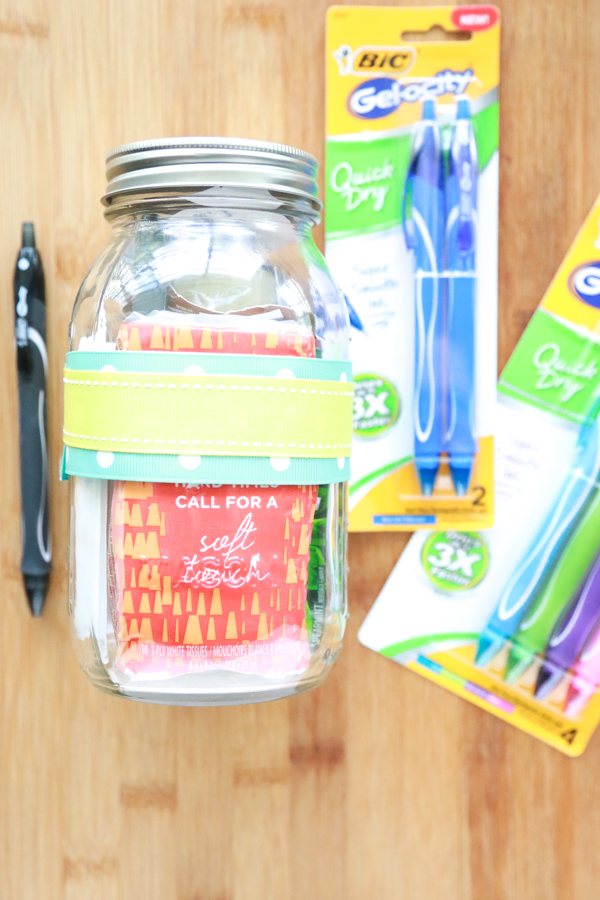 I like these pens because the ink is super smooth and it dries up to 3 times faster* than Bic Gel-ocity Original. This especially comes in handy for those left handed folks. Having an ink that dries faster cuts down on those unwanted smears when writing. Note-taking, list-making and calendar-marking will brighter this back to school season with all the different color options available. *vs. BIC® Gel-ocity® Original, based on average dry times of blue, black and red. Individual dry times may vary by color.
What else would you include in a Back to School Teacher Survival Kit?