Need somewhere to store your Box Tops before turning them in, make this adorable Mason Jar Box Tops Holder.
I know I'm sharing a lot about Box Tops lately, but it's because I really believe in the impact it has on schools nationwide. Clipping Box Tops really is such an easy and effortless way to help. Before throwing boxes or containers away, ensure that there aren't any Box Tops that need to be clipped. It really is SO EASY!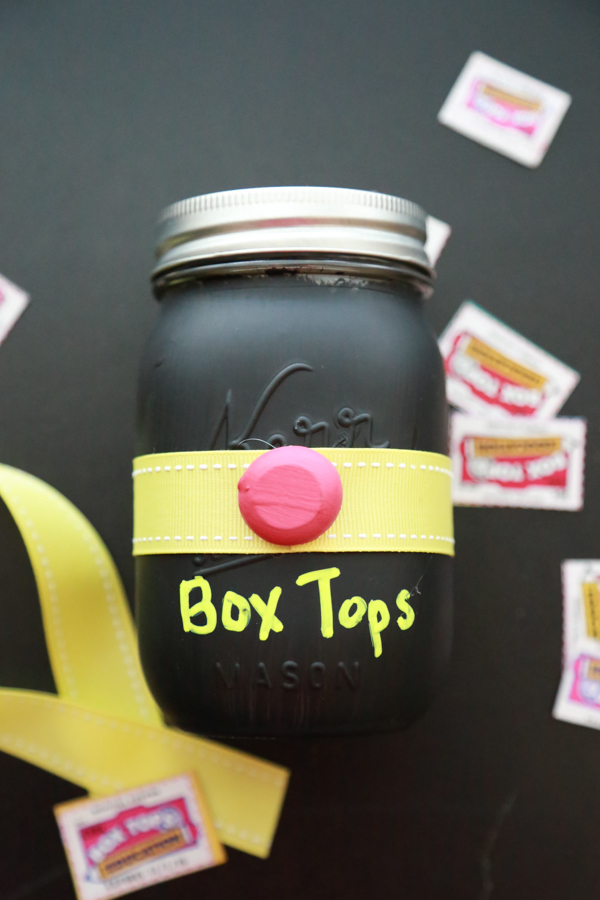 I'm all about using stuff that I have around the house, and that's what I did when I made this Mason Jar Box Tops Holder. I didn't have to buy anything, but just raided my craft supplies to get everything I needed. Hopefully you have some craft supplies that you can raid, too!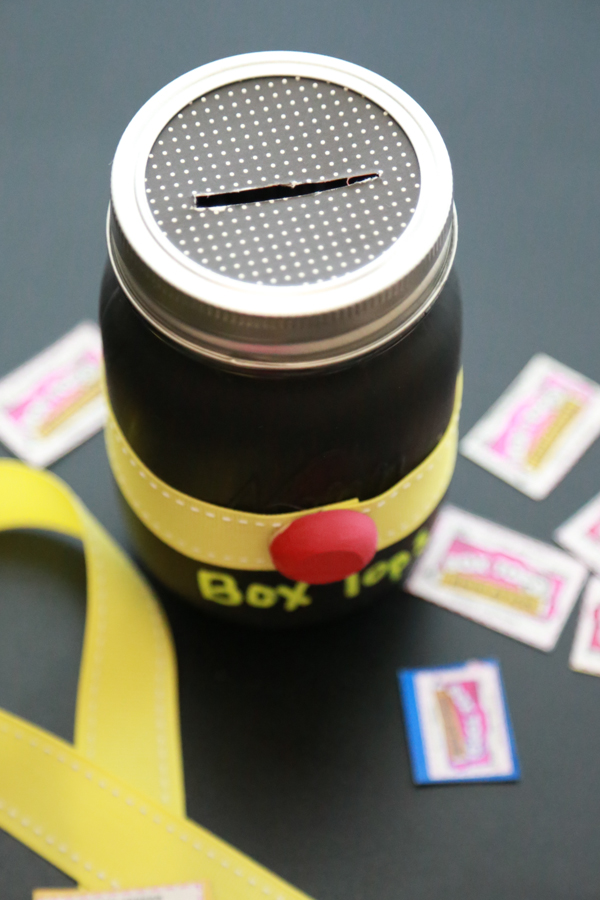 Mason Jar Box Tops Holder

Mason Jar
Chalkboard Paint
Red Paint
Wooden Half Ball
Hot Glue Pen
Materials:
mason jar with lid
black chalkboard paint
red paint
paintbrushes
round wood button
yellow ribbon
hot glue gun with glue sticks
sheet of scrapbook paper
Instructions:
Paint mason jar with black chalkboard paint. Set aside to dry.
Paint round wood button with red paint. Set aside to dry.
Draw a circle around the mason jar lid insert on scrapbook paper. Cut out with scissors. Using the scissors or craft knife, cut a rectangle into the center of the round scrapbook paper so that you can put the Box Tops inside. Insert the scrapbook paper into the mason jar lid.
Cut yellow ribbon to size and wrap around dry mason jar. Secure with hot glue. Secure the red button, over where the ribbon ends meet, with hot glue.
You're ready to begin putting Box Tops in the Mason Jar Box Tops Holder.
If you need a visual, watch this short video to learn how to make a Mason Jar Box Tops Holder!
This is a partnered post. As always, all thoughts and opinions are my own.
During the months of July and August, as we are preparing for back to school, we rack up a ton of Box Tops. Although my children are all homeschooled now, we still need school supplies for our classroom, the kids still need snacks, and we still need all the things other students and teachers need.
This back to school season there are so many ways to earn Box Tops as you're buying everything your children need. When you do your shopping at Walmart, you can take advantage of the Buy 5, Earn $5 in Box Tops. It's a fantastic way to help your child's school. With the Box Tops Bonus App, you can earn even more cash by using your phone to boost earnings for the school. Just like the name suggests, in addition to the on-pack Box Tops you can clip, the Box Tops Bonus App allows you to earn even more Box Tops.
And if by chance you are a homeschooling family like we are, I guarantee that your local elementary school will appreciate the donation. I know ours does.

I can't tell you enough how much these little old Box Tops that you clip off of product packaging helps your child's school. I've heard from countless teachers about how big of an impact this simple gesture does for the school.
Make sure you download the app, make sure you're a clipping queen, and make sure you're doing your part to help the schools in your area.