This is a partnered post with Mirum. As always, all thoughts and opinions are my own.
If you love Chicken Salad, then I'm sure you'll love these Harvest Chicken Salad Lettuce Wraps. Skip the carbs and save them for dessert.

When I agreed to work with Hellmann's on a recipe, I wasn't really sure what I was going to make. They sent over a suggestion, their Harvest Chicken Salad, so I headed to Sam's Club to pick up everything I needed and decided to add a twist to make it my own. That's how these Harvest Chicken Salad Lettuce Wraps came to be.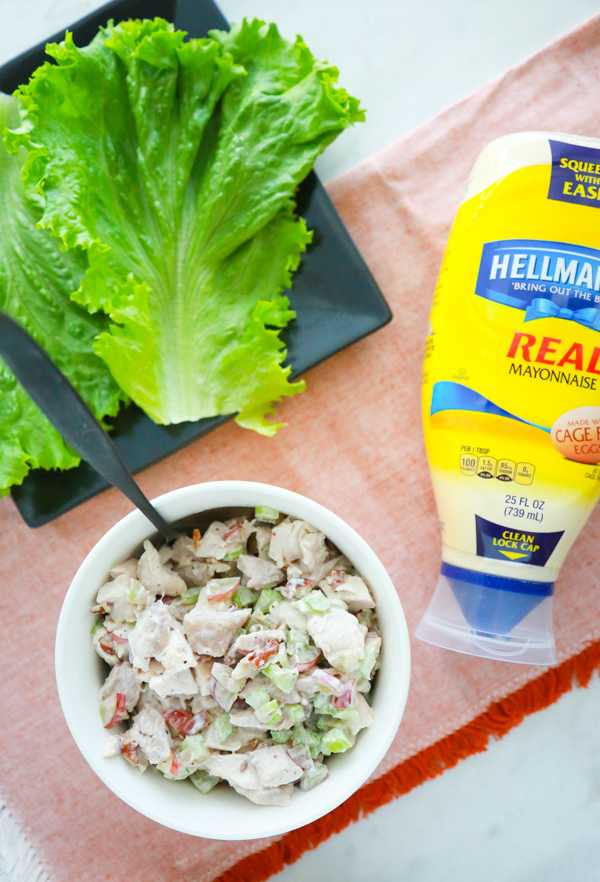 While I served these on large lettuce leaves, feel free to eat plain or with a piece of bread or even a bun. I'd just rather save my carbs for dessert. But who's really counting anyways?
Harvest Chicken Salad Lettuce Wraps
Harvest Chicken Salad Lettuce Wraps
If you love chicken salad, you'll love the twist by serving it with lettuce instead of buns.
Author:
Crystal @ Simply Being Mommy
Ingredients
2 cups chopped rotisserie chicken
⅓ cup thinly sliced celery, about 1 stalk
⅓ cup cut-up grapes (or you could use apples)
¼ cup chopped pecans
¼ cup Hellmann's Mayonnaise
½ teaspoon salt
½ teaspoon ground black pepper
4 - 6 large lettuce leaves
Instructions
Put all ingredients, except for the lettuce leaves, into a medium-sized bowl and stir to mix well.
Serve on lettuce.
Notes
Adapted from Hellmann's
All I can say about these Harvest Chicken Salad Lettuce Wraps is — YUM! The recipe is so simple, yet it tastes so good.
I always love a good recipe video, so check out Unilever's Harvest Chicken Salad recipe.
With the help of the rotisserie chicken, there is no cooking, but just a little bit of prep. And since you mix everything in one bowl, there aren't a lot of dishes to clean up after cooking! That's a double win, y'all.
For the next few Mondays, I'm going to challenge you to Mix it Up and try one of these yummy recipes. But, just like I did, try to put your own spin on it.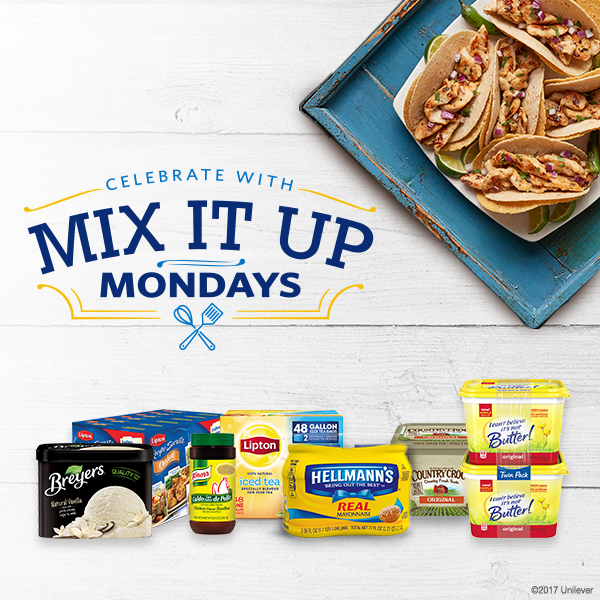 I know feeding your family can get expensive. To help offset some of the feeding costs in my house, I like to buy my ingredients in bulk at Sam's Club. They have such a huge selection of Unilever products so I get what I need for a little less money. If there is something your family uses religiously, take advantage of the subscription service. This way your family will never run out.
And the best part of shopping at Sam's Club is I can take advantage of their Scan and Go App and/or Club Pick Up. Since life is always so hectic, these easy shopping options are perfect for my busy lifestyle.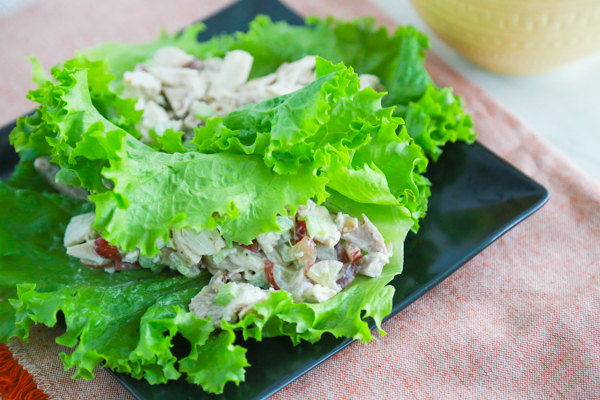 My family loves these Harvest Chicken Salad Lettuce Wraps and I hope your family does, too!