Sometimes parenting takes you out of your comfort zone and gives you the opportunity to do things you thought you could never do — like camping, for instance. Never in a million years did I think I would sleep in a tent, in the middle of nowhere without any electricity. But when the kids want to do something, it kind of changes my attitude about it. With our first camping trip down in the books, here are my first time camping tips.

First Time Camping Tips
When I was thinking of the first time camping tips I would want to know, I kept ease, practicality, and usefulness in mind. I hope these first time camping tips help to make your first camping trip a smashing success!
Check the forecast. I know that forecasts can change much like the mood of my teenager. But even with that in mind, I think it's important to know what you could be expecting while camping. Extreme weather is no fun when you're not properly prepared and stuck in a tent out in the wilderness. By knowing the forecast you can pack accordingly to be prepared for what may come.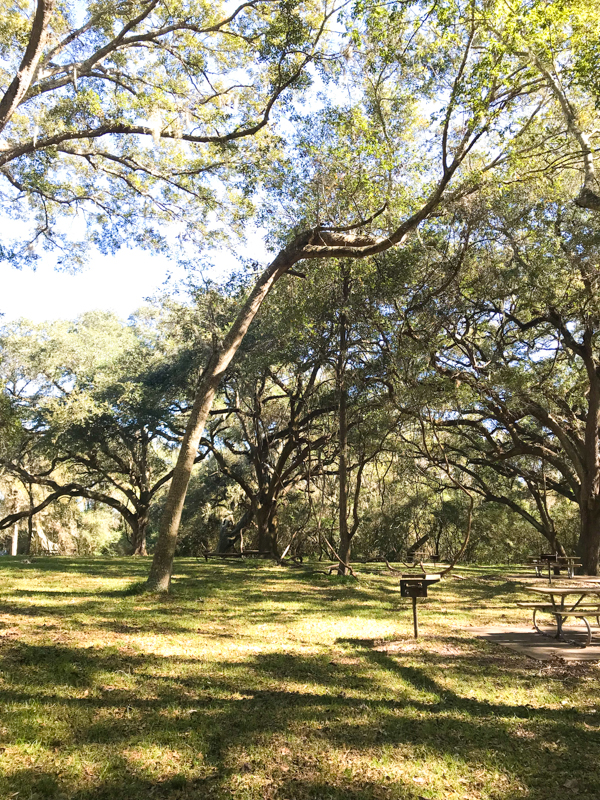 Make a checklist of everything you need to pack. When you're camping 30-45 minutes from the closest store, you don't want to forget anything. Since I live off of checklists, this step comes naturally to me. If you'd rather get a tooth pulled than write out a checklist, search for a printable checklist from someone who has already made one, then add and take off what you need or don't need.
Pack easy camping food. When you're camping you won't have access to a 5-burner stove, microwave, oven, etc. You'll need to utilize a camp fire and a camping stove, if you have one. You can do a camping stove as fancy as this one, but we used this one and it worked perfectly fine for our family of five.
Ideas of easy camping foods are fresh fruits, protein bars, chopped veggies, chopped meats, etc. Pre-chop all your food and place in plastic bags or containers before you head out. Once you get to camp, you can thread the veggies and meat on a metal skewer and cook over the camp fire. Think about foods that are easy to prepare and easy to eat.
Pack a lot of water. Some campgrounds have fresh, filtered water stations where you can fill up your reusable water bottles. This feature really comes in handy, especially when it comes to packing. Find out if the campsite you're going to offers this or not. If not, pack a lot of bottled water — more than you think you'll actually need. You don't want to run out of water.
Plastic tubs are your best friend. I love using large plastic tubs instead of bags because they are uniform in size and help with making sure everything fits in the vehicle. I was never good at playing Tetris, so having all squares or rectangles really comes in handy. Keep all your things organized by tubs and it makes camp life so much easier. Trust me.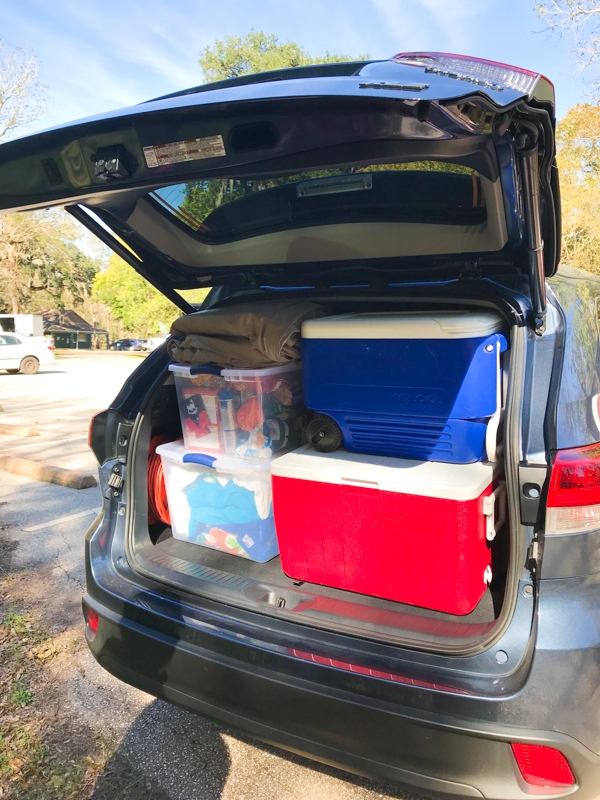 The 2017 Toyota Highlander XLE Hybrid was able to hold everything we needed plus had room for 5 people. We were all packed in nice and tight, but with the third row seating that we were able to fold down, we had all the room we needed for all our camping supplies.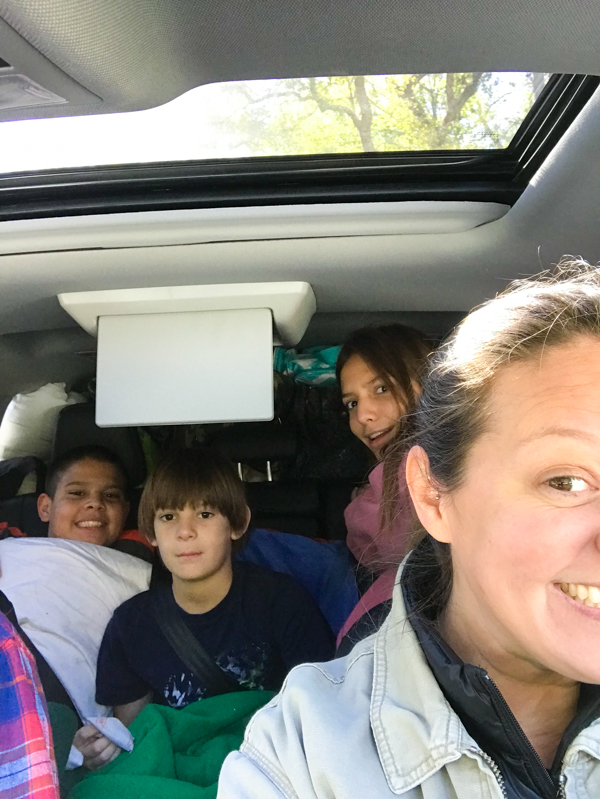 Before we started our drive back home, I snapped this picture of everyone and everything all packed up in the Toyota Highlander. You can see how packed we were in there but it was cold so it was a nice, cozy ride back home.
Pack more clothes than you think you'll need. You never know what's going to happen. Always bring more clothes than you think you'll need while camping. Before we went camping I didn't read any first time camping tips, but I'm so glad we brought extra clothes. Not only did they come in handy when the weather reached the 40's at night, they were useful when clothes got to dirty to continue wearing.
Don't forget the ear plugs. Even if you don't think you need them, pack ear plugs. There are some super scary sounds out there at night. Can I just say I never knew owls "screamed". I'm not sure if it's all owls, or just a certain type of owl, but the Park Ranger let us know the sound we kept hearing at night was an owl. You will also probably hear leaves rustling and it's really hard to distinguish if it's just the wind blowing the leaves or there is a critter outside your tent moving the leaves. You really don't want to hear all that if you're looking for a good nights rest.
Citronella essential oil or bug spray is a must. I'm sure you know this, but there are a lot of bugs out there, y'all. You will be absolutely miserable at camp if you don't have some type of bug spray or repellent. Using Citronella essential oil is a natural way to keep the bugs away from you and the campsite.
Leave the electronics at home. Don't be tempted to allow the kids to bring their electronics. If you think they will get bored, they will find something to do. I was incredibly impressed with my children. They explored and used their imaginations, they looked at the stars trying to find the different constellations, they drew and colored, etc. They never once told us that they were bored. Camping is a great way to detox from like — for real!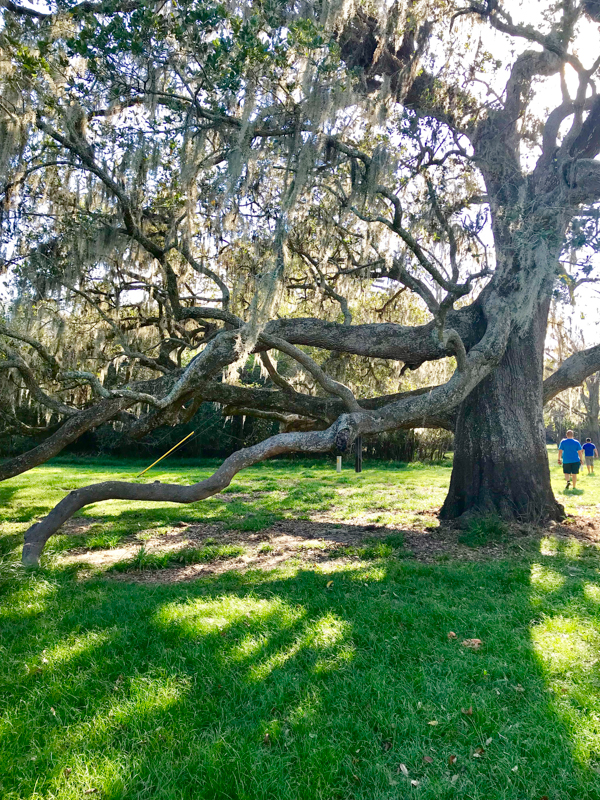 Lights, lights, lights. There are all kinds of portable camping lights. From solar lights to battery-operated lights, there is something for every budget. We personally used these solar camping lights and this battery-powered Coleman Quad LED lantern. The solar powered lights are great because they're cheap to buy plus you don't have the extra cost of batteries. It puts off a pretty bright light as well. The Coleman lantern is great because it actually breaks apart into four separate portable lights. You can use it as one large light or four smaller lights.
Arrive to your campsite early, if possible. Putting up a tent at night can be difficult, especially if it's your first time camping. We did arrive at our campsite after dark, but thankfully there was a Texas Outdoor Family Park Ranger who helped us set up one of our tents. You will need to be respectful of the campers around you and making a lot of noise after dark may not go over well with your neighbors.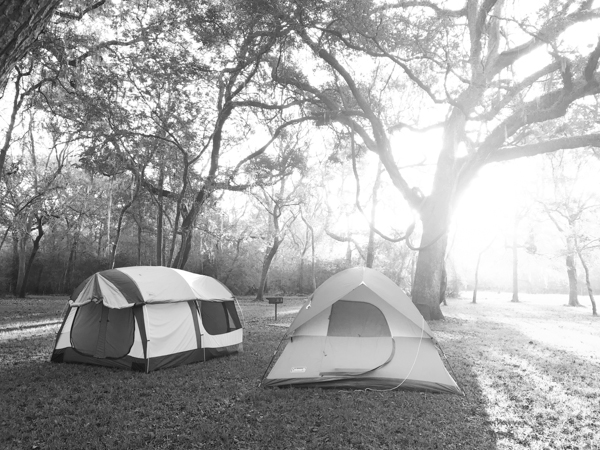 Bring a "footprint" to protect the floor of your tent. One of the Texas Outdoor Family Park Rangers told us about a "footprint". Basically it's a tarp or something similar that you place directly on the ground under the tent. It protects the tent floor from getting poked by something underneath it. If you want your tent to last, a footprint is a great way to ensure the floor stays poke and rip free for years to come.
Keep your tent zipped closed at all times. You may be tempted to leave the tent unzipped during the day — don't do it. Bugs will find their way inside of the tent and make sleeping nearly impossible. Bug bites are a nuisance you really don't want to deal with while you're camping.
Don't plan activities – keep it simple. Allow everyone to relax and enjoy the outdoors. Instead of planning activities, allow the kids to lead the charge. Ask them what they want to do. We hiked, went geocaching, fished, and more. But the key was to keep things low key and simple. We weren't rushing from one activity to the next.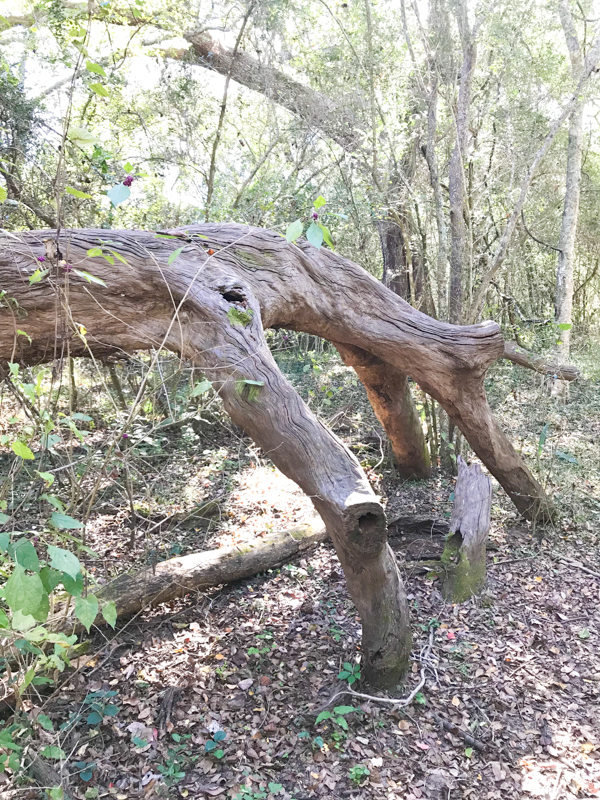 Bring board and card games. At night when the kids really can't play, it's nice to have something to do inside of the tent. Board games and card games are a great way to keep everyone entertained until bedtime.
Before you leave camp or go to sleep for the night, put all food items in your vehicle. All animals are looking for an easy meal. Don't leave yours out for the taking. One of the Park Rangers told us that possums and armadillos are smart little creatures and can actually open coolers and food bins. To keep your food safe, keep it in a locked vehicle with the windows rolled up. Never keep food items in the tent.
I definitely know I'm not at expert at camping quite yet, but after our first camping trip down in the books, I have a better idea of what is definitely needed and what's just taking up space. These first time camping tips are meant to help you while you're planning your first camping trip with your family.
The bottom line is this — enjoy this time with your family. Don't stress over all the details. Do what you can and allow things to fall into place after that.
Do you have anything to add to these first time camping tips?