This post is written by me on behalf of Tyson Foods, Inc. All opinions are entirely my own.
I love making recipes to celebrate holidays and occasions. I just think it adds something special to whatever we're celebrating. Since the holiday season is here, I thought this Sausage Rollup Christmas Tree was just perfect for our holiday festivities.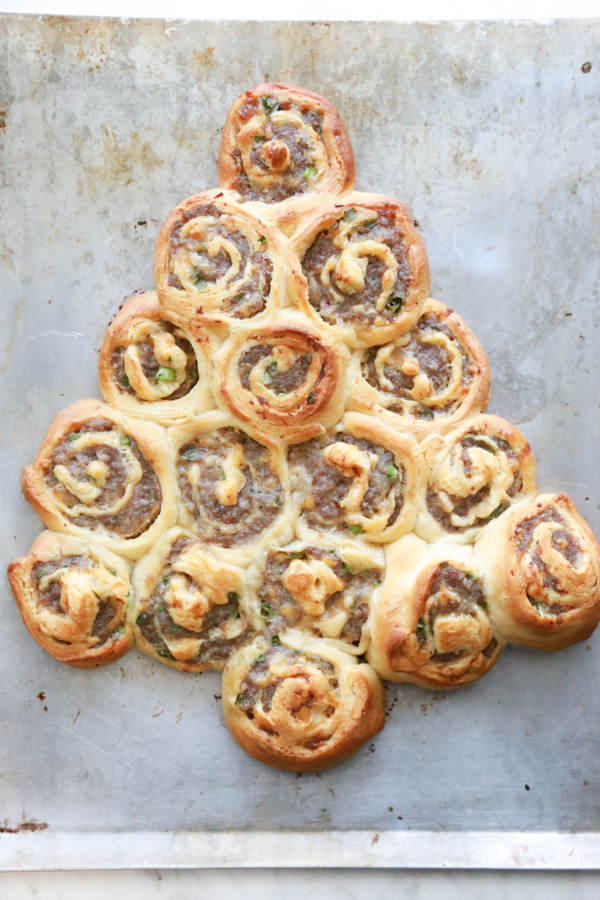 I tested them out several times with my kiddos and each time the consensus was that the recipe was a success! That makes my little mama heart happy, y'all.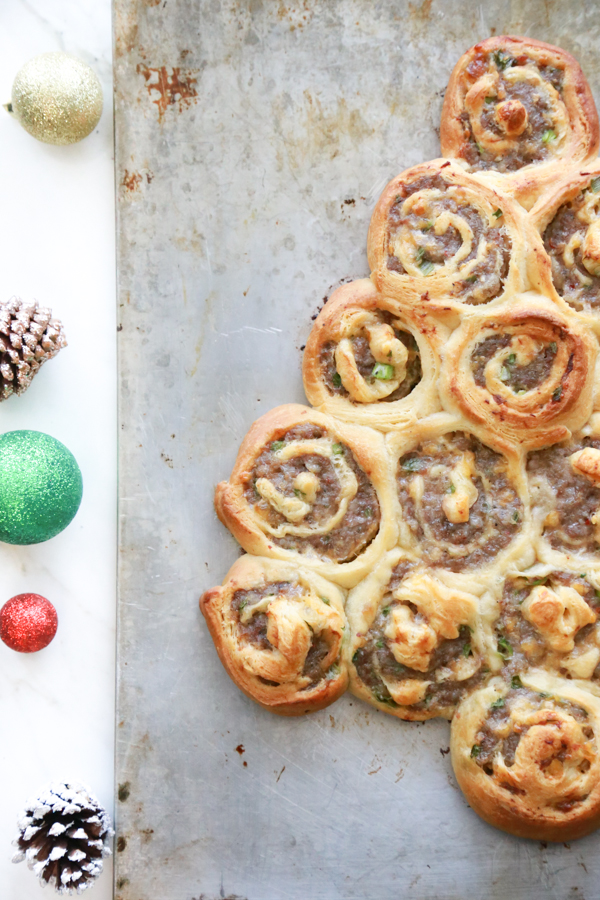 And the best part about this super easy holiday recipe is the kids can help out. It's such an easy recipe that the kids could probably do it all by themselves if they have experience in the kitchen. I had my 9-year-old rolling and cutting. It might have helped that he couldn't wait to eat it again, but, you know.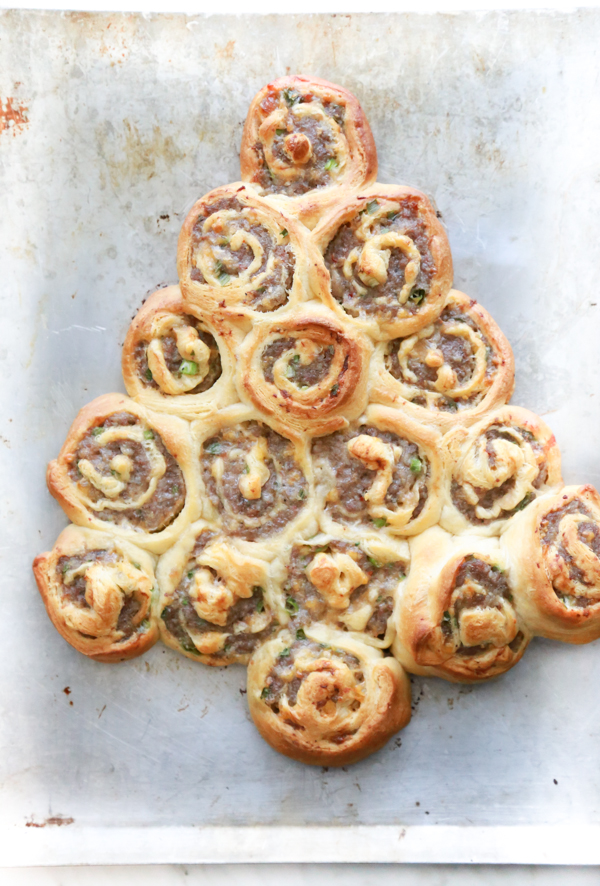 Ready to see how stinkin' easy this recipe is? Well, here ya go.
Sausage Rollup Christmas Tree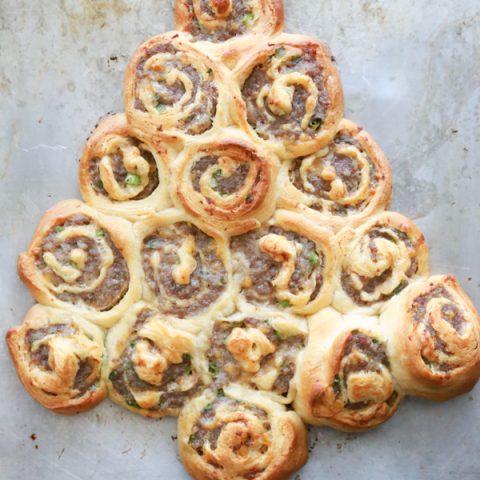 Sausage Rollup Christmas Tree
You only need 4 ingredients to make this super festive Sausage Rollup Christmas Tree to WOW all your holiday guests.
Ingredients
1 (16 ounce) package Jimmy Dean Premium Pork Sausage
2 green onions, thinly sliced
1/2 cup shredded Cheddar Cheese
2 (8 ounce) tubes refrigerated crescent sheets (if you can't find the sheets you can use crescent rolls)
Instructions
Preheat oven to 400° F. Spray a baking sheet with non-stick spray; set aside.
In a medium-sized bowl, combine sausage, green onions, and cheese; mix well. Unroll each tube of crescent sheets and lay out on a clean, flat surface. If you couldn't find the sheets and are using crescent rolls, press seams together to form a large rectangle for each tube.
Spread half of sausage mixture evenly over each rectangle. Starting with the shorter side, roll up, like a jelly-roll. Repeat with the other one.
Cut each one into 8 equal slices. Arrange them on the prepared baking sheet like a Christmas tree. Place 1 in the top row, 2 in the second row, 3 in the third row, 4 in the fourth row, 5 in the 5th row, and one on the bottom row.
Place in the oven and bake for about 15 minutes. Rotate pan 180° and continue baking for another 5-10 minutes or until sausage is no longer pink.
Serve immediately and enjoy.
Notes
If your mornings are hectic like mine, you can get this ready the night before. Keep it covered in the refrigerator until ready to bake. You may need to make for a couple more minutes when chilled first.
I told you this Sausage Rollup Christmas Tree was super easy to make!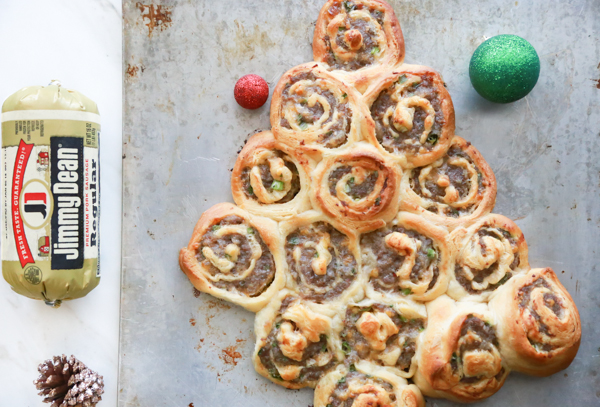 I know the holidays are busy and I don't want this Sausage Rollup Christmas Tree recipe to slow you down a bit. Because I used Jimmy Dean fresh sausage with a unique blend of savory seasonings, all you need is 4 simple ingredients that can be found at your local Albertsons Supermarket. For a store near you, check the store locator. Tyson® products are the key ingredient to recipes and recipe hacks that can be enjoyed any time of day during the busy holiday season.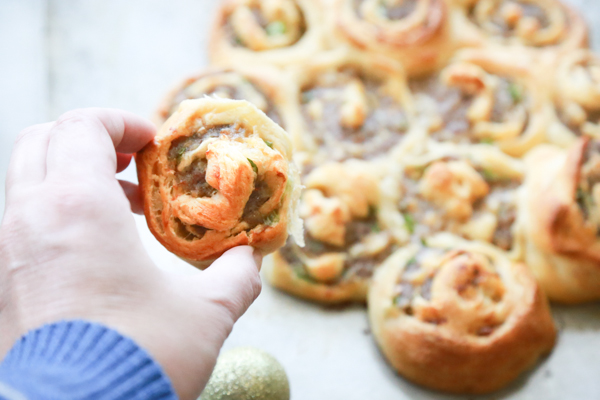 This Sausage Rollup Christmas Tree makes the perfect party recipe because it's one of those recipes that you can eat with your hands and not feel guilty about. As you and your guests are standing around mingling, it's easy to hold in your hand and enjoy.

You could always add more ingredients if you wanted, maybe some chopped red bell pepper for added color, but in the spirit of easy, simple, and quick, I opted for the least amount of ingredients I could while still making something delicious and festive. During the busy season, with so many obligations to fulfill and so many mouths to feed, I just want to remind you to slow down and enjoy each meal of the season.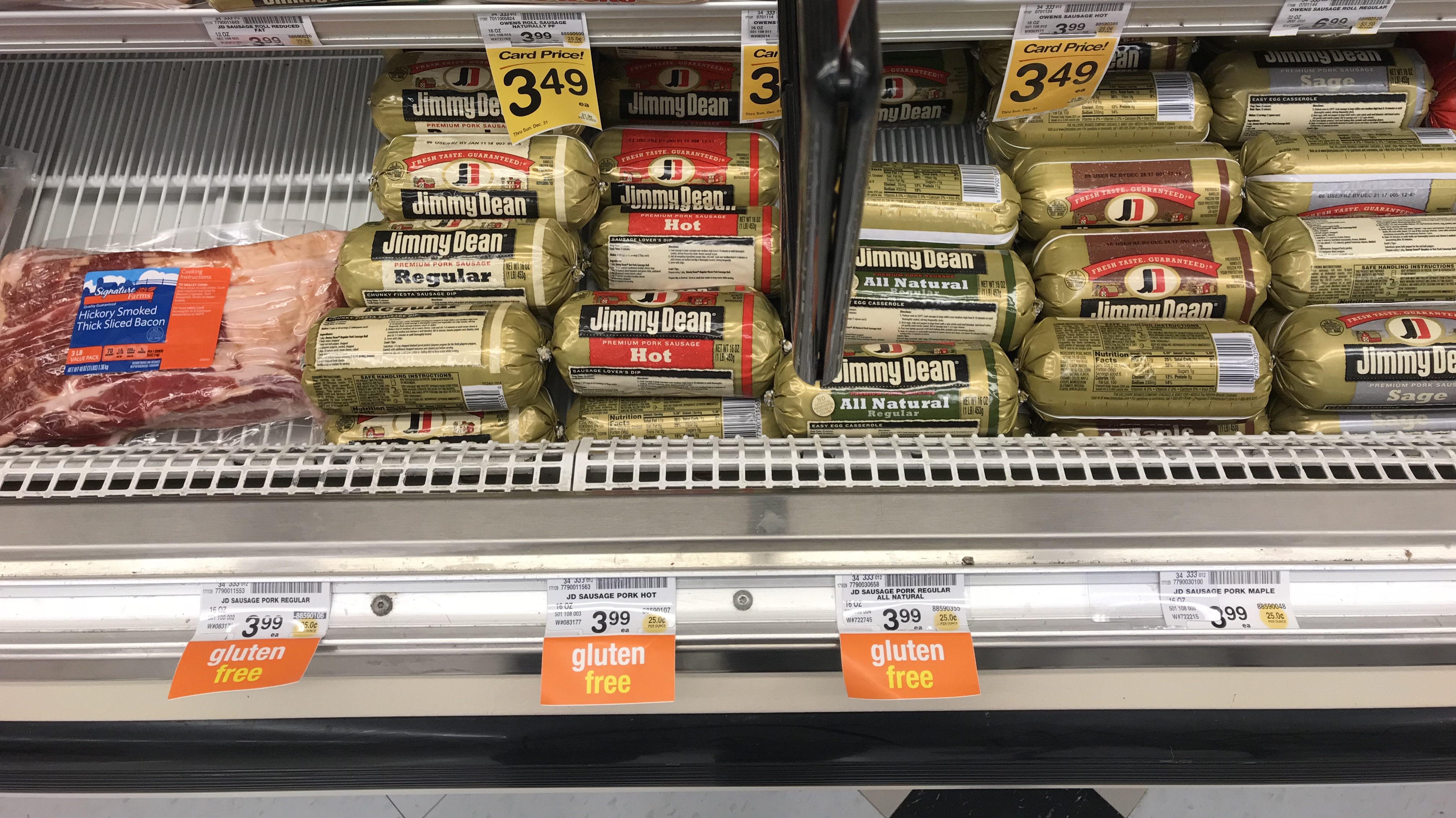 I was selected for this opportunity as a member of CLEVER and the content and opinions expressed here are all my own.