What is Amazon Prime Pantry? If you're an Amazon Prime member, Amazon Prime Pantry is a way for you to shop for groceries and household products and get them delivered right to your door.
If you're not already an Amazon Prime member, sign up for your FREE 30-day trial so that you can try Amazon Pantry!
What is Amazon Prime Pantry?
Prime Pantry offers a wide selection of products across all categories with exclusive savings such as weekly deals and coupons. There are thousands of items available, including snacks, breakfast foods, beverages, beauty and personal care items, and household products. You are able to purchase groceries and household items on the Amazon website or by using the free Amazon app.
Skip a trip to the grocery store and let Amazon Prime Pantry do the heavy lifting for you!
How Does Amazon Prime Pantry Work?
Amazon Prime Pantry has a standard $5.99 delivery fee for every Prime Pantry box ordered regardless of the weight of the box. Prime Pantry boxes vary in size and can hold up to 45 pounds. Your order will be packaged in an appropriate-sized box, based on the dimensions and weight of the items purchased. Depending on your order, the box could be as small as a shoe box or as large as a suitcase.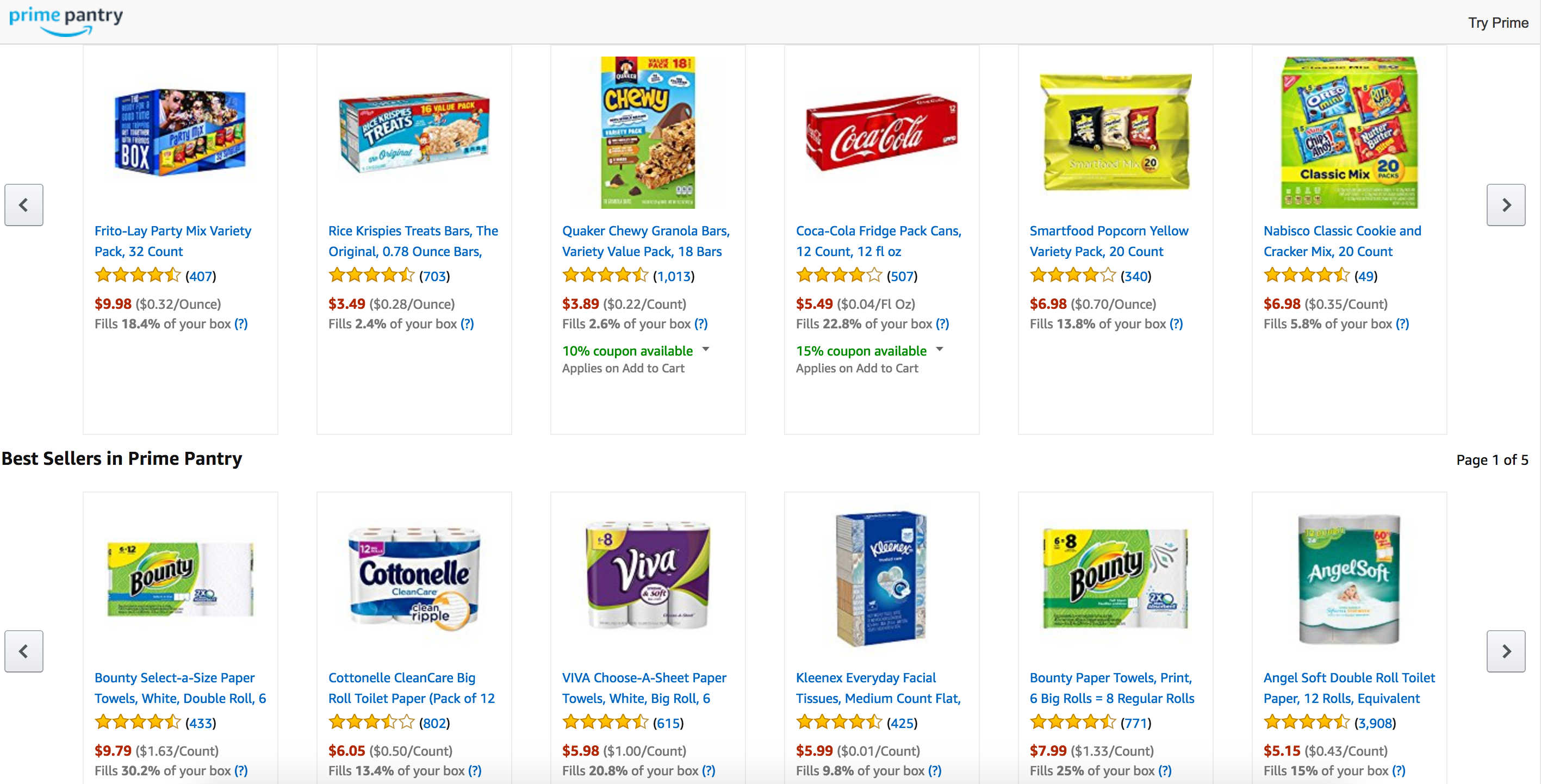 Remember, you must have an Amazon Prime account to participate in Amazon Prime Pantry! If you're not a member, you can sign up for a FREE 30-day trial!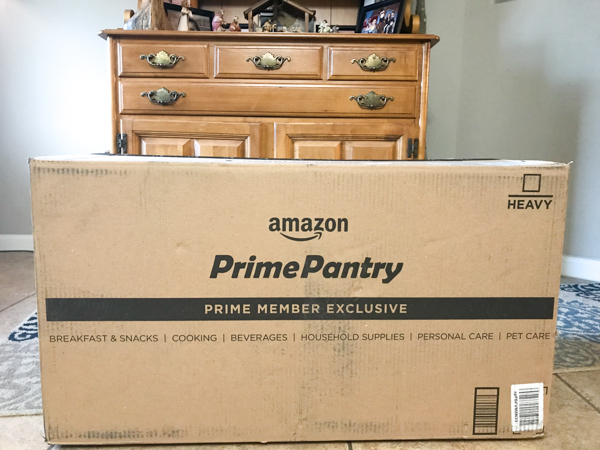 As you order items to place in your Amazon Prime Pantry box, everything is assigned a percentage. For example, while a 12-pack of soda weighs more than a six-pack of paper towels, they have the same percentage because the paper towels take up more space in the box. In addition to the amount of space each box offers, each box has a set weight limit.
It is not necessary to fill your Amazon Prime Pantry box completely to 100%. You can buy as little or as much as you like. But, I always try to fill the box completely since I have to pay the same shipping fee regardless of how big or small the box is. I feel like I get more bang for my buck that way.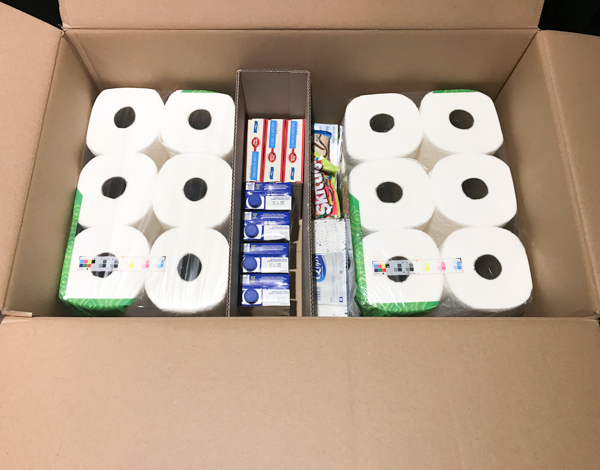 A Recent Amazon Prime Pantry Order
3 of Betty Crocker Brownie Mix Fudge Family Size 18.3 oz Box
Q-tips Cotton Swabs, 750 ct
2 of Swanson Broth, Vegetable, 32 Ounce
2 of Swanson Broth, 33% Less Sodium, Chicken, 32 Ounce
Reynolds Kitchens Parchment Paper (Premium, Non-Stick, 75 Square Foot Roll)
3 of DOVE Milk Chocolate Singles Size Candy Bar 1.44-Ounce Bar
3 of Skittles Sweets and Sours Candy Single Pack, 2 ounce
2 of Bounty Select-a-Size Paper Towels, White, Double Roll, 6 Count
My entire order with shipping included was $50.42 for 17 items. I was able to take advantage of some weekly deals in addition to some coupons. Per Amazon's terms of service I can't list the particular prices, but I feel the prices I paid were in line with what I would have paid at a grocery store. The difference being I didn't have to drive to the store, pick out my items, pack them in my car, and then unpack them when I got home. It's a much easier way to shop!
Will my Amazon Prime Pantry Order be Delivered in Two Days?
Due to the size and weight, Prime Pantry boxes are shipped via ground shipping. Orders may take between 1-4 business days to arrive. In my experience, two days does seem to be the standard, although it's not guaranteed.

Please note: if you have other non-Pantry items in your shopping cart, they will not be shipped with your Amazon Prime Pantry order. Those items will be shipped in a different box.
I love the ease of shopping using Amazon Prime Pantry! I also love using Amazon's Subscribe & Save feature for items I need on a continual basis. By using a combination of the two I can do most of my shopping from the comfort of my home in my pajamas! That's they way I like to shop, y'all!
Do you use Amazon Prime Pantry?