'Tis the season for the sniffles, sneezes, and Chicken Noodle Soup. Add these Easy Homemade Croutons to your cup of soup for extraordinary flavor and crunch.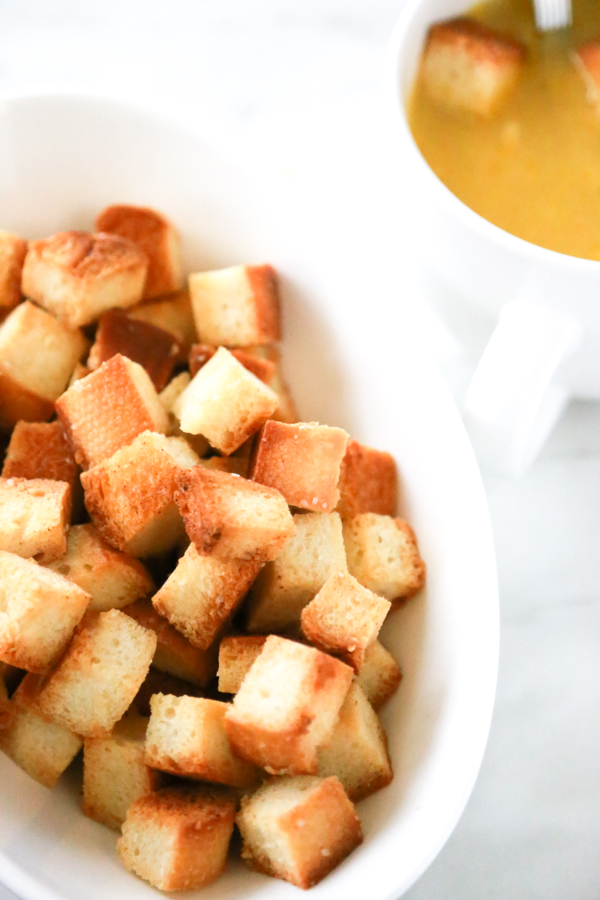 This shop has been compensated by Collective Bias, Inc., Campbell's® , Lipton, Premium Crackers, Theraflu and TYLENOL®. All opinions are mine alone. #SickDaySolutions #CollectiveBias
I know for me and my family, nothing warms us up better than a hot bowl of soup. When we're feeling under the weather, soup is warming to the soul and begins to comfort from the inside out. And when we're not feeling well, that's exactly what we need – to feel comforted.
Adding some Easy Homemade Croutons to a bowl of soup adds just the right amount of crunch and flavor to an already perfect bowl of soup.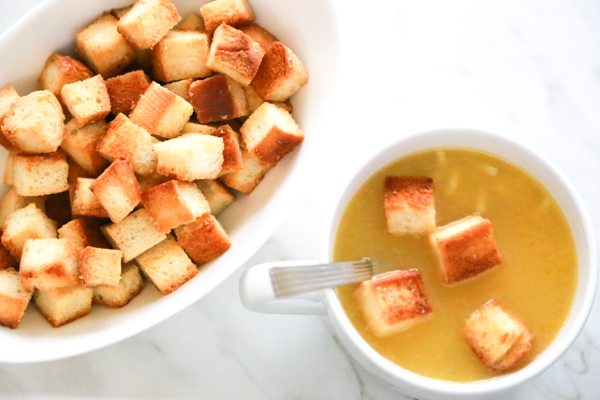 Don't believe me? Go ahead and make some yourself – they're incredibly easy, y'all.
I love, love, love that these croutons are so easy to make. They're so easy to make that you'll save time making them at home rather than running to the store to pick some up. And with just 4 simple ingredients, I think once you try these Easy Homemade Croutons, it will be hard to go back to the store bought variety.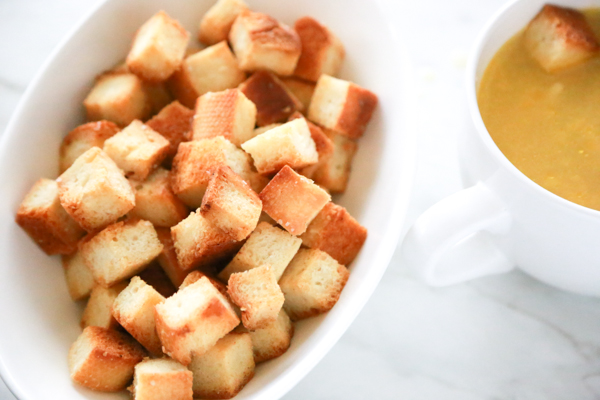 How to Make Homemade Croutons
Scroll down to the bottom for a free printable recipe card.
To make these Easy Homemade Croutons, all you need is a stale baguette, olive oil, salt, and granulated garlic. Tip: check your grocer's overbaked sale rack to save some dough 🙂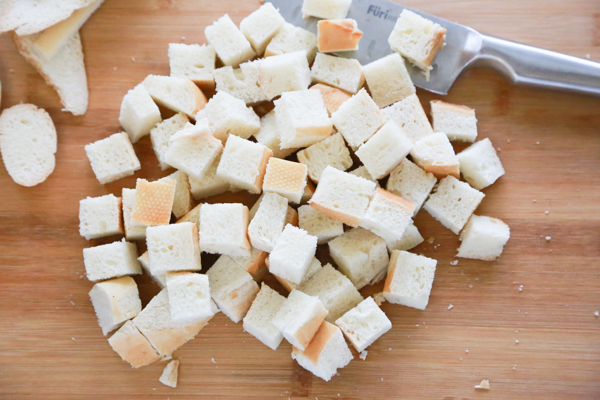 Cut the stale baguette into even-sized cubes. One small baguette should yield about 4 cups.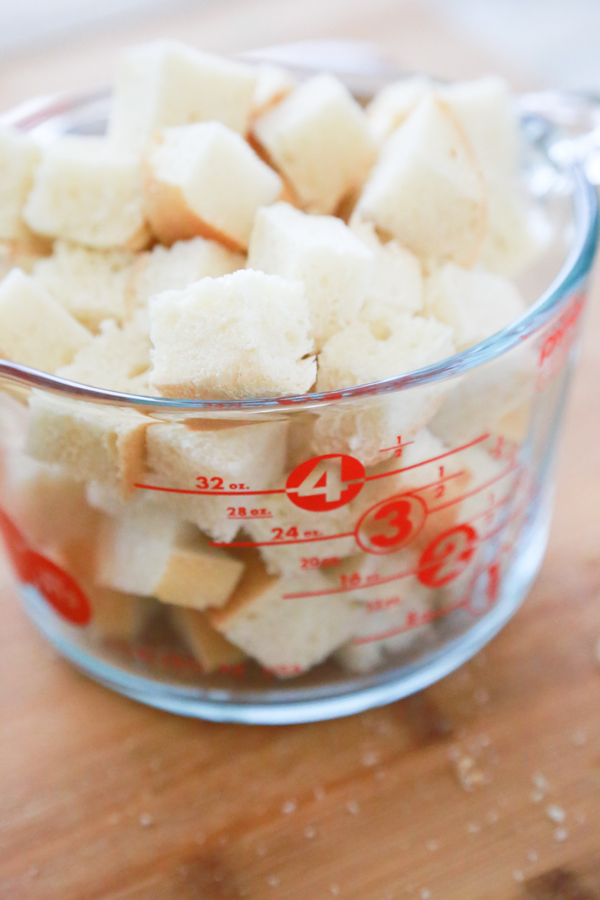 Coat with olive oil, salt, and granulated garlic.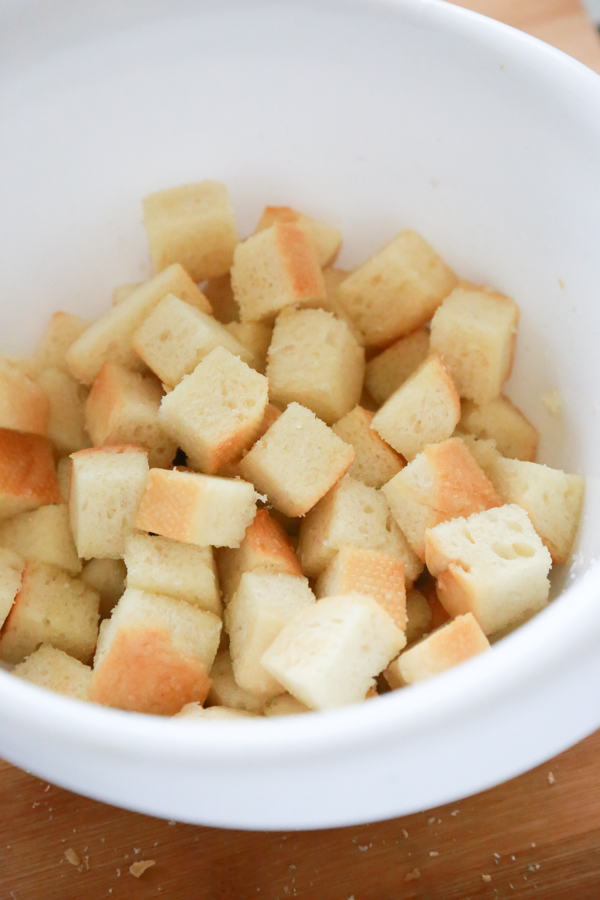 Arrange on baking sheet and bake until golden and crisp.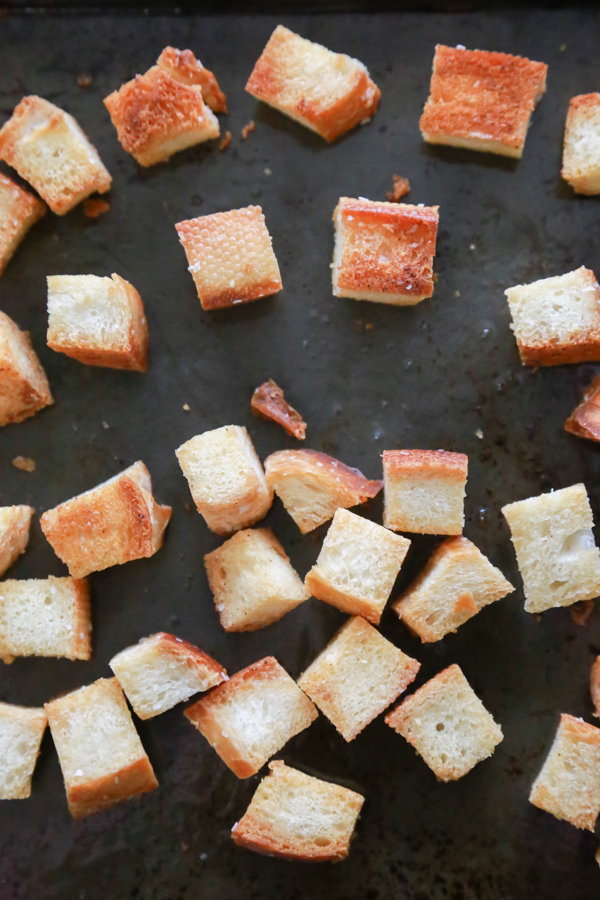 Toss a few in a hot bowl of soup or salad and enjoy!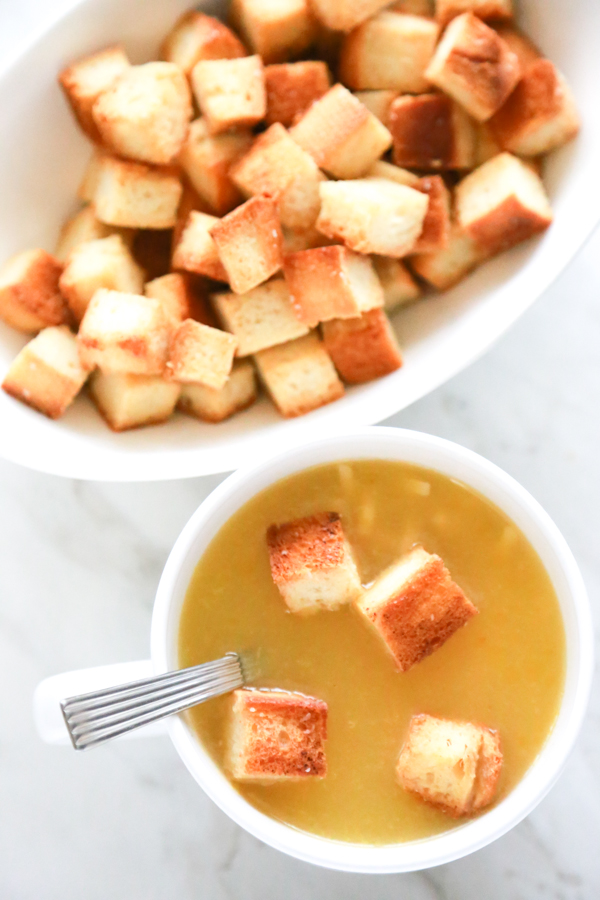 You won't be sorry for making these Easy Homemade Croutons!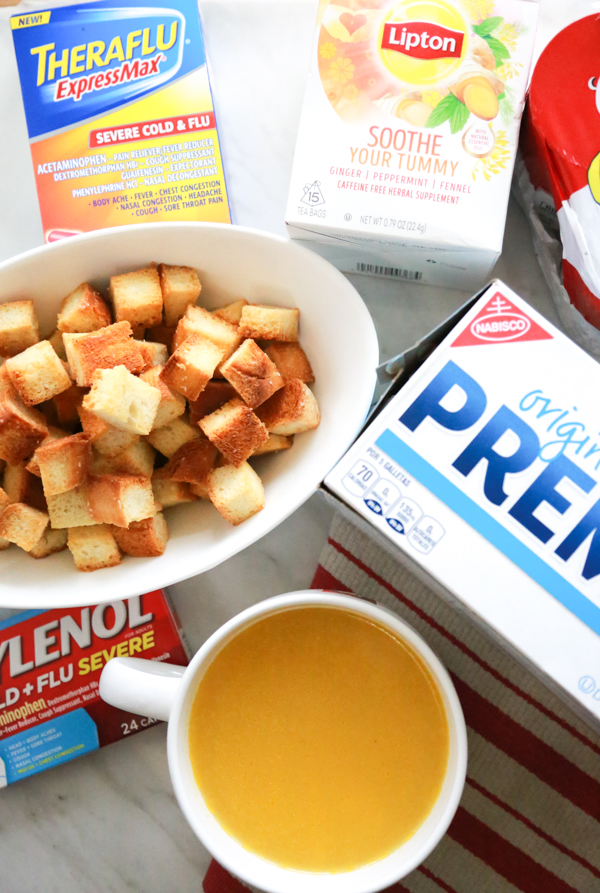 Easy Homemade Croutons Recipe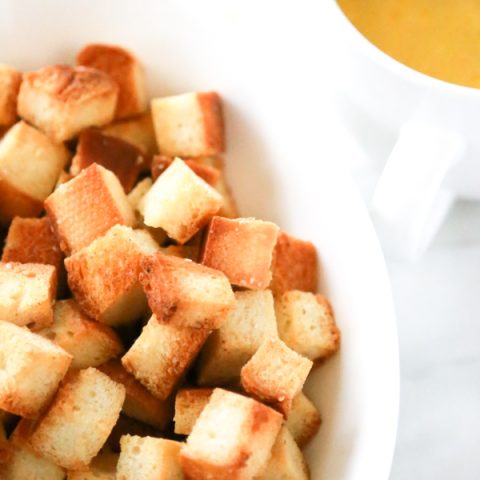 Easy Homemade Croutons
Just 4 ingredients is all you need to make these Easy Homemade Croutons.
Ingredients
4 cups cubed baguette
1/4 cup extra virgin olive oil
1/4 teaspoon sea salt
1/4 teaspoon granulated garlic
Instructions
Preheat the oven to 375° F.
In a large bowl combine bread, salt, and granulated garlic. Slowly pour olive oil over cubed bread while stirring. Continue to stir until the bread is coated evenly and the olive oil is absorbed.
Put the coated cubed bread on a baking sheet in an even layer. Bake for 10-15 minutes, or until golden brown.
Remove from oven and serve over soup or salad. If there are any extras, store in an airtight container.
Notes
The bake time will vary depending on the staleness of the bread. If the bread is fresh, the bake time will increase. If the bread is stale, the bake time will decrease.
Nutrition Information:
Yield:

8
Serving Size:

1/2 cup
Amount Per Serving:
Calories:

118
Total Fat:

7g
Saturated Fat:

1g
Trans Fat:

0g
Unsaturated Fat:

6g
Cholesterol:

0mg
Sodium:

194mg
Carbohydrates:

11g
Fiber:

0g
Sugar:

1g
Protein:

2g
Germ Season is in full swing and is hitting all of us really hard this year. Fight back with the perfect sick kit from Kroger and stock up on Campbell's®, Lipton, Premium Crackers, Theraflu and TYLENOL® brands for all of your emergency cough, cold and flu needs! Go ahead and click here for some savings!
The perfect sick kit should include a variety of products to comfort, soothe, and help heal. Items can include:
Campbell's® Chicken Noodle soups to comfort and warm
Lipton Soothe Your Tummy Herbal Supplement herbal supplements to soothe and support
Premium Crackers to help soothe upset stomach, it's also the perfect accompaniment to soup
Theraflu ExpressMax Severe Cold & Flu when you need a powerful relief without a prescription
TYLENOL® Cold and Flu Severe to stop the painful coughing, congestion, and sore throat
It's important to always have a perfect sick kit on hand at home, but what a great way to show you care by providing one to a loved one who is sick!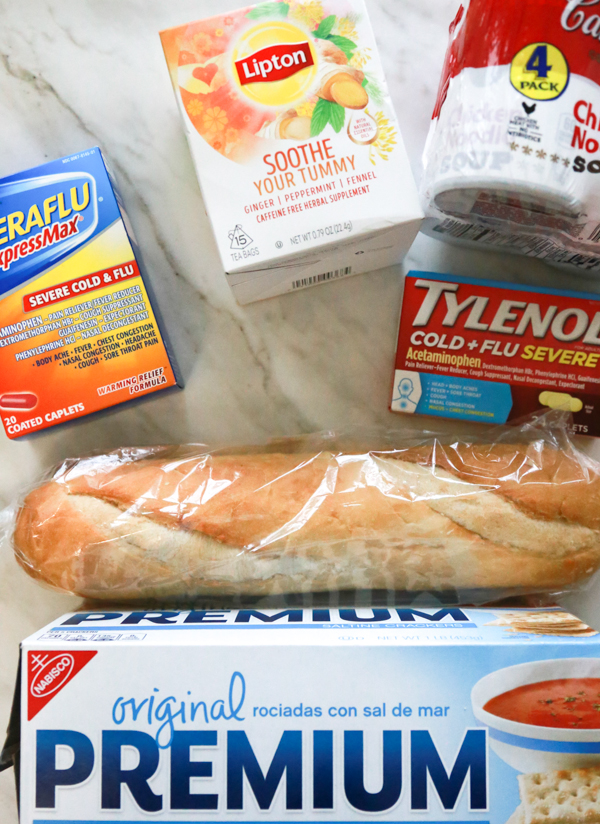 Don't forget to pin this recipe to one of your Pinterest boards! If you decide to try these, I'd love to see your photos. Connect with me on Twitter, Facebook, Pinterest, Instagram, and Snapchat and share!

Stock up and be ready with a perfect sick kit from Kroger!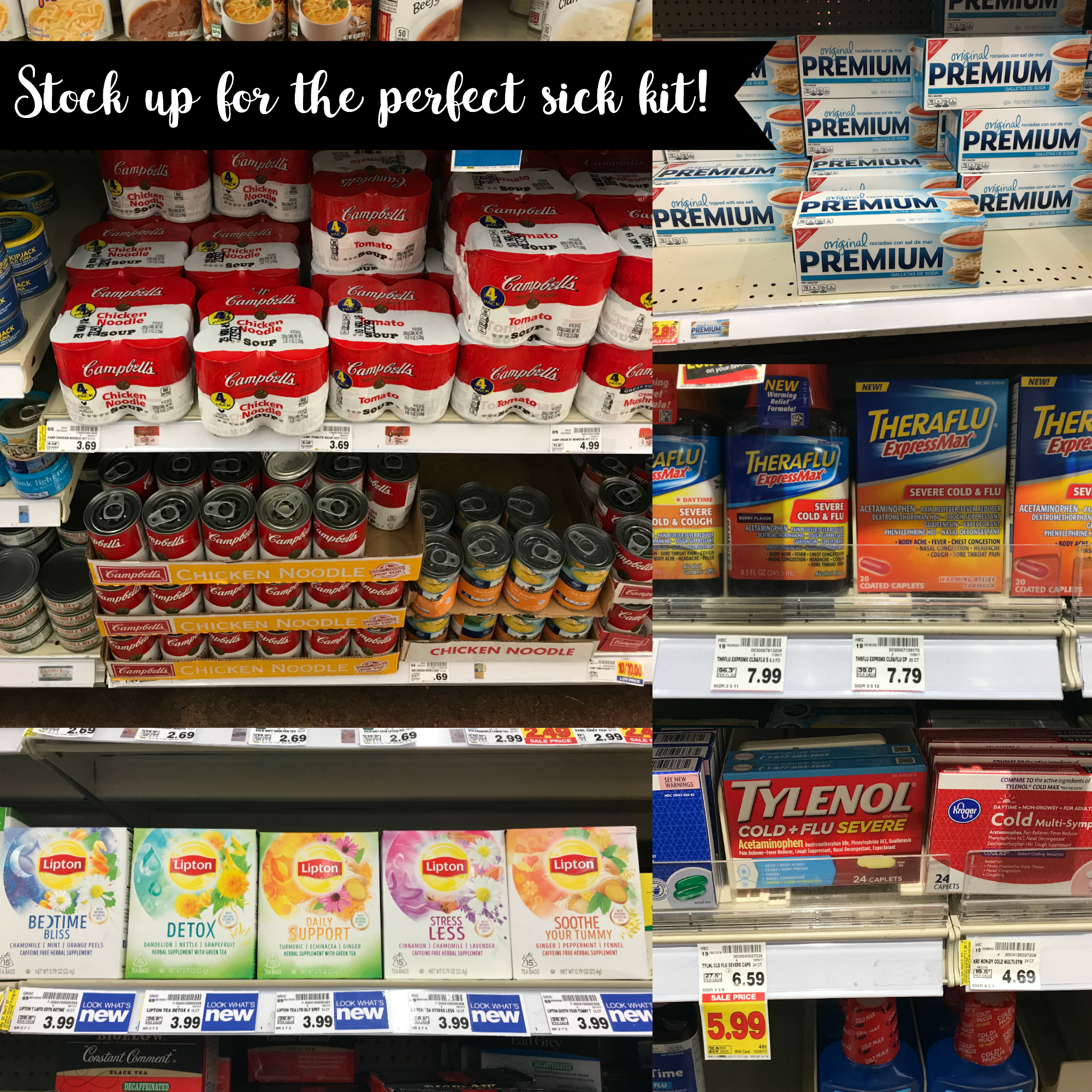 Campbell's® – © 2018 CSC LP Lipton – © 2018 Unilever Theraflu – Read and follow label directions. Theraflu is for use in adults 12 years and older. Use products only as directed. TYLENOL® – ® Johnson & Johnson Consumer Inc. 2017. Use products only as directed. The makers of TYLENOL® remind you to use only one medicine with acetaminophen at a time.