Not all baby monitors are created equally. See why I'm loving the new Panasonic Long-Range Baby Monitor.
I received the brand new Panasonic Long-Range Baby Monitor free of charge. Panasonic is the sponsor of this post.
I admit that it has been several years since I've needed a baby monitor. To say I'm a little behind the times in this area is probably very accurate. My "baby" is almost 10 years old so it has been quite a while since there has been a baby monitor in my house.
But soon I'll have my two little twin nephews here during the week so I've been a busy little Aunt researching and submerging myself into all things baby again.
Y'all, I'm blown away with technology. There have been so many improvements in such a short time span and I'm absolutely loving it.
Panasonic Long-Range Baby Monitor Review
I recently received the brand new Panasonic Long-Range Baby Monitor, model number KX-HN3001W, and the features of this long-range baby monitor are simply incredible. Although my twin nephews aren't here yet, I've been using it around the house with my children and pets to learn more about its features.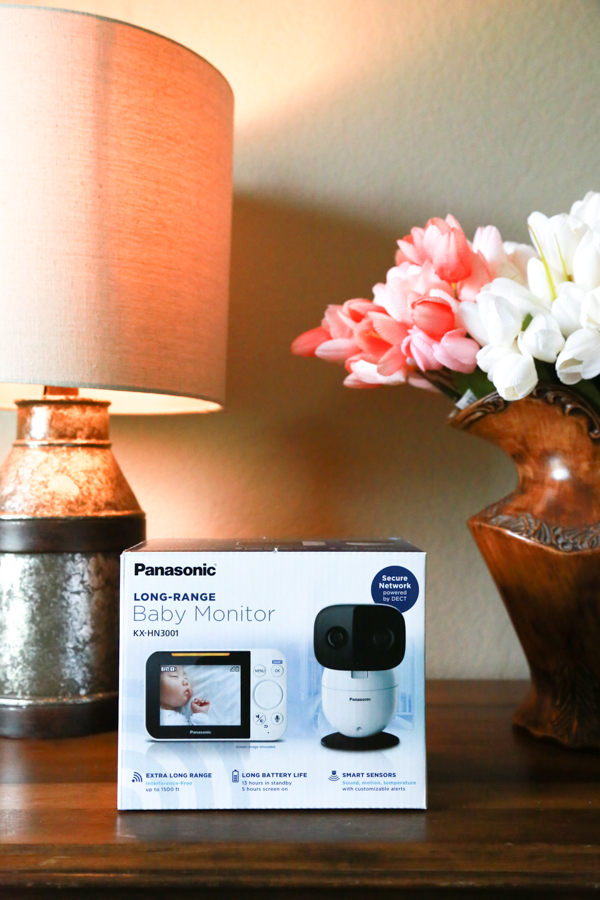 And there are a lot of them. The Panasonic Long-Range Baby Monitor is feature-rich and a huge improvement to the baby monitors that I remember.
The box includes the following: AC adapter for the camera unit, AC adapter for the monitor unit, wall mounting adapter for the camera unit, and a rechargeable battery for the monitor unit.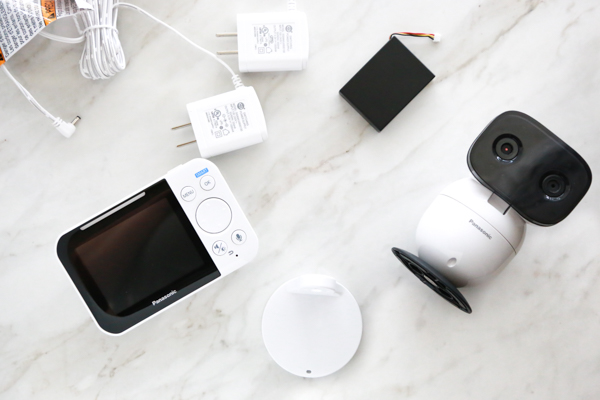 The Panasonic Long-Range Baby Monitor can be used right out of the box, after using a small Phillips-head screwdriver to remove the battery cover and connecting the battery inside the monitor. It's super easy. In fact, it took me longer to find a Phillips-head screwdriver than it did for me to connect the battery.
Go figure!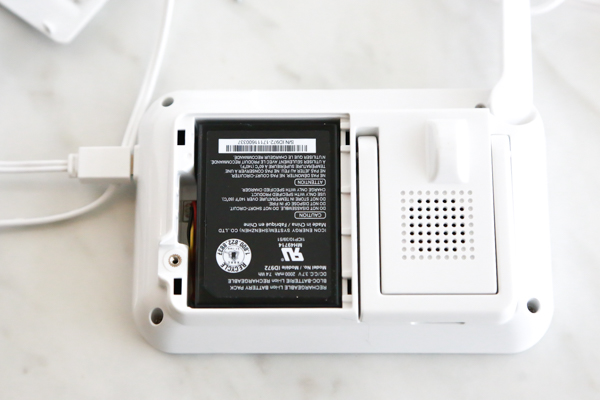 Note: make sure you look for the black and red writing inside of the battery compartment to see the proper way to connect the battery.
Once you've installed the battery, you'll be able to setup the monitor with your language preference. After you've selected your language preference, the Panasonic Long-Range Baby Monitor is ready for use.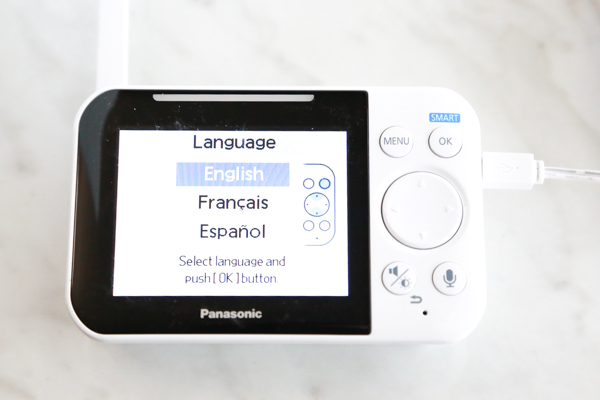 Panasonic Long-Range Baby Monitor in Use
I wanted to give you a visual of what the Panasonic Long-Range Baby Monitor looks like when it's in use. Please note that the photos shown are not a great indicator of the true image quality of the monitor screen. It looks MUCH better in person than it does in these photos. For some reason my camera just couldn't capture the quality to my standards, but I wanted you to see all the notifications and alerts that show up on the monitor screen.
(Please excuse my messy office and dog.)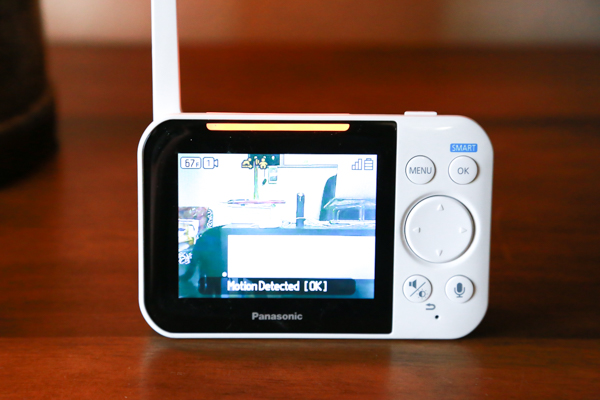 I know that the notifications are a little hard to see in the photo, but if you look at the top of the screen, you can see several notifications. All the way to the left is the temperature in the room where the camera is located. The camera has a temperature sensor built into it and will notify you via the monitor when the temperature has exceeded the range in the temperature setting. These settings can easily be adjusted.
Next to the temperature notification is the camera unit number. This is really only useful when you have more than one camera.
Towards the middle of the screen there is a notification that looks like a baby is crawling. This is the notification that pops up when movement is detected. Any time that movement is detected, this notification will appear.
Right next to that notification is the sound detected notification. Any time that sound is detected, this notification will appear.
To the right of the screen there is the range status indicator and battery level indicator.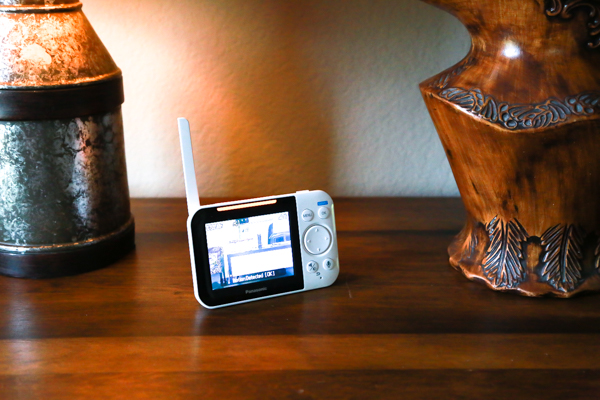 Panasonic Long-Range Baby Monitor Features
The Panasonic Long-Range Baby Monitor (KX-HN3001W) is the NEW and easy to use baby monitor that is the first video baby monitor to use DECT technology, providing an independent closed network for up to 1500 feet of secure, interference-free range. Aside from the extra-long range, other features include long battery life, clear night mode, pan/tilt/zoom, 2-way talk, noise reduction, lullaby and white noise and sensors + alerts for motion and room temperature.
Experience Extra-Long Range: The Panasonic Long-Range Baby Monitor is powered by Digital Enhanced Cordless Telecommunications (DECT) technology, which extends the range up to 2x farther than comparable monitors, with interference free up to 1,500 feet (more than 4 football fields!). That means that you can have more freedom than ever. Want to work in the garden while the baby naps? Do it and still have eyes and ears on baby!
Enjoy a Longer Battery Life: With the long-lasting battery that's included, you'll have the confidence to get on with household activities while your baby enjoys napping. You can use the A/C power adapter or the rechargeable battery to power the monitor without worrying about the battery going dead. The battery life is 13 hours in standby mode (audio on) or 5 hours of continuous operation – that's pretty impressive.
See Clearly at Night: Peeking in on baby has never been easier. With clear night vision you can easily see details, even in a pitch black environment. Always know what is going on in baby's room without even opening the door.
Get Peace of Mind with Wide Eye View: All of your baby's movements can be captured remotely from the monitor unit with the pan, tilt and zoom functions. Talk about peace of mind. If your baby moves, the camera moves, allowing you to always have eyes on baby.
Talk to Your Baby Anytime: The Panasonic Long-Range Baby Monitor is equipped with a microphone and speaker for 2-way communication. You can talk to your baby through the monitor by pressing and holding the "TALK" button. You can always stay in touch with baby, making both of you feel more confident when you're in different rooms.
Clear Sound Makes it Easy to Hear What's Going On: The Panasonic Long-Range Baby Monitor camera minimizes background noise giving you a clear sound. Babbling, gurgling, crying or just softly breathing – you can always hear whatever sounds your baby makes.
Customizable Smart Sensors + Alerts Function: The Panasonic Long-Range Baby Monitor includes smart sensors and alerts that let you choose what's right for you and your baby, detecting any changes of conditions in your baby's room. Motion, temperature and sound sensors are incorporated, with automatic notifications whenever action is required. A chime will sound to notify you, an LED will light and a notification will appear on the monitor screen.
Lullaby and White Noise: Gentle, soothing sound helps calm your baby for deeper, more restful sleep. The built-in sound generator creates a natural listening experience that relaxes babies, lulling them into a deeper and more restful sleep. The monitor has 5 types of white noise sound, in addition to lullabies.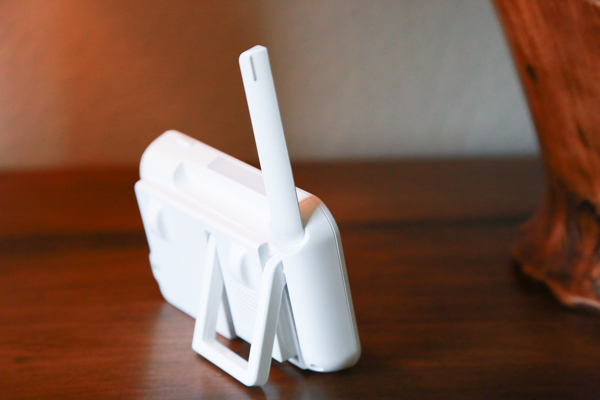 The monitor is relatively small in size and measures about 5″ wide and 3″ tall, without the antenna extended. The monitor screen measures about 3″ wide and 2″ tall. I love that it isn't bulky and is designed so that it fits in without sticking out like a sore thumb.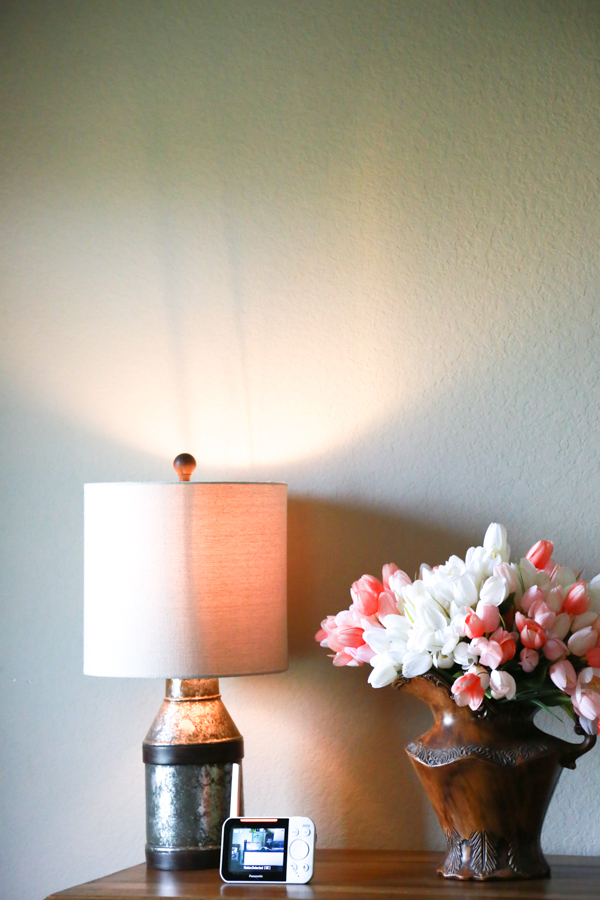 Panasonic Long-Range Baby Monitor Pricing + Availability
The Panasonic Long-Range Baby Monitor is currently available at Amazon.com and Panasonic.com/baby with a MSRP of $149.95. To save $10, use code LX7BKQR5ZQPC at checkout when ordering from Panasonic.
For more information visit Panasonic on Instagram, Twitter or Facebook.