This shop has been compensated by Collective Bias, Inc. and its advertiser. All opinions are mine alone. #LoveTheseCleanPaws #CollectiveBias
Having trouble with litter box odor? Follow these simple steps for how to keep the house from smelling like a litter box.
We never intended to be cat parents. In fact, my middle child had been begging for a kitten for months. We told him that it just wasn't possible since we already have 2 large dogs in the house.
But I guess the universe had other plans when it placed a small, helpless kitten in a tree in our neighborhood.
It was a normal Sunday afternoon and the kids were playing outside with their hover boards when they noticed a little meow coming from a tree. Like curious children they found the kitten in the tree but too far up for them to reach. My middle son rushed home, got a ladder, and save the kitten from the tree.
I was so proud of my son for being resourceful, determined, and thoughtful, but I knew that if we didn't find this kitten's owners, we were going to be stuck with her.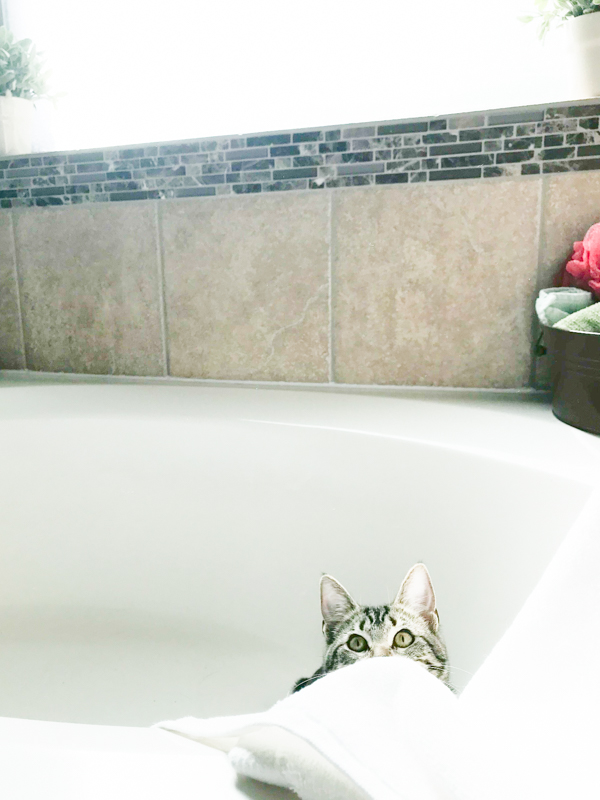 We placed notices on our Facebook neighborhood page and on a neighborhood app, but no one came forward. So here we are 4 months later learning how to be good cat parents. It's been a lot of trial and error and a lot of experimenting, but we've figured out how to keep the house from smelling like a litter box.
How to keep the house from smelling like a litter box isn't really all that difficult. With a few easy to follow steps, reclaim your house and keep it smelling clean, no matter how many cats you have.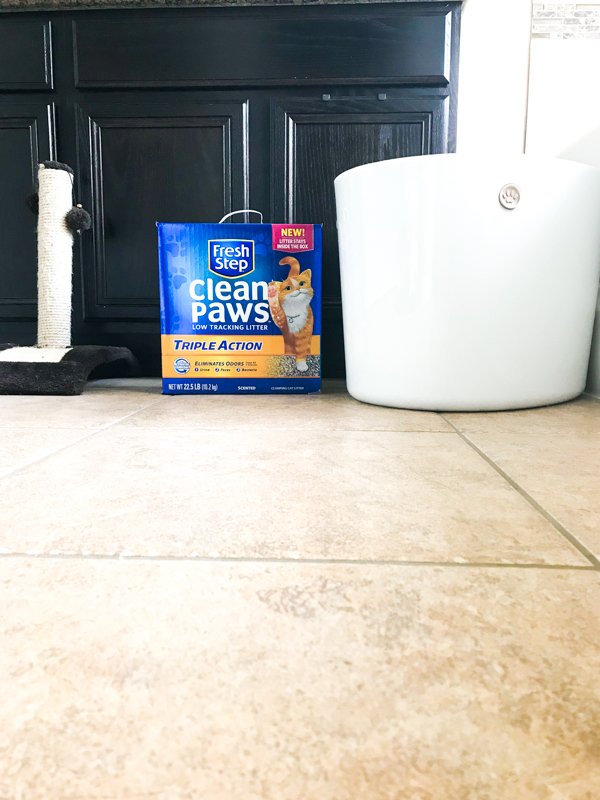 Hover over the above image to begin shopping for everything you need to keep the house from smelling like a litter box!
How to Keep the House from Smelling Like a Litter Box
Empty out soiled litter at least once a day. It's important that you keep the litter box clean. Not only for the smell factor, but cats like a clean litter box. If you don't keep it clean, they might find somewhere else to go. Make sure to remove any soiled litter at least once per day to keep your cat happy and the smells away.
Use scented waste bags and tie before putting them in the trash. We learned early on that cats can stink up a room really quickly. At first we were just scooping the waste into a plastic store bag and tossing it into the garbage. That's not the way to do it. Use a small scented pet waste bag, scoop the waste into the bag, tie it securely and then place it in the garbage. It makes such a huge difference.
Try a new litter. If you've tried the first 2 tips and aren't having any success in keeping the house from smelling like a litter box, try a new litter. If you have one cat like we do, try Fresh Step Clean Paws™ Triple Action Scented Litter. If you have multiple cats, try Fresh Step Clean Paws™ Multi-Cat Scented Litter with the power of Febreze™. Fresh Step Clean Paws has high quality clay that encases liquid to form such tight clumps that virtually no stinky crumbles are left behind after scooping. Plus, it eliminates odors from all 3 sources: blocks urine odors, eliminates fecal odors and stops odors from bacteria. The special blend of larger particles is designed so that it sticks less to your cat's fur and stays in the box making for a cleaner home for all.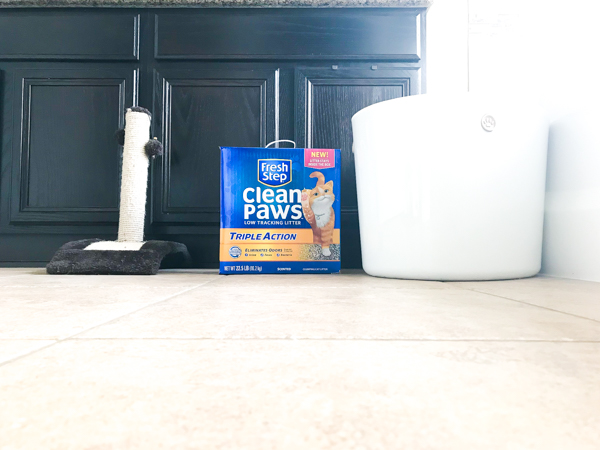 Replace the litter and the litter box regularly. In addition to scooping the litter box every single day, you'll also need to completely change the litter once a month. This means dumping everything that is in the box and putting fresh litter in. While changing the litter, it's best if you also scrub the litter box out with soap and warm water. Make sure to dry completely before adding in new litter. If the litter box stinks, it's time to replace it.
Keep the litter box in a well ventilated area. We have our litter box in our master bathroom for right now. It's not the ideal place for it but it allows us to keep the kitten close and make sure she's not getting into things she's not supposed to. Ideally, I would love to have my master bathroom back all to myself, but for now it works for us. Putting the litter box in a small area will allow the odors to concentrate and spread to other areas of the house.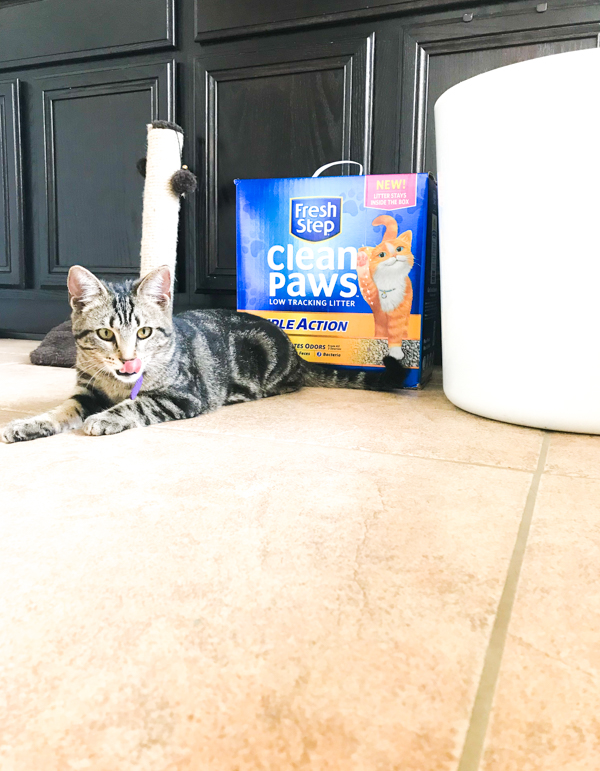 Use an air freshener. I make my own air fresheners using essential oils. I make sprays, I use them in my diffusers, and I use them in wax warmers to make sure my home always smells nice and clean. If you don't use essential oils, using a plug-in air freshener works too.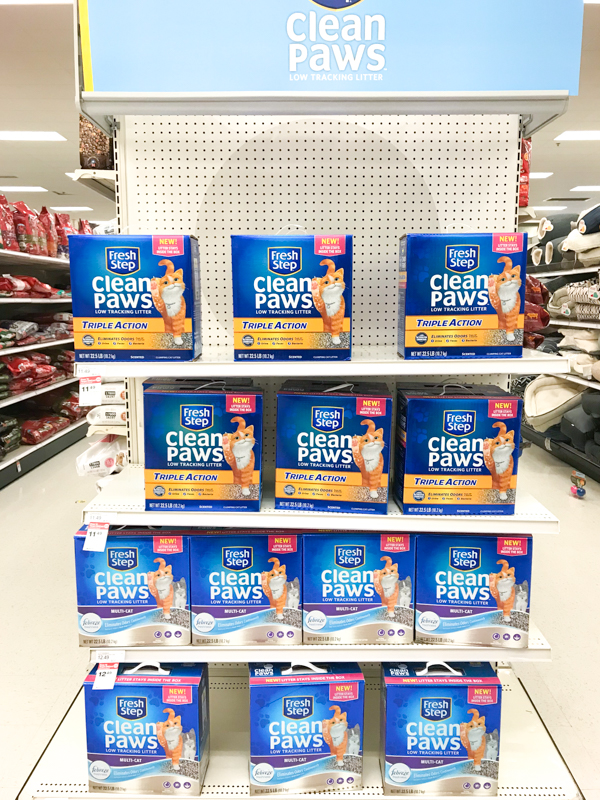 One of my biggest fears of owning a cat was that my house would smell like a litter box. These simple tips that we follow faithfully keep the house from smelling like a litter box. If you were to walk into my home, you would even know we own a cat. Unless, of course, she decides to jump out and scare you.
Finding which litter works for you and your cat is important. Next time you're at Target, check out Fresh Step Clean Paws and take advantage of the special Cartwheel offer that is good from 4/1/18 – 4/8/18.
Don't forget to pin this to your pet board on Pinterest.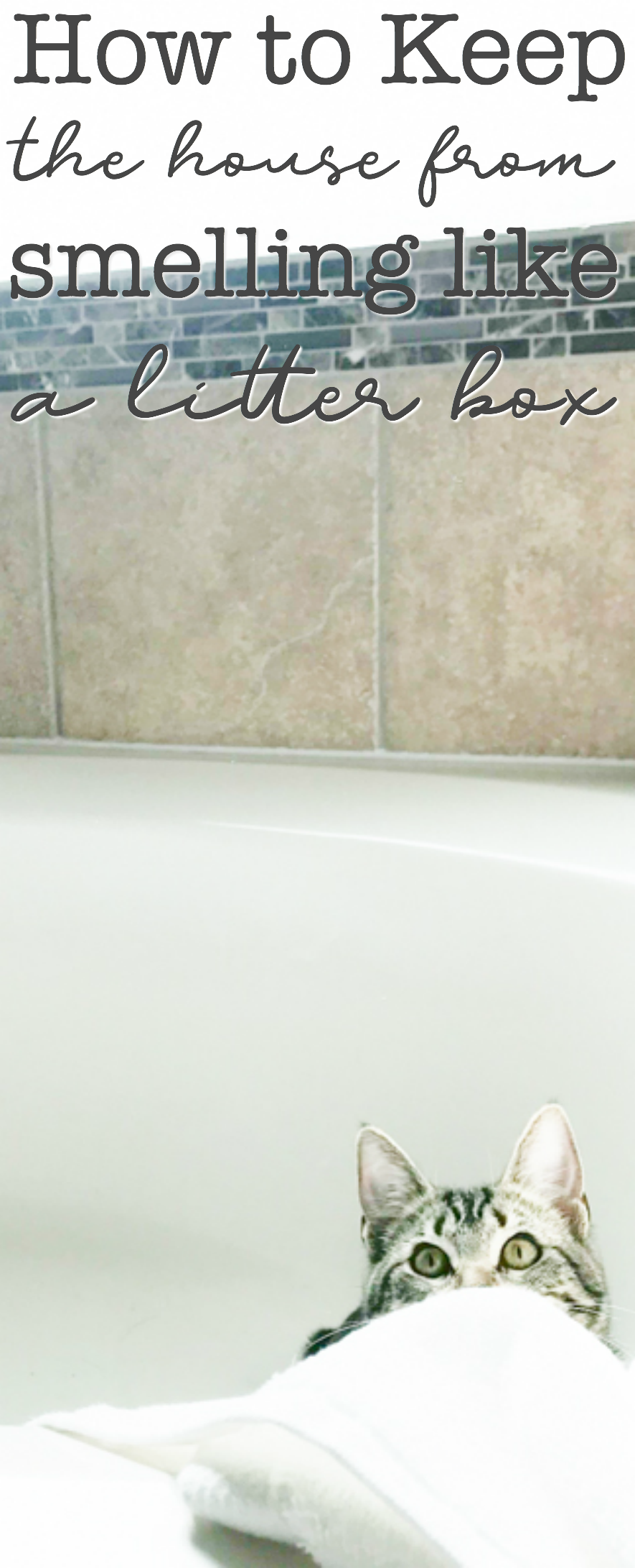 © 2018 The Clorox Company