This post is sponsored by Mirum. As always, all thoughts and opinions are my own.
If you're lips are in need of a little tender loving care, this DIY Lemon Lip Scrub is perfect for you.
I'm having a really hard time wrapping my head around the fact that Mother's Day is literally just days away. I'm not griping or anything (I mean, it is a day to celebrate me and all), but oh my gosh, one-third of the year – done.
My husband and kids ask me every year what I want for Mother's Day and my response is always something that has to do with a little bit of pampering. My life is always so crazy busy that being able to pamper myself, even for just a few minutes in the shower, is worth more than any jewels or flowers.
That may change once the kids get out of the house, but for now that's the way it is.
DIY Lemon Lip Scrub
I've been making my own exfoliating scrubs lately and I noticed that my lips were looking a bit, well, blah! So I made a DIY Lemon Lip Scrub and I'm in love, y'all. My lips have never been more smooth or felt so soft. (I'll tell you how to make a bit further down.)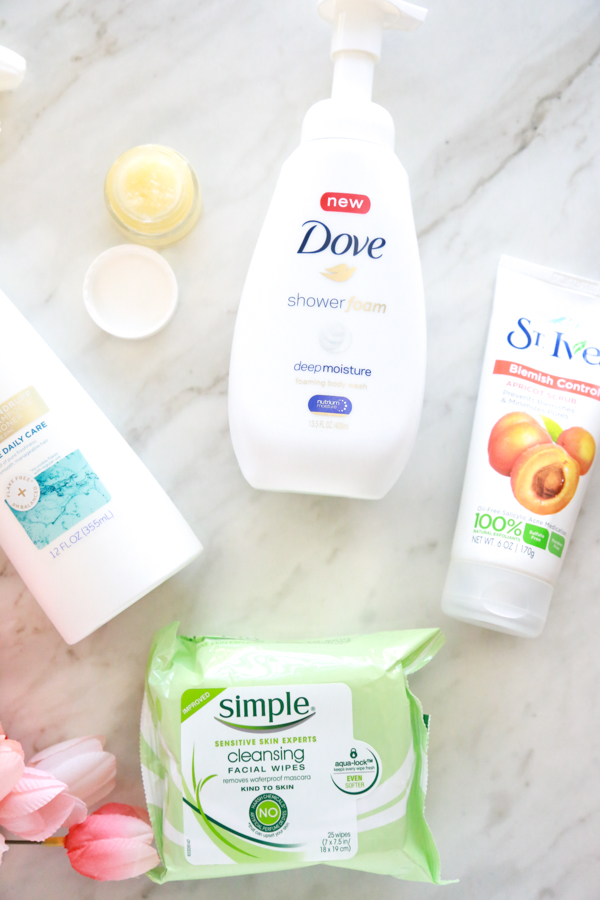 When making my latest batch I decided to make some for my mom and daughter, too. Since Mother's Day is approaching really quickly, I thought it would be a fun addition to a Mother's Day gift that allows us to pamper ourselves or those special women in our lives.
Add it to a few other personal pampering products like the ones shown above and create the ultimate pampering gift for yourself or your mom.
Take a New Look Rewards at Tom Thumb
A little side note for you – now is the PERFECT time to stock up on these amazing products at your local Tom Thumb during the Take a New Look Rewards program. Right now you'll save money on your Personal Care aisle purchases during the event. When you spend $30 on participating Unilever Personal Care brands, you'll receive a $10 digital reward of your choice (either a Visa Rewards Virtual gift card or a FandangoNOW reward).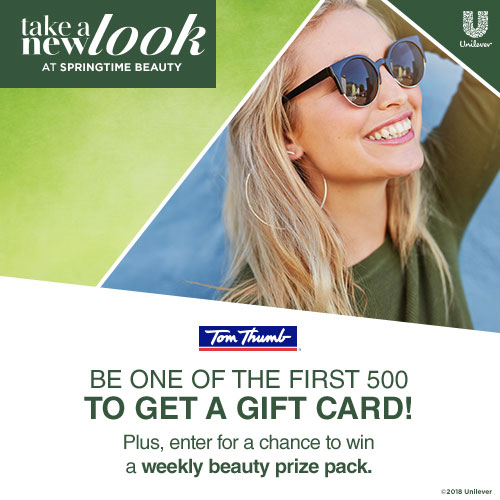 The products I showed in my photo above are some of the participating products. I purchased Dove Shower Foam – Deep Moisture, Dove DermaCare Pure Daily Care Anti-Dandruff Shampoo, Simply Cleaning Wipes, and St. Ives Apricot Scrub. Combine those items with the DIY Lemon Lip Scrub, a gift card to her favorite restaurant, and a bouquet of flowers, and I think that's a pretty good Mother's Day gift – don't you?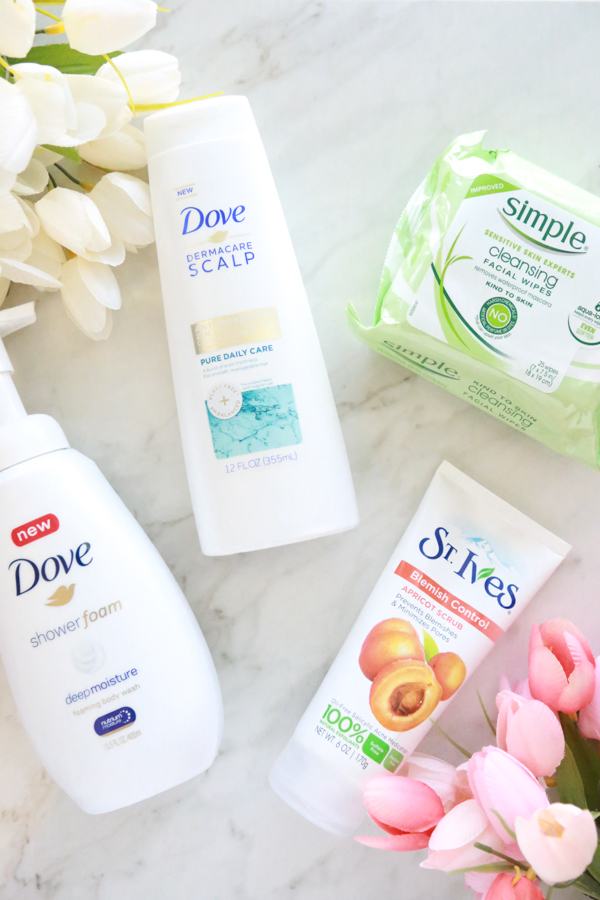 To get your reward you'll need to take a photo of your receipt and upload it to TakeANewLook.com. To be eligible for the reward your purchases need to be made between 3/1/18 – 5/31/18. One weekly winner will be chosen at random for 13 weeks and will receive a $400 prize pack! How awesome is that? That would be a lot of pampering, y'all.
How to Make Lemon Lip Scrub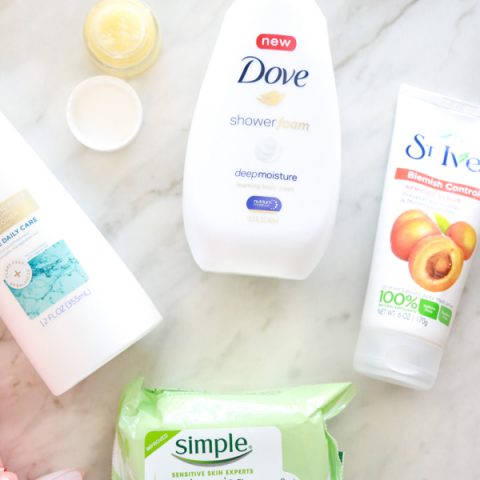 DIY Lemon Lip Scrub
Ingredients
1 tablespoon coconut oil, melted if you live in cooler temperatures
1 tablespoon raw honey
about 3.5 tablespoons sugar
4 drops lemon essential oil or about a tablespoon of lemon zest
Instructions
In a small bowl combine oil, honey and lemon essential oil.
Stir in a tablespoon of sugar at a time until you reach the consistency you want.
Apply to lip and gently rub to exfoliate. Leave on lips for about a minute or so before wiping off with a wet washcloth.
To make this DIY Lemon Lip Scrub you'll only need 4 ingredients. If you don't happen to have lemon essential oil sitting around, zesting a lemon and using it will work, too. But in total transparency I prefer the oil over the zest.
Making Lemon Lip Scrub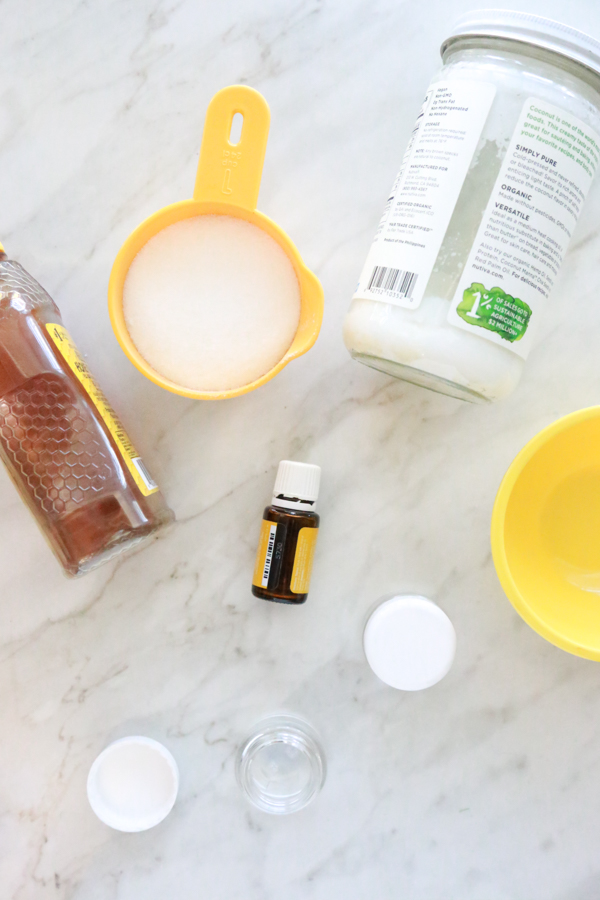 In a small bowl add in the coconut oil, honey and lemon essential oil (or zest) and stir until everything is combined.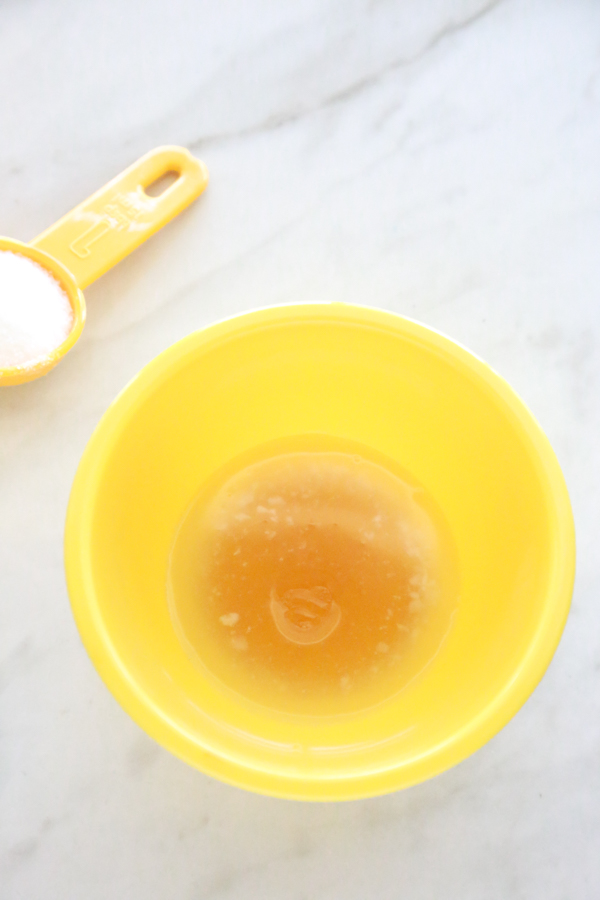 Next, add in the sugar, one tablespoon at a time until you get the texture/consistency you like. Some people like it really sugary and textured, while others like it more liquid and smooth. With 3.5 tablespoons of sugar it will be really sugary and textured, because that's the way I like it.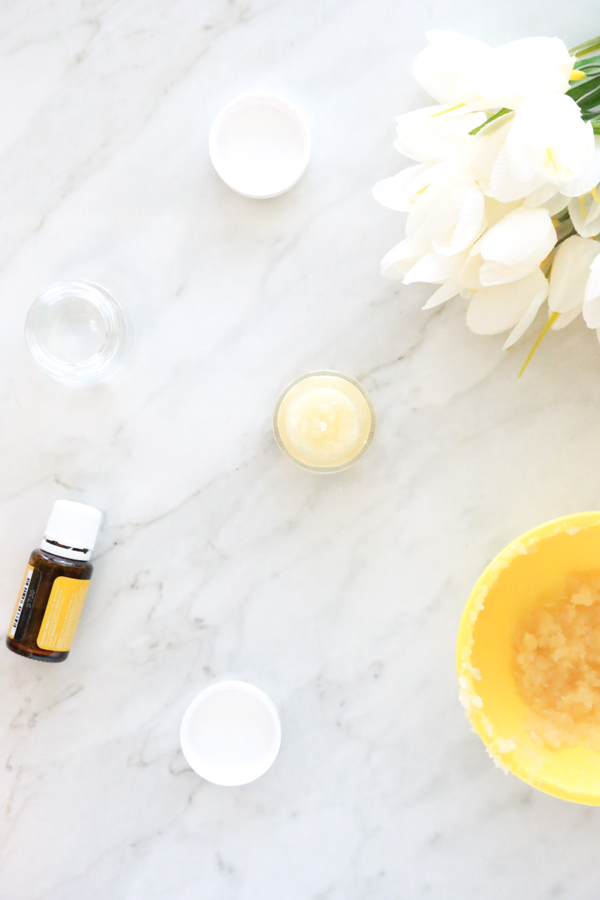 This amount will give you enough to fill 2 .5 ounce glass balm jars for easy gifting. I love using these jars because I can wash and reuse when I run out. But feel free to use whatever you have on hand.
After it reaches the consistency you want, gently scoop it into the storage container of your choice. Pack it in tightly and secure with an air-tight lid.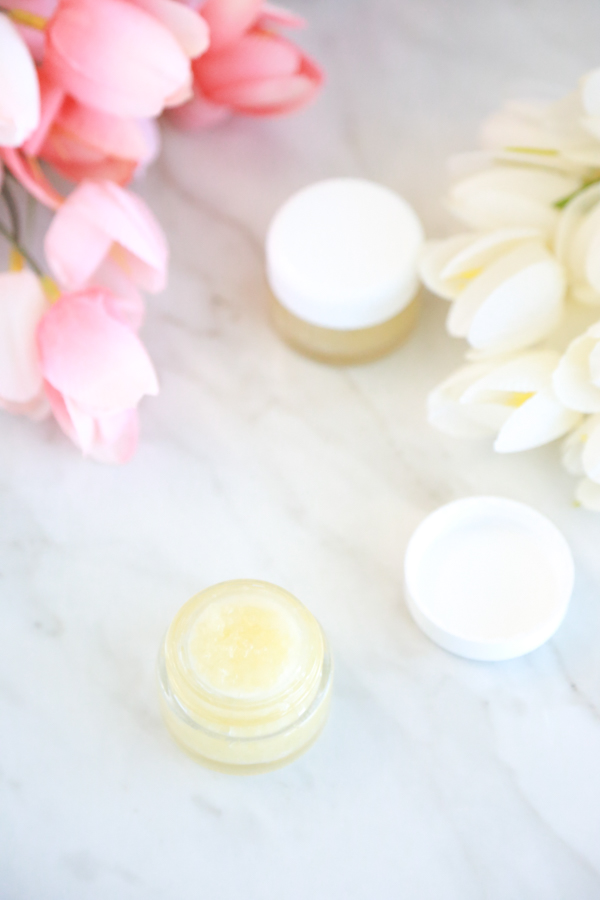 How to Use Lemon Lip Scrub
If you have used coconut oil before you know that its consistency is dependent on the temperature. When you first make this DIY Lemon Lip Scrub, it will have a wet, oily feel. But if the temperature drops, it will harden. You can use it in either form, it just depends on your preference.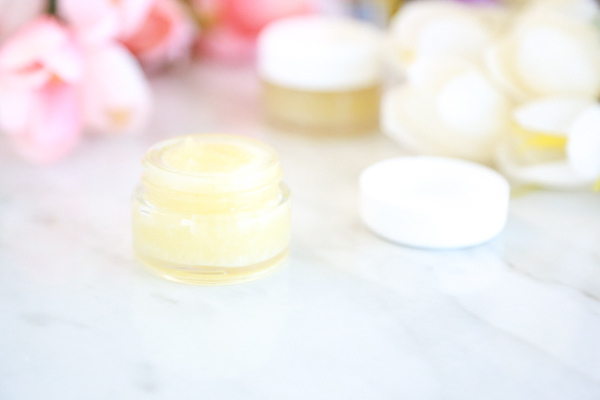 If you want to use the DIY Lemon Lip Scrub in an oily form, place the entire water-proof container in a bowl of warm water for a couple minutes or until it starts to melt. Scoop a pea-sized amount onto your finger and gently rub in a circular motion onto your lips. Leave on your lips for a couple minutes before removing with a wet washcloth.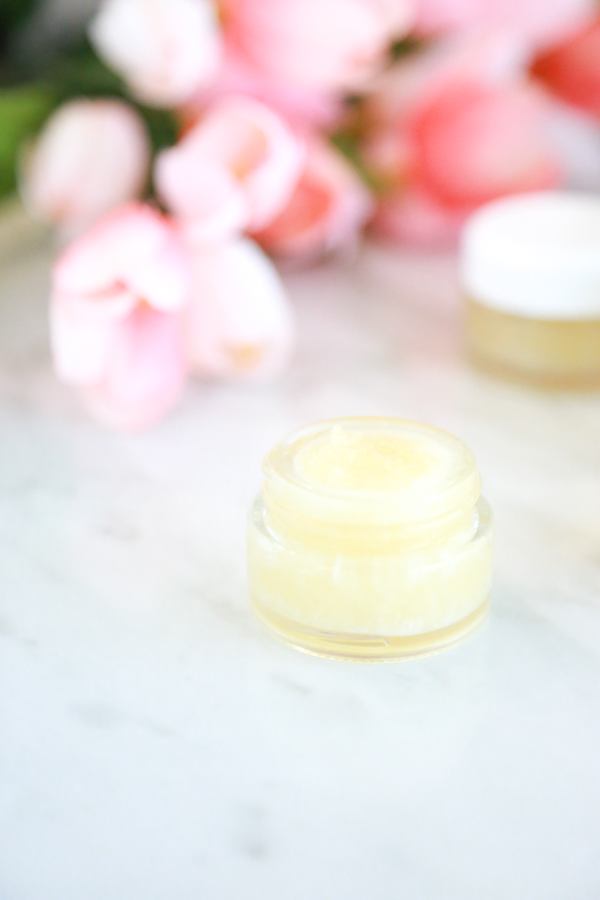 You can also use this DIY Lemon Lip Scrub when it's in a solid form. Using your fingernail, small spoon, or something similar, scoop a pea-sized amount out of the jar, put on your finger, and allow the warmth of your finger to begin melting the oil. Gently rub on your lips in a circular motion and leave on for a couple minutes before removing with a wet washcloth.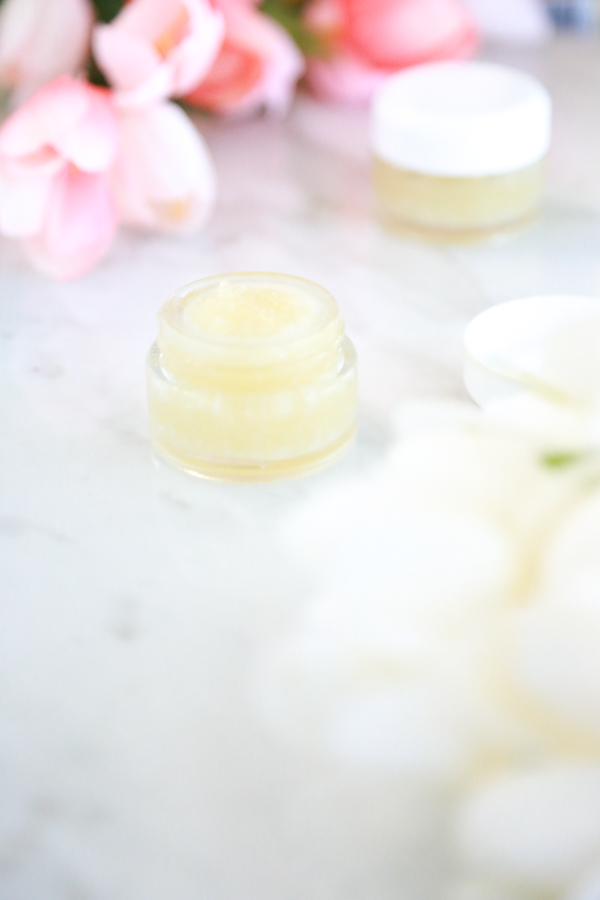 I use this a couple times of week in the shower. The warmth from the shower gets it ready for me to use and then I just leave it on my lips while I'm washing the rest of my body. It works out perfectly for me.
Don't forget to stock up during the Take a New Look Rewards program at Tom Thumb and save on your personal care products!
Pin this so you don't lose it. It would fit in perfectly on your DIY beauty board.